The Saddest Walking Tour Of Kensington Highlights Fatal Crashes
KENSINGTON – Over a dozen neighbors gathered at the corner of Church Avenue and East 4th Street to begin a walking tour commemorating six people who had died in six years just a few blocks away from each other. Council Member Brad Lander called it the most depressing walking tour ever.
On October 12, 2019, 60-year-old Olga Feldman was crossing the intersection of Church Avenue and East 4th Street with her husband, just two blocks away from their home. The driver of a black Cadillac SRX mowed them down, killing Feldman in the process. Her husband survived.
"Olga is the last known of the six deaths in six years that occurred between this location and Church Avenue and Coney Island Avenue, and also over on Caton Avenue," Debbie Herdan, a member of Families for Safe Streets said. "Let's take this walk to honor the people that were killed."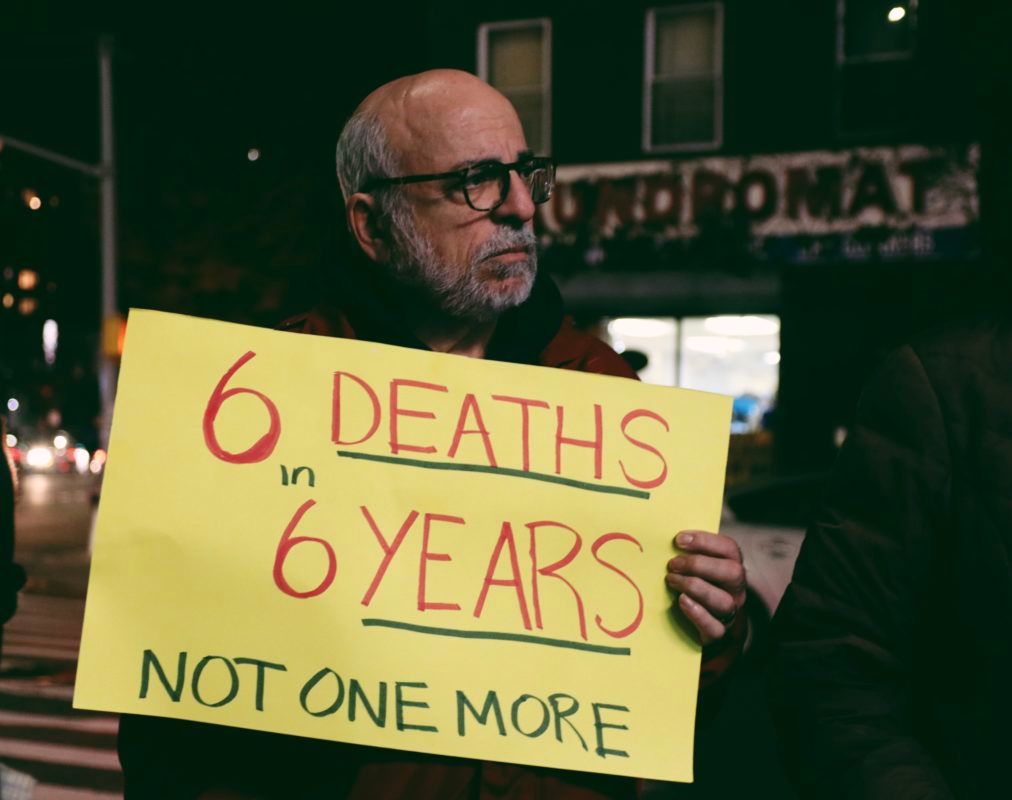 In 2011, Sarah Herbst was crossing the street on Ocean Parkway and Bay Parkway. It happened to be right in front of a "Watch for Pedestrians" traffic sign. One minute she was crossing, the next minute she was on top of a car.
"I landed on my head," Herbst told Bklyner. "I was extremely fortunate to not have lasting injuries. My glasses did break though."
Herbst recalled what happened after she was struck by a hit-and-run driver. She said the police asked her if she knew of any cameras that could have shown what happened.
"I told them I wouldn't know because I'm not the police," she said. "They asked me if I saw the license plate. I told them that without my glasses I cannot see anything."
"I'm a lifelong Brooklynite in case they say transplants can't cross the street or something," she smiled, saying she's lived in the neighborhood since 2007. The driver that hit her was never found and arrested. For all she knows, the driver could still be driving around today.
"There is no way getting to your destination five minutes faster is worth someone's life," she said. "If they're killed, if they have injuries, it's not worth it."
The group then walked over to East 5th Street and stood at that corner of that intersection. On June 27, 2019, a man was driving a 2015 Nissan north on East 5th Street. He then made a left turn onto Church Avenue and hit a 50-year-old man who was crossing north to south on Church Avenue. The pedestrian was taken to the hospital and never made it out. He died ten days later.
Next, everyone trecked to what is perhaps the most dangerous intersection in Kensington– Church Avenue and Ocean Parkway —  where vehicles big and small enter the Prospect Expressway.
"If you've done what I've done and sat for five minutes — all it takes is five minutes — right in the middle of that intersection, you will see what a hair-raising experience it really is," one neighbor said. "Yes, there have been improvements… but we need more. What we need in my opinion are red-light cameras to protect that intersection in all four ways. We need a separate and distinct turning signal phase for the traffic where nothing else can happen. And then people can walk straight on the path and be safe."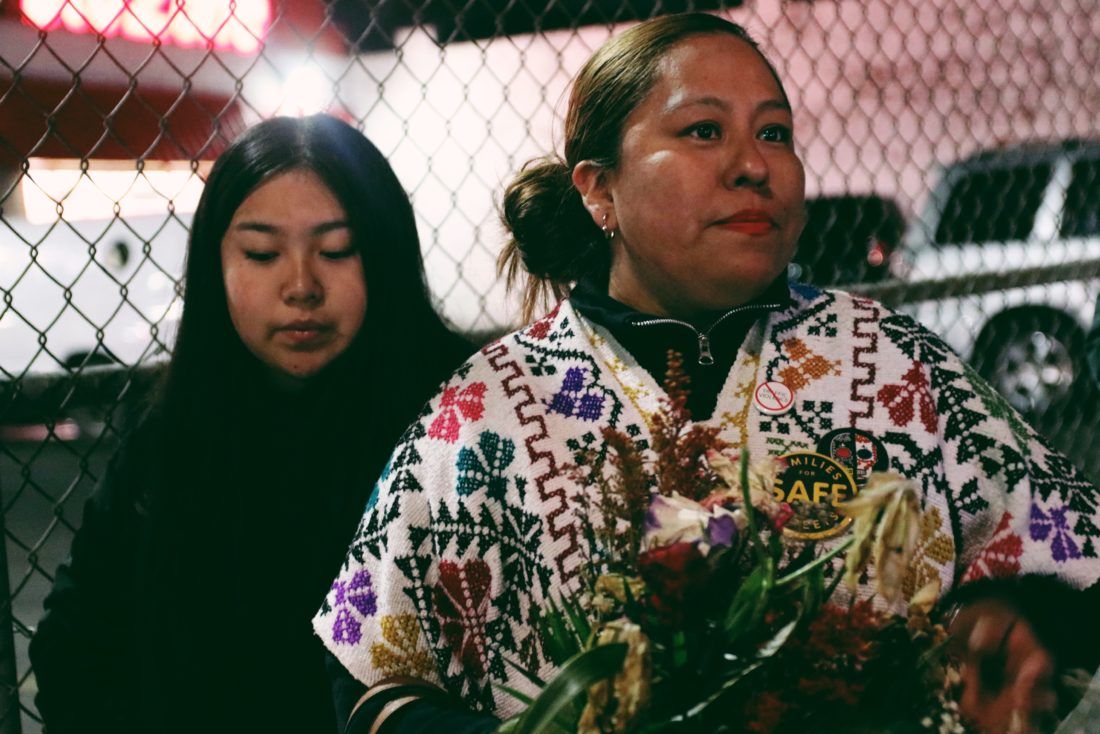 The Church Avenue and Ocean Parkway intersection has claimed two lives in recent years to traffic crashes. In February 2018, Faustino Garcia was crossing the intersection when a driver driving a box truck turned right from westbound Church Avenue onto northbound Ocean Parkway, striking and killing the pedestrian in the process. And in June of 2013, 73-year-old neighbor Patricia Ngozi Agbim was struck and killed by a vehicle while also crossing the intersection. On June 28, 2013, her brother-in-law Eugene Agbimson called her death, like her life, "a rallying point for change." And a rallying point of change it was.
Following Agbim's death, the Department of Transportation (DOT), with a push from Council Member Brad Lander, approved several changes, including extending crossing time for pedestrians at the intersection and a pedestrian safety island which did improve safety for those who failed to make it across the intersection. Other changes included high visibility crosswalk markings, new flashing signals with yellow arrows for right-turning vehicles, installation of new "Traffic Signal Ahead" signs along Prospect Expressway, speed limit signs on Ocean Parkway, and replacement of warning signs.
In 2014, the intersection was named as one of the 20 worst intersections for pedestrians by the DOT. But all of those changes still are not enough, neighbors say. To prove it, everyone crossed it together. Crossing the intersection is done in phases. You wait for the light, cross one small street first, stand at the pedestrian island, wait for the light, and then cross the Prospect Expressway. This is all done while big trucks and cars can pass through. We took a short video of the intersection. Vehicles are able to make turns while pedestrians are crossing the street. You can see a woman put out her hands to get a car to stop while she crosses.
"It's hard to live in a neighborhood where you can do a walking tour of where people have been killed by traffic crashes," Lander said. "After each [death], we have a big community meeting, and the DOT makes a big safety plan, and some changes get made, but it still has not resulted in a safe intersection."
"You don't feel any safer and it just feels like a matter of time until the next person is killed here," he said. According to Lander, a reason why the DOT  "hasn't done something more ambitious like banning turns" is because there's a high volume of vehicles and they fear traffic backups.
"There might be traffic backups but saving the lives of neighbors is more important," Lander said. "We value lives more."
In June of 2018, Lander proposed the Reckless Driver Accountability Act, to keep dangerous drivers off the street. Just two months ago, Mayor Bill de Blasio said he was slow-walking the bill and said he was devoting his attention to other bills that are "pending most urgently."
"Yes, we have here some dangerous intersections and we need an engineering solution," Lander said. "But we also know that so much of what causes death and pain and harm and injury are reckless drivers who are at an intersection, that for most drivers is safe, but for reckless drivers who speed, run red lights, or fail to yield, any intersection is dangerous."
After the dangerous intersection was crossed, neighbors walked over to the Church Avenue and Coney Island Avenue intersection. On July 8, 2019, 49-year-old María del Carmen Porras Hernández was crossing that street when a driver made a right turn onto Coney Island Avenue and struck her. After hitting her, the driver then collided into a brown 2019 Subaru Outback that was stopped at a traffic light on Coney Island Avenue. Porras Hernández died leaving behind her 13-year-old daughter, Ana Karen, an orphan.
"I know what it's like to lose someone. There must be a change in these streets because they aren't safe," Karen told Bklyner. She said life without her mother is hard, especially since she just started high school.
"It's been really hard waking up and not being able to hug her, to see her," she said. "I don't want any other child my age to wake up and get a phone call that her mother has been in a crash. I want kids to wake up and be able to see their moms and hug them."