Dangerous Ocean Parkway Intersection Claims Another Life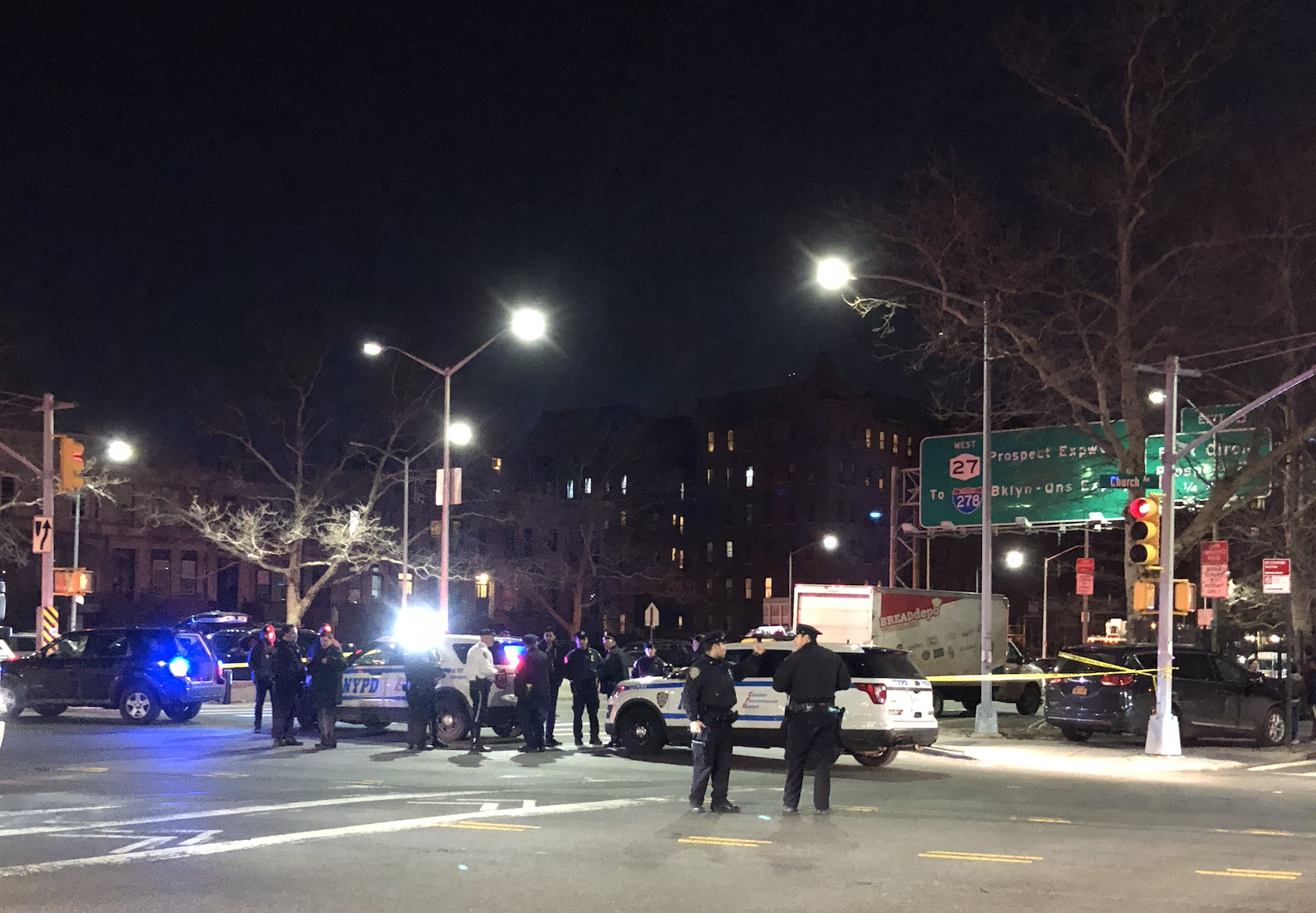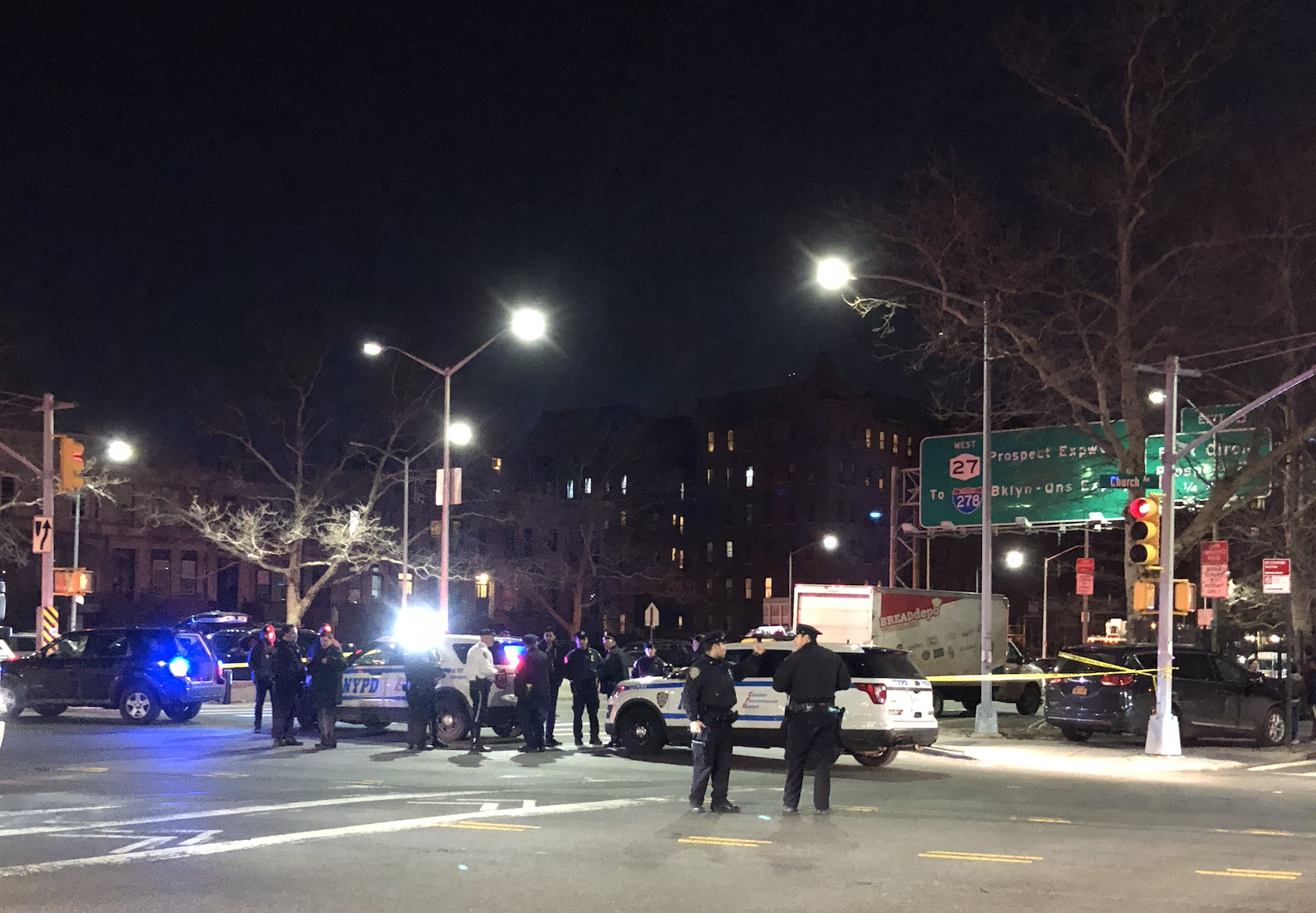 We are incredibly sad to report that last night another life was claimed at the intersection of Church Avenue and Ocean Parkway, four years after 73 year old neighbor Patricia Ngozi Agbim lost hers in the summer of 2013, despite the traffic safety improvements.
The police have not released many details, only saying that the death was caused by a box truck turning right from Westbound Church Avenue onto Northbound Ocean Parkway, and striking the pedestrian crossing the intersection around 9:30 pm. They have not identified the driver, a 57 year old man who remained at the scene, nor the victim, who is a man also believed to be in his fifties. The victim was taken to the Methodist Hospital where he was pronounced dead, the investigation is ongoing, and we are likely to know more in a couple of days.
Improving safety at this intersection has been on the minds on neighbors for years. It was a winning 2012 Participatory Budgeting project in City Council District 39, represented by Brad Lander, however, plans for increased safety measures were initially rejected by the New York State DOT.
They were only approved after the death of neighbor Patricia Ngozi Agbim and subsequent demonstrations and visits to Governor Cuomo's office. The NYC DOT extending crossing time for pedestrians at the intersection in July 2013, and built a pedestrian safety island in autumn 2013, which did improve safety for those whofailed to make it across the intersection.
"Despite any improvements made a few years ago, crossing that intersection as a pedestrian at any hour is terrifying at best. It's anarchy," neighbor Sam Polcer told us. "I think the city needs to do more to make it safer, whether it's with better signal-timing that prioritizes vulnerable pedestrians, an elevated walkway/bikeway, or making it illegal to enter the expressway from Church. The fact that no one's been killed since 2013 is actually surprising, given how dangerous it is."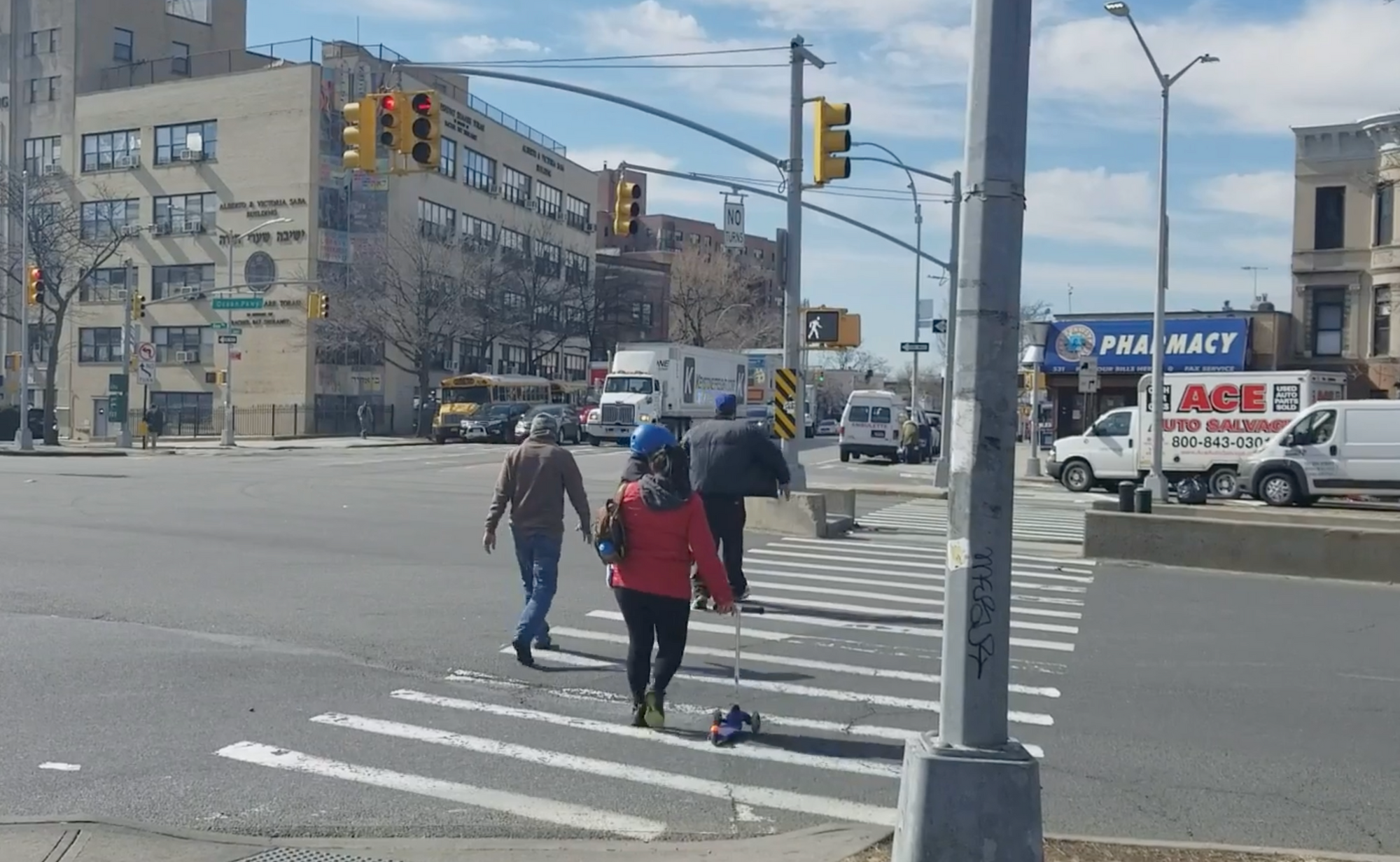 While the green light seems to give most pedestrians crossing Ocean Parkway westwards sufficient time to get half way across (to the pedestrian safety island), those crossing eastward get to the most dangerous part of the intersection just as all the trucks rush to make the turn.
Just 14 hours after last night's accident, however, there were cars and trucks running red lights and rushing through the turn aggressively, failing to yield to pedestrians crossing east half way through the middle lane. As you can see in the video clip above from this morning, at about 18 seconds, a handful of cars failed to yield to the intrepid neighbor crossing east. A handful kept turning long after the signal had turned red. Enforcement of traffic violations at this intersection does not seem to be a high priority for the city.
"I am deeply saddened to hear of the pedestrian tragedy on Ocean Parkway. Ocean Parkway and Church Avenue has been a dangerous intersection for years and I will work with my colleagues in government and the Department of Transportation to review this intersection and to implement ways that we can make it safer for pedestrians and prevent tragedies like this from occurring in the future, " Assembly Member Robert Carroll emailed us earlier today.
Council Member Lander posted on Facebook that he was "Deeply saddened by the pedestrian killed y'day at Ocean Parkway & Church Avenue. We worked to make that intersection safer & added the refuge island after Ngozi Agbim's death in 2013. But we have not done enough, and with tragic consequences."
All that remained from the accident this morning was a spot of sand on the highway.