Woman Struck And Killed On Ocean Parkway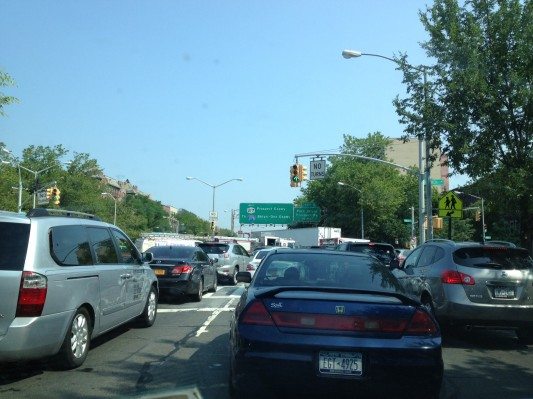 A pedestrian was struck and killed this morning while crossing the intersection of Ocean Parkway at Church Avenue, right where the Prospect Expressway begins. A spokesman for the FDNY tells us that they received a call at about 9:40am. They say a woman was hit by a vehicle, and pronounced dead at the scene. They were unable to provide her age or identity.
Traffic remains snarled, as this photo from neighbor Amber shows, so if you're driving, please avoid the area.
UPDATE 1:50pm: The NYPD has identified the victim as 73-year-old neighbor Ngozi Agbim of Buckingham Road.
Police say that the preliminary investigation shows she was walking eastbound on Church Avenue in an attempt to cross at the Ocean/Prospect Expressway intersection, when a tractor trailer travelling westbound on Church attempted to make a right turn onto the Prospect, striking her. The driver remained on the scene, and the investigation is ongoing.
Ngozi worked for 33 years at the LaGuardia Community College library, retiring in 2005. We're hoping to share any memories neighbors may have of her — you're welcome to leave your thoughts in the comments at the end of this post, or feel free to contact us at editor@ditmasparkcorner.com.
We will update as we learn more. Our thoughts go out to the Ngozi's family and friends.