Remembering Patricia Ngozi Agbim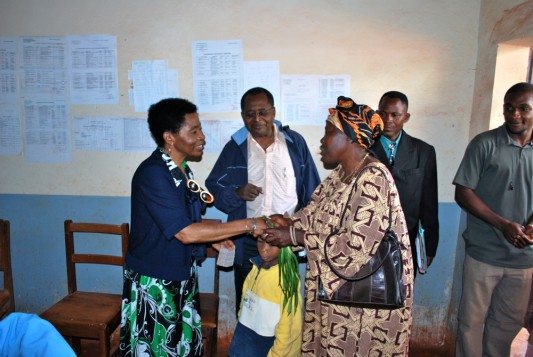 When 73-year-old neighbor Patricia Ngozi Agbim was struck and killed while trying to cross Ocean Parkway at Church Avenue last month, several politicians and residents began rallying for already-requested safety improvements at the dangerous intersection. The NYC DOT has increased the walk signal timing while they and the New York State DOT review other options, but one thing the improvements won't do is bring back Ngozi.
At a rally on June 28, her brother-in-law Eugene Agbimson called her death, like her life, "a rallying point for change." His remembrance of Ngozi elaborates on the change Ngozi worked to create in her life–and now, demanding change is what we can do to honor her, and to keep this tragedy from ever repeating itself. Eugene has written:
Patricia Ngozi Agbim came to the United States of America in 1965 for her university education after completing her post primary and initial college education in Nigeria. She attended St Mary's College South Bend Indiana, where she earned her Bachelor of Art degree in History and was admitted to the Indiana University graduate school Master of Library Science degree program. Upon graduation she landed a well paying job in St Louis, Missouri, but at the time, the Nigeria-Biafra civil war had started in her country. The plight of her kinsmen and women in Biafra became her primary concern and over-arching cause. In due course she quit her well-paying job in St. Louis to work at the Biafra office in New York City for a fraction of what she was earning in St. Louis.
When the Nigerian civil war ended in 1970, she applied for and was offered a position in the New York City Public Library system. While there, she continued to develop and hone her professional skills, and her interest in expanding her academic horizon grew more and more. Subsequently she enrolled for a second graduate degree at the Long Island University, Brooklyn campus, Master of Arts program. Upon completion of the program, she was offered the position of reference librarian at the City University of New York, LaGuardia Community college.
Over a relatively short period of time she rose from the position of reference librarian to that of chief librarian, associate professor, full professor, and head of the department of library and media services. She was an astute innovator, enthusiastically embracing change at a time of great technological evolution and rapid innovation in the industry.
Before long she had succeeded in transforming the LaGuardia Community College Library to one of the very best in the entire City University of New York System. Her leadership and hard work earned her many CUNY system-wide awards. She retired in 2004 after over 30 years of service to CUNY LaGuardia Community College.
Ngozi was active in numerous religious, civic, and charitable organizations, volunteering her time, talent, and resources very generously. In all of these endeavors she was always driven by the urge to help other people in all sorts of ways and to improve existing conditions and systems in workplaces and organizations, making them more efficient, productive, and more user friendly. She was very religious and her approach to life and work were deeply rooted in her faith. She would go the extra mile and deprive herself of comfort and luxury for the sake of others. She lived a humble and simple life.
She was a fervent member of the Opus Dei society, a Catholic institution founded by Saint Josemaria Escriva, with a mission to spread the message that work and the circumstances of everyday life are occasions for growing closer to God and for serving others and improving society.
Ngozi was the president of the Harambee USA Foundation, an international foundation dedicated to supporting projects aimed at training and empowerment through sustainable education and developmental initiatives in Sub-Saharan Africa. In the United States, the foundation aims to educate people of all ages to recognize the richness and complexity of African culture.
Ngozi is survived by her husband of 42 years, Silas Agbim, daughter Mary Uchenna Nwachukwu, son Ikenna, grandson Peter Nnamdi Nwachukwu, and numerous brothers, sisters, uncles, aunts, cousins, nephews, nieces, son-in-law, brothers-in-law, sisters-in-law, and other relatives. She was a beacon and shining star to so many, and her sudden death has left a void in so many lives.
Our deepest condolences to Ngozi's family and friends. Find a petition asking that the NY State DOT implement safety improvements at the Ocean Parkway/Church Avenue intersection here.
Photo via Harambee