Pedestrian Killed After Car Strikes Her Then Collides With Another Vehicle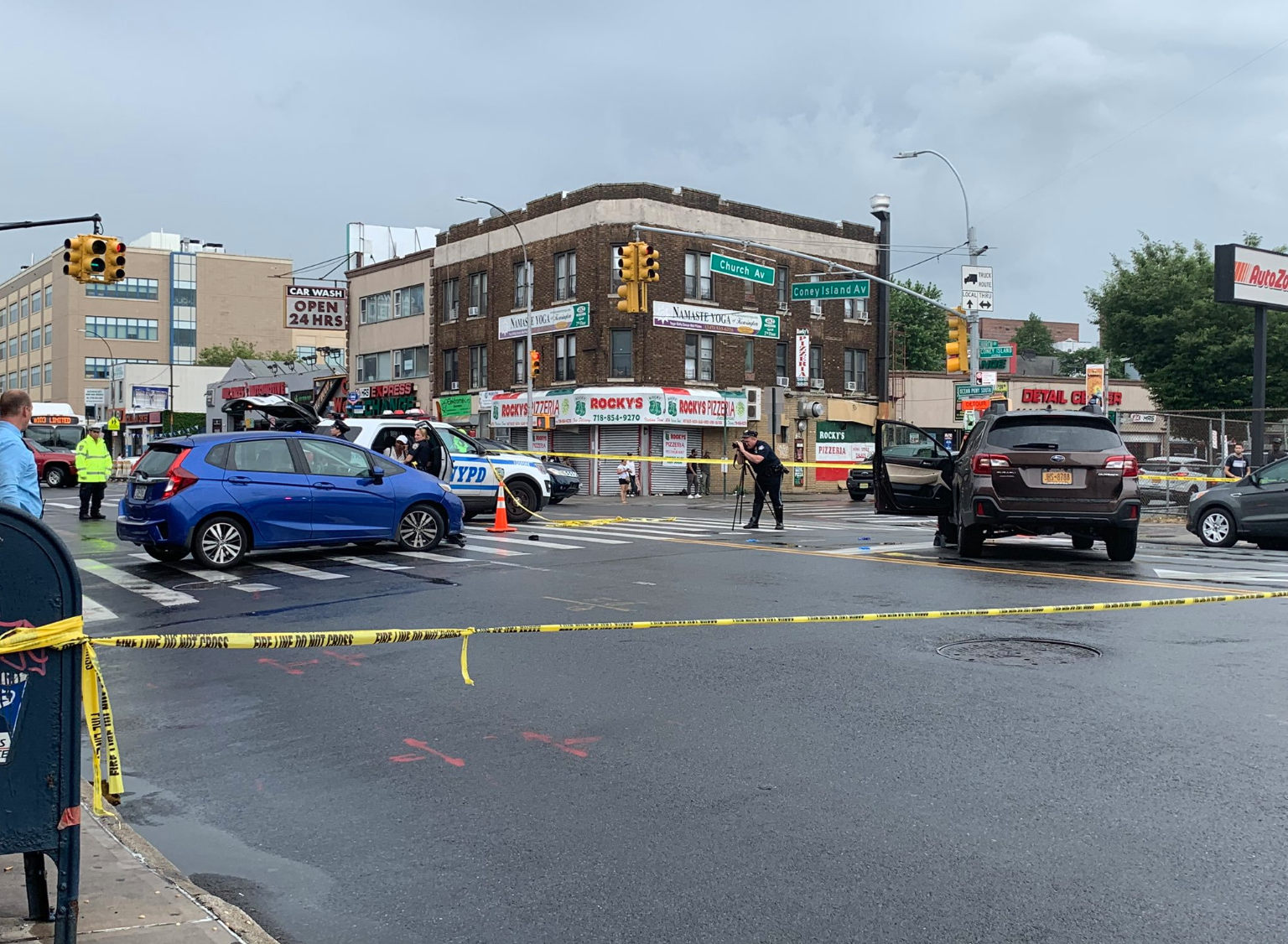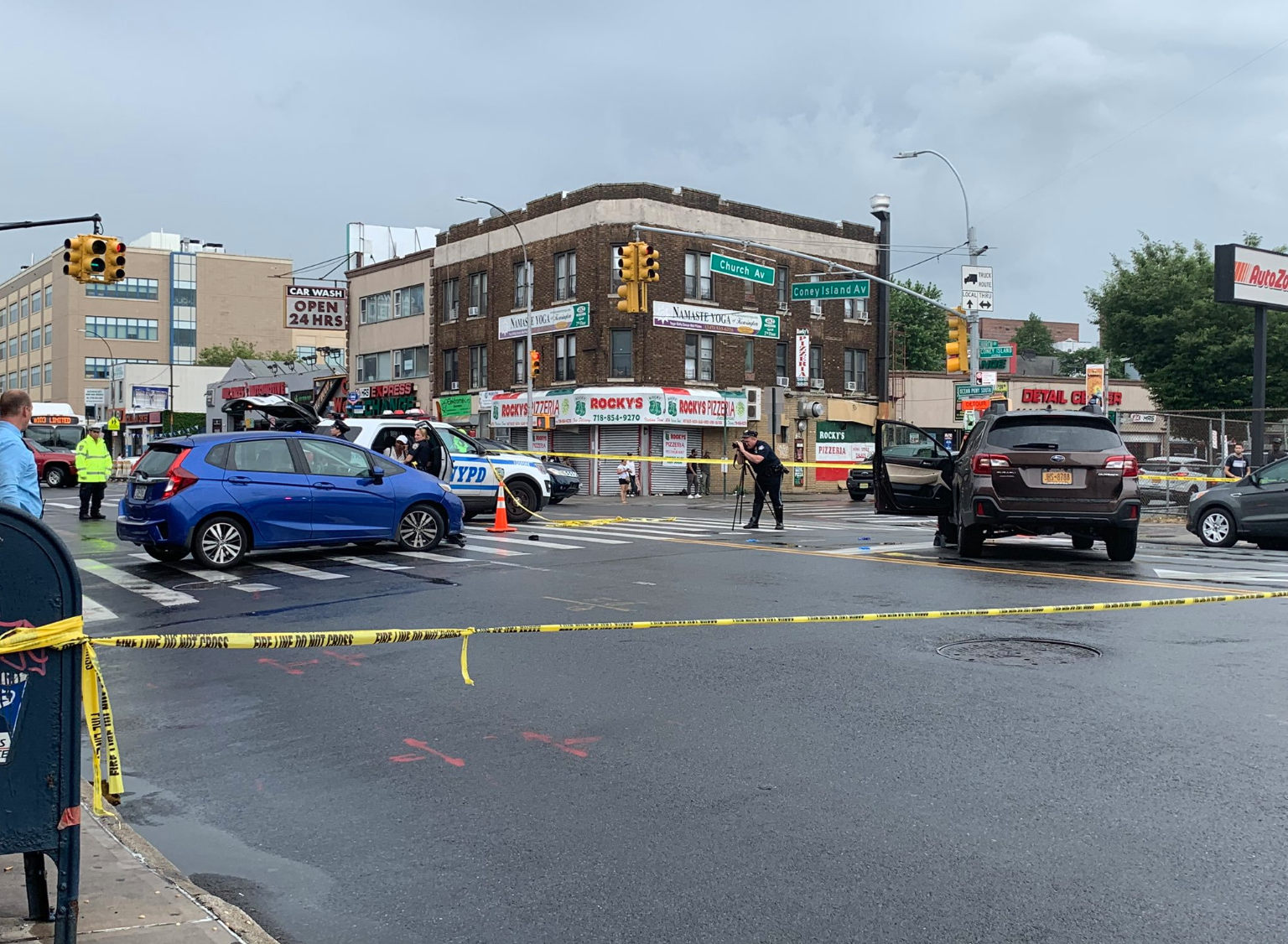 KENSINGTON/ PROSPECT PARK SOUTH – A 49-year-old female pedestrian was struck and killed by the driver of a Honda vehicle Monday morning at an intersection people have been complaining about for years.
At around 9:10 a.m. today, a woman was crossing at a marked crosswalk with the walk-sign on Coney Island Avenue at the border of two neighborhoods. It is unclear which direction she was walking. At the same time, the driver of a blue 2015 Honda Fit traveling west on Church made a right turn onto Coney Island Avenue and struck the pedestrian.
After hitting the pedestrian, the vehicle collided into a brown 2019 Subaru Outback that was stopped at a traffic light on Coney Island Avenue. It appeared that the Subaru was waiting for the light to make a left turn. It is unclear whether the woman was dragged or if she was thrown. Her two shoes were found in different sections of the street. It also appeared from the scene that the Honda reversed after colliding with the Subaru, as it was not next to the other vehicle two hours after the incident.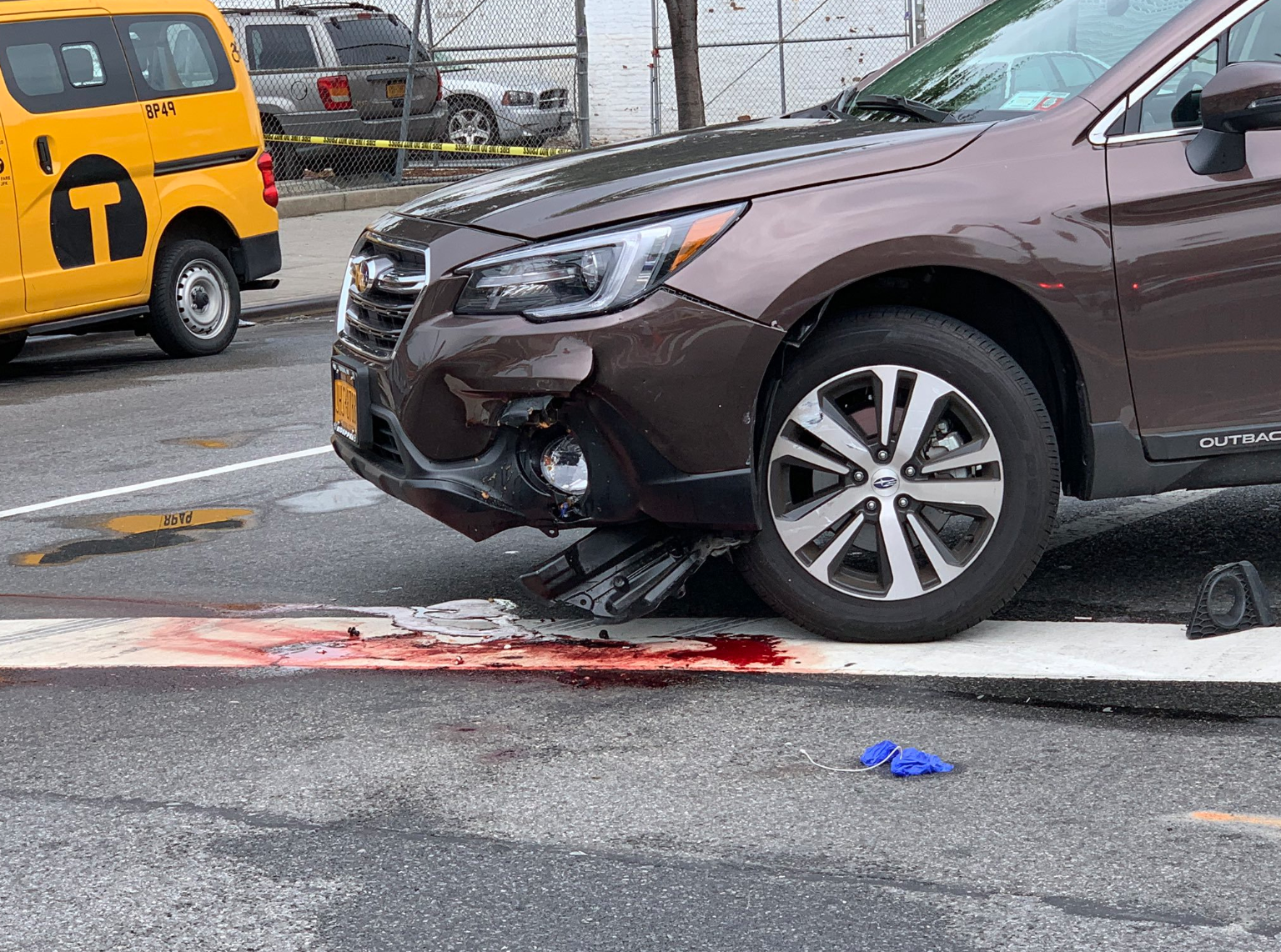 According to the cops, the woman was found laying on the street with trauma to her head and body. She was taken to Maimonides Hospital where she was pronounced dead.
One neighbor who saw her body on the ground told Bklyner the woman's head was pinned under the tire of the Subaru. He said, "There was a lot of blood."
Though it was raining slightly when Bklyner arrived at the scene, blood was still seen on the ground near the tire of the Subaru. It had not been washed away. The woman's shoes were also on the street as cops took pictures of the scene.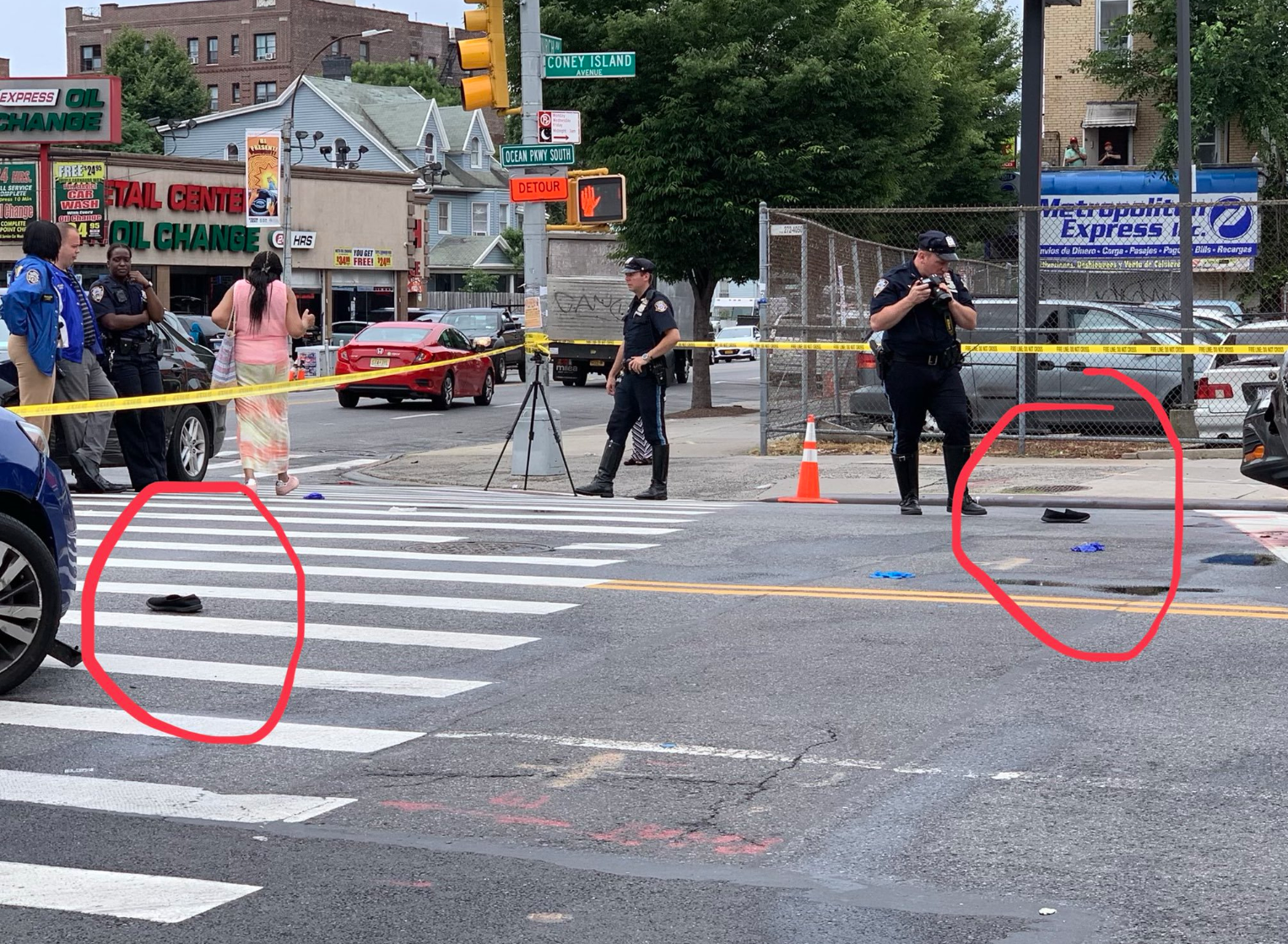 "Pedestrians have the right of way," one person passing said. "That car was supposed to stop for the woman. Why didn't the car stop?"
Both drivers of the vehicles remained at the scene. Bklyner could not spot the driver of the Subaru, but the woman driving the Honda was sitting inside the police car and appeared to be crying. Her husband kept asking the cops about her. They told him, "She's distressed, which is understandable."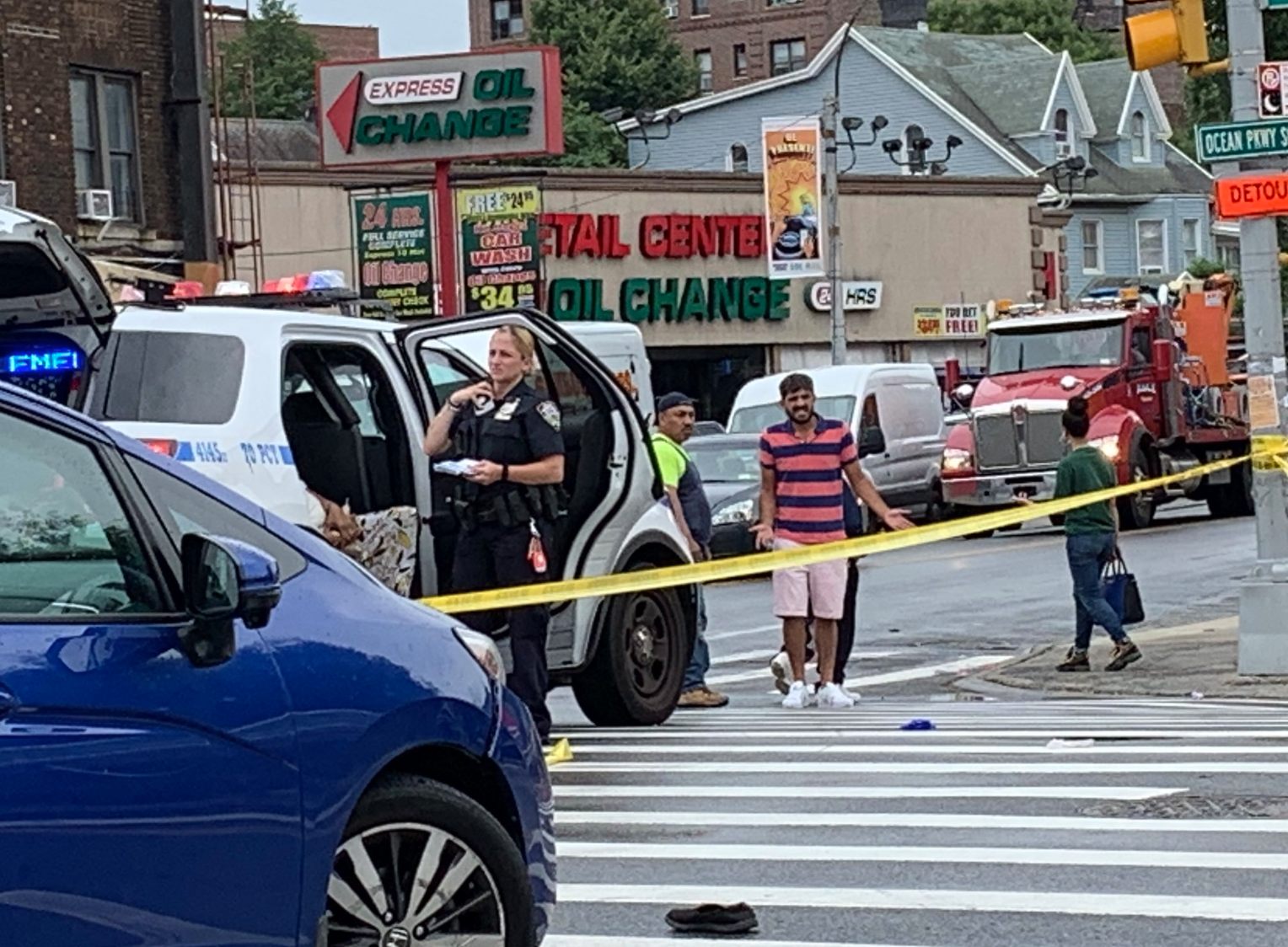 People walking by stopped to look at the horrific scene and said prayers. Many neighbors were angry and said this intersection is a dangerous one.
"It's awful," one man told Bklyner. "This is an awful intersection, I'm not sure why they haven't fixed it yet."
The intersection is located in a very busy area. It's home to a few bus stops where buses roll in every few minutes. It's a long stretch of road with an AutoZone, a garage, and a car wash where large trucks often pass by.
One neighbor, who lives near Cortelyou Road and Coney Island Avenue, penned a letter to a few elected officials—including the neighborhood's council member Mathieu Eugene—this morning after the incident. She was upset and angry, she told Bklyner.
"Coney Island Avenue, in general, is scary. I wish more politicians would pay attention to the constant speeding, to the car washes that have taken over lanes of traffic, to the poorly managed pedestrian intersections," Lindsay Peterson wrote in the letter. "It won't be long before more accidents occur here. I just hope it's not me or my children who are the next victims. I suggest you or your aides come out and spend some time on Coney Island Avenue. I doubt you'd want to cross there with your families either."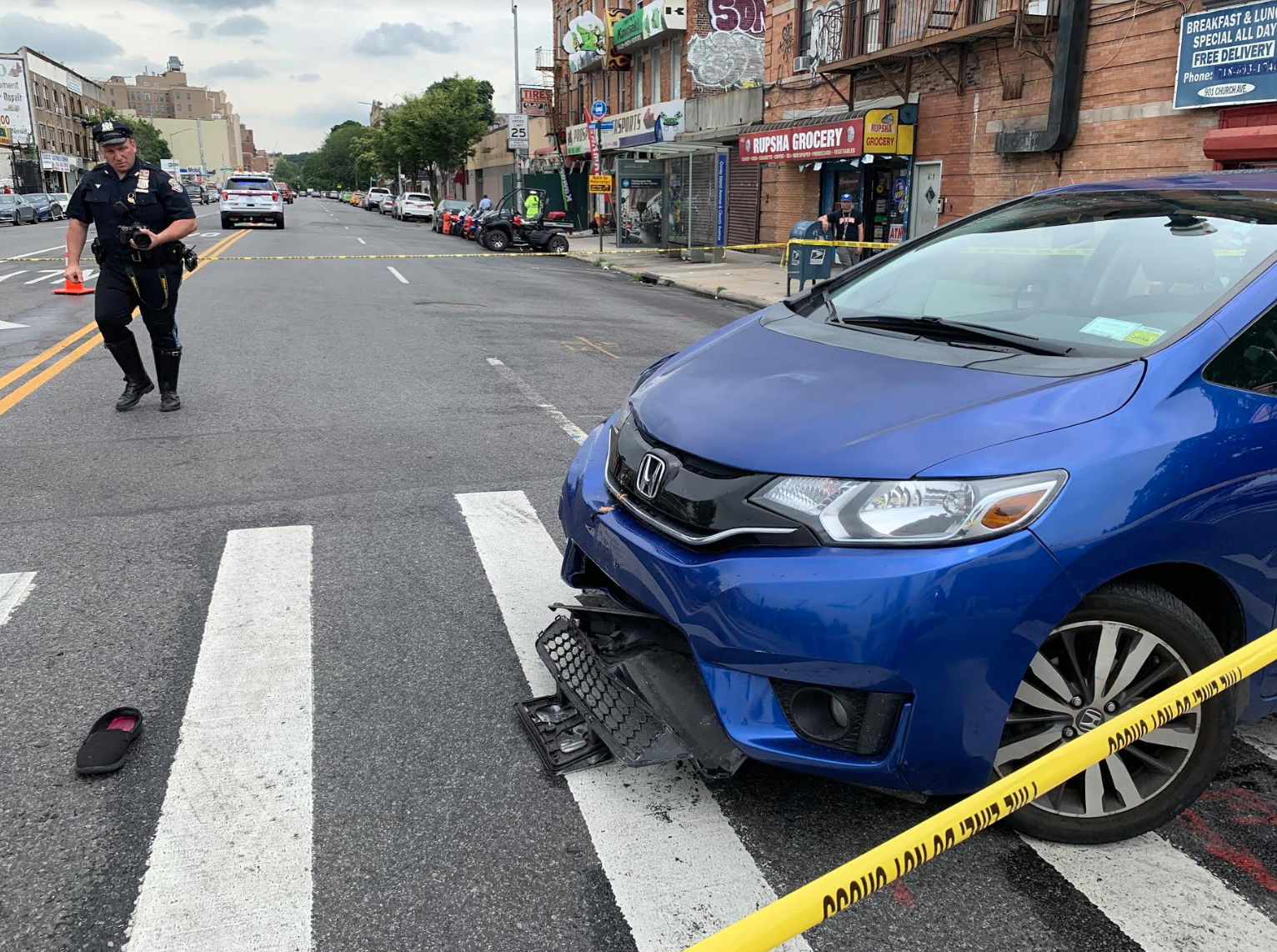 "In light of this morning's tragic accident at the corner of Coney Island Avenue and Church Avenue, I want to extend my deepest sympathies to the family of the deceased," Eugene told Bklyner. "My prayers are with all of those affected by this horrible loss of life. As a city, and as a society, we must work together and do everything we can to make intersections safer for pedestrian travel. I want to thank the paramedics and members of law enforcement who were on the scene this morning for the work they do ensuring the safety of the community."
The intersection is also just a few blocks away from where Mayor Bill de Blasio recently announced Vision Zero improvements on Church Avenue and Ocean Parkway.
"This Vision Zero priority intersection has been among the most crash-prone in Brooklyn, as vehicles leave a pedestrian-heavy neighborhood to enter the Prospect Expressway," the Mayor's Office said on June 10. "Over the last five years, 102 people have been seriously injured at this intersection [Church @ Expressway], with one pedestrian struck and killed here in February 2018."
But neighbors are saying that does not help. In a Facebook group, a neighbor said that instead of people getting killed at Church Avenue and Ocean Parkway, people will be killed at Church Avenue and Coney Island Avenue.
"New configuration at Church and Ocean Parkway has caused massive traffic backups on Church all the way east past Coney Island Avenue," a neighbor wrote. "Now vehicles at Church/Coney Island Avenue intersection are getting confounded trying to get through the intersection, which has become a frequent disaster. Department of Transportation et al did not solve a problem, they just moved it elsewhere."
Just a few weeks ago, another pedestrian, 33-year-old Ingrid Pineda-Cuellar was crossing the street at a marked crosswalk at Avenue L and Utica Avenue, when she was struck by a vehicle and killed.
"Car-centric Coney Island Avenue is designed for speed, not for safety, and is a hostile environment if you're not in a vehicle," said Joe Cutrufo, a spokesperson for Transportation Alternatives. "Failure to yield at intersections is a leading cause of pedestrian deaths, and the City ought to be doing more to prevent this deadly behavior, including automated enforcement at intersections."