"Reckless Driver Accountability Act" Aims to Keep Dangerous Drivers Off the Street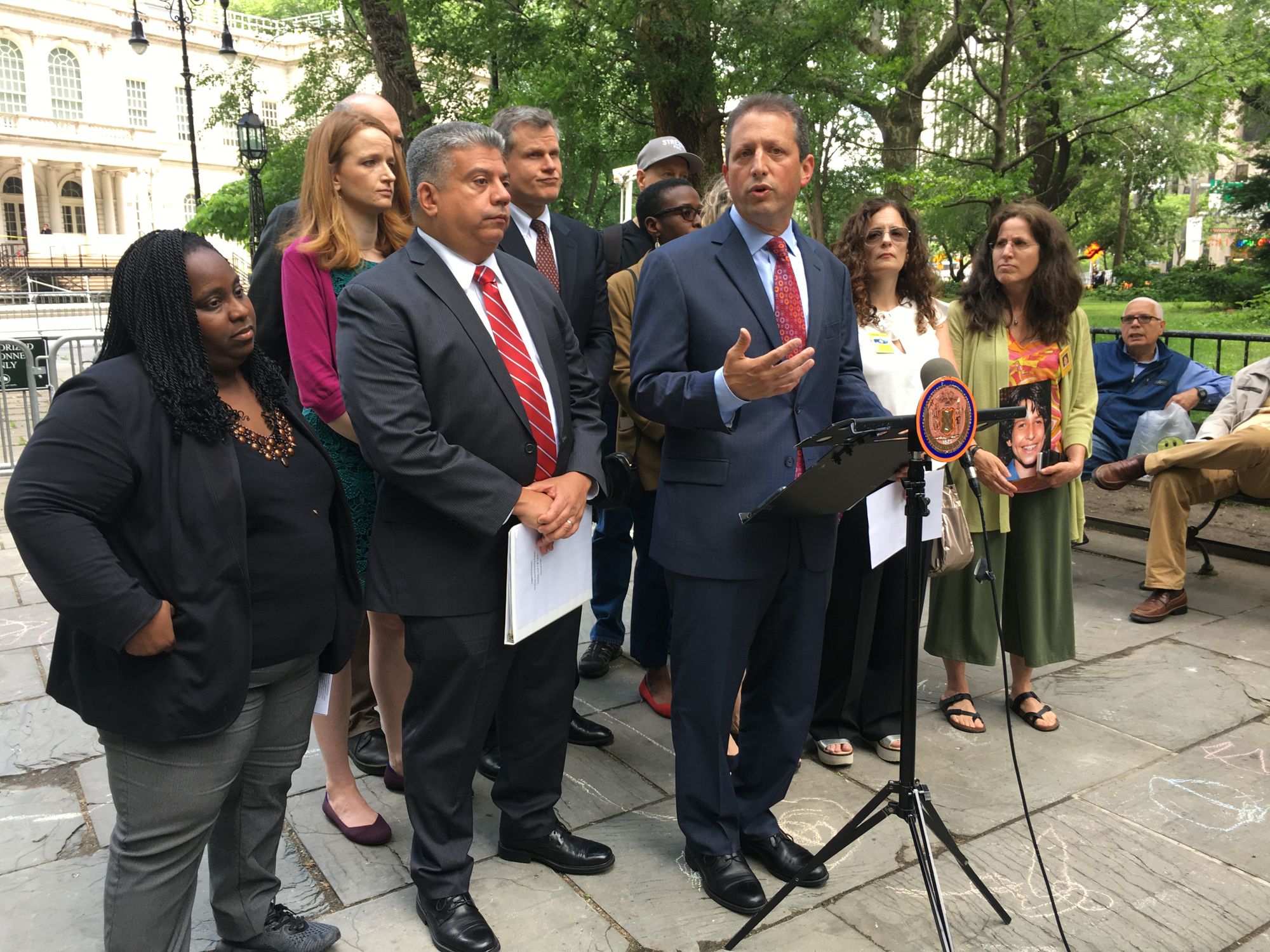 PARK SLOPE – Yesterday, Councilmember Brad Lander announced new legislation aimed at keeping dangerous drivers off the road—especially those who have racked up multiple violations within a year.
The legislation comes after the tragic deaths of Abigail Blumenstein and Joshua Lew on a Park Slope street corner in March. Ruthie Ann Miles, the pregnant mother of Abigail, was injured in the crash and later lost her pregnancy.
"We can't bring Abigail, Joshua, and Sophia back to their families. But by confronting reckless driving to prevent future deaths, we will do all we possibly can to make their memory into a blessing," said Councilmember Brad Lander. "Even with the good work we've done through Vision Zero, being hit by a vehicle is the main cause of injury-related death for children under 14, and the second most common cause for seniors in New York City. The Reckless Driver Accountability Act takes an innovative, data-driven, and restorative approach that will make NYC a leader in reducing dangerous driving and saving lives."
Lander's proposed "Reckless Driver Accountability Act" would operate in three main ways:
First, cars that accumulate five or more speed camera or red-light violations within one year would be booted or impounded until their drivers completed a Reckless Driver Accountability Program.
When drivers hit four camera violations, they will receive a warned notice and get the chance to take the accountability course for a "small fee." If the drivers opt not to take the course voluntarily and incur their fifth violation, they will have 10 days to enroll in a mandatory course or face impoundment or booting of their vehicle.
Lander's office found that roughly 1% of drivers actually manage to rack up five offenses in the span of a year, but that still translates to 26,000 dangerously driven vehicles on New York streets.
Bruns not only had eight violations in the last two years on her record, she also previously had her license suspended and was involved in a hit and run—a prime example of the type of dangerous driver the new legislation is looking to keep off the road. (Bruns was later arrested and faces up to 15 years in jail.)
The second aspect of the new law is a call to expand the Driver Accountability Program currently available from the Center for Court Innovation in Red Hook and Staten Island. The course is a group intervention program for drivers who plead guilty in arrests for a variety of driving offenses. Lander's office estimates the cost of expanding the program to all five boroughs at $1 million.
Finally, the proposed legislation calls for an annual study on dangerous driving by the city, which would be used to recommend further efforts to reduce dangerous driving. Currently, programs such as Vision Zero collect data which focus on the design and role of streets and intersections in traffic crashes, but it doesn't specifically focus on reckless drivers—something the new study would correct.
The "Reckless Driver Accountability Act" has already garnered the support of 12 City Council members prior to its introduction, along with the endorsement of many local leaders in traffic and street safety. Brooklyn Borough President Eric Adams is also on board.
"I commend Council Member Lander for his continued community leadership in the wake of the deadly crash at the intersection of Fifth Avenue and Ninth Street that claimed three of our youngest Brooklynites," said Adams. "The Reckless Driver Accountability Act takes concrete steps on the local level to reduce dangerous driving behavior, and I ask my colleagues in the City Council to support its passage."
After the tragic deaths in March galvanized the community to march for safe streets and call on local politicians to effect change, there has been a number of developments. Mayor de Blasio came out in support of state legislation to create a stricter system of medical reporting for impaired drivers, along with an increase in fines for traffic violations. DeBlasio also called on the state legislature to increase the number of speed cameras in the city. Assemblymember Robert Carroll and State Senator Jesse Hamilton have also called for similar safety measures.
Recently, the Mayor also revealed a redesign of 9th Street in Park Slope by the DOT designed to increase safety and hopefully, prevent future tragedies.