Driver Who Killed Two Children In Park Slope Faces Up To 15 Years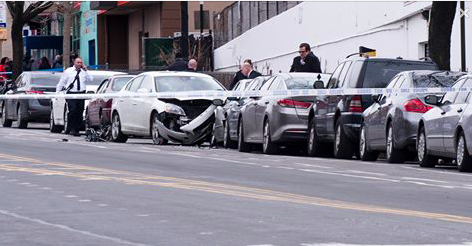 PARK SLOPE – The Staten Island woman who drove her car into a group of pedestrians and killed two young children in Park Slope in March was arraigned at Brooklyn Supreme Court on Thursday on a ten-count indictment charging her with second-degree manslaughter, criminally negligent homicide, reckless endangerment, assault, and other counts.
The judge ordered that 44-year-old Dorothy Bruns be held on bail of $75,000 bond or $25,000 cash. She faces up to 15 years in prison.
"The loss of Abigail and Joshua was a horrific—and avoidable—tragedy that devastated their loved ones and hurt so many of their friends and neighbors," Brooklyn District Attorney Eric Gonzalez said in a press release. "After a thorough investigation that started in the hours after the crash, my office indicted the driver for recklessly causing their deaths. Her alleged insistence on driving despite doctor's orders and serious medical conditions that prevented her from safely doing so was not only irresponsible, it was unlawful. I intend to now hold her accountable and urge all drivers to heed instructions of medical professionals and never drive a car when told not to."
Shortly after noon of March 5, Bruns ran a red light at the intersection of 5th Avenue and 9th Street, crashing into pedestrians in the crosswalk and killing one-year-old Joshua Lew and four-year-old Abigail Blumenstein. Bruns also injured the mothers of the two children, Lauren Lew and Broadway actress Ruthie Ann Blumenstein, who was seven months pregnant at the time of the incident.
Bruns, whose driving record within the past two years includes four violations for speeding in a school zone and four violations for running a red light, has multiple sclerosis and claims she suffered a seizure at the time of the deadly crash.
In the weeks following the incident, investigators had been trying to determine whether Bruns' doctors had instructed her not to drive: they did—three times within a five week period, the New York Daily News reports.
In court yesterday, Prosecuting Attorney Craig Esswein said on January 8 Bruns felt ill while driving in Staten Island and went to a hospital where she was examined for a possible stroke, according to the New York Times. Bruns stayed at the hospital for two days and suffered a seizure during her time there. She was instructed not to drive for a year, the article says.
On a follow-up exam on January 16, Esswein said a doctor told Bruns a second time that she should not get behind the wheel of a car. Four days later her car was involved in a "fender bender" in Staten Island but fled the scene before police arrived, the Times reports.
During another doctor's visit on February 13, Bruns was advised against driving a third time, the Times adds.
Bruns' attorney, David Jacobs, said that his client's job requires her to drive and said that  she received a doctor's note authorizing her to "resume her regular daily activities."
Bruns, who was arrested Thursday morning, reportedly took a month-long medical leave from work back in January. Three days prior to the Park Slope crash, EMS went to her home after receiving a call that she was having heart problems.
Following the deadly collision in March, Assembly Member Robert Carroll and Senators Jesse Hamilton and Jose Peralta held a press conference proposing legislation for increased safety measures, including a bill that requires doctors to report to the DMV medical conditions that can impair a patient's ability to safely drive a vehicle as well as a bill for escalating vehicle registration suspensions for repeat traffic control signal (speeding camera) violations.
Bruns was also involved in another hit-and-run in Long Island City in September of last year. In that incident, Bruns struck a 28-year-old woman crossing the street, running over her foot and injuring her wrist. Improperly filed paperwork prevented that case from being investigated further.
Bruns' attorney says since his client currently has two fractured feet, she is not a flight risk and should be released on her own recognizance, the Times says.
"She took the lives of two innocent babies, injured three pedestrians, their mothers. And it was tragic, but it was solely due to her selfish decision to drive," District Attorney Gonzalez said at a press conference yesterday.
"I am confident that this investigation has shown that this was truly a decision that she made, to drive when she was not capable of handling what's really a deadly weapon in a safe manner," Gonzalez added.
Bruns has pleaded not guilty. She is scheduled to return to court on June 13, 2018.