Williamsburg Top Neighborhood to Watch for in 2020, StreetEasy Says
Six Brooklyn neighborhoods made it to the top 10 NYC neighborhoods to watch for in 2020 list by StreetEasy. Number one on the list? Williamsburg.
At the end of each year, StreetEasy, a local real-estate marketplace, releases a list of the top 10 neighborhoods to watch for in the next year. The neighborhoods are chosen by how much new interest they are gaining among buyers, renters, sellers, and developers, StreetEasy explains. From the list, the six neighborhoods in Brooklyn include:
Williamsburg (#1)
Clinton Hill (#2)
Midwood (#4)
East Flatbush (#6)
Prospect Lefferts Garden (#7)
Crown Heights (#10)
The other neighborhoods include Jamaica and Glendale from Queens, Highbridge from the Bronx, and Manhattan's Little Italy.
"We find these neighborhoods by looking at increases in sales prices, rents, and user searches, and the number of new buildings, then creating an index based on those factors," StreetEasy wrote.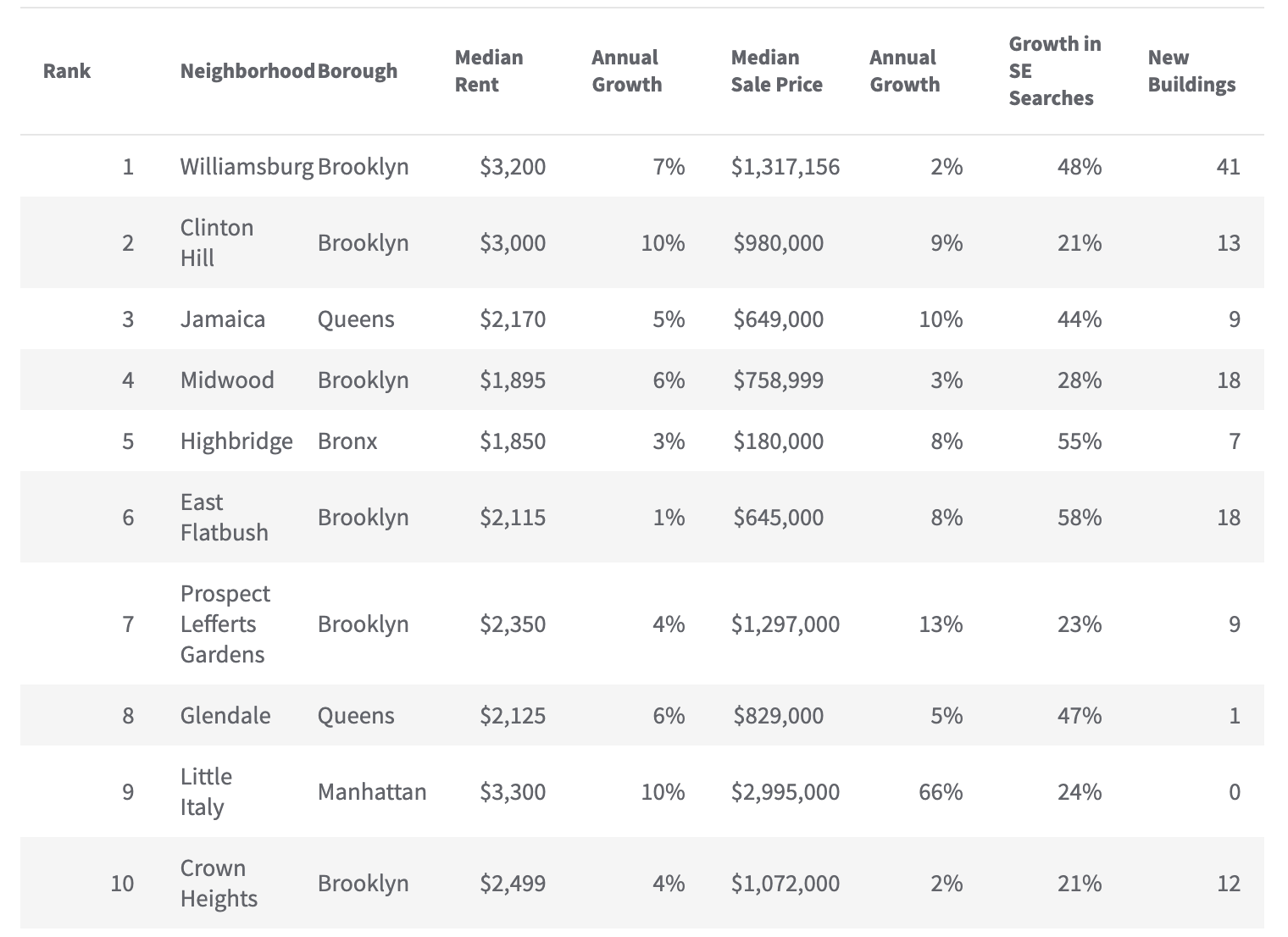 According to the study, Williamsburg actually faced a decline in its rental market after the original L train shutdown, which later turned into a slow-down. To recap, the L train was expected to shut down for 15 months to complete much-needed repairs to the Canarsie Tunnel in April. After some backlash, Governor Andrew Cuomo turned it into a slow-down, closing part of the service over the weekends. But before the slow-down, people were moving out of Williamsburg to avoid the problem of no train service to Manhattan, the NY Times reported.
Since the slow-down, Williamsburg has "rapidly rebounded," the study says. The median rent increased by 7% since 2018. There was also a 48% increase in StreetEasy user searches for the neighborhood since the past year. The study notes that it may have some to do with the new developments in Williamsburg. Take 420 Kent and the waterfront esplanade, for example, with high rise towers and green space.
There's also One South First/10 Grand in Williamsburg. As we reported last month, the new development has both residential and commercial towers sharing co-working amenities and meeting spaces. The buildings are a part of a large redevelopment of what once was the Domino Sugar Factory, an 11-acre site just north of the Williamsburg Bridge. Once it's fully developed, there will be a total of 2,800 rental apartments across the four residential buildings (700 of which would be "affordable").
"And though the new solution to fixing the Canarsie Tunnel has disrupted access to the neighborhood overnight and on weekends," the study notes, "the combined strength of this recovery makes us think Williamsburg is primed for a big 2020."
Having access to public transportation is a major reason why the other Brooklyn neighborhoods are on the list. Even though rent gets higher, the study notes that people have ventured beyond Downtown Brooklyn and Fort Greene to come to Clinton Hill for the A, C, and G train access. Midwood, Crown Heights, Prospect Lefferts Gardens (PLG), and East Flatbush are also four neighborhoods farthest away from Manhattan, the study notes. With that comes access to public transit with proximity to the 2, 5, B, or Q trains.
That is also not to say there haven't been any developments in the other neighborhoods on the list. Take the 17-story, 54 Crown Street development in Crown Heights, for example. It is expected to bring 569 apartments, have approximately 7,400 square feet of commercial space and 1,500 square feet of community space, as well as 182 enclosed parking spaces.
There's also Caton Flats/800 Flatbush, a 100% affordable housing project being constructed on Caton and Flatbush Avenues. The new development will be the home to 255 affordable apartments, 20,000 square feet of community space and a permanent home for the Flatbush Caton Market – an indoor marketplace for Caribbean merchants that was originally located at this spot.
Then there's the eight-story apartment building set to replace a townhouse on 290 Linden Boulevard in Flatbush. It is just two blocks away from the Church Avenue 2 and 5 train station. And there is more. On July 22, permits were filed with the Department of Buildings to construct a 75-foot apartment building in PLG between Rogers and Bedford avenues.
A 65-foot apartment building is also planned in Flatbush between Glenwood Road and Avenue H bringing in 36 rental units.
And finally, there's the seven-story building planned in Flatbush between 28th and 29th Streets and Clarendon Road bringing in 16 rental apartments. You can catch up on our coverage here.