Brooklyn's Latest Waterfront Tower Redefines Mixed Use: Tour Of One South First/10 Grand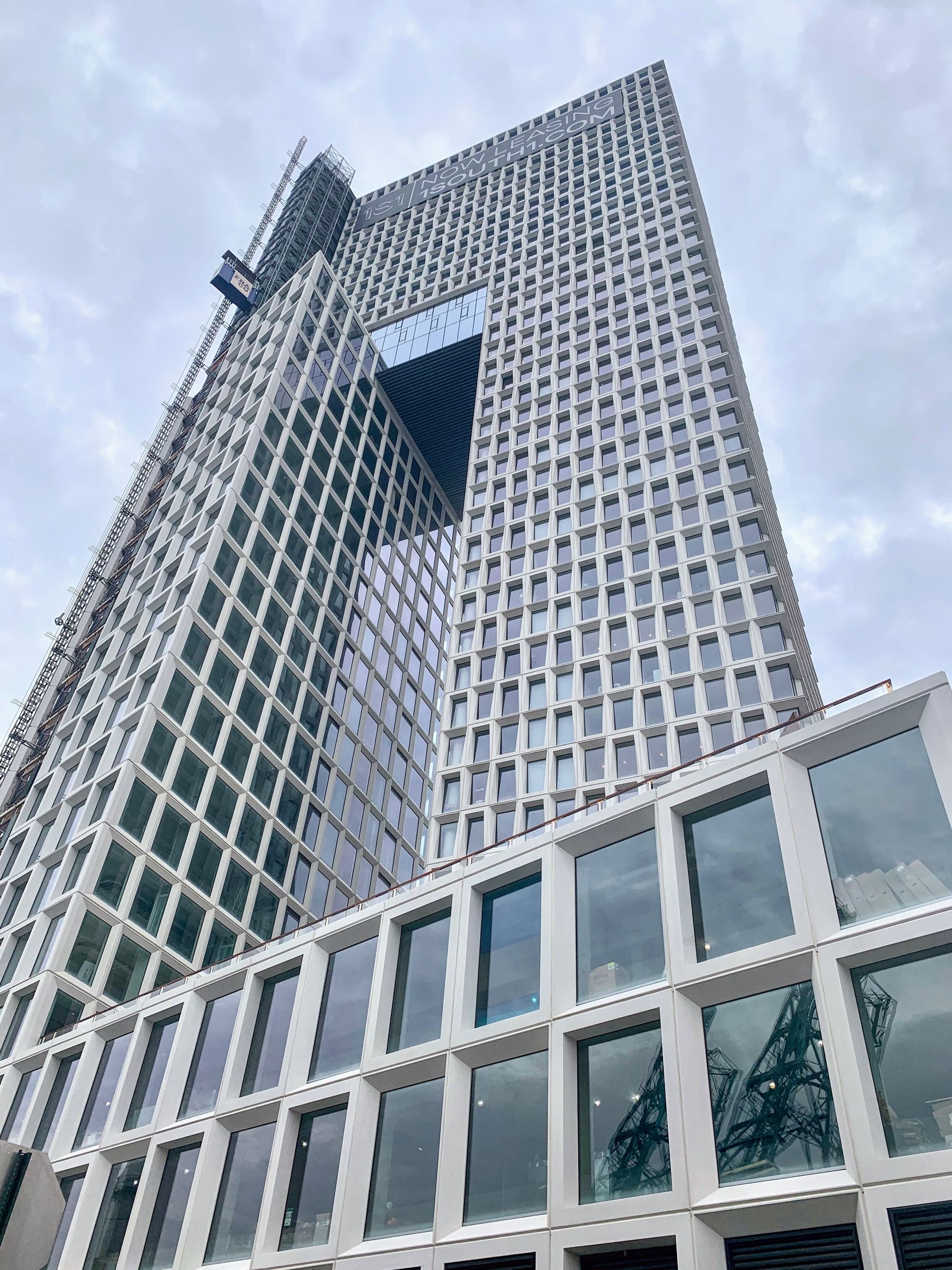 One South First/10 Grand is a building designed to play in the sun. The interlocking towers play with shadows, using architectural treatments resembling sugar cubes, and they play with uses, residential and commercial towers sharing co-working amenities and meeting spaces.
Developed by Two Trees, the building is part of the large redevelopment of what once was the Domino Sugar Factory, an 11-acre site just north of the Williamsburg Bridge. Stage one was Domino Park – a privately owned public park, which owners estimate attracted over 2 million visitors since opening last year, along with 325 Kent, a residential building that opened in 2017. Once fully developed, there will be a total of 2,800 rental apartments across four residential buildings, of which 700 will be rented through the affordable housing lottery. There will also be 600,000 square feet of commercial office space, and 200,000 square feet of retail at the Domino site.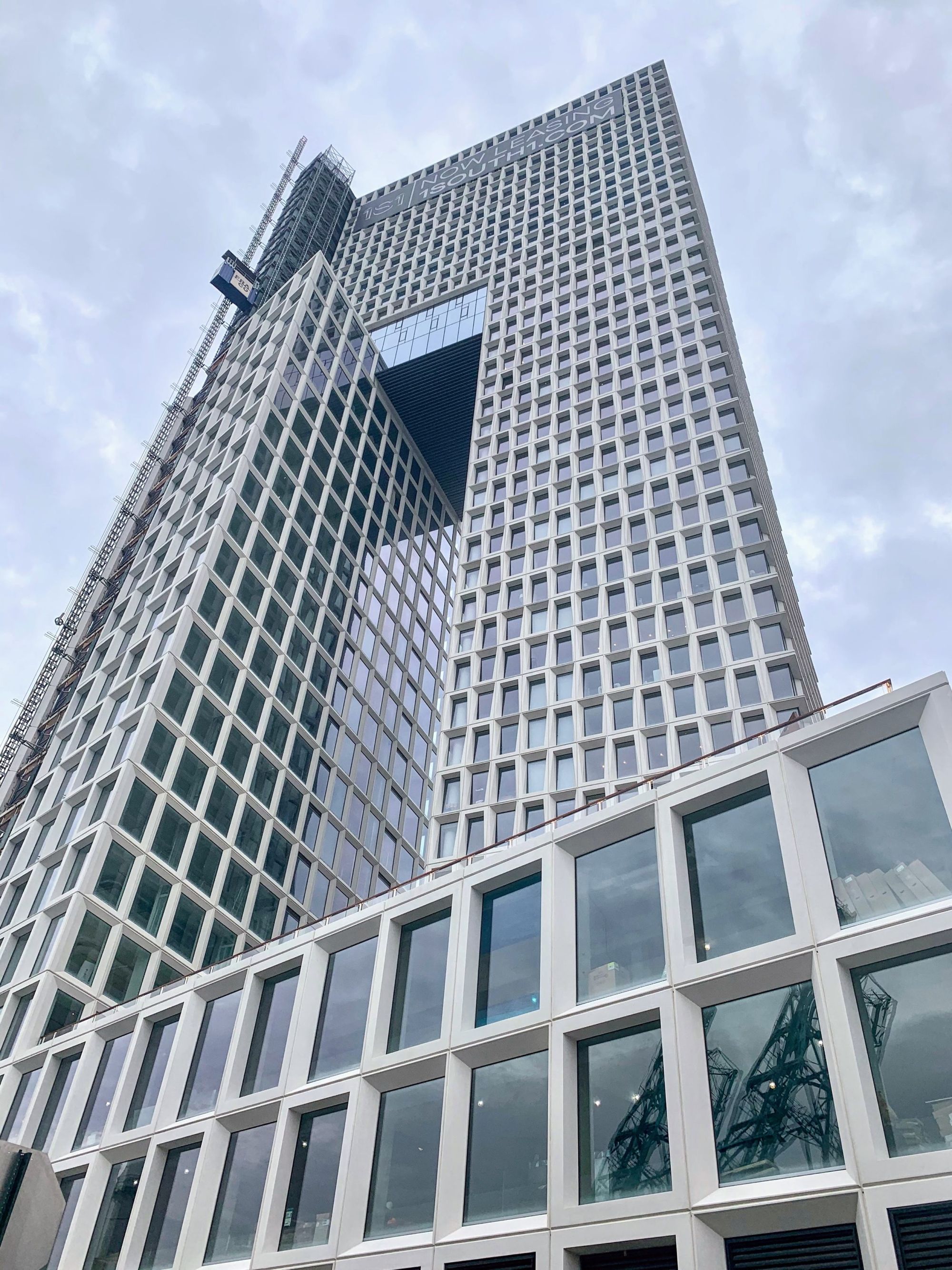 One South First/10 Grand was designed by COOKFOX Architects, and sits on the waterfront, separated by the private street developers put in.  The office tower is situated on the north side at 10 Grand and is the shorter, more rectangular building that is enveloped by the larger residential rental building One South First that welcomed its first tenants in September.
On a gray afternoon last week, developer Jed Walentas and architects Rick Cook and Arno Adkins gave a tour and talked about the development and the thinking behind its design.
"This is one of very few if not the only truly mixed use building in the city," Walentas said, introducing the building. "We are really trying to create a social space where commercial and residential tenants mix."
There are three building sites left at Domino development, two of which can be seen through the glass doors at One South lobby. The old refinery building, to be gutted to the shell (the exterior has been landmarked), and will see a glass and steel office building be built inside it. Demolition is expected to complete in March or April of 2020, Walentas noted, as well as the site across the street.
Two Trees have learned a few things in Dumbo over the last 20 – 25 years about how to create an urban neighborhood, one of which is the importance of office space.
"I have certainly talked a lot about how residential communities around New York are preplanned places that are not always awesome from an urban perspective. Adding office to these neighborhoods is really, really important everywhere from a psychological and tactile standpoint in terms of living there," Walentas explained, noting the benefits from an environmental standpoint, commuting and time management efficiencies. "So we try to figure out how the commercial office works in the neighborhood so there is a balance. Economics of residential are far superior," he noted, "and that was a challenge for us, especially not knowing how the market would respond."
The other element is retail.
"In big buildings like this, most of the world have no idea what goes on above the ground floor retail. Retail is your partner, your front door and your expression to the rest of the world," Walentas said. "So we've worked really hard to keep mom and pop retailers in all of our buildings in all of our neighborhoods. It is a bigger challenge in new construction, but I think we have been awfully successful at 325 Kent, even though it is hard, and we do different things architecturally. Here the ground floor is not completely done, but we do vary the window conditions, 3 or 4 modules that make it feel a little more personal."
The retailers coming to this development are "Two Hands coffee, The Other Half brewery, Roberta's is doing an outpost on corner Grand street, a furniture store that lost its least two blocks down that's coming in, Odd Fellows is doing a small ice cream spot facing the park," Walentas listed quickly. "They are not all one-offs, but they are not large franchises, we are working with the principals, and we do a lot of work for them. The retailers need to be successful. They are not here to do us a service, they are operators trying to make money," declining to comment further on proposed commercial rent regulations up for discussion at the City Council this week.
Last but not least Walentas believes in using a different architect for each of their buildings.
"We don't want the neighborhood to look like a development. We'll see how successful we are over time, but we very much like how different the buildings have turned out."
One South/10 Grand was designed by COOKFOX Architects, who also designed CityPoint in downtown Brooklyn, 550 Vanderbilt, and 535 Carlton among others.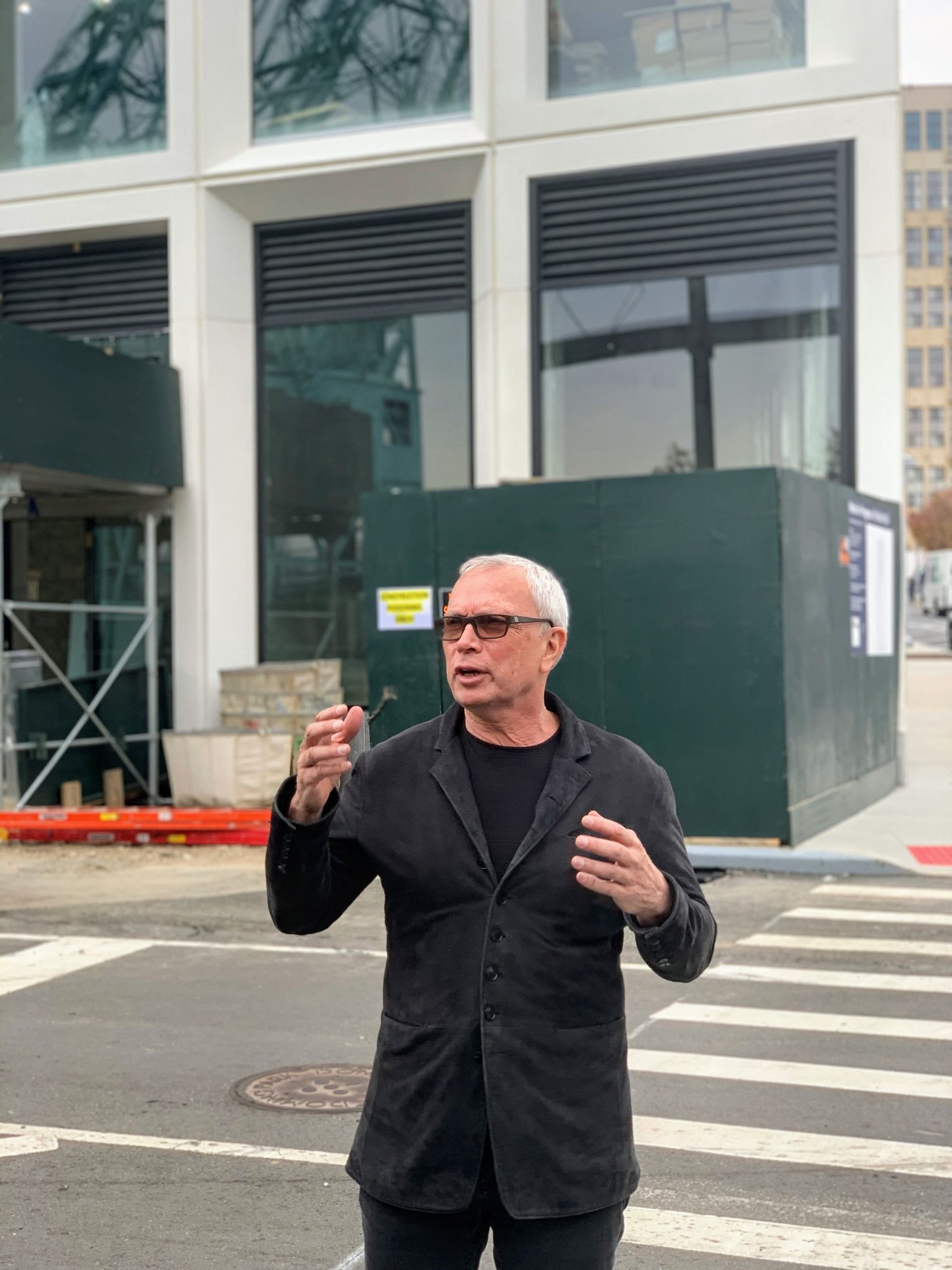 The One South First is a 45-story building with 330 rental apartments, of which 75 have been rented since September.  The building includes an outdoor granite pool overlooking the East River and City skyline that was being landscaped during the tour, an 8,000-square-foot fitness center, rooftop cabanas – available for rent, a 2,800-square-foot coworking space, and 4,200-square-foot residential lounge. 66 apartments are available to low-income residents.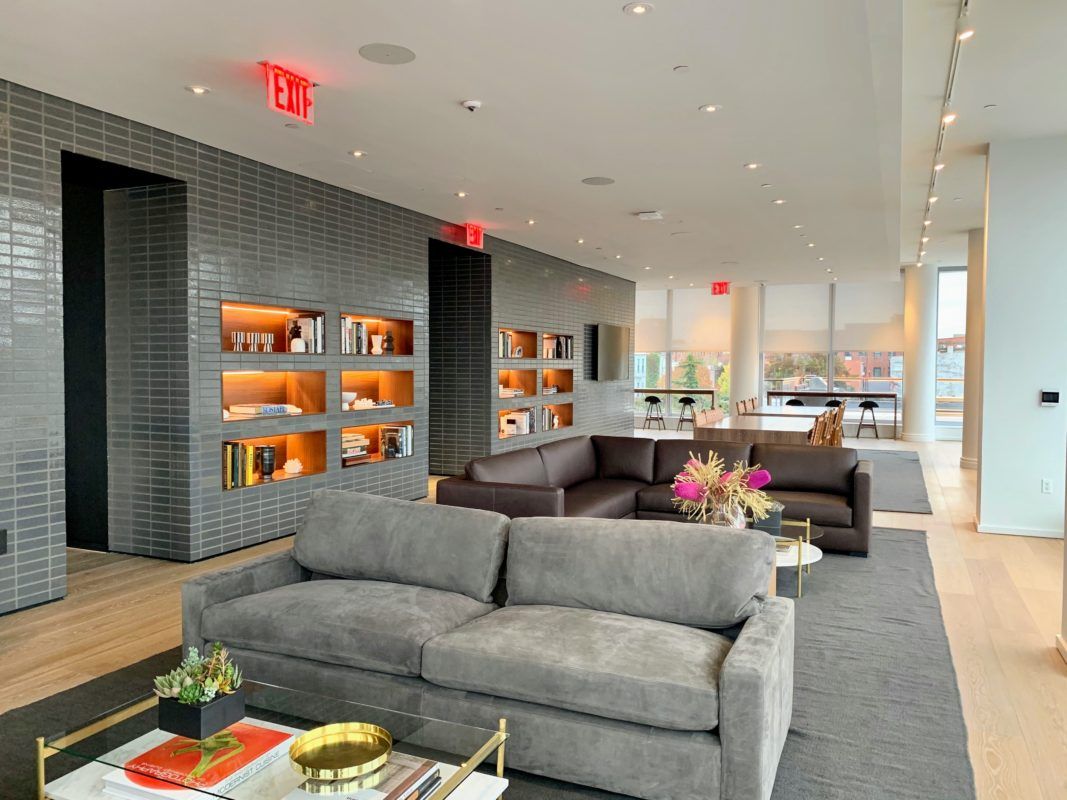 Ten Grand, a 24 story building offers 18 commercial tenants single floor plates 5,000-6,000 square feet in size. A 45-seat theater, several lounges and conference rooms, rooftop cabanas, and a large bike lobby that was still under construction. The views are stunning.
"We were fascinated with the mixed use component," Rick Cook said. "It is not typically done very well, but the concept of living someplace and working someplace else has all gotten jumbled." He noted that unlike previously, where there would be an office building with a residential building on top that would not interact,"Here the buildings are looking at each other, and they share the podium, the mixer space where there are residential lounge and meeting areas."
Of the more interesting technical and design solutions, one is invisible – the linking of the air conditioning and heating systems together between the two buildings. "Office buildings reject heat, they cool all the time, and residential buildings need heat, so it's more efficient. So that was fun," Cook explained.
"Aesthetically, we wanted a building of depth and substance, of light and shadow, and also sustainable. The south side has more verticals, the north side – horizontals, so it is self-shading like a cactus. We wanted a building that is light and modern on the Williamsburg waterfront. We wanted character, not a flat glass wall, and also for the building to transition off of Kent and on into highrise," preserving the human scale and neighborhood character at the street level.
"When you are inside, the views are spectacular, but there is still a sense of enclosure," he added.
There was a lot of emphasis on light, and sparkle, and colors and being connected to the surrounding neighborhood, and the connection between the buildings. At One South First/10 Grand the hope is to both embrace and shape the way we live, work, and commute. Bike commuters are offered a front door experience, workspace floor plans allow for more dense settings by sharing infrequently used common spaces like meeting rooms.  Similarly, while apartments are small, the views are magnificent, and common areas allow for more breathing room.