Affordable Housing: Who Can Really Afford This?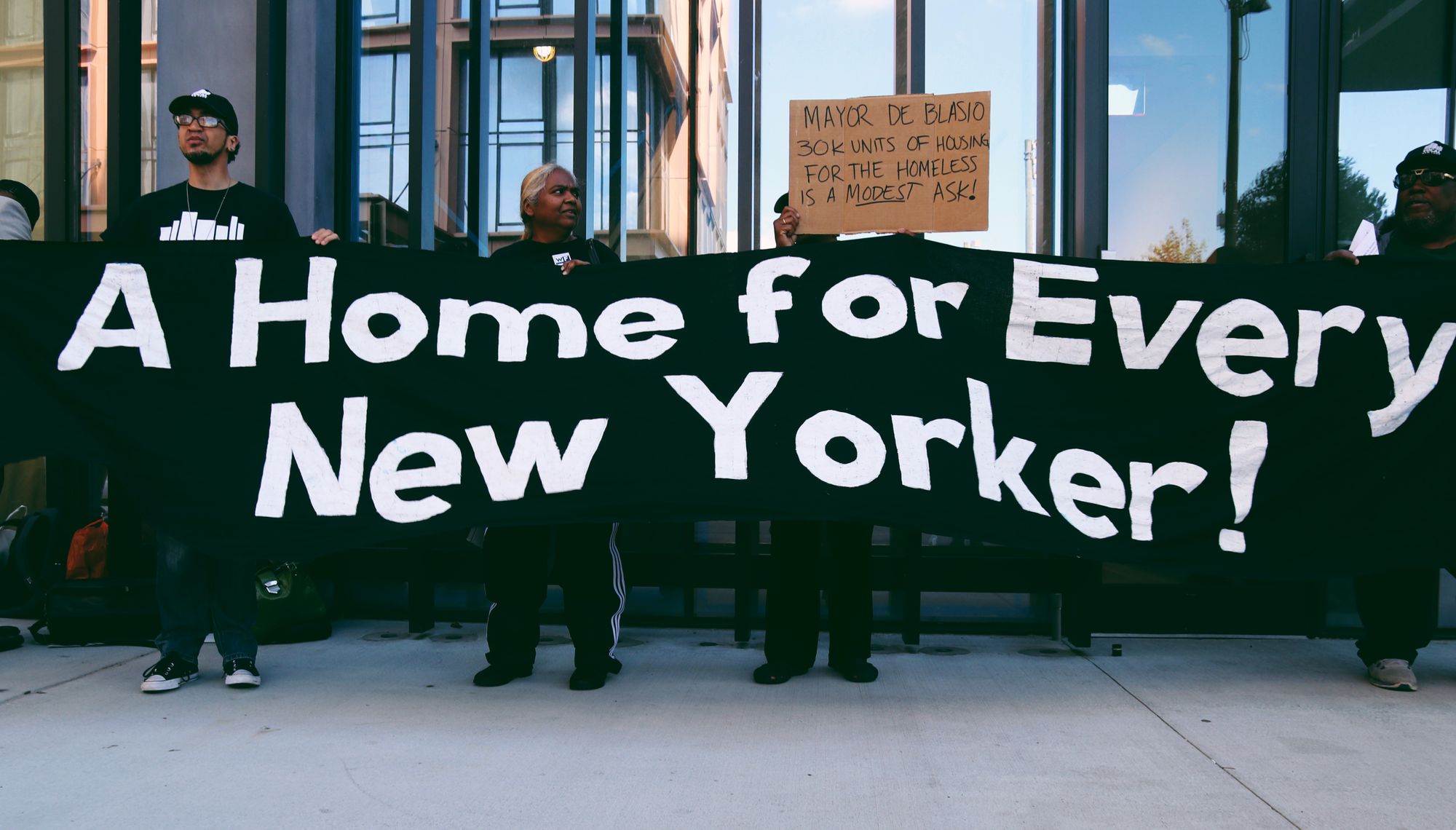 BROOKLYN HEIGHTS – Homeless activists and VOCAL-NY walked into a luxury apartment building– which the City has deemed as "affordable housing"– to protest Mayor de Blasio's "affordable" housing plan on Friday.
15 Bridge Park Drive is a tall, glass residential building located near the water in Brooklyn Heights. The building includes 20 studio, nine one-bedroom, two two-bedroom, and nine three-bedroom units. At a minimum, the monthly rent for a studio apartment in that building is $2,947. The annual household income to rent that studio apartment? Anywhere from $101,040 to $123,255. The numbers increase after that. Yet, this building is labeled by the City as "affordable housing."
Activists are asking, for who?
A home is considered "affordable" if you don't spend more than 1/3 of your income on it. For the person making $101,040 a year, or $8,420.20 a month, even the studio unit at 15 Bridge Park is not affordable by that definition, as 33% comes out to $2,778.68. And that's not counting taxes, which makes the housing even less affordable.
"There are buildings like this across the city and the Mayor is lying to us every single day when he says luxury housing is not being built," Paulette Soltani, a member of VOCAL-NY said. "He's subsidizing these buildings and we are here to call him out and tell him to stop lying to us and start building housing for homeless people."
Of the 55 buildings that are labeled as available "affordable housing" by the City, 45 of those buildings are in Brooklyn, including 15 Bridge Park Drive. Getting an apartment in these buildings is based on a lottery system. To make it easier to understand, we made a chart for the one-bedroom apartments (unless otherwise specified) for a one-person household– all of which are listed as affordable housing.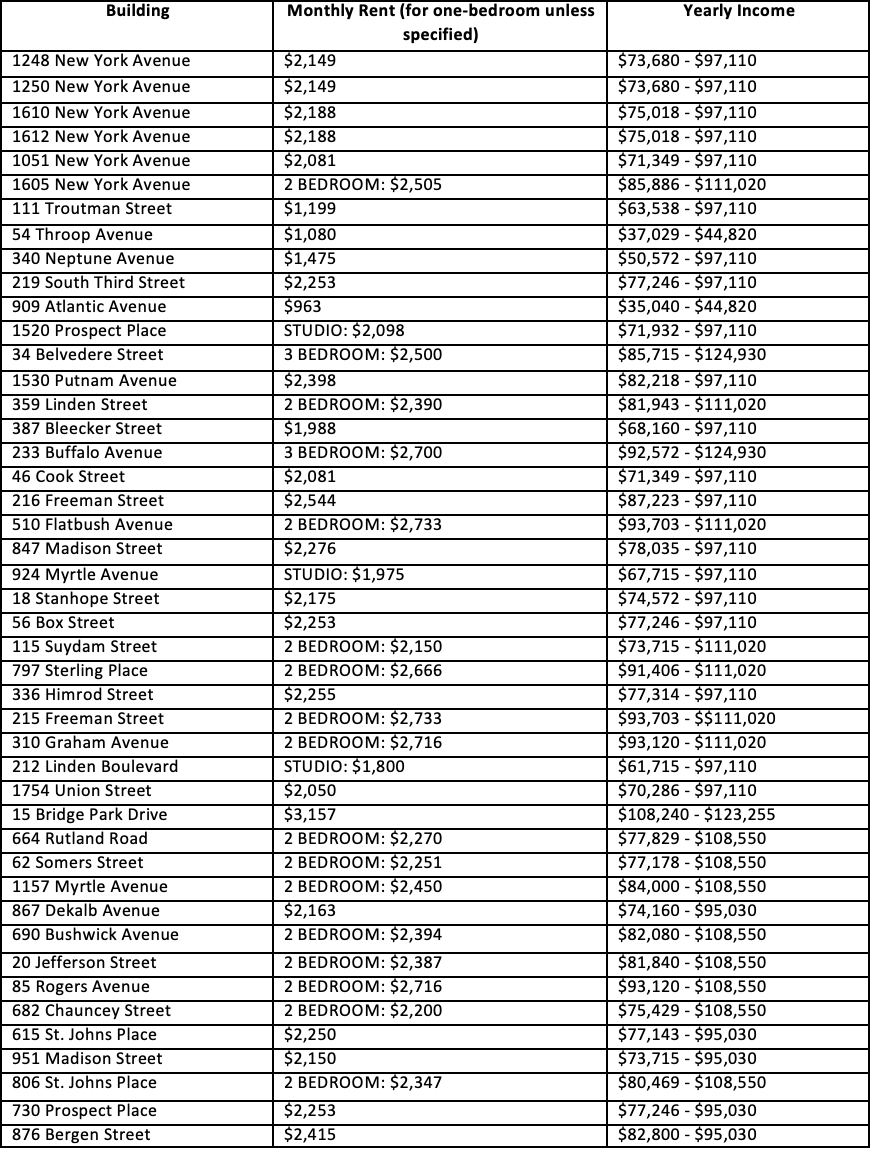 For affordable housing to actually be affordable, activists argue that it needs to match the income the average person in NY is making — which numbers show that it is not.
The median household yearly income in 2017 in Brooklyn, per Census data, was $52,782, which would qualify folks for just three of the 45 developments listed above. In the meantime, the median gross rent (includes utilities) in Brooklyn for the years 2013-2017 was $1,314 a month, according to Census data.
Here's how the city classifies you for housing purposes: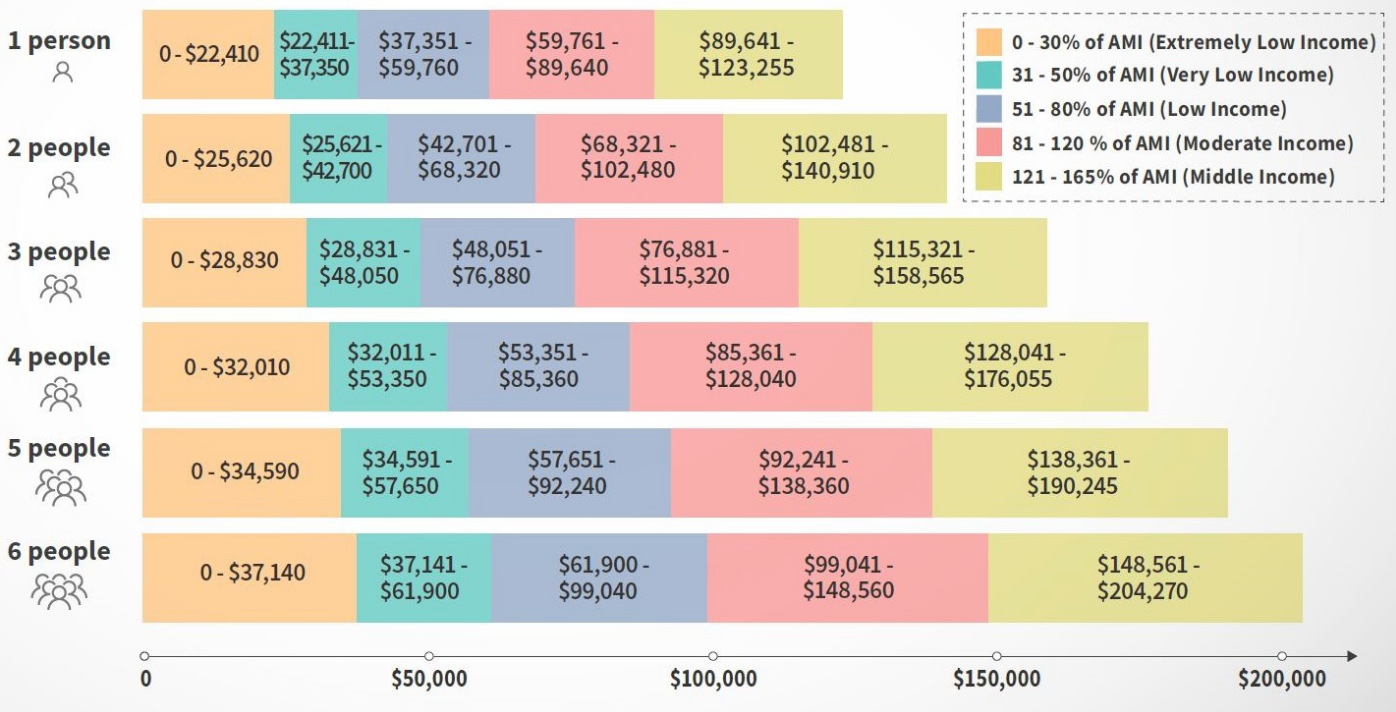 "We need to preserve the character of NYC," Felix Guzman said at the protest. "We don't need to be seen as the homeless capital of the world. People are sleeping in cardboards in train stations and hospitals because these are places where they can lay their heads when trying to navigate homelessness."
Currently, de Blasio's Housing New York 2.0 plan creates twice as many units for households who can afford rents above $2,500, than for those who are homeless. The House Our Future NY campaign called on the Mayor to set aside 30,000 units of his housing plan for homeless New Yorkers, including 24,000 of these units to be created through new construction." The Mayor's Plan expects at least 300,000 affordable units to be built by 2026.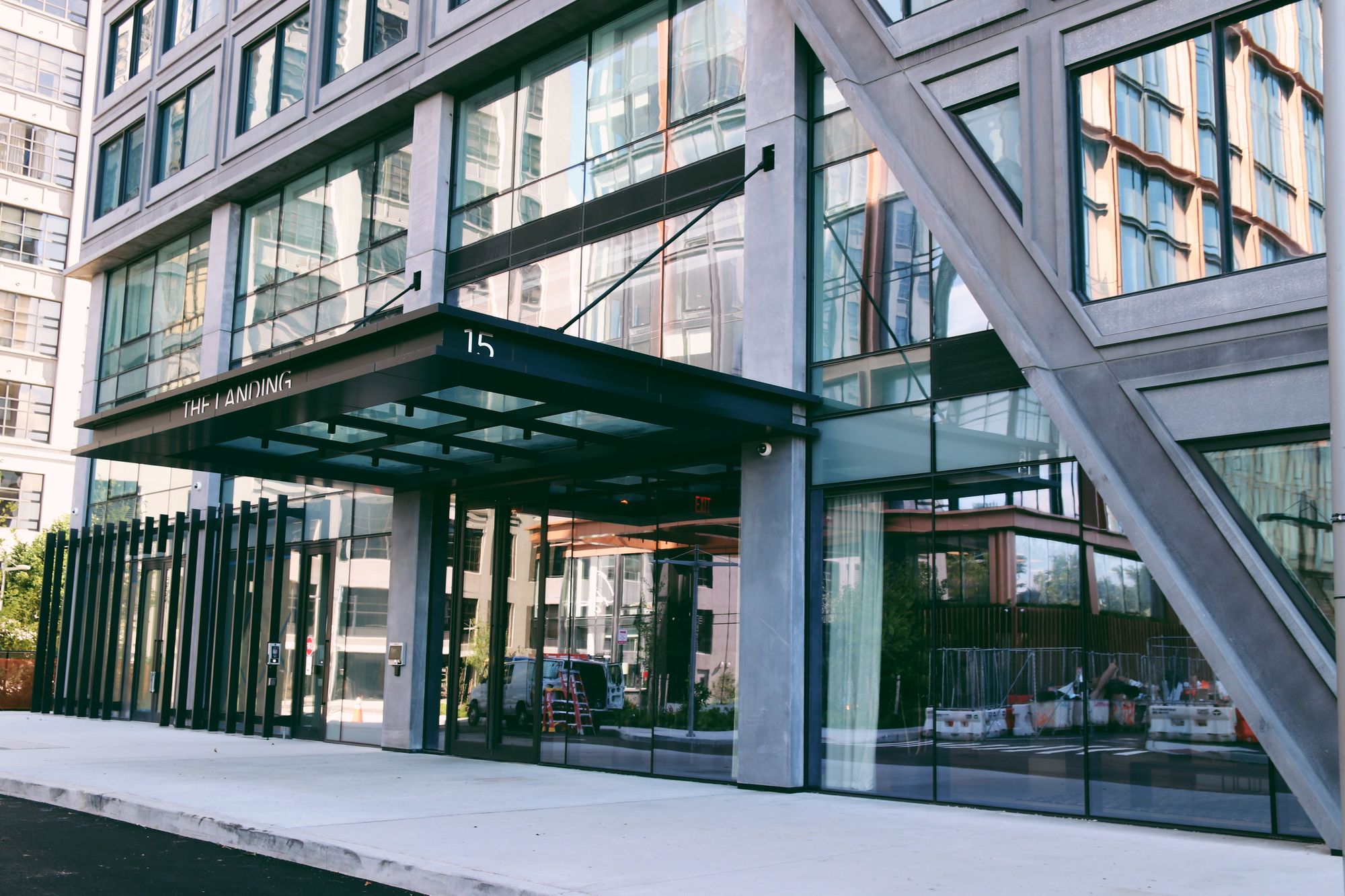 "We inherited the world's greatest city from the generations that came before us, and it is our duty to continue taking decisive action to build a just, equitable, and prosperous city for generations to come," the Mayor's website states about the Plan. "The accomplishments made to date have put us on the right trajectory. Thanks to the unprecedented collaboration of multiple City agencies, our counterparts in the Federal and State governments, and our many partners in the affordable housing community, we are ready to pick up the pace even further and chart a course for a more affordable future for our city."
But who are these affordable houses really for, activists demanded?
As they chanted "We won't stop until we house the homeless" inside the luxury building, the building staff members tried to get them to go outside as it was private property. The protestors did not budge. They stayed put and continued reading their speeches. At one point, one of the staff members said to himself, "I lived in shelters. But I didn't do this shit."
"Mayor de Blasio, we need you to listen to what we are saying. We need help," Guzman continued. "How about helping the homeless before the well-off? How about we tenants get rent protections from predatory landlords? How about we actually be offered the opportunity to continue to live in our communities where no one wanted to years ago? Mayor de Blasio, stop lying to New Yorkers."
He continued, "Mayor de Blasio does not care about the homeless. He cares about helping rich developers get richer."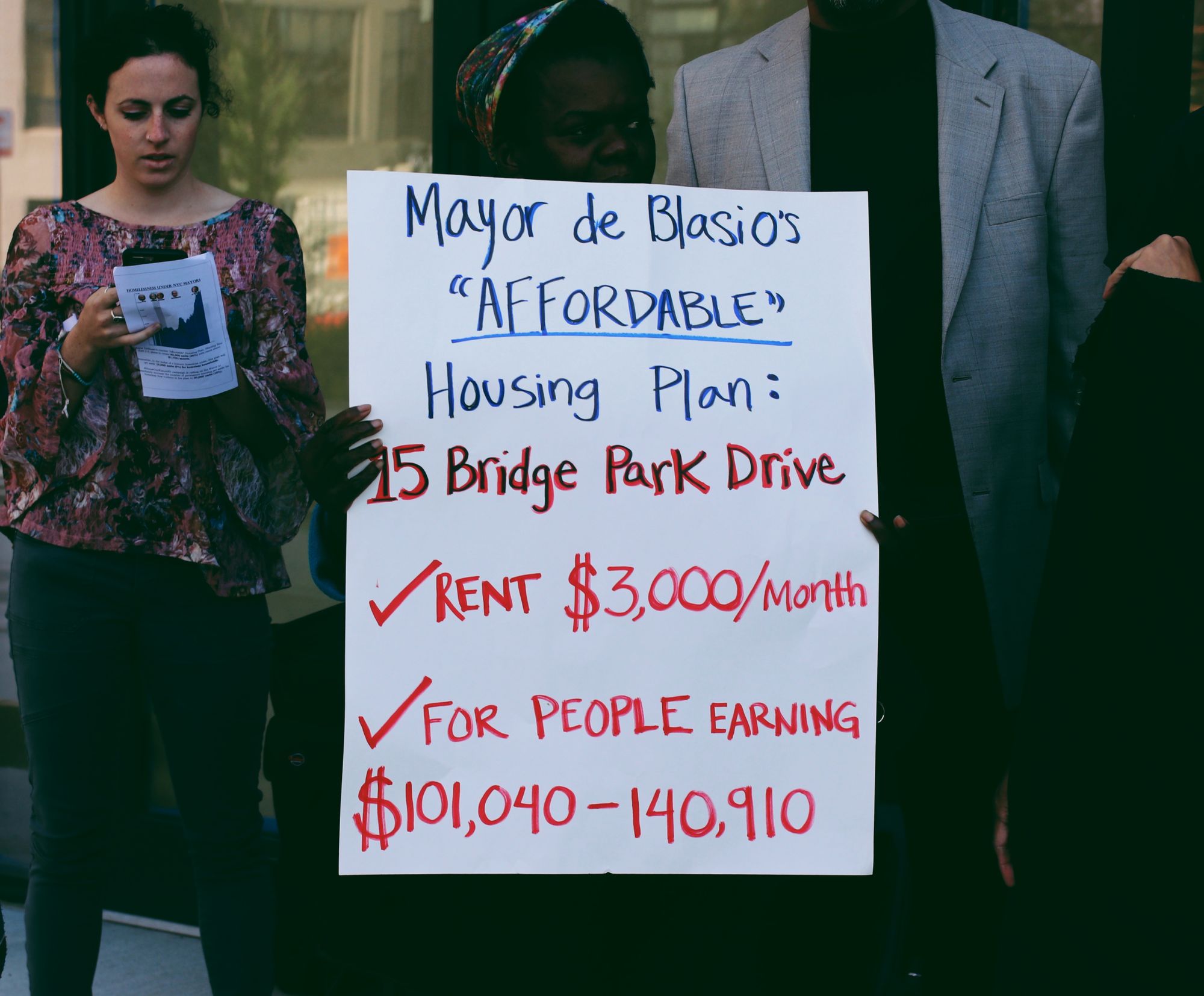 Another protestor said, "We need a leader to bring is out of our current housing crisis and ensure every New Yorker has a permanent place to live. The Mayor is lying. This housing is not affordable."
Gracie Colwell spoke about her own experience living in shelters and said it's an experience children should not have to go through. Kids need permanent housing.
"It's essential that we have permanent housing instead of crowding into shelters and living on the streets. The City has enough wealth and land to be able to give us permanent housing. I've lived in shelters with my kids. The long term effect is homelessness," Colwell said. "[Homelessness] is breaking kids down mentally and physically. Kids living in shelters develop a tremendous sense of hopelessness."
"But this is not a hopeless situation," she said. "By taking people out of their homelessness, you give them a tremendous sense of pride; a feeling that they are larger than themselves."
Another speaker, Darryl Gates, reiterated that the Mayor is lying to New Yorkers about calling it affordable housing when it is really not.
"The City could be doing a lot more to help homelessness," Gates said. "They could build more housing. They could stop giving taxpayer's money to developers that build huge buildings that ultimately hurt our communities."
"This new vision must include a home for every New Yorker," he added. "It must also be based on honesty. Mayor de Blasio, stop lying to New Yorkers."