The Ground Is Finally Broken On 800 Flatbush: Caton Flats Development
FLATBUSH – The construction of Caton Flats, the long-awaited, 100% affordable housing project on the corner of Caton and Flatbush Avenues has finally begun. Elected officials, stakeholders, and members from various agencies – the New York City Economic Development Corporation (NYCEDC), Department of Housing Preservation and Development (HPD), Housing Development Corporation (HDC), and BRP Companies, gathered in a big tent in the middle of the construction site to celebrate the milestone earlier today.
The new development will be the home to 255 affordable apartments, 20,000 square-feet of community space and a permanent home for the Flatbush Caton Market – an indoor marketplace for Caribbean merchants that was originally located at this spot.
"This project is beyond just the 255 units of affordable housing," Meredith Marshall of BRP Companies said. "It's about the economic development… it's the elevation. We want to elevate the community… elevate each and every vendor in this space to be a bigger and better institution."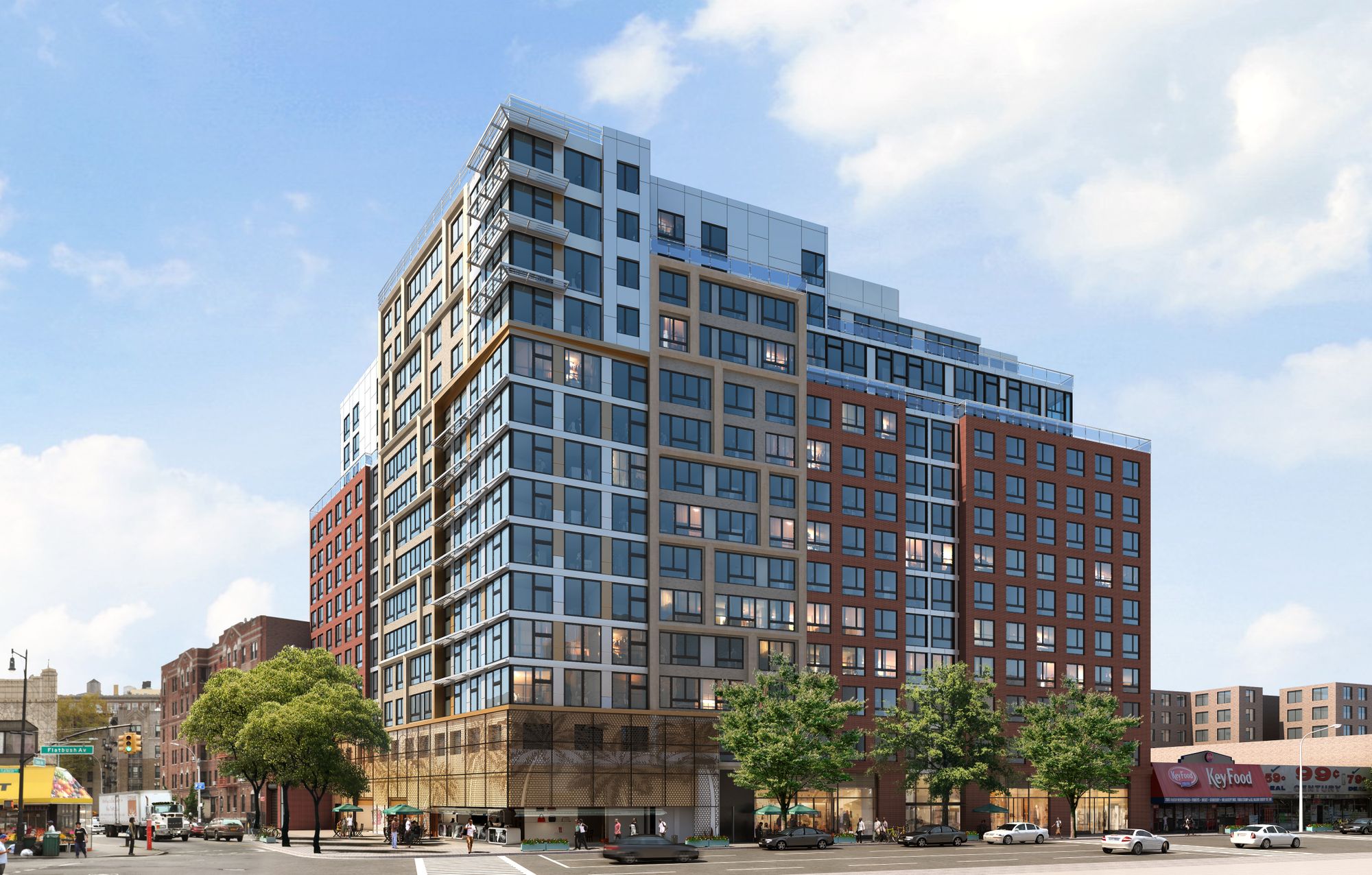 Marshall briefly mentioned that the development did not come easy. But it was something that Council Member Mathieu Eugene took to heart. In a 20-minute speech, he thanked all of the people involved, spoke kind words about some, and reiterated that even though there were fights, he was doing it all for the community.
"It is because of the sacrifices and strength of those vendors, those hardworking people, those poor people, who have been here in this market for over 20 years, fighting, struggling, paying their dues. It is because of them we are going to have a state-of-the-art building and structure."
He then said, "Marshall mentioned we had some fights… In family, brothers and sisters fight. The most important thing is today we are all here together, smiling and celebrating this achievement."
He then described in great detail – the fight.
"Let me tell you about a lovely battle I went through," Eugene began. "All of the partners wanted to go fast. They wanted this to happen."
He said that there was a meeting one day in Congresswoman Yvette Clarke's office with him and several other people including Marshall and Dr. Roy Hastick of the Carribean American Chamber of Commerce.
"Marshall was anxious. He wanted an answer from me. He wanted me to say yes. But something was missing and he left," Eugene said. The first time, it went to vote in the City Council, Eugene said he stopped the vote, leaving Hastick, Marshall, and the community members very upset.
"I know also my obligation as an elected official is to make sure that everybody gets a piece of the cake. It's to make sure that people in my district can have a piece of the pie," Eugene said. "I know that my obligation is to not to serve me but to serve the people. I said that to Dr. Hastick and my friend Marshall."
In December of 2016, Community Board 14 approved the rezoning of the development. In April of 2017, the NYC Council approved the plan for the development, and in 2017, the EDC filed for the construction documents.
According to James Johnson-Piett of Urban Development, this was a long time coming. He thanked the vendors and said they were the reason everyone was here today.
Louise Carroll from HPD said, "Projects like this would excite me for what is possible when we come together to solve the city's affordable housing crisis."
"Negotiation wasn't always easy… we had our moments but at the end of the day, Eugene held our feet to the fire and made sure this project brought everything to the table this community deserves."
Others in attendance included the newly elected council member for 45th District Farah Louis, Assembly Member Diana Richardson, and Dr. Una Clarke — all of whom said great things about the development.
"Flatbush Caton was a haven where you could pick up fresh coconut water or sugarcane, watch the World Cup," said James Patchett of EDC. "But, it was time to make a new market. And to make the market better because you guys deserve a space that is new, a space that is high quality, a space where our business can thrive, and that's what this project is about."
Construction is expected to be complete by 2021.