Brooklyn Staycation: A Day In Ditmas Park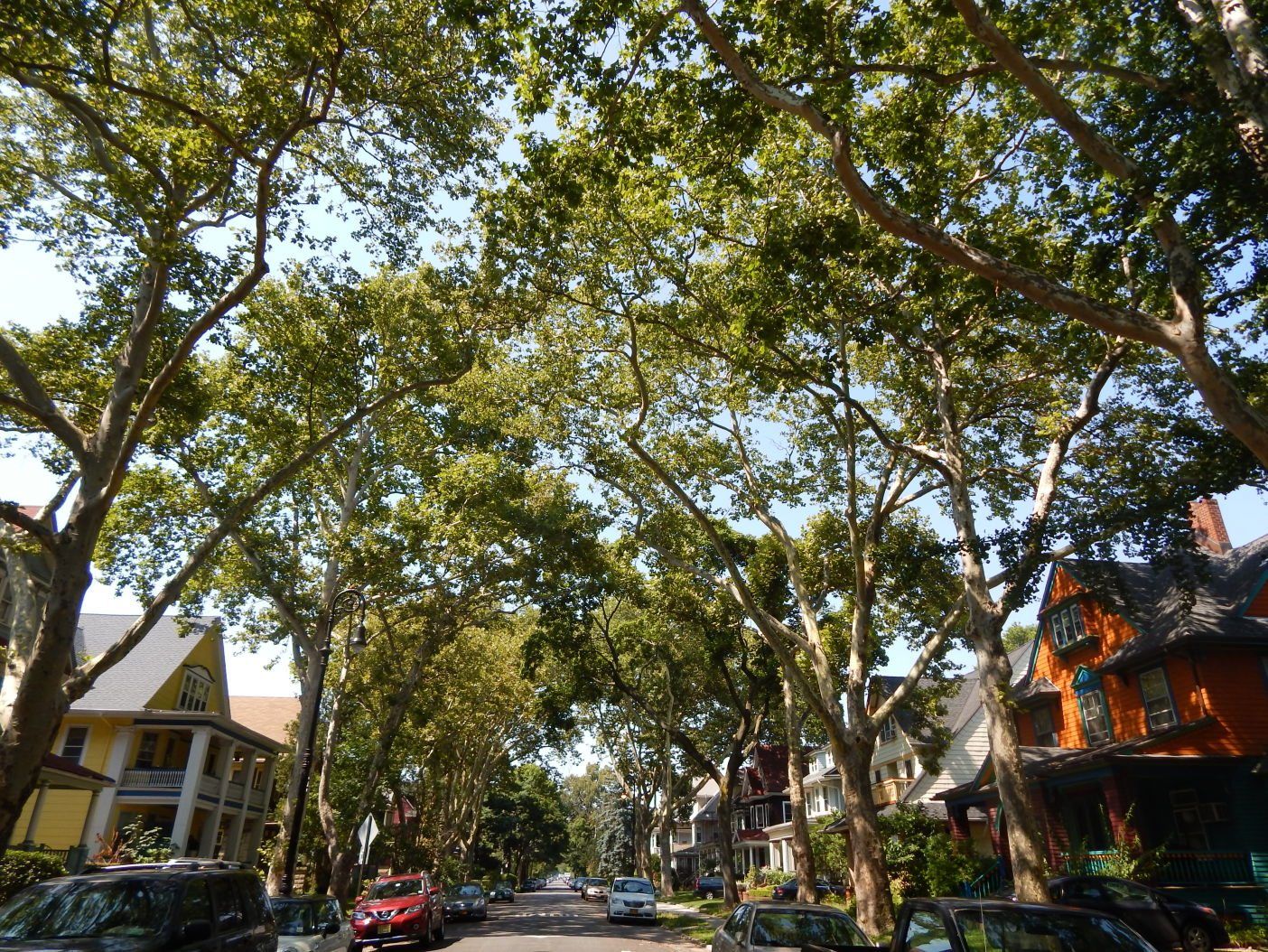 Looking for a way to get away without the hassle of taking a trip? Brooklyn Staycation is your guide to taking a breather without ever leaving the borough. Each week, we will zoom in on different Brooklyn neighborhood. Today, we will take you on a walk through Ditmas Park and its surrounding area. Check out more Brooklyn Staycations here.
From tree-lined streets filled with Victorian homes built at the turn of the 20th century to Coney Island Avenue's Little Pakistan and a vibrant Caribbean community, Ditmas Park and the area immediately surrounding it is an incredible blend of city and suburbs, its bustling Flatbush and Church Avenues existing just next door to lush lawns and neighbors sipping iced tea on wraparound porches.
During your day in our neighborhood, treat yourself to a walking tour of the area's stunning architecture, eat everything from roti to Filipino food and Middle Eastern dishes, see the city's oldest continuously used religious site, and meet people from across the globe who now call Ditmas Park home.
How To Get There
To get here, take the B or the Q to Church Avenue, the Q to Cortelyou Road, the Q to Beverley Road, the B or the Q to Newkirk Plaza, or the Q to Avenue H.
You can also catch the BM1, BM2, BM3 and BM4 express buses to our area, as well as the local B16, B35, B68, and B103.
What To Eat
Ditmas Park's cuisine is a delicious snapshot of the people who live here, and the incredibly diverse food — Coney Island Avenue's Pakistani restaurants; the Tibetan, Filipino and Middle Eastern dishes on Cortelyou Road; the Caribbean spots on Church and Flatbush Avenues — will, we're willing to bet, draw you in for more than just one day trip to our neighborhood.
Breakfast/Brunch
If you're ready to hit the road and want to grab a quick bite to eat, there are plenty of places for you to fuel up and go (though you're also welcome to sit a spell!). For those of you who need your caffeine fix, there's Cafe Madeline (1603 Cortelyou Road) — where you should be sure to get the cheddar chive biscuit alongside your latte; the newly-opened Coffee Z (30 Newkirk Plaza), which has an almond pastry that's worth throwing any diet out the window; and Coffee Mob (1514 Newkirk Avenue), where you can grab everything from vegan ice cream to spiced iced coffee.
At Lark Cafe (1007 Church Avenue), you can nab one of the much-adored Brancaccio's Food Shop's sandwiches, and, despite your best intentions to get up and go, you'll likely end up soaking in the ambiance while sipping your coffee at Milk & Honey (1119 Newkirk Avenue).
La Nueva Union (1114 Cortelyou Road) doesn't offer much in the way of seating, but you can get some amazing fresh-made tamales on Friday, Saturday and Sunday mornings — just make sure to get there early, as they run out fast.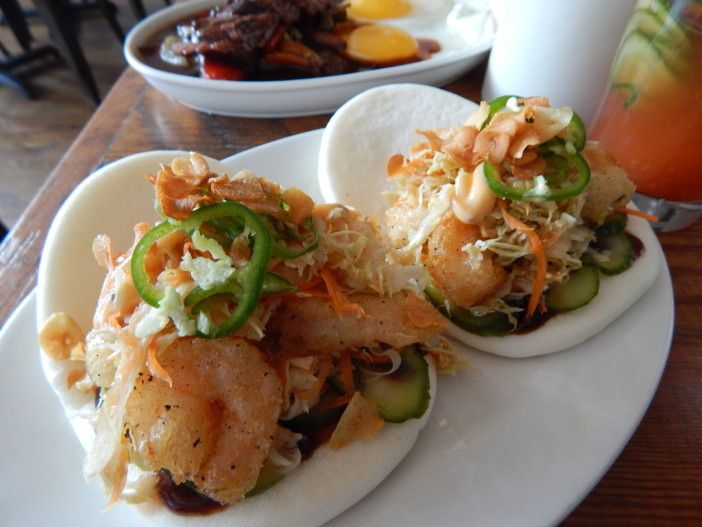 If you'd rather sit and take your time, the Farm on Adderley (1108 Cortelyou Road) has long been a brunch favorite around here, offering a variety of Americana fare, from farm omelets to red flannel hash and chicken schnitzels. At Lea (1022 Cortelyou Road), check out the brunch pizzas, or chow down on the shrimp and grits, stuffed french toast and huevos rancheros at Ox Cart Tavern (1301 Newkirk Avenue).
Hunger Pang (1021 Church Avenue) not long ago started serving up its American-Asian-inspired brunch — which translates to an okonomiyaki and po baos (a variation on the, you guessed it, po' boy) that you have to try. At Mimi's Hummus, stuff yourself with such Middle Eastern dishes as the Moroccan pancake, shakshuka merguez and a whole lot more. And at The Castello Plan, don't leave without trying one of their unique cocktails (we say go for the Rye Belle or Annie Toast) with your meal.
Lunch and Dinner
When lunch and dinner time rolls around, head to Church Avenue for some world-class Caribbean food. At the much-praised Shayna's (E. 10th Street and Church Avenue), take the time to chat with Joyce Bittan — the owner and full-time chef at the affordable eatery that's been hailed as one of the best roti spots in the area (high praise for a neighborhood bursting with incredible Caribbean food). While you're there, try a huge plate of goat roti or some doubles — sandwiches with curried chickpeas and tamarind sauce-sweetened bread.
For our fans of South Asian cuisine, check out our area's Little Pakistan on Coney Island Avenue — where you'll find drool-inducing windows teeming with everything from gulab jamun to saag paneer. At Madina (563 Coney Island Avenue), there's a chili chicken that may not be for the faint of heart — but its spice is more than addictive and is a perfect accompaniment to their mango lassis and vegetable samosas. (Plus, like Shayna's, it won't break the bank — $20 will get you two entrées, appetizers, drinks, and dessert.)
To continue your trip around the globe, head to Cortelyou Road for Cafe Tibet (1510 Cortelyou Road), a hole-in-the-wall favorite that has beef, chicken and veggie momos (dumplings) that we'd eat every day if we could.
Or, if it's Filipino food you're craving, Purple Yam (1314 Cortelyou Road), hands down, has some of the best in the city. Also on Cortelyou is Bashi Channel (1120 Cortelyou Road), which recently celebrated its much-anticipated debut and where you can try a wide range of Asian-fusion meals, including the deliciously rich soup dumplings and the wonderfully spicy miso ramen.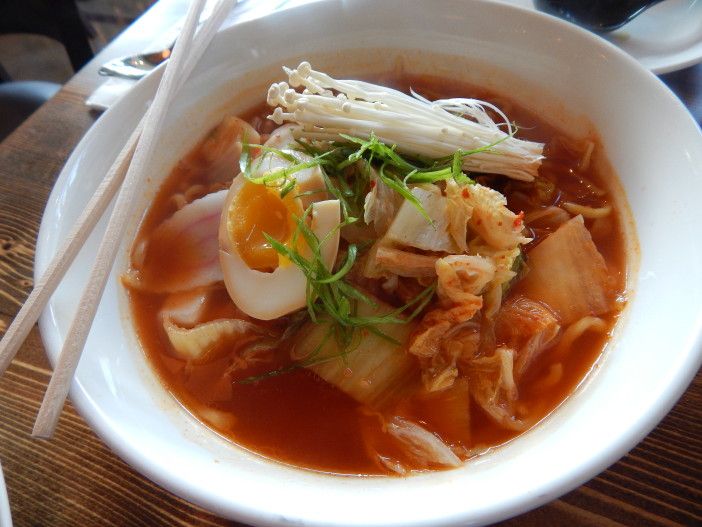 More in the mood for pizza? Wheated (905 Church Avenue) dishes up pies that haunt food guru Adam Kuban's dreams. All the pies are named after Brooklyn neighborhoods — which means you'll have to start out with the Ditmas Park, of course. While you're there, ask Wheated's owner, David Sheridan, what whiskey to sip from their extensive menu — you won't be disappointed.
Bars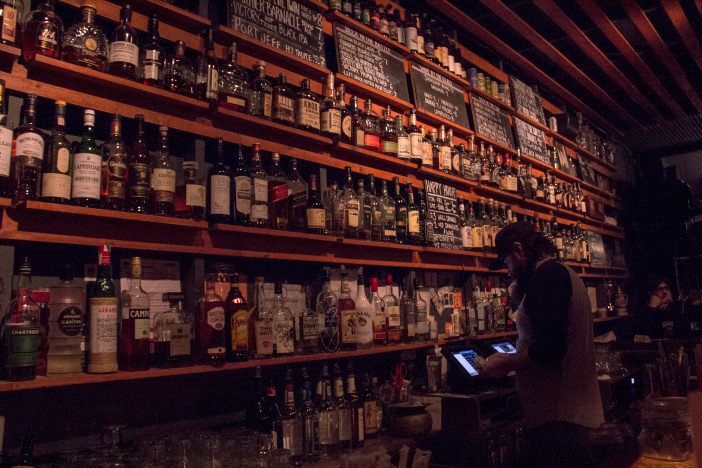 Whether you want to grab a bourbon and listen to some live jazz or kick back with a Brooklyn lager while taking time to smell the roses (literally), you'll have plenty of chances to do so in Ditmas Park.
Sycamore, the florist and bar hybrid at 1118 Cortelyou Road, boasts 75 different bourbons and whiskeys, which you can sip while trying more amazing eats (don't think we're gonna let you go home until you're Violet-in-Willy-Wonka-stuffed) at the Flatbush Food Court, which serves up dishes from many a local chef.
If live music is more your style, Bar Chord (1008 Cortelyou Road) hosts singers and bands every day of the week, from reggae to folk and Appalachia.
And at The Highbury Pub (1002 Cortelyou Road), get your fill of football (that's European football, mind you) and other sports games while drinking a sour ale or German wheat beer.
Things To Do
Take a walking tour of our area's truly stunning architecture. Many of our neighborhood streets are lined with gorgeous mansions built at the turn of the 20th century, and the architectural range is a fascinating one, with, for example, a Japanese-style house being located close to homes built in Swiss chalet and Spanish Mission styles.
Where to start: Get off at the Church Avenue B/Q subway station and make your way to Buckingham Road. Turn left and begin to gawk. Walk past the Japanese House and the William & Lulu Norwood House until you hit Albemarle Road. Turn right and see one of the coolest houses in Victorian Flatbush — 1306 Albemarle Road. Make your way to Marlborough Road and turn left to go past a nearly countless number of incredible houses, including one at 184 Marlborough Road, which was once home to Nellie Bly — the pioneering feminist and investigative journalist who took the world by storm decades before women even had the right to vote. Weave your way down Beverley, Rugby, Argyle, Westminster, and Stratford Roads, past Cortelyou and Dorchester Roads and onto Ditmas and Newkirk Avenues.
While you're on your walking tour, stop to admire the numerous public artworks, including Juan Carlos Pinto's enormous pixelated portraits at the corner of Cortelyou and Marlborough Roads, the mosaic next to the old John's Bakery at 1322 Cortelyou Road, and the Newkirk Plaza tunnel mural. See the mural on the side of Flatbush Food Coop building at 1415 Cortelyou Road, as well as the Dorchester bridge artwork.
Want to take a break and do some shopping along your walk? There are many places where you can take home something unique to remember your day in Ditmas Park, including eclectic gifts at Collyer's Mansion (368 Stratford Road, by Cortelyou Road), where you can peruse everything from Peruvian cookbooks to Zodiac notecards and dino dog collars. Just around the corner from Collyer's, you can find a wide variety of goods made by local residents at Brooklyn ARTery (1021 Cortelyou Road), including subway map aprons, Ditmas Park greeting cards, and  Malaysian sambal from chef Auria Abraham.
Walk down to Coney Island Avenue and be mesmerized by a seemingly endless row of shops from across the globe, including Pakistan and Sri Lanka. There, take a look at the saris at places like the House of Fashion (1103 Coney Island Avenue), where the owner, Malani, can regale you with stories of growing up in Sri Lanka in between showing off the rows and rows of intricately made clothing that's screaming with color.
Or, extend your trip a little further and head to Flatbush Avenue after getting off at the Church Avenue B/Q stop. Walk down Caton Avenue to Flatbush and hit the Flatbush Caton Market, where more than 40 vendors sell everything from Caribbean flags to Bob Marley paraphernalia and even haircuts.
If you go down to Flatbush Avenue, check out a concert at the stunning Kings Theatre (1027 Flatbush Avenue), which was just renovated to the tune of about $95 million — a transformation that brought the historic space from a crumbling mess left abandoned for decades to an opulent space that pays homage to the theatre's Jazz Age beginnings.
Still haven't had enough music? You can go south to Brooklyn College's Center for the Performing Arts, where, beginning this fall, you can catch performances by Black Violin, the Vienna Boys Choir, Step Afrika! and more.
Walk Down Memory Lane
After you've marveled at the Kings Theatre, learn more about the community's history on Flatbush Avenue and stop at the Flatbush Reformed Church (890 Flatbush Avenue) — the oldest continuously used religious site in all of New York City. In 1654, then-Governor Peter Stuyvesant ordered that a church be built at the location, which was then rural farmland, and in a town that the Dutch called Midwout — a name that evolved into today's Midwood. The church's stone building that you see now was finished in 1798.
In the church's yard, which isn't open to the public but which you can see from both Flatbush and Church Avenues, is a cemetery that is the resting place for many of Flatbush's early Dutch families, with the earliest legible grave dating to 1754 — a time when less than 5,000 people called Flatbush home. Among those buried in the cemetery are numerous war veterans, including Henry Suydam, a Revolutionary War soldier who served in the Continental Army around New York.
Just down the street from the Flatbush Reformed Church stands another structure from a time when the neighborhood was a sea of farmland — the Erasmus Hall Academy, located in the courtyard behind the towering Gothic structure that is Erasmus Hall High School (where Neil Diamond and Barbara Streisand attended class).
Built in 1786 as a school for the children of the area's Dutch farmers, the site is one of the oldest secondary schools in the country — and even includes Alexander Hamilton and Aaron Burr among its earliest benefactors. You can glimpse the building, as well as a statue of Desiderius Erasmus — a 16th century Dutch scholar for whom the school is named — from the gate outside the high school.
Exhausted after all that walking? Grab a picnic dinner from Mimi's Hummus and head over to Prospect Park, where you can watch the sun set by the lake before checking out Ditmas Park resident Lola Star's roller skating parties at Prospect Park's Lakeside every Friday evening through October.
And that's just the beginning. There are more great things to do in Ditmas Park than we could possibly list here. To keep up to date on what's happening in the neighborhood, like us on Facebook, follow us on Twitter, Pinterest, and Instagram, and subscribe to our daily newsletter.