Tonight: The Lodge At Sycamore Kicks Off Season Of Food Vendors, Games, Storytelling & More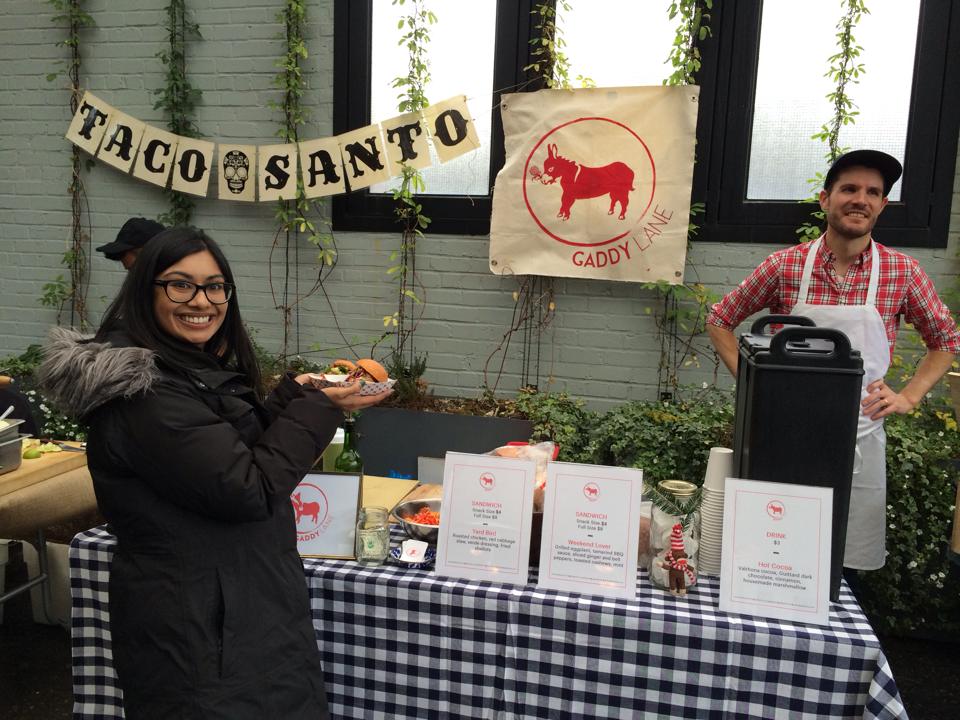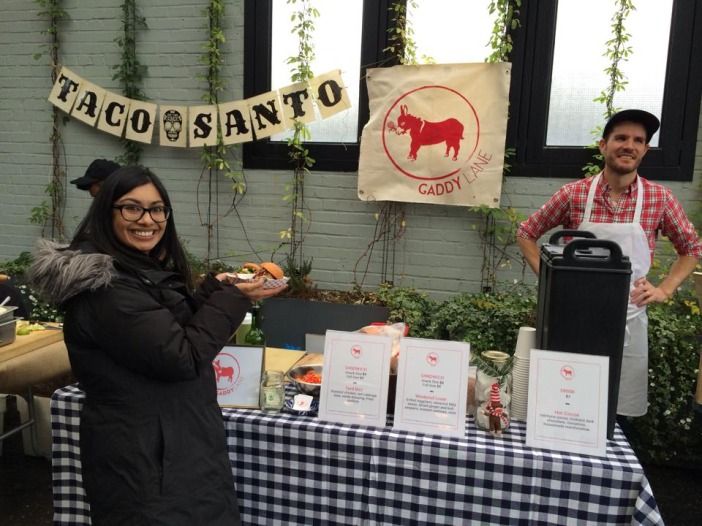 Photo via Gaddy Lane
Time to get out your ugly holiday sweaters, neighbors!
Tonight, The Lodge at Sycamore (1118 Cortelyou Road) is kicking off its season of food vendors and events in a heated tent in the bar's back yard. Beginning at 6pm, you'll be able to grab a bite to eat from Gaddy Lane – and the husband and wife duo behind the pop-up sandwich shop let us know they'll be giving out free treats to anyone rocking sweaters with protruding reindeer antlers, bells, or anything of the sort!
The opening party will run from 6-11pm, and The Lodge at Sycamore will continue tomorrow, December 23, with bingo and a final night of Hanukkah menorah lighting. After that, there will be VHS nights, hot drinks, board games, storytelling, live music, trivia, record spinning, and more. You can see more of the details here.
We wanted to find out more about the folks behind Gaddy Lane, Tina and Ben Chiu-Maes, who spoke to us about their favorite spots in the neighborhood, being obsessed with brussels sprouts, how us non-chef folk can spice up our winter cooking, what they'll be serving up tonight, and more:
Tell us about Gaddy Lane! Where does the name come from?
Gaddy Lane is named after the country road where we got married in Ben's hometown of Kelseyville, in Northern California.
You guys already seem pretty well known in the city's culinary landscape, with Ben being the executive chef at The Redhead in the East Village and Tina greasing the wheels at the Kimchi Taco truck and its two stationary siblings, Kimchi Grill. Seems like this has to keep you busy! What made you want to add Gaddy Lane to the mix?
Gaddy Lane is a labor of love for us. Or taken another way, a really time-consuming hobby! But it's super fun to work on something that is wholly our own and it has been great to get feedback on our menu, concept, etc from doing pop ups. Along the way, we've met some really great people, such as the folks at Sycamore. A little bit of background: we were living in San Franciso for 4 years before moving back to Brooklyn. We weren't quite sure where we wanted to settle and stumbled into Sycamore one cold winter day. We thought, we love this place! Wouldn't it be awesome if this was our local bar? And now it is.
What's your culinary dream of all dreams? Gaddy Lane: The Restaurant? Something else?
Down the road, we want to open a very casual, counter top spot, that will serve approachable, playful sandwiches, salads, soups and sides. Ideally, it'll be mostly for the lunch crowd, somewhere in Brooklyn.
Since you guys live in Kensington, what are some of your favorite places to eat there? And in Ditmas Park?
Wheated is definitely our favorite spot, between the pizza and the bourbon selection. We're also fans of Nine Chains and La Flor de Santa Ines on Church Avenue. In Ditmas Park, we like the Farm for brunch and Mimi's. Also, the food vendors at Sycamore!
What are some food staples in your house? I always imagine a home with two chefs in it is basically a dream come true. Are you often trying out new meals on each other?
Our fridge is usually fairly empty, because we're not good at planning meals ahead of time. We're definitely not the type of people that do a massive shopping trip once a week. But we usually have a lot of Asian & Mexican condiments (fish sauce, Sriracha, Valentina, yuzu koso, and oyster sauce), spices and an assortment of funky fermented ingredients (bread starter, shio kogi). At this time of the year, we almost always have brussels sprouts on hand because Tina is obsessed. We're big vegetable eaters in general and are really excited about the co-op coming to Kensington.
How about some tips for all us food laymen – what's the best way to spice things up when we're cooking at home this winter?
Do simple things from scratch, that make a world of difference. It's easy and affordable to use kitchen scraps that you would usually throw away to make a homemade stock for soup. Salad dressing always tastes better when it's homemade. All you need is oil and acid (and herbs and spices if you want to add some depth). Toast and blend your own spice mixes. With all these tasks keep it simple to start. Use 3 to 4 ingredients and go from there.
Onto Monday's food! How did you decide on the offerings?
Gaddy Lane's food is New American, but more importantly, it's inspired by our backgrounds. Tina grew up in the Lower East Side, so there is a lot of influence from immigrant food culture. Ben grew up in Northern California on a walnut orchard, so seasonality and made-from-scratch is hugely important. The menu is a pretty good representation of our backgrounds. For example, for the Virtuous Yenta, we take a traditional New York dish – a pastrami sandwich- and substitute the brisket for roasted, smoked beets. It's a Californian take on a New Yawk staple. The Lucky #1 is a riff on sweet & sour pork, that Chinese take-out favorite. Instead of fried pork, we made it a pulled pork and use our housemade chicharron for crunchiness. Our Spicy Sultan chicken soup is new to the menu. It has a lot of North African / Mediterranean elements to it. We wanted to do a loose variation of the more traditional chicken and rice soup.
Tina and Ben let us know tonight's full menu will be:
$8 sandwiches, including the Lucky #1 (sweet and sour pulled pork, chicharrón, and caramelized pineapple) and  The Virtuous Yenta (roasted beets, pastrami spices, horseradish mayo, cucumber, and dill).
The Spicy Sultan, a $6 soup, will include harissa and garlic broth, roasted chicken, Israeli couscous, fennel, carrots, and fried chickpeas.
A $3 snack of Crack Cracklings will include housemade chicharrón, toasted spice mix, and lime zest.
And the $3 drink will be hot cocoa, including Valrhona cocoa, Guittard dark chocolate, cinnamon, and housemade marshmallow (plus, you can add a shot at the bar).