Vigil-Goers Get in Altercation With Truck Drivers at Scene of Williamsburg Fatal Crash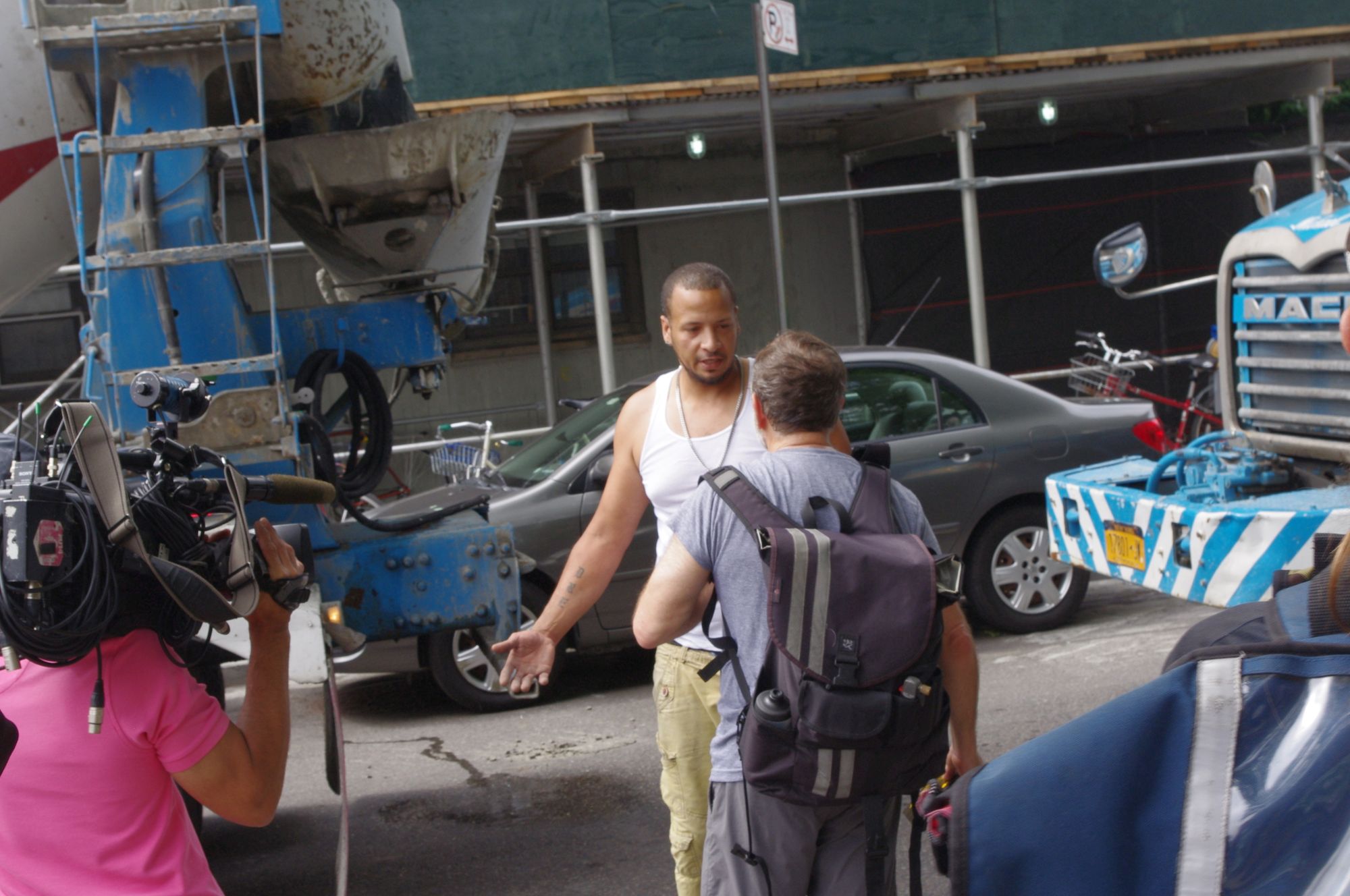 WILLIAMSBURG — Participants in a vigil held for a cyclist who was recently killed by a cement truck in Williamsburg fumed on Wednesday at two truck drivers at the scene of the crash.
Council Member Antonio Reynoso and street safety advocates gathered at the corner where Devra Freelander, a 28-year-old artist from Bushwick, was struck and killed on Monday, to honor the slain cyclist and call attention to the city's failure to protect people who travel around the five boroughs via bike.
The emotional altercation started when, toward the tail end of the event, two cement trucks owned by United Transit Mix, the company that owned the truck that killed Freelander, were stopped at a red light on Boerum Street. The street, notably, does not sit along a designated truck route, which caused the people at the demonstration to vent their frustration at the two drivers.
"This is not a truck route!" yelled one cyclist at the vigil. "Take the route that you're supposed to take."
"Watch where you're going!" shouted another. "Slow the fuck down!"
"Hey, the man didn't want to kill no one. It's her fault also," one truck driver said, as bicyclists shouted back.
"The whole company is hurt by this," said the other truck driver. "We all have families."
"How are we supposed to see everyone?" the first driver added, as cars sitting on the backed-up street behind him began to honk their horns. "She ran the light."
The vigil-goers were of course not satisfied.
"It's your job to see everyone," one man retorted. "You do it for a living, you're a pro. You can't even operate your own vehicle?"
The back-and-forth comes after Tony Mastronardi, United Transit Mix's owner, blamed the fatal crash on "too many bikes" being on the streets.
Additionally, the heated exchange follows a similar (though less acrimonious) vigil that took place on Monday in Brownsville, after a man was killed last week by a person driving a private vehicle there. That incident was among a spate of cyclist deaths at the hands of motorists, as 15 people on bikes have been killed on the streets of New York City, 10 in Brooklyn, this year—more than double the rate of cyclists deaths at this point in 2018.
In response to this startling statistic—and specifically to the death of the cyclist in Williamsburg—Reynoso, who represents Williamsburg and parts of Bushwick, joined cycling advocates to sound the alarm on the need for street safety enhancements that stretch beyond just enforcement of existing laws.
"These unfortunate situations, I want to be clear, are preventable deaths that are happening in the city of New York," Reynoso, who is running for Brooklyn borough president, said, adding the city's Vision Zero initiative has "not gone far enough."
Reynoso also criticized the mayor and the NYPD for what he said is an unambitious response to the series of biker deaths at the hands of drivers.
"It's sad to note that all we're asking the NYPD to do is the basic minimum," he said. "Are we saying that they weren't enforcing laws, at [their] bare minimum, before the 15 deaths. Are we saying it takes 15 people to die before we ask people to simply do their job?"
Philip Leff, chair of Transportation Alternatives' North Brooklyn Committee, said Freelander's death was "unfortunately a predictable consequence of a city that still thinks that lives need to be sacrificed to do business as usual."
"[To] the leaders of the city who think three weeks of ticketing is going to make up for five years of inaction, that after three weeks, the political monkey is off their backs, and they can go back to business as usual: that's not going to happen," he continued.
As vigil attendees dispersed, Reynoso talked about the truck-route situation with a group of NYPD officers and asked them to better monitor the area for truck-route violations. After their discussion, a Queso El Azteca truck drove down Boerum Street by Bushwick Avenue, prompting an NYPD vehicle to chase it down. Two cops pointed to the police car's tracking down of the truck to Reynoso as evidence that they were responding to his concerns.
Roughly three blocks away and 20 minutes later, the two men in the truck were handed a ticket for a truck-route violation. Steps away, other United Transit Mix cement trucks were parked. At least three United Transit Mix trucks drove down Boerum Street during the 40-minute vigil without being ticketed or stopped by police.