UPDATE: Bushwick Artist Killed By Truck While Cycling
UPDATE: Cops have identified the slain cyclist as 28-year-old Devra Freelander. She was an artist from Bushwick.
BUSHWICK – Just four days after a bicyclist was killed in Brownsville, another cyclist was hit and killed by a truck Monday afternoon. This marks the 15th cyclist death in NYC in six months.
The cyclist, a 28-year-old woman, was riding her bike north on Bushwick Avenue today at approximately 12:30 p.m as a truck traveled east on Boerum Street. The truck hit the cyclist, killing her. The driver remained at the scene, cops say. As of now, no arrests have been made and the investigation is ongoing.
"This marks the third cyclist killed this week, and the 15th cyclist killed in New York City since the year began. This fatality means that five more people have been killed thus far in 2019 than were killed in all of last year," Transportation Alternatives Interim Co-Executive Director Marco Conner said. "One week ago, Robyn Hightman was killed on [her] bicycle in Flatiron, Manhattan and a few days later, Ernest Askew was killed on his bicycle in Brownsville, Brooklyn. Every single one of these tragic losses was preventable."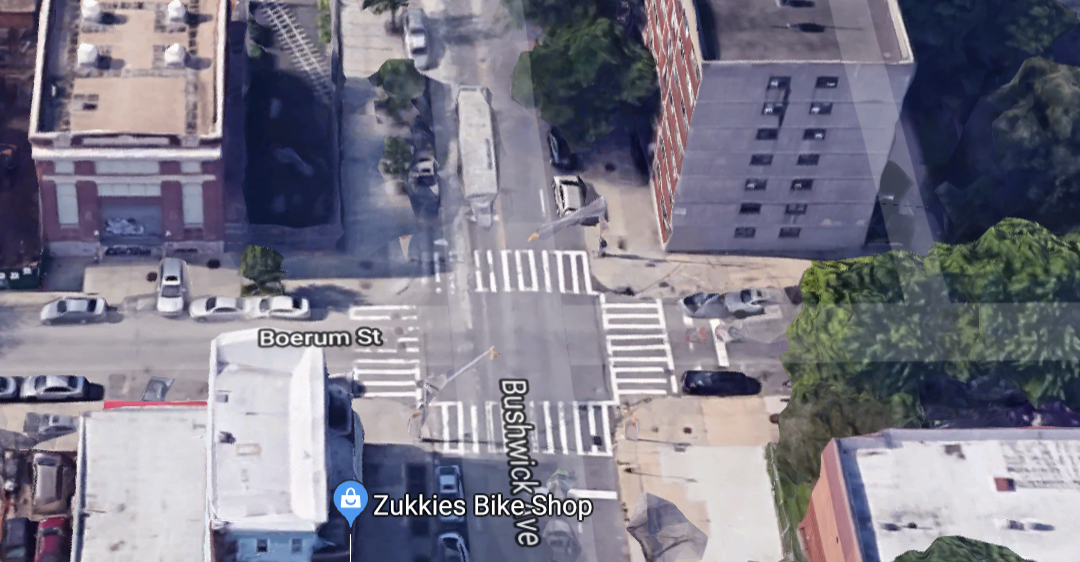 Conner said Vision Zero was in a state of emergency and urged Mayor Bill de Blasio, who is campaigning for his presidential run, to help save the lives of cyclists.
"New Yorkers on bikes are being killed at a record rate. It is clear that Vision Zero is in a state of emergency and Mayor de Blasio is in denial about his signature program faltering under his neglect. Vision Zero is an effective, lifesaving program when implemented with the necessary financing, innovation, and planning," he said.
"For the past five years, steady Vision Zero progress has proven that the deaths of people walking and biking are preventable. New Yorkers have long called for a more aggressive and innovative approach. Today we are in a crisis. It's up to Mayor de Blasio and the City Council to act."
There will be a vigil tonight at 6 p.m. for cyclist Ernest Askew at the site of his death in Brownsville on the corner of Chester Street and Sutter Avenue. Several elected officials and activists are expected to attend.