Valentine's Day: Romantic Restaurants North of Prospect Park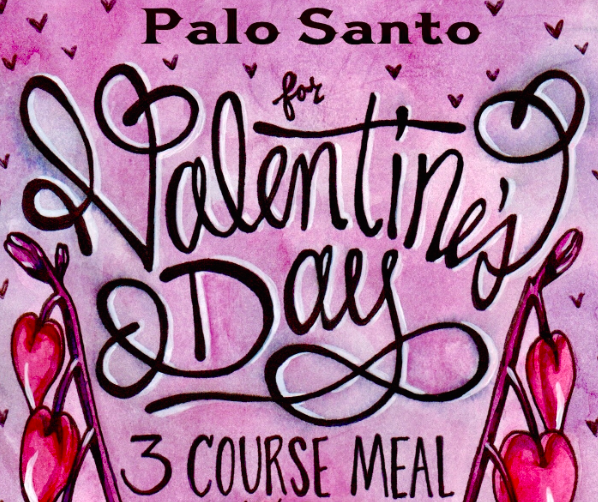 Valentine's Day is fast approaching. If you haven't already made dinner plans, BKLYNER has compiled a list of more than 25 restaurants north of Prospect Park perfect for enjoying a romantic dinner for two.
Did we miss your favorite, local, romantic spot? Let us know in the comments.
Boerum Hill/Cobble Hill
French Louie
Founded by the team behind Buttermilk Channel, this stylish bistro serves French-American cuisine with a special Valentine's Day menu featuring chilled oysters, steak tartare, cassoulet, apple tarte tatin, and more, for $85 per person.
Where: 320 Atlantic Avenue (between Hoyt & Smith Streets)
Reservations: (718) 935-1200
Phil & Anne's Good Time Lounge
Chef and Food Network star Anne Burrell's Smith Street restaurant will present a special Valentine's Day prix fixe menu featuring seared scallops, butternut squash gnocchi, Beef Wellington, and tiramisu along with a burlesque performance by Vita Thorne at 9pm. The price for dinner and the show is $110.
Where: 196 Smith Street (between Warren & Baltic Streets)
Reservations: (929) 337-7752
Taiki
Making its debut last April, this Boerum Hill gem serves stellar sushi prepared by Chef Taiki who previously worked at Manhattan's BondST. For Valentine's Day, they are offering a prix fixe menu for two that includes sushi, rolls, a bottle of sparkling sake, and strawberry panna cotta for $150 per couple. Read BKLYNER's review here.
Where: 134 Nevins Street (between Dean & Bergen Streets)
Reservations: (929) 356-4826 or OpenTable
Brooklyn Heights/DUMBO
Celestine
This new Mediterranean-inspired eatery situated on the DUMBO waterfront boasts beautiful views and an all-star team including Julian Brizzi (Rucola, Grand Army Bar), Noah Bernamoff (Mile End Deli, Grand Army Bar), and Joe Campanale (Fausto). Executive Chef Garett McMahan (Perilla, The Harrison, Bouley) creates seasonal dishes—many prepared on a wood-burning grill and perfect for sharing with your Valentine. Take a look at their four-course Valentine's Day menu ($85 per person) here.
Where: One John Street (between Pearl & Adam Streets)
Reservations: (718) 522-5356 or info@celestinebk.com
Chez Moi
This charming French bistro has been serving up classics like steak frites, escargot, mussels, crème brûlée, and inventive house cocktails since 2012. They are serving a five-course Valentine's Day tasting menu for $69 per person.
Where: 135 Atlantic Avenue (between Clinton & Henry Streets)
Reservations: (347) 227-8337
Colonie
Opened on Atlantic Avenue in 2011, Colonie uses ingredients sourced from local farms and features a selection of natural and sustainable wines, as well as regional craft beers and inventive cocktails mixed with artisanal spirits and fresh ingredients.
Where: 127 Atlantic Avenue (between Clinton & Henry Streets)
Reservations: (718) 855-7500
Pinto
This second outpost of the acclaimed West Village Thai restaurant Pinto Garden debuted about two years ago in Brooklyn Heights, offering diners seasonal, farm fresh Thai cooking in an elegant and cozy environment. Read BKLYNER's review here.
Where: 128 Montague Street (at Henry Street)
Reservations: (929) 337-7732
Sociale
This Brooklyn Heights eatery, known for its inviting atmosphere and friendly staff, serves a mix of traditional and contemporary Italian cuisine.
Where: 72 Henry Street (between Orange Street & Pineapple Walk)
Reservations: (687) 990-0397
Carroll Gardens/Red Hook
f.o.b.
This cozy, home-style, Filipino barbecue spot serves knock-out chicken or pork bbq skewers and overnight chicken adobo. Read BKLYNER's review here.
Where: 271 Smith Street (between Degraw & Sackett Streets)
Reservations: (718) 852-8994
The Good Fork
This "mom and pop" restaurant features an "eclectic globe-trotting menu" with Korean inspired offerings including homemade pork dumplings, steak and egg Korean style, a burger, and house-made kimchi. Check out their four-course Valentine's Day tasting menu ($80 per person) here.
Where: 391 Van Brunt Street (between Dikeman & Van Dyke Streets)
Reservations: (718) 643-6636
Red Hook Lobster Pound
This favorite spot for lobster rolls is offering a Valentine's Day prix fixe menu featuring bisque, oysters, shrimp cocktail, filet migon, and of course, lobster, for $75 per person. They'll also be offering complementary bubbly all night!
Where: 284 Van Brunt Street (between Verona Street & Visitation Place)
Reservations: (718) 858-7650 or Resy.com
Fort Greene/ Clinton Hill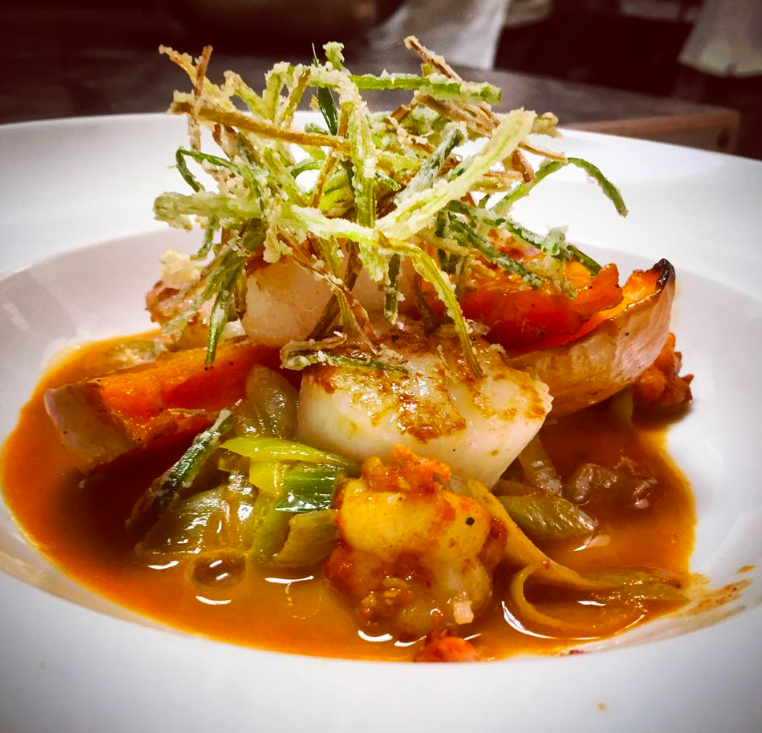 Aita
This Clinton Hill eatery offers traditional, rustic Italian fare created with seasonal ingredients from local farms and green markets. Their Valentine's Day menu features lobster mushrooms and lobster tail grilled pizza, pappardelle with wild boar, black sea salt chocolate toffee tart, and more. Read BKLYNER's review here.
Where: 132 Greene Avenue (between Waverly & Clinton Avenues)
Reservations: (718) 576-3584 (though primarily a walk-in restaurant)
Evelina
This new modern trattoria showcases Mediterranean cuisine with strong Italian overtones created by Executive Chef Lanfranco Paliotti (formerly of Daniel and Boulud Sud). See their special Valentine's Day menu here.
Where: 211 Dekalb Avenue (at Adelphi Street)
Reservations: (929) 298-0209 or resy.com
The Finch
This Michelin star, farm-to-table restaurant serves seasonal American fare in a renovated 120-year-old brownstone. They are offering a Valentine's Day five-course tasting menu for $125 per person with an optional beverage pairing for $50 per person.
Where: 212 Greene Avenue (between Cambridge Place & Grand Avenue)
Reservations: (718) 218-4444
Gowanus
Black Mountain Wine House
A rustic and cozy wine bar offering over 30 wines by the glass or bottle as well as medium plates including cheese, charcuterie, mac 'n cheese with gruyere and truffle oil, pork meatballs with a spicy marinara sauce, and more. Read BKLYNER's review here.
Where: 415 Union Street (between Hoyt & Smith Streets)
No Reservations
Freek's Mill
This neighborhood eatery serves seasonal American dishes paired with fine wines from the Republic of Georgia. Their Valentine's Day menu features wood roasted oysters, tuna tartare, steak au poivre, chocolate cake, and more, for $75 per guest.
Where: 285 Nevins Street (between Degraw & Sackett Streets)
Reservations: (718) 852-3000
Greenpoint/Williamsburg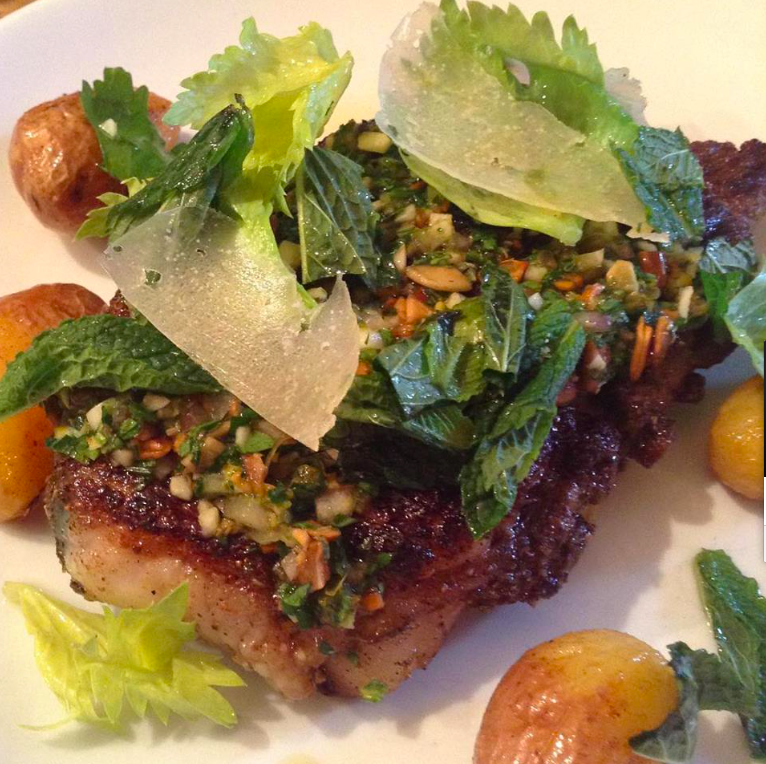 Anella
Opened in 2009, this Greepoint restaurant serves New American fare with a Mediterranean twist. For Valentine's Day they are offering a four-course prix fixe menu featuring smoked salmon tartare, seared foie gras, risotto, short rib, and pavlova, for $70 per person.
Where: 222 Franklin Street (at Green Street)
Reservations: (718) 389-8100
Reynard
The restaurant in Williamsburg's Wythe Hotel is serving a four-course prix fixe Valentine's dinner menu including smokey ribeye for two, coq au vin for two, chocolate soufflé, and more for $90 per person.
Where: Wythe Hotel, 80 Wythe Avenue (at N11th Street)
Reservations: 718-460-8004
Selamat Pagi
Founded in 2012 by the team behind Van Leeuwen ice cream, the name of this Greenpoint eatery translates to "good morning" in Indonesian. The menu features local grass fed, sustainable and organic meats, seafood and poultry, organic eggs and produce, and a selection of vegan and vegetarian dishes.
Where: 152 Driggs Avenue (between Humboldt & Russell Streets)
Reservations: (718) 701-4333
Park Slope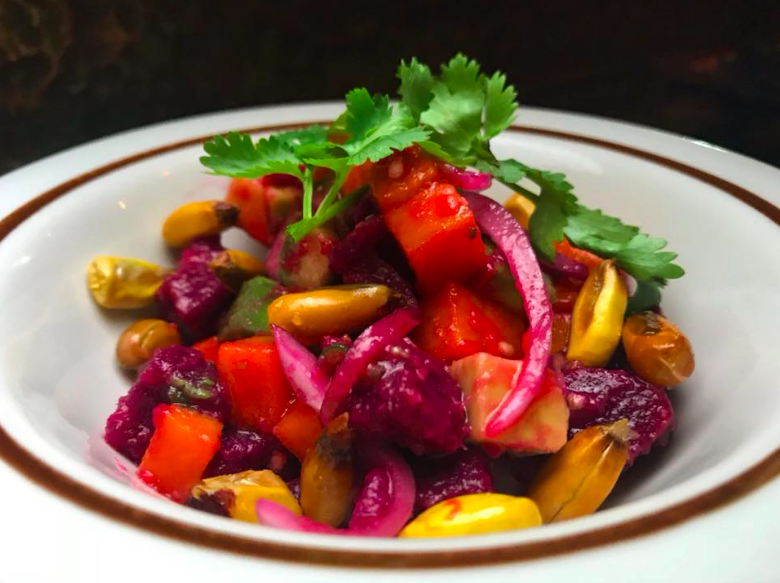 Palo Santo
Enjoy Valentine's Day at the most romantic pan-latin restaurant in Brooklyn! Nestled in a brownstone of Park Slope, Palo Santo hits the spot with candle lit tables and rustic decor. Book your table any time between 5pm to 11pm on February 14th, and indulge in a special three-course prix fixe menu featuring meat, fish, and vegetarian options for $150 per couple, plus an optional wine flight for $25 per person.
Where: 652 Union Street (between 4th & 5th Avenues)
Reservations: (718) 636-6311
Convivium Osteria
Opened in 2000, this warm and inviting restaurant serves traditional Italian cuisine inspired by the Iberian peninsula. With three dining rooms resembling an Italian farmhouse, a bodega in Barcelona, and a romantic wine cellar, the special Valentine's Day menu includes a variety of pastas along with entrees like oven roasted whole Mediterranean sea bass, rack of lamb in red wine sauce, and tiramisu for $75 (first seating), $90 (second and third seating), and $50 optional wine pairing.
Where: 68 5th Avenue (between Prospect Place & St. Marks Place)
Reservations: (718) 857-1833
Nargis Bar & Grill
Opened by Nargis Café founder and head chef, Boris Bangiyevat, late last year, this 5th Avenue eatery serves delicious, hearty Uzbek cuisine in an elegant and inviting setting. Read BKLYNER's review here.
Where: 155 5th Avenue (between Douglass & Degraw Streets)
Reservations: (718) 640-7000
Negril BK
Opened in December, Negril BK's Chef Kingsley John (formerly of Red Rooster Harlem and Daniel) serves innovative Caribbean cuisine. The eatery is taking reservations for Valentine's Day when they'll be hosting a romantic dinner paired with a movie. Seatings: 5pm to 7pm and 9pm to 11pm
Where: 256 5th Avenue (between Garfield Place & Carroll Street)
Reservations: (347) 721-3801
Wasan
This understated and intimate restaurant delivers signature and seasonal Japanese dishes created to pair perfectly with sake or wine. The sushi and sashimi shine here along with various ramens, tempuras, teriyakis, and a sirloin steak served on a hot lava stone. Read BKLYNER's review here.
Where: 440 Bergen Street (between 5th Avenue & Flatbush Avenue)
Reservations: (347) 725-3550
Prospect Heights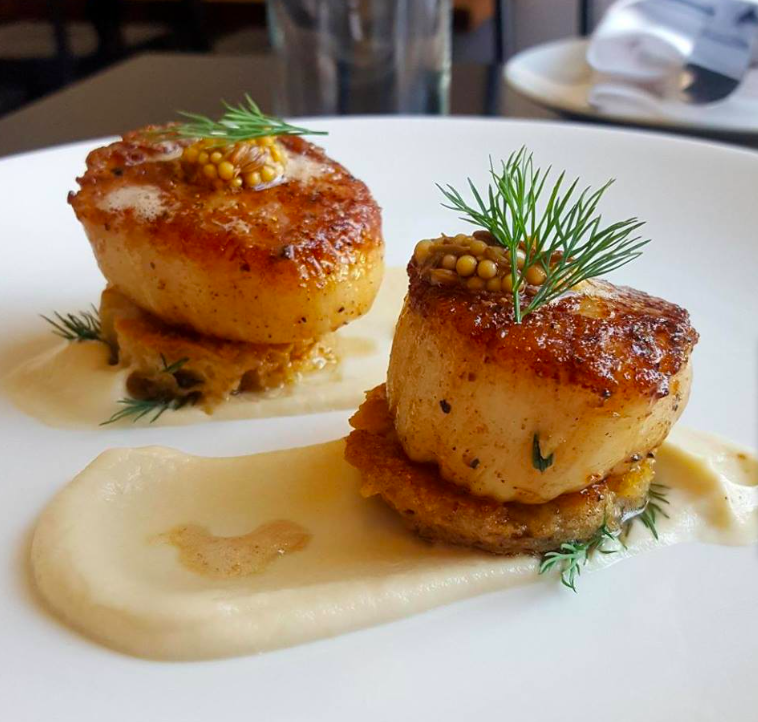 Faun
A neighborhood spot featuring two intimate rooms linked by a semi-open kitchen with an 8-seat bar in front and a patio out back. The frequently changing menu offers New American fare with Italian accents. Check out their Valentine's Day 4-course prix-fixe dinner menu featuring chicken liver ravioli, duck breast, boar foreshank, miso panna cotta, and more, for $95 per guest.
Where: 606 Vanderbilt Avenue (between Prospect Place & St. Marks Avenue)
Reservations: (718) 576-6120
James
A charming neighborhood eatery offering seasonal, sustainable, locally-inspired cuisine that mixes traditional rustic fare with a modern twist. Valentine's at James features a 3-course prix-fixe menu including seared scallops, dry-aged strip steak, dark chocolate flourless cake, and more, for $95 per guest.
Where: 605 Carlton Avenue (between Prospect Place & St. Marks Avenue)
Reservations: 718.942.4255