Park Slope Brunch Beat: Elegant Minimalism At Wasan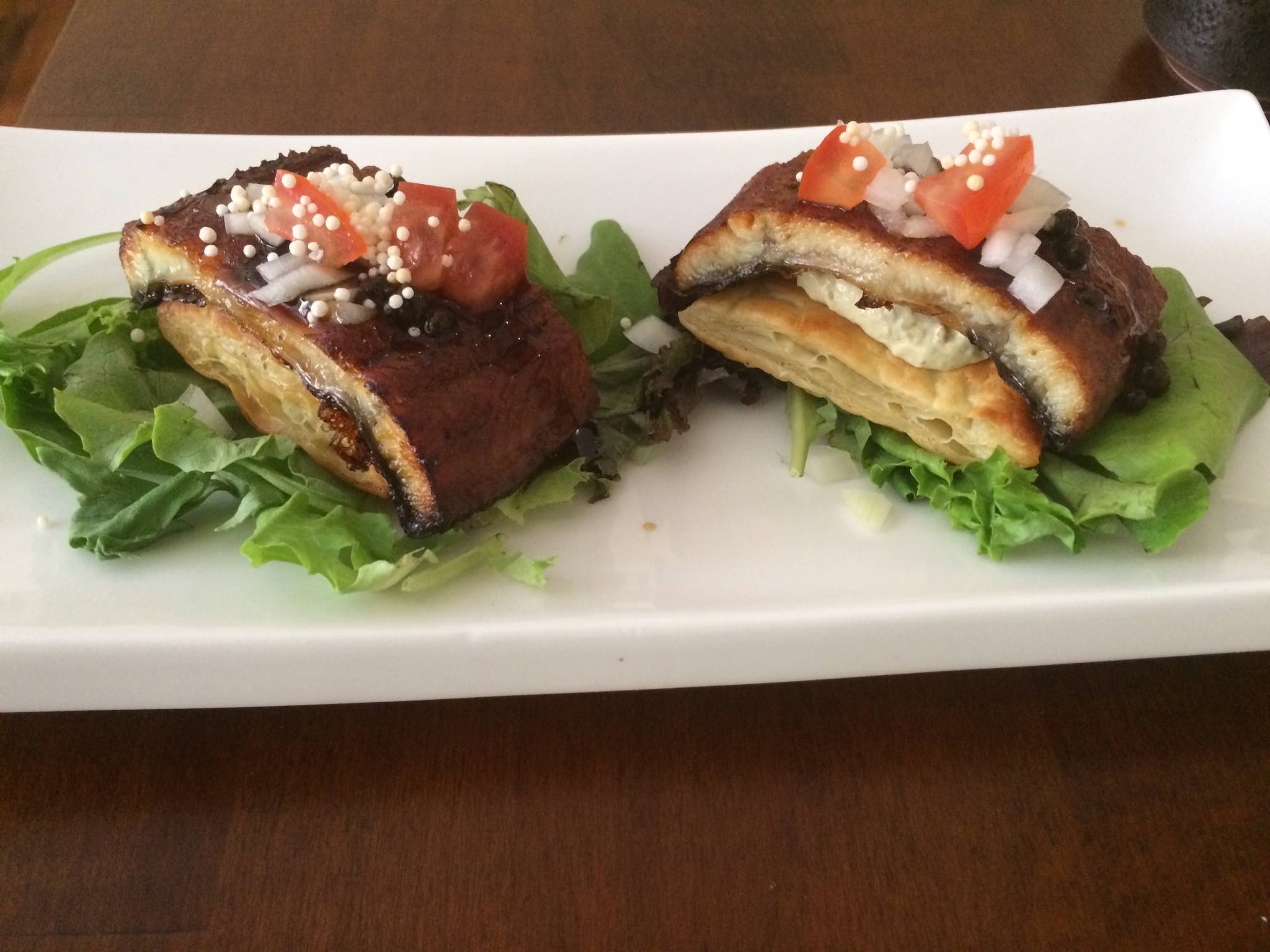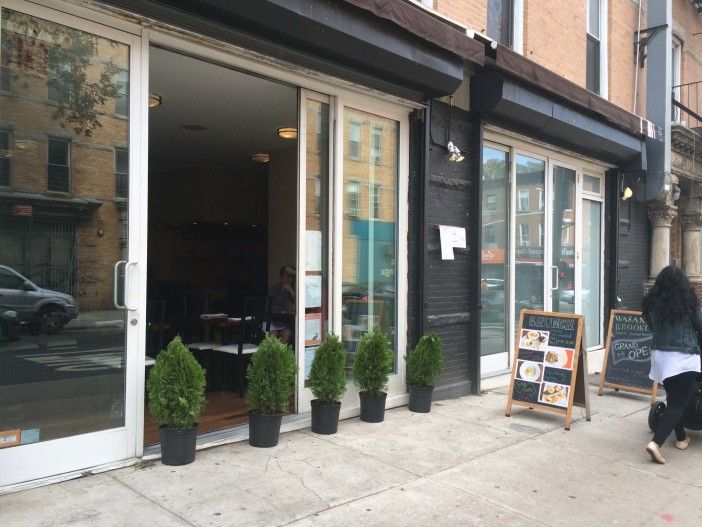 With so many places in the neighborhood to grab a mimosa and a plate of eggs on the weekend, how can you decide which is the best spot to take your visiting in-laws or where you'll want to sit quietly for a couple hours with the hair of the dog? The Park Slope Brunch Beat aims to guide you through the choices — we'll break down the basics, share some special tips, and provide a quick scorecard to help you pick the best place for what you need next Saturday and Sunday.
Wasan opened for business about five weeks ago, but the brunch experience feels as if they have been here for some time, perfecting its craft.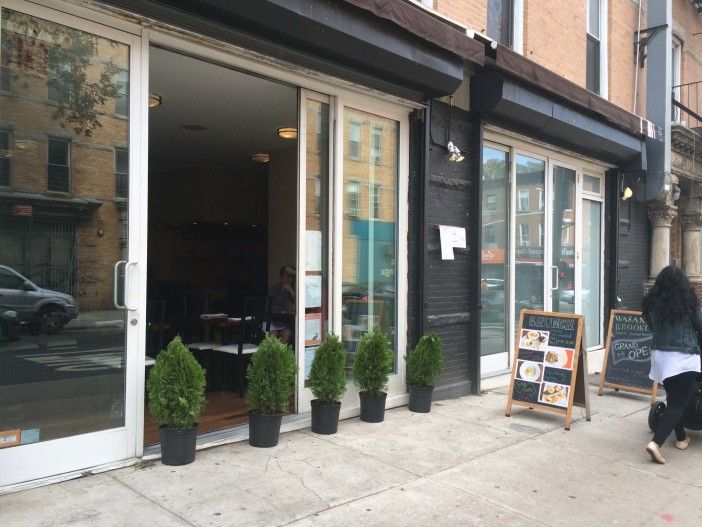 That's not surprising though, because its original East Village restaurant is Michelin-recommended. In addition, owner Toshiyuki Koizumi (who prefers to go by "Toshi") provides a well-curated menu. He is also one of only 326 "International Sake Sommeliers" in the world. He introduced us to the "culture" of Wasan earlier this month.
He's joined by Owner/Chef Kakusaburo Sakurai, who brings detail and layers to each dish he creates.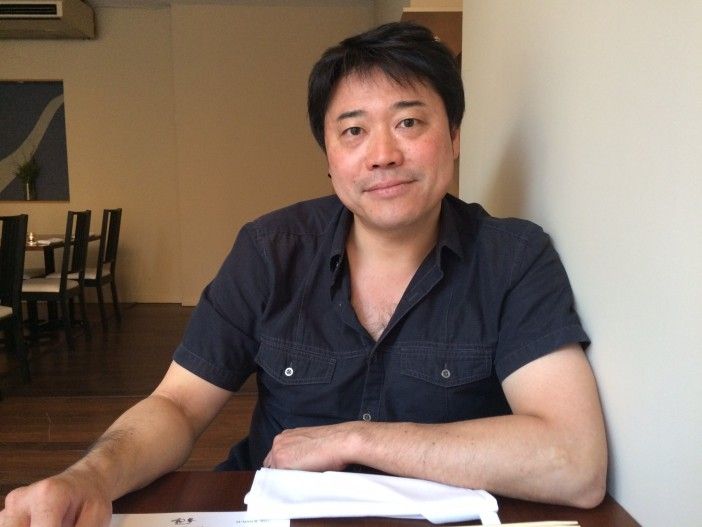 If you're a Japanese food connoisseur, you will enjoy their Kaiseki-style menu, which Koizumi describes as "high-end small tapas with extremely seasonal ingredients." And if you are a newcomer to this type of food, Wasan is a great place to start. It's sophisticated, but the waitstaff can describe your meals with extreme detail.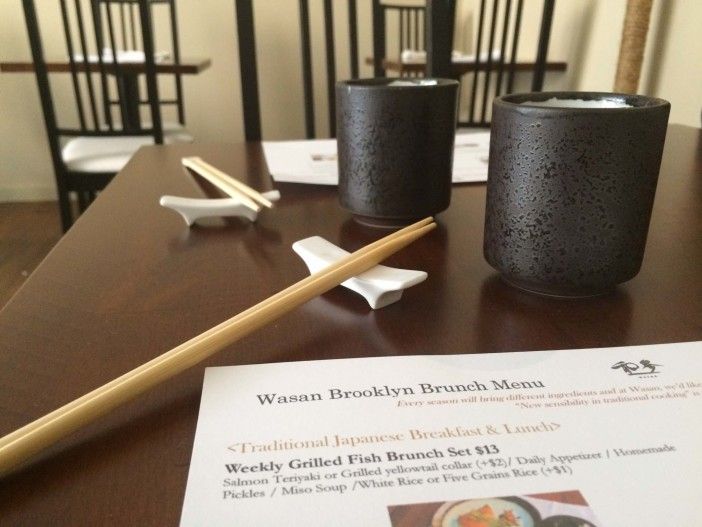 The Wasan menu is not sweeping — it's clearly been carefully selected. The curation and texture of the dishes are what make Wasan a place to take your time.
The brunch menu is divided up into three sections: the weekly grilled fish brunch set, the risotto set, and the bun set.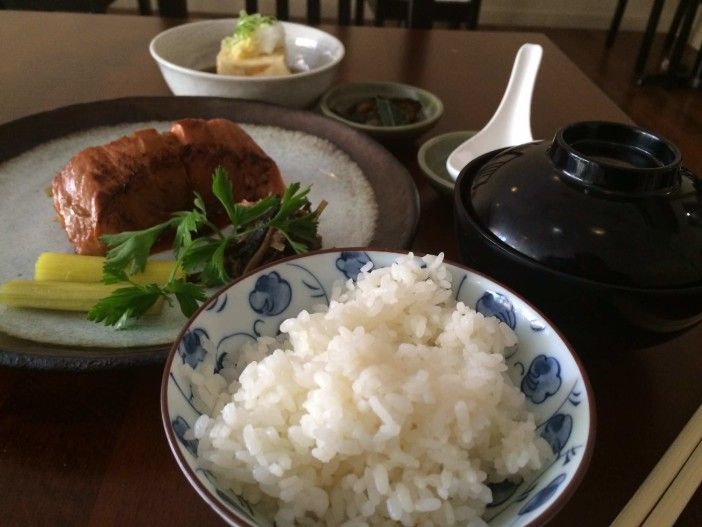 Starting with the weekly grilled fish brunch set ($13), you have the option for salmon teriyaki or grilled yellowtail collar. We went with the salmon, and experienced a well-textured fish with a teriyaki sauce with a great tang.
Because it's Kaiseki-style, it comes with a series of sides. The daily appetizer is included, which in this case was agedashi tofu — fried tofu in broth. The tofu was firm enough not to sink into the broth, but instead used it as coating of sorts.
This was complemented by homemade pickles (hey, it's Brooklyn, so Wasan does great pickles), a light miso soup, as well as white rice. (Add $1 extra for five-grain rice).
The bun set is a must. The soft buns sandwich the selections extremely well. The salmon burger is topped with an avocado-based sauce that is a knockout. The quinoa-crusted fried chicken bun is just crunchy enough, accenting the tender chicken inside.
Hungry yet?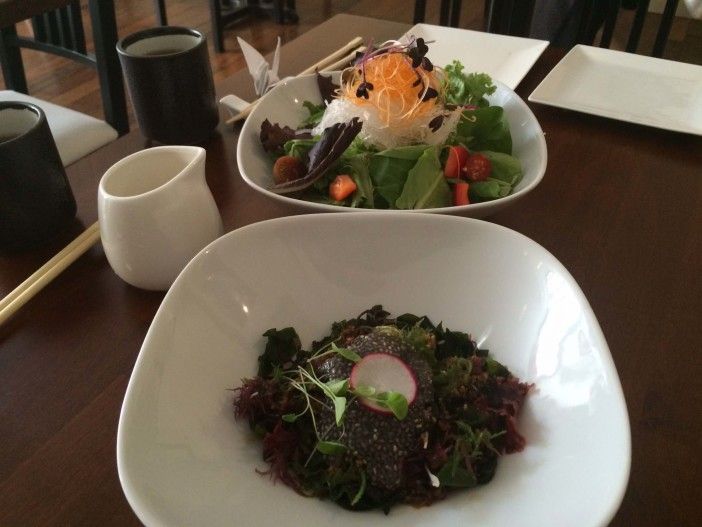 The two buns come with either a seaweed salad with chia seeds, mixed greens, or both. Get them both ($13) and you'll have a light, but satisfying meal with the two buns. You can order the two buns with one of the two sides ($10) if you plan to try some other dishes.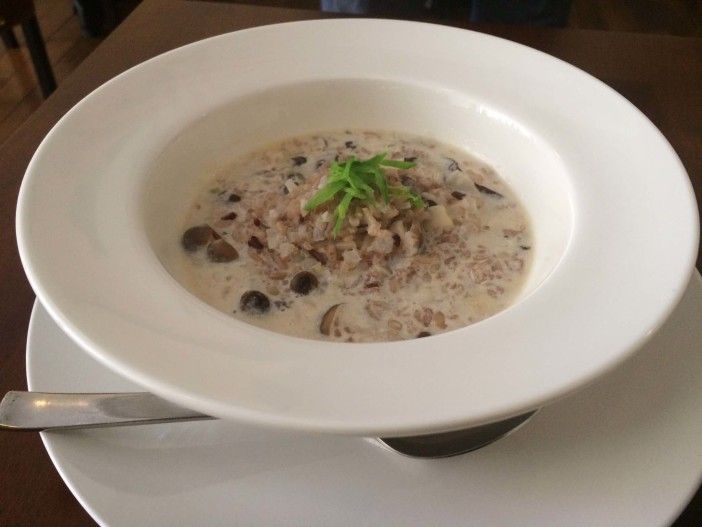 The risotto set definitely feels like comfort food. It's warm, gentle, and textured — and it's also gluten-free. When we went, it was flavored with a delicious mix of Japanese mushrooms. As with the buns, it comes with either a seaweed salad with chia seeds, mixed greens, or both. The risotto with two salads is recommended ($15), but again, you have the option to choose either salad ($10).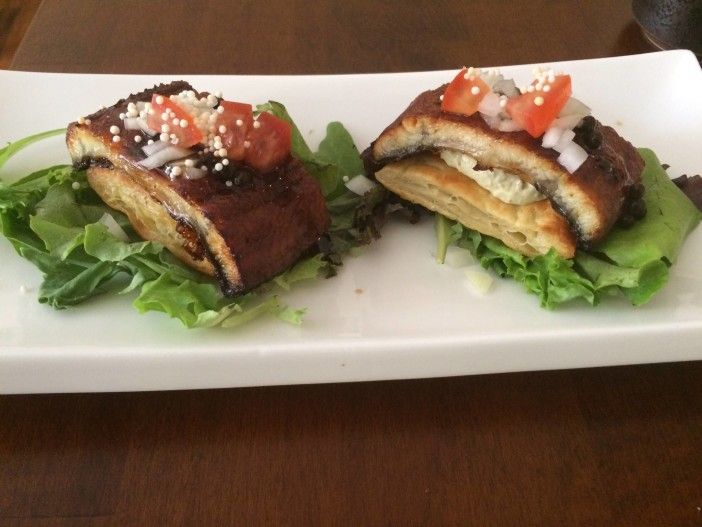 And then there's the exciting surprise — an a la carte dish called Unagi Pie ($4.50/piece, minimum of two pieces). Unagi is eel, which — to this reviewer — is simply not the most pleasant texture. However, this encrusted dish served on a bed of lettuce is crisp, subtle, and particularly layered. It should not be missed.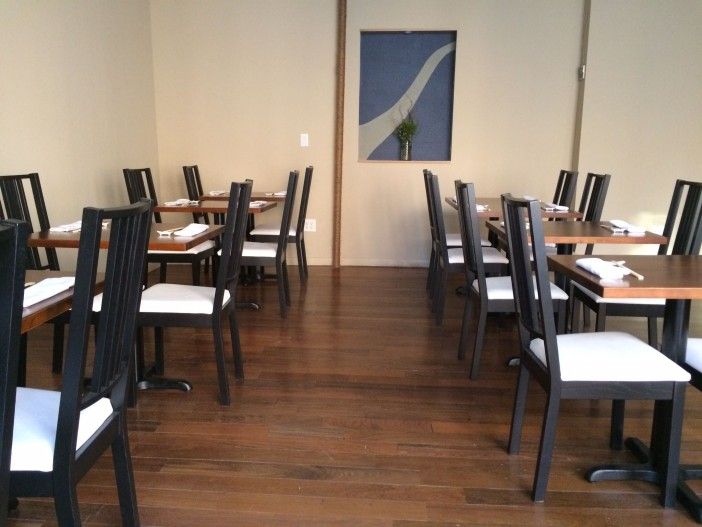 The layout of the space matches the food well — minimalist and clean. And the bossanova playing was soothing.
We haven't mentioned Koizumi's specialty — sake — because Wasan does not yet have a liquor license. So as soon as that happens, you'll be able to enjoy sake, wine, and shōchū with your brunch. (Whiskey will also be available, but not a strong match for brunch.)
Overall, Wasan has a thoughtful, well-executed, and layered brunch that is one of the most unique and memorable in Park Slope. The experience is gentle, but you should also be very excited for what awaits you.
Park Slope Brunch Beat Rundown: Wasan
Where: 440 Bergen Street (between 5th and Flatbush Avenues)
Phone: 347-725-3550
Brunch Hours: Saturdays & Sundays, 11:30am-2:30pm
Reservations: Reservations are taken for brunch, but not necessary.
Who To Bring: This space is great for couples, but there is room for larger parties. It's a mellow place though, so keep that in mind.
Kid Friendly? Yes. High chairs are available, and the waitress made an origami swan for one happy child (no guarantees).
Best Time To Visit: Getting there early is always a good plan, mostly so you can relax and take your time. This isn't a rushed brunch experience.
Best Bites: The weekly grilled fish special comes with a variety of items, and a great deal ($13). The buns are delicious — we recommend the quinoa crusted fried chicken bun. Get the seaweed salad and mixed greens with it ($13). The unagi pie (minimum 2 pieces) has a light crunch to it ($4.50/piece). The soy milk risotto is just the right kind of creamy, but light. Gluten-free folks will love it. Get the seaweed salad and mixed greens with it ($15). Liquor license is pending.