Restaurant News: Michelin Stars, Tiki Cocktails, Ice Cream & More
Congratulations to Claro (284 3rd Avenue) in Gowanus which just received a Michelin star! The year-old Mexican eatery will be included in the 2019 Michelin Guide New York City, making it the first restaurant in Gowanus to receive the honor, according to the Wall Street Journal.
Other one star ratings in the new guide go to Faro in Bushwick, The Finch in Clinton Hill, Meadowsweet in Williamsburg, Oxomoco in Greenpoint, Peter Luger in Williamsburg, and The River Café in DUMBO.
Williamsburg's Aska and Bushwick's Blanca each received two stars. See the full list at Grub Street.
On October 30, one week before releasing its 2019 star choices, Michelin released its list of 129 Bib Gourmand restaurants in New York City. Launched in 1997, Bib Gourmand honors restaurants where diners can enjoy two courses of "high quality food" and a glass of wine or dessert for $40 or less (not including tax and tip).
Of the 129 eateries chosen across NYC, 27 new selections were added this year, including Park Slope's Convivium Osteria, Bay Ridge's Georgian Dream Cafe, Cobble Hill's La Vara, and Carroll Gardens' Ugly Baby. See more at AM New York.
There are lots of new places opening up in the borough. Check out our round-up below and let us know what we've missed.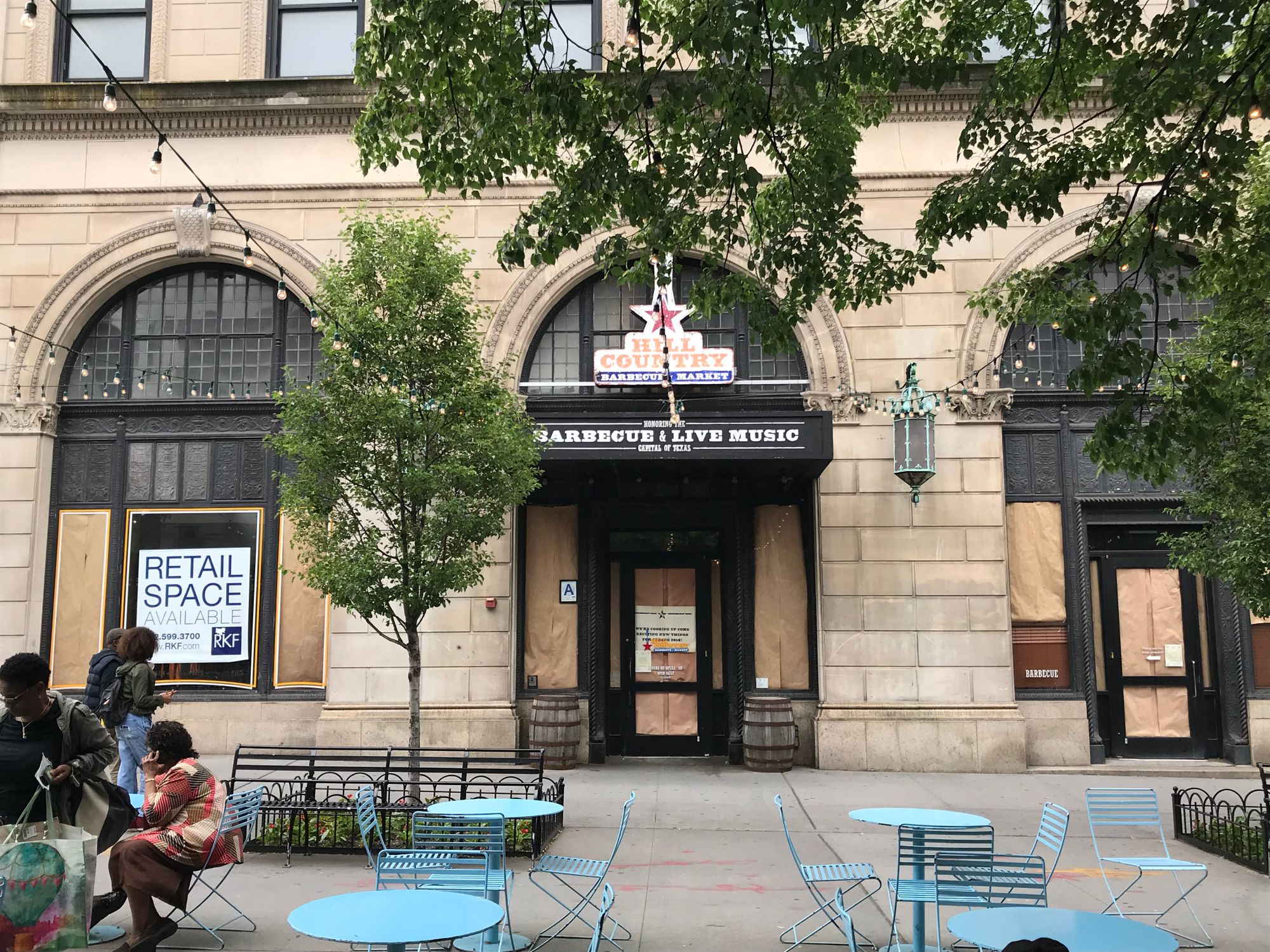 Hill Country Food Park, 345 Adams Street, Downtown Brooklyn
Hill Country Barbecue closed temporarily late last year to transform its space into a 10,000-square-foot food venue. It was recently announced that Hill Country Food Park will open on Monday, November 19.
The casual food and drink destination pays homage to Austin's food truck movement of the 1990s with six food stalls featuring vendors overseen by Chef Ash Fulk. The venue will serve gourmet coffee, handmade donuts, and breakfast tacos in the morning and move on to fried chicken, burgers, house-made tortillas and tacos, pizza, salads, and more, later in the day.
The upper level will feature a music venue and a full bar serving a variety of craft beers and snacks. The upstairs will also be the new home of Hank's Saloon when the bar closes up at 46 3rd Avenue at the end of the year and relocates downtown.
Time Out Market, 55 Water Street, DUMBO
While not slated to open until next Spring, Time Out Market—a 21,000-square-foot, two-story market featuring food vendors, three bars, and a performance space—recently announced 11 of the 21 chefs/restaurant concepts that will be featured at the venue.
The list includes: Alta Calidad (Mexican), Avocaderia, Bessou (Japanese), Clinton St. Baking Company, DŌ cookie dough treats, FELICE Restaurant and Wine Bar, Jacob's Pickles, Juliana's pizza, Mermaid Oyster Bar, Miss Ada (Mediterranean), and Reserve Cut kosher steakhouse.
Amy's Bread, 311 Henry Street, Brooklyn Heights
Amy's Bread debuted its first Brooklyn location last week in the former Tazza space in Brooklyn Heights, Brownstoner reported. Launched in 1992 in Hell's Kitchen, the company's eighth location offers coffee, bread, breakfast pastries, quiche, and sandwiches.
Claw Daddy's, 31 3rd Avenue (at Atlantic Avenue), Boerum Hill
A Lower East Side Cajun-style eatery has expanded into Brooklyn taking over the corner space that formerly housed the short-lived Jane Restaurant & Bar. Claw Daddy's serves "a Louisiana boil with choice of seafood, sauce, and sides," according to Bowery Boogie.
Companion Cafe/Shaka Shaka Tiki, 64 6th Avenue, Prospect Heights
A new spot opened up at the end of October featuring a coffee shop in the day and a tiki bar in the evenings (coming soon). Located across from the 78th Precinct, Companion Cafe serves a variety of coffee drinks, loose leaf teas, sweet and savory toasts, a breakfast bowl, and a veggie bowl called The Daily Mush. Shaka Shaka Tiki bar will debut soon!
HotHouse, 87 South Elliott Place, Fort Greene
While Craig Samuel and Ben Grossman are relocating their 12-year-old Fort Greene barbecue eatery, Smoke Joint, to the Catskills, the pair are replacing it with a second outpost of their popular Peaches HotHouse at their space overlooking the recently renovated Fowler Square. The new HotHouse will serve their award-winning Nashville-style hot chicken and Southern sides, Eater reports.
The new HotHouse was packed for brunch on a recent Sunday afternoon. The business owners posted the above message on the storefront explaining the changes to neighbors and Smoke Joint fans.
Oddfellows, 60 Water Street, DUMBO
Oddfellows Ice Cream Co. opened a new 760-square-foot shop in DUMBO on October 19. Along with offering The Carousel, a D-I-Y sundae for two with three scoops of ice cream and various toppings, the new spot honors the neighborhood with a mural featuring the nearby Jane's Carousel. The DUMBO location will serve beer and wine later this year along with wine floats and boozy slushies!
Po'Mi, 561 Gates Avenue, Bed-Stuy
A sandwich shop serving po' boy and  banh mi sandwiches as well as bowls opened last month in Bed-Stuy, complete with a live brass band, Patch reported.
The menu fuses the two sandwich styles with options including fried chicken, low and slow braised short rib, and Creole seasoned fried shrimp for the po' boys, and buttermilk fried chicken, soda braised short rib, and citrus grilled shrimp for the banh mi offerings.
Tasty Waffle Company, 227 Malcolm X Boulevard, Bed-Stuy (Coming Soon)
The Brooklyn-based online purveyor of waffle treats, Tasty Waffle Company, will open its first brick-and-mortar shop in Bed-Stuy, Commercial Observer reports. The business owners, who also run Dick & Jane's in Fort Green and Baby Jane in Clinton Hill, recently signed a lease for a 500-square-foot storefront at 227 Malcolm X Boulevard and plan to open two more Brooklyn locations in 2019.