[Update: Re-Opened!] Sycamore Closed Temporarily After DOH Inspection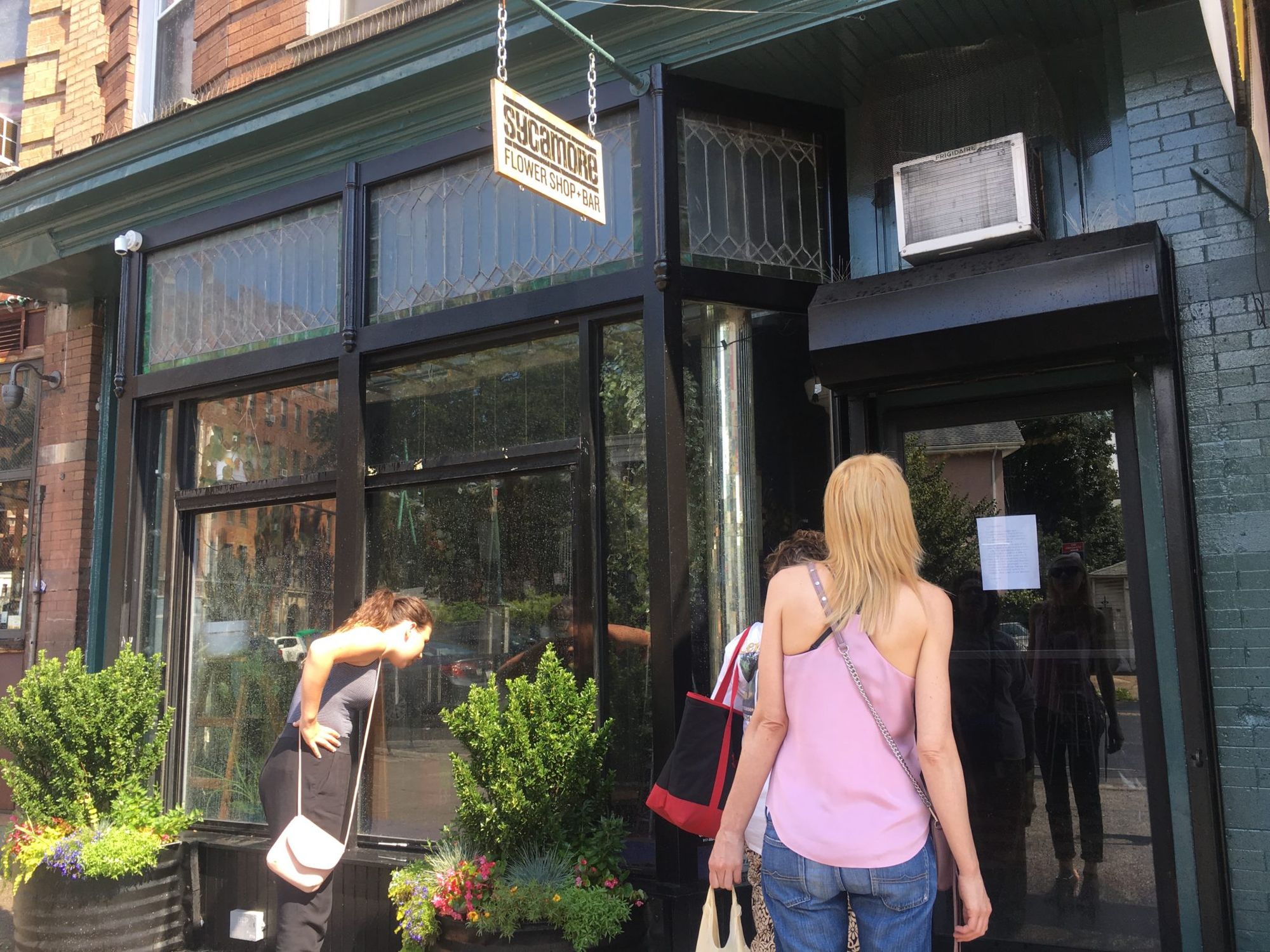 [Update 6/28 at 4pm: Sycamore passed another DOH inspection today, according to owners and city officials. See our second story, published 6/30 here]
Today, Ditmas Park's favorite flower shop-bar had a closure sign slapped on the front window from the Department of Health & Mental Hygiene.
After an inspection on Monday, the DOHMH issued a temporary closure of Sycamore Bar & Flower Shop, at 1118 Cortelyou Road, for operating a dual business, said owners, who called the situation "unique and disruptive". (Stems flower shop shares the Sycamore space).
"The coexistence of the flower shop and bar is suddenly a little too cozy in the eyes of the great city of New York…We are working feverishly to remedy the situation."
On Wednesday, a Department of Health spokesperson responded to our inquiry, with this response:
"Health Department inspectors found fruit flies at the establishment and food contaminated with fruit flies. The flowers and food were kept in the same refrigerator, which may have led to cross-contamination. Inspectors also noted that in order to access the flower shop's storage, workers would need to go through the kitchen, again allowing for cross-contamination…The last inspection was in January 2017, at which time a 'flower shop operation' was not observed."
In the meantime, onlookers gathered outside the storefront in waves today balking at the sign. The bar also received an outpouring of support on social media, where commenters lamented the closure and jumped to support the venue.
"Cortelyou Road isn't the same without Sycamore," wrote Ali Feuring.
But it may be premature to mourn for this neighborhood hangout, as staff expressed confidence that the bar will be open again soon. When we stopped by today, the owner was already at the DOH offices, employees told us. The fate of Stems flower shop remains unclear at this time.
After being tagged on Facebook, City Council Member Mathieu Eugene's office contacted the DOH office directly, said Eugene's press spokesman.
Meanwhile, Jen Berkley, one of Eugene's upcoming challengers for District 40, seized the moment to campaign and throw her support behind small businesses that often have to dodge hurdles from the city.
"I'm not saying an establishment that has legitimate health code violations shouldn't take care of those issues, but we need to review outdated regulations that force unique business models, like Sycamore, to fit a square peg into a round hole," said Berkley.
Although the shop has been in business for almost eight years, they're working with a "new set of codes" for dual businesses from the health department, as the bar wrote on social media.
This isn't the first time the Ditmas Park hangout was targeted. A few years ago, the bar was forced to shutter their popular basement music venue after it was deemed "unfit for the performances" by the Department of Buildings.
Since then, they've opened up the popular Flatbush Food Court in their garden backyard, hosting different pop-up vendors serving snacks and treats to bargoers.
"What're they afraid of? That someone might actually stop and smell the flowers?" wrote Facebook commenter P.j. Chesterfield.
This is a developing story. This story was originally published on 4/27, and updated on 6/28 at 2pm to include the comment from a DOH spokesperson, and at 4pm to announce the re-opening. A previous version of this article stated that violations were related to 'food storage' but that was contested by owners, who will release more information soon.