Meet Suzanna Cameron, Owner of Stems Flower Shop
When Suzanna Cameron first moved to Ditmas Park about two years ago, she wasn't sure what to expect. Coming from a quick stint in Carroll Gardens while she stayed with her sister, she'd only been in New York City for a few months after having moved from North Carolina, where she'd been a dental assistant while attending college.
"I didn't know where the hell I moved," she said. "I felt a little like a fish out of water. Then a friend of mine told me about Sycamore. I had just turned 21, and this was the first bar I ever came to by myself. And it ended up being where I built my community in Brooklyn. To have this opportunity now is amazing to me."
That opportunity is as the new owner of the flower shop at Sycamore, now known as Stems. Since reopening under the new name earlier this month, Suzanna, who previously worked as a production assistant during her first few years in the city, has had to learn a lot, and quickly, about running her first business.
"I've had to learn everything from what kind of business cards to get to registering the name with the city," she said. "It's been a big learning curve, but it's going so well, and I just want to take it and run."
She didn't come into it without experience, of course. If you've picked up a bouquet at the shop before, you may recognize Suzanna, who worked here for a while before she ended up devoting more time to the production gig. While at the shop, she says one thing she learned is that the flowers they carried, and that she continues to sell, can stand up to a lot that the average person will throw at them.
"My first day here, I thought, 'I don't want to touch those flowers — I don't want to break them!'" she said. "So I understand what your brain goes through."
Suzanna says she intentionally picks flowers that are sturdy and that will last longer, and tends to lean toward flowers with rich textures and bright colors. She plans on offering a variety of prices, so there's something for a wide range of people. And with a number of other options for flowers nearby, she wants to provide something that you might not get someplace else.
"The fun part for me is continuing my education here," she said. "And when people come in, I want to educate them too. There's a reason people should come here. At Stems, you can expect exotic, long lasting flowers and a more hands-on approach. I want to encourage people to pick out what they like, to help in the design process. That way, you've helped design it too. A friend of mine came in and told me, 'My boyfriend was so excited, he picked out the flowers for me for Valentine's Day.' And it was just a little bit more special for both of them."
Stems' first week was one of the busiest for flower shops everywhere, with Valentine's Day just a few days after the opening. They sold out on the holiday, and Suzanna found that making deliveries on Valentine's Day was also a learning experience — one that brought her all over Brooklyn and Manhattan — but the exhausting day had some sweet rewards.
"A guy called in and asked me to deliver a bouquet to his wife, a teacher, in her classroom before 3pm," she explained. "I ended up having to close down the shop for 20 minutes to get it there, but then it was great. A classroom full of the kids saw the flowers and said, "Awwww!'"
Another interesting thing she's seen so far is that customers come from far and wide, many of whom had stopped by the shop while visiting the area on a trip to New York City, and remembered it so fondly that they'll call from abroad, months or years later, to have them make deliveries within the city.
"It's amazing to think it made that much of an impression on them," she said. "And what's best is that they trust us, they say they like our style, and just let us do what we do."
In one such case, a man contacted her from Hong Kong, and they corresponded over email about finding just the right orchid for his partner.
"He wanted something interesting, so I would go to the market and send him photos of what I thought he might like," she said, adding that this sort of special order process is something she's willing to do for anyone. "We finally agreed on what he wanted to do, and I delivered it the day after Valentine's Day, per his request. The guy's face when he saw it was priceless."
Suzanna says she has a favorite flower: the pincushion flower, the long-blooming perennial that is pictured on the business cards. One of her brothers, who is in school for graphic design, helped design the card, and is helping on a website as well. Coming from a big family, she appreciates the sense of community that our neighborhood offers, and hopes to continue in that spirit with Stems.
"A girl who used to work here, Jessica, who got me the job in the first place, and I were walking down Cortelyou Road making a delivery on one of my first days," she said. "She was saying hi to just about everyone, and I figured she must be the coolest girl in the neighborhood. Now I know, really, that's just Cortelyou Road, everyone is just so friendly."
She fosters that neighborhood feeling in a number of ways. The Flatbush Community Garden picks up her foliage for composting, a neighbor, Rawan, is designing a sign for the door, the Flatbush Fig Farm's cuttings are just about all sold, and she hopes to get more local business into the shop, to sell their homemade soaps, lotions, cards, and more.
"I want to make this a communal space, as Sycamore has done in the past," she said. "I get excited about it, then other people get excited about it, which I love."
Of course, one of the main draws in this unusual space that houses the Sycamore bar in the back has always been the beer and bouquet deal, which Suzanne says is here to stay. "That's not going anywhere. There are flowers on the bar right now!"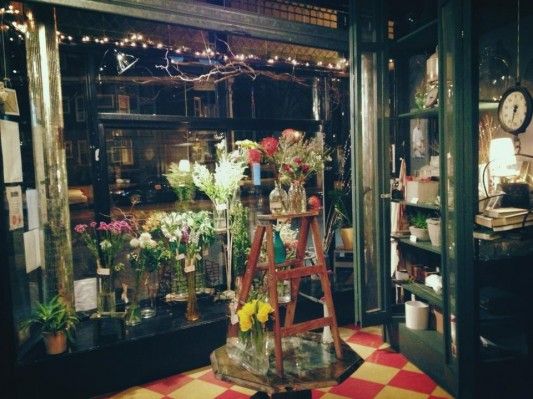 She hopes to provide more of her services for events and weddings, and would like to offer classes in the basement space. The first one coming up will be a flower arranging class, complete with "adult" punch. "You can make your own bouquet and bring it home," she said.
Beyond that, another change at the shop is additional hours, including on Sundays. They do offer delivery, and are currently looking for someone local to do deliveries on a bicycle a couple hours a day in the afternoon. Stop by, call, or email for more info.
Suzanna is hoping to have an opening party in March, so stay tuned for details, and until then, drop in to say hello and learn about the flowers she's got in stock.
Stems is located at 1118 Cortelyou Road; contact them at 347-240-5850 or stemstheflowershop@gmail.com. Hours are Monday-Saturday, 11am-7pm, and Sunday, 11am-4pm.
Bottom photo via Stems