Sycamore's Basement & Backyard Closed Indefinitely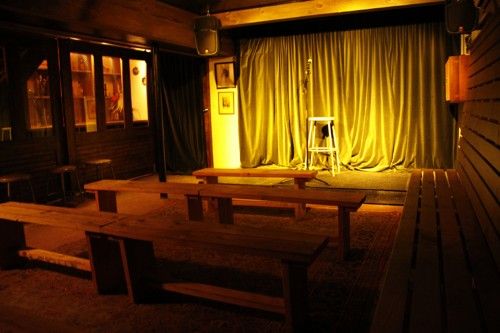 As you may already know, Sycamore (1118 Cortelyou Rd) has had to close their backyard and basement spaces until further notice. The reason behind this, owner Justin Israelson explained, is the need to resolve some issues with the Department of Buildings.
Specifically about the basement, John Hagan, show booker at Sycamore Presents, says:
We are closing the venue because, in short, the city has deemed the space unfit for the performances. I'd like to express my gratitude and sincerest thanks to all the bands, performers, presenters, and fans who have come down to the Sycamore basement over the past 3 years. I will miss curating the program for such a lovely space, but what I will miss more is seeing stellar live performances in my neighborhood on nightly basis.
And Gary, Justin, and Allison want you to know:
To Our Ditmas Park Neighbors,
First off, Justin, Allison, and I feel so lucky to be in this neighborhood and community with neighbors that care for us and who have supported us like you have. We can not thank you enough.
As most of you know, we have been forced to close our garden to the public. It breaks our hearts more than you know. We've been waiting all winter long and just as the ivy is starting to fill the wall, we've been hit with some bad luck.
We feel the need to fill you in to what has happened as many of you consider that garden part of your home. Simply put, the buildings department has determined that we do not have the right permits in place to use the garden for business purposes. In order to obtain the correct permits, we will need to do some construction and satisfy the needs of the buildings department. The buildings department has been extremely helpful and together we will find a way to get the garden open again and better than ever.
We have received so much support from all our neighbors, so thank you. We appreciate everything that you do for us. Hang in there and enjoy the air-conditioning.
Cheers,
Gary (Justin, and Allison)
Sycamore Bar and Flowershop
While they are working on a solution, we sure hope that the backyard gets to open soon. In the meantime, you can continue to support Sycamore and flower shop Stems over the weekend at their First Fridays with DJ Slim Hug, NYC Trust Weekly Party, and Drunken Botanist book signing events.
Photo via Sycamore