Sycamore Re-Opens With A Clean Bill — Sans Flower Shop & Food Court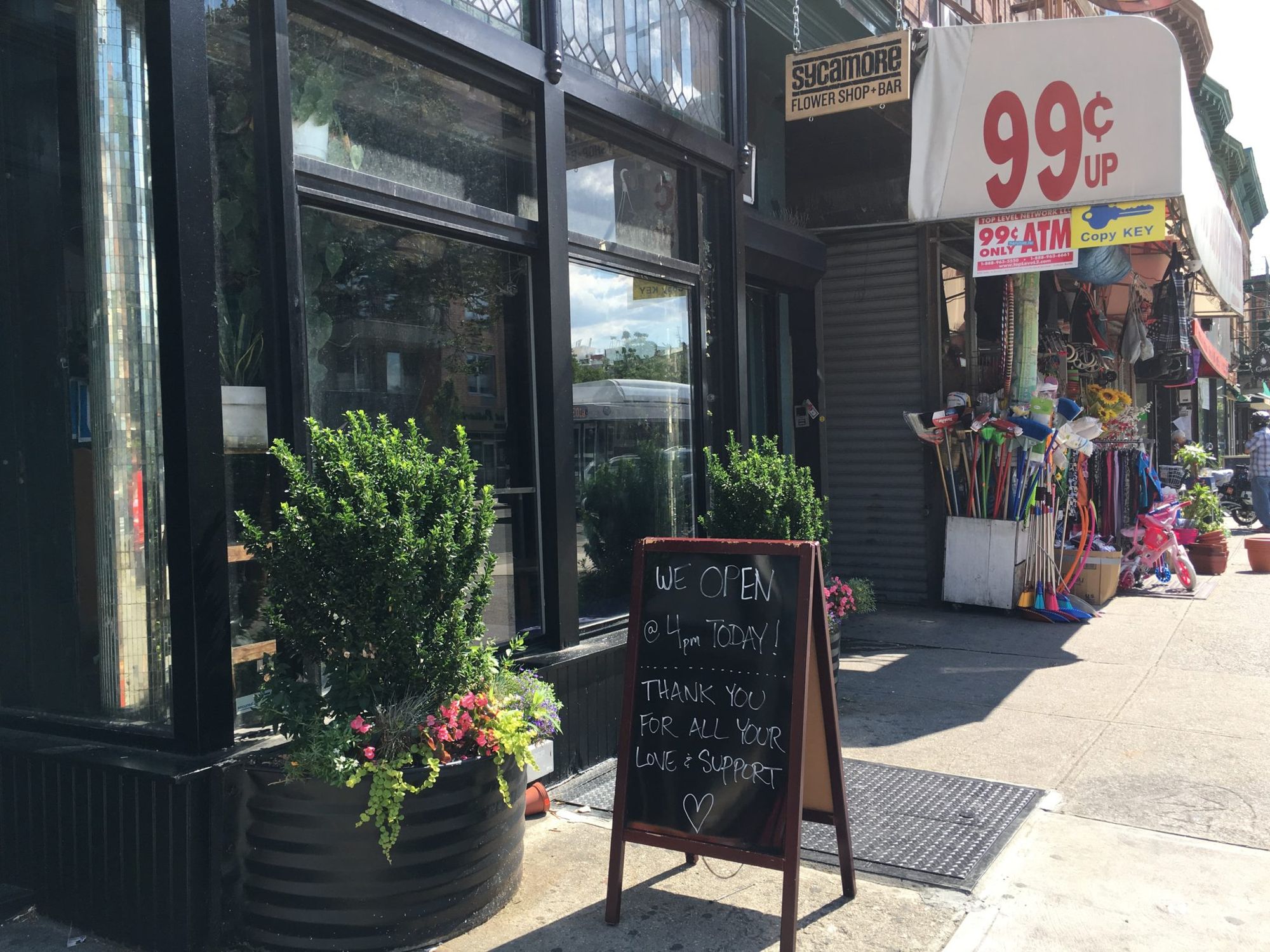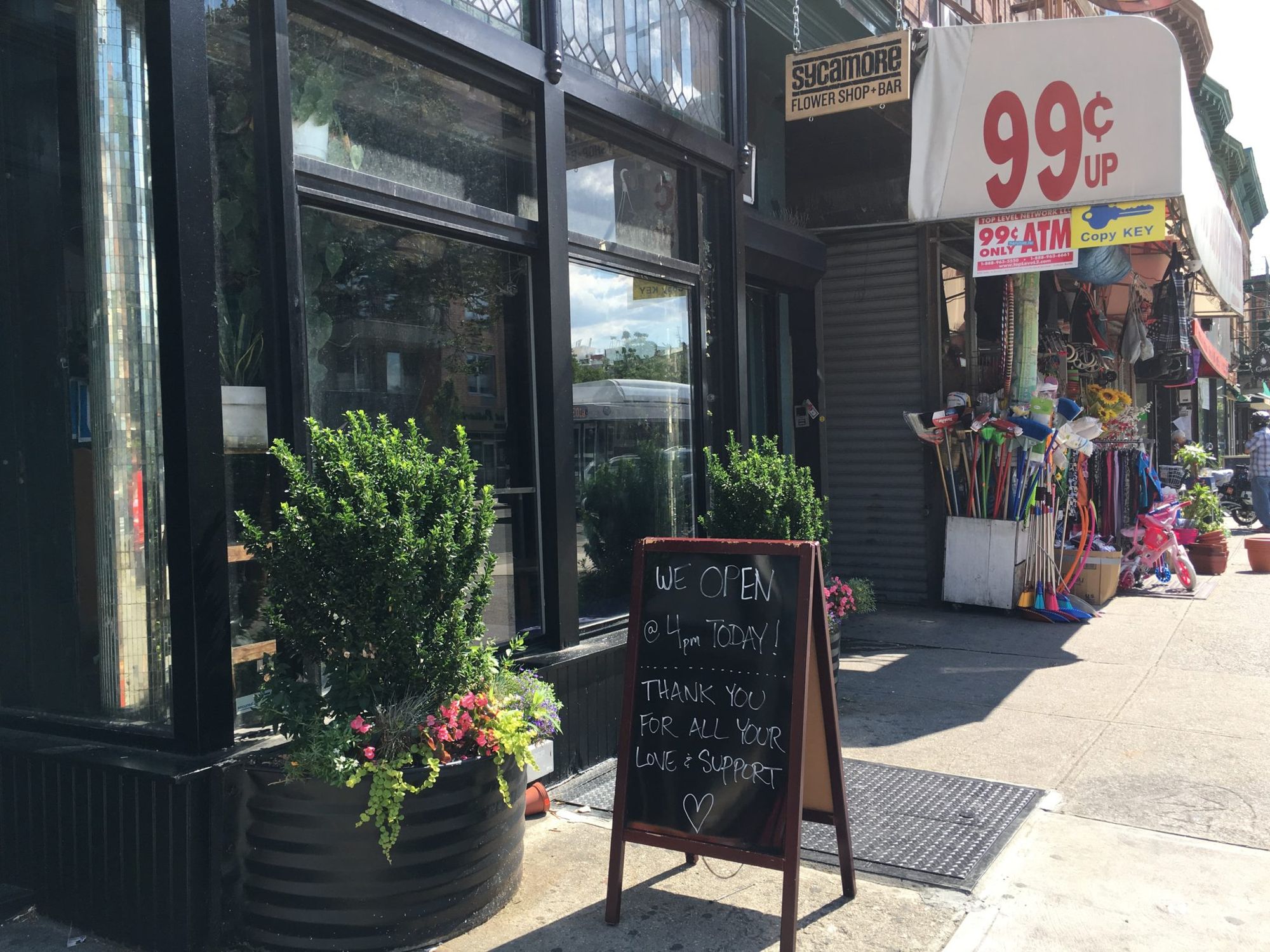 After a sudden and brief closure this week following their health inspection, Sycamore has reluctantly uncoupled with its dual projects — Stems Flower Shop and Flatbush Food Court, owners said.
According to the Department of Heath's restaurant grade page, Sycamore racked up 66 violation points during an initial inspection on June 26. But two days later, they knocked that number down to 13, records show, allowing them to re-open by Wednesday at 4pm. (DOH website notes that restaurants are entitled to a hearing to challenge citations and successful challenges may result in a change to the initial score.)
The violation listed as 'critical' revolved around that pesky summertime beast, the fruit fly.
Though a DOH spokesperson told BKLYNER in a statement on Wednesday that inspectors originally "found fruit flies at the establishment and food contaminated with fruit flies" and "flowers and food were kept in the same refrigerator", Sycamore owners said that's not possible.
"There is absolutely no food prepared or stored by Sycamore. We do not have a kitchen, never had one," countered owners. "There is no food contamination issue what so ever and no such issue was found by DOH." And regarding the pop-up food vendors, the bar requires vendors to remove food after the event and follow food handling standards.
What health inspectors did find on Monday, said owners, is fruit flies primarily in and around their basement trash room. (Note on the health grade website the violation for food and non-food "filth flies" are listed under the same category). Sycamore has carried a 'B' grade since an inspection in January — when "a flower shop operation was not observed" according to a DOH spokesperson. (The flower shop has been operating for many years).
Though the flies may be gone, there are bigger issues at stake for the beloved neighborhood watering hole. The DOH has ordered Sycamore to remove the outdoor bar sink and tap system, leading to an end to the pop-up Flatbush Food Court (until further notice), owners confirmed.
In addition, "we were forced to close the flower shop component of Sycamore," said owners. Though Stems will bloom on — they still operate out of a studio and online.
But Sycamore owners aren't giving up the fight — and neither are its fans. "Thank you to all our neighbors, patrons, vendors, and friends for being so abundantly supportive while we make these adjustments. The outpouring of love has been humbling and feeds our resolve," they said.
"Our whole community would agree that Sycamore is a unique place, and I believe that Stems Brooklyn is a vital part of Sycamore's special flare," said Stems owner Suzanna Cameron on Wednesday. "I truly hope that we can figure out a solution to maintain our complementary arrangement."
Owners say they are working with a number of civic groups like the FDC and CB 14 to re-open the flower shop. "It's been part of our identity since we opened in 2008, and we'll diligently pursue all available resources and collaborate with authorities in hopes of making Sycamore whole again."
Update 5pm: Clarification from DOH Spokesperson — "Note that beverages are "food" under the NYC Health Code."