Rise in Anti-Semitic Crimes Across Brooklyn Brings Condemnation, Calls to Action from Politicians
An uptick in anti-Semitic crimes across Brooklyn in the weeks following the tragic shooting at the Tree of Life synagogue in Pittsburgh, which left 11 people dead, has put residents on edge and led politicians to stage a rally for unity today in Manhattan.
On Saturday, November 3, a group of teenagers threw a metal pipe through the window of Synagogue Volkan near Myrtle and Franklin Avenues, police said. The incident occurred around 5:45 pm, as congregants were inside praying.
In a surveillance video shared by the NYPD and the Williamsburg Shomrim, a group of teens can be seen standing near the window of the synagogue. One of them is carrying a length of pipe, gesturing toward the building with it before handing it off to another teen—who immediately hurls it through the window.
Luckily, no one inside the synagogue was hurt. The crew takes off running, only to be caught on camera again a few minutes later, this time knocking the hat off the head of a 12-year-old Jewish boy.
Update: Police have arrested two teens in connection with the above incidents
Sadly, these are just the latest in a series of anti-Semitic hate crimes that have occurred across Brooklyn in the last week. On the Friday before, local Councilmember Stephen Levin (D-33) tweeted that seven fires had been lit outside Hasidic yeshivas or shuls in South Williamsburg.
Levin released a statement following the incidents, co-signed by State Senators Dilan and Kavanaugh, along with Assemblyman Joe Lentol:
"We condemn these anti-semitic attacks and I thank the NYPD and FDNY for their prompt response to these life-threatening incidents. Tragically, it would seem these types of attacks are becoming all too common.
"Words and speech are as real as any weapon, and I again call on the current administration to unequivocally denounce every and all hate groups. We need to do everything in our power to deny hate safe harbor, whether in Pittsburgh, Charleston, or here in Williamsburg."
The fires were investigated as a hate crime by the NYPD's Hate Crime Task Force and the Fire Marshal. Again, the Williamsburg Shomrim was involved in following up on the crimes and assisted NYPD in making an arrest:
These recent incidents in follow on the heels of graffiti hate crimes also targeting the Jewish community in Brooklyn.
Police arrested a man allegedly behind the anti-Semitic graffiti scrawled on the Union Temple in Prospect Heights last week. James Polite, 26, was charged with criminal mischief, a hate crime, and making graffiti, police confirmed.
The messages ranged from "Hitler," "Jew better be ready," "End is now," to "Die, Jew Rats, we are here, " police said, and the actions caused the cancellation of a political event to be hosted by Ilana Glazer, of "Broad City" fame.
Polite, who spent most of his life in and out of foster care, was profiled last year by the New York Times for their "Neediest Cases Fund." The Times followed up on the man from Bed-Stuy in light of his shocking crime.
NYPD officers are still looking for two other suspects, wanted for scrawling a series of swastikas on porches and garage doors in Brooklyn Heights last week: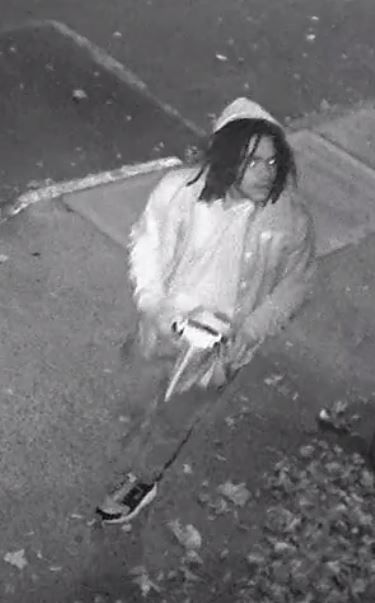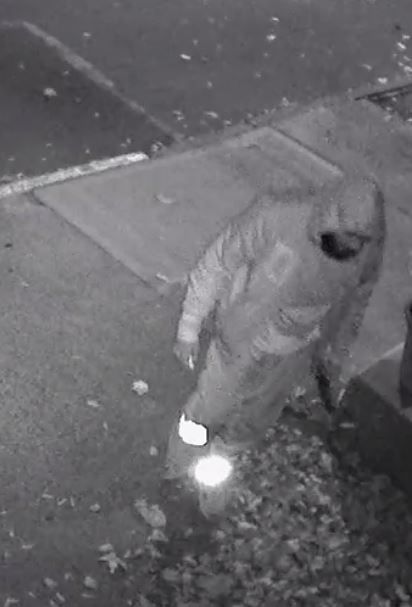 Update: Two teenagers have been arrested and charged in connection with the crimes in Brooklyn Heights
Today, local politicians rallied to condemn the attacks, gathering in solidarity at the African Burial Ground Monument in Manhattan, which was also defaced in a recent hate crime.
Speaking at the event, Councilmember Chaim Deutsch (D-48) said he is working on introducing two new bills to the City Council in response to the recent crimes. The first would mandate a Crime Prevention Unit for the NYPD's Hate Crimes Task Force, which would work on community education about hate crimes.
The second bill would require the District Attorney to not only report out numbers of hate crimes, but also detailed information on the motives behind those crimes. The Councilmember's statement can be seen below:
Other Brooklyn politicians present at the event included Councilmembers Jumaane Williams (D-45) and Laurie Cumbo (D-35)—the council's Majority Leader—as well as Brooklyn Borough President Eric Adams.
Adams raised eyebrows late last month when he suggested that off-duty law enforcement officers should carry weapons in houses of worship following the attack in Pittsburgh.
"I'm not going to live the way it ought to be. I'm going to live the way it is," Adams said at a rally last week. "There are sick minds who are preying on innocent people in their houses of worship… If you are a Jewish police officer and you are off duty, when you come to worship, you should come with your handgun. If you are a Christian police officer, when you are off duty… come with your handgun."
The Anti-Defamation League reports that 8 of the 11 anti-Semitic assaults tracked by the organization in New York State this year have occurred in Brooklyn.
Earlier in October, an older Jewish man was brutally beaten in the road following a road-rage incident that was investigated as a hate crime.
Over the summer, two men attacked a 22-year old rabbinical student in Crown Heights, near the Chabad-Lubavitch World Headquarters. The perpetrators were charged with assault as a hate crime. Inn April, a 52-year-old Jewish man was beaten by a man in an anti-Semitic attack near the Kingsbrook Medical Center.