Where Jews Can Enjoy 'Chinese Food Christmas' In Brownstone Brooklyn
It's no myth.
Jews have been eating Chinese Food on Christmas Day for a long time. Of course, it all started out — as many traditions do — for pragmatic reasons.
"Jews and Chinese were the two largest non-Christian immigrant groups" at the turn of the [twentieth]  century, says Jennifer 8. Lee, journalist and producer of the documentary film The Search For General Tso.
And from those beginnings began a ritual that has been passed down from generation to generation. But once again, there simply aren't many other restaurants open on Christmas.
Call it kitsch, call it a codified ritual, call it a joyous adherence to a family tradition, "they [Jews] go out of their way to do it," argues Mark Tracy. "They may or may not enjoy General Tso's Chicken, but if they are eating it on Christmas, their prime motivation is not the general's sweet, spicy deliciousness, but rather the knowledge that they are doing something that in some adapted way reinforces their Jewishness. They are moved by their hearts, not their tastebuds."
We've assembled a list of Chinese restaurants throughout Brownstone Brooklyn for your ritualistic needs. And as one Clinton Hill neighbor told us, one doesn't have to be Jewish to embrace the tradition.
The restaurants below are open both Christmas Eve and Christmas Day. Hours do vary, so you'll want to check in with the particular restaurant. And since the tradition is popular, these places may be crowded.
And while there are other restaurants which deliver on this holiday, we've provided places where you can sit down and have a meal.
For those of you noticing the absence of both East Wind Snack Shop and Michael & Pings — they are, indeed, closed on Christmas.
People have strong opinions of what is considered "good" Chinese food. Our list has some absolute standouts that we'd swear by 365 days a year. Others are solid choices that we wouldn't write home about. We've tried to mix it up and provide some strong vegetarian options as well.
Of course, this year, Jews will be able to have their "Merry Jewish Christmas" over wonton soup and General Tso's Chicken and be able to light their Hanukkah candles at the same time since the Festival of Lights begins on December 24.
We wish you all a wonderful holiday, and hope your fortune cookie predicts all good things.
Park Slope / South Slope / Gowanus / Windsor Terrace
Food Lin (aka C&Y)
Where: 399 5th Avenue (at 7th Street)
Phone: 718-768-1188
Known for solid noodle dishes and "on point" egg rolls.
Hey Hey Canteen (BKLYNER recommended)
Where: 400 4th Avenue (at 6th Street)
Phone: 347-987-3830
We've been talking about this place ever since it opened. Anyone who gets to score their Hong Kong Fried Chicken Sandwich knows how to celebrate a holiday. And then some.
Hunan Delight
Where: 752 Union Street (at 6th Avenue)
Phone: 718-789-1400
From New York Magazine: Non-spicy entrees are mild, even bland, and the kitchen can be heavy handed with salt-steamed bok choi that tastes as though it's been cooked in sea water. That said, the boneless spareribs are ingenious and the mu-shu dishes come with four pancakes and not the paltry two you've come to expect.
Mr. Wonton
Where: 73 7th Avenue (between Berkeley and Lincoln Places)
Phone: 718-398-7088
From New York Magazine: "Dim sum and appetizers are the draw here; the vegetable dumplings are smothered in a thick peanuty sauce with a hint of pepper; steamed little juicy buns are plumped up with pork."
Tofu on 5th
Where: 385 5th Avenue (at 6th Street)
Phone: 718-788-2299
From New York Magazine: "Specializing in healthy Chinese takeout of the mock-meat variety, this unassuming eatery (formerly known as Tofu on 7th before it moved two blocks over) has been in business since 1997. And though the space itself is bland the meals are surprisingly flavorful. Tasty golden nuggets of soy comprise the vegetarian sesame chicken, an entrée that arrives coated, not drenched, in a tangy-sweet sesame sauce over a bed of bamboo-steamed broccoli."
Brooklyn Heights / Boerum Hill / Downtown Brooklyn / Fort Greene / Clinton Hill
Golden Fried Dumpling
Where: 192 Duffield Street (near Willoughby Street)
Phone: 718-522-2836
From An Immovable Feast about the eponymous fried dumplings: "These were slightly crispy on the outside and juicy inside, with a delicious dipping sauce. I could have eaten a whole bunch of them, and one day I plan to return and do just that. My only knock on them is that they were cooked a while earlier and thus weren't nearly as good as they would have been if freshly fried."
Kum Kau
Where: 463 Myrtle Avenue (at Washington Avenue)
Phone: 718-638-1850
From New York Magazine: "A Chinese takeout force that has sent countless little white cartons into Clinton Hill homes since 1976, Kum Kau also offers a basic dining room where customers will find a fork and spoon on the table instead of chopsticks."
Lichee Nut
Where: 162 Montague Street (near Clinton Street)
Phone: 718-522-5565
From our food reviewer Justin Fox: "It is eerily reminiscent of what I imagine Westchester-style Chinese food to have been like, down to the head-snappingly fast service and cloying (but delicious!) duck sauce."
Mile End Deli (BKLYNER recommended)
Where: 97A Hoyt Street (near Atlantic Avenue)
Phone: 718-852-1710
Mile End trades in its matzo ball soup and schmears for their "Chinese Christmas" set menu ($65). Check out the Christmas menu here. Kids' options are available.
Yaso Tangbao (BKLYNER recommended)
Where: 148 Lawrence Street (between Fulton and Willoughby Streets)
Phone: 929-337-7599
From the New York Times: "Nearly everything on the menu at Yaso Tangbao in Downtown Brooklyn summons up the streets of Shanghai: those soup dumplings like sleeping volcanoes, waiting for a trigger; giant shaggy pork-belly meatballs, called lion's heads, majestic and mystifyingly airy; a cool, monochromatic huddle of chicken thigh, poached and submerged in Shaoxing rice wine, that tastes gentle, with vague allusions to mushrooms and licorice (though if you eat too much, it may make your head swim)."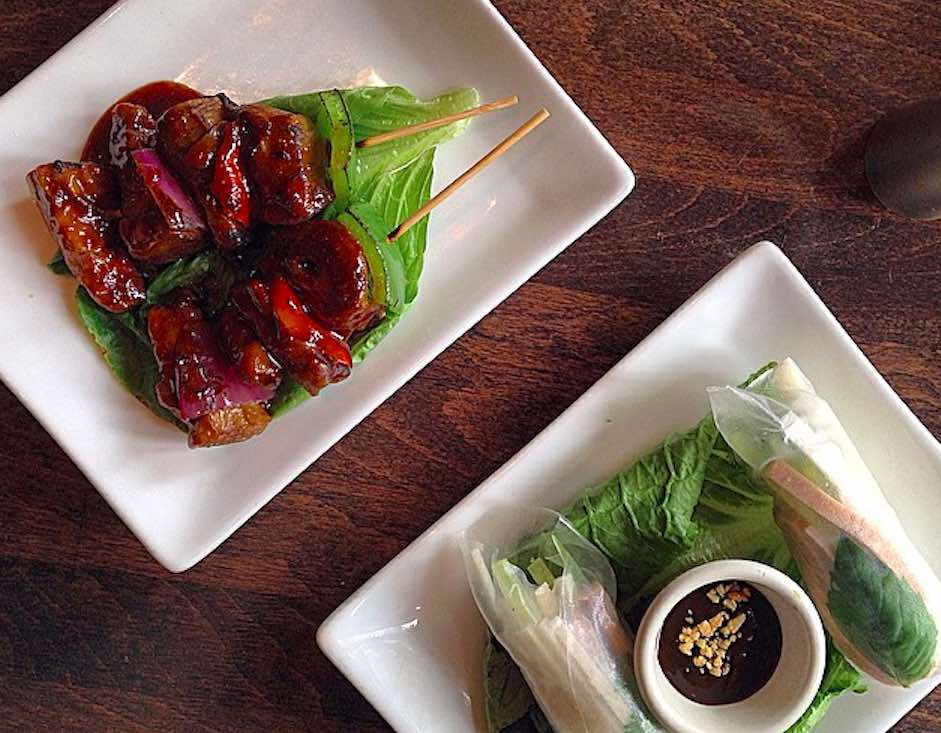 Carroll Gardens / Cobble Hill
Chance Asian Bistro and Bar
Where: 233 Smith Street (between Douglass and Butler Streets)
Phone: 718-242-1515
From New York Magazine: "The menu, though, which bills itself as French-Chinese fusion, is a work-in-progress: The kitchen turns out straightforward Chinese fare like Peking duck along with dishes like rack of lamb with a 'shallot sauce à la Pierre Gagnaire.'"
Ting Hua
Where: 351 Smith Street (between Carroll and 2nd Streets)
Phone: 718-852-6287
Standard fare, with a lunch menu and catering menu.
Prospect Heights
Dao Palate
Where: 329 Flatbush Avenue (between Park Place and Prospect Place)
Phone: 718-638-1995
From New York Magazine: "Dao Palate follows Zen culinary restrictions as closely as any veggie-fusion spot, but taste and presentation here rank a solid step above neighborly competitors. The tranquil ambiance renders takeout strangely unsatisfying: a green-lit, bare-brick interior overseen by still-faced Buddhas demands attention, while hanging stones and moss grow from carefully selected spots along the walls."
Vegetarian Palate
Where: 603 Washington Avenue (between Dean and Pacific Streets)
Phone: 718-623-8808
From New York Magazine: "Most of the menu is dedicated to reconstructing Asian classics with bean curd and wheat protein, and many dishes do justice to their meaty muses: A soothing, rich curry of "chicken" and potatoes is balanced with subtle heat, while roast "goose" showcases tofu-skin-wrapped mushrooms and bean sprouts, fried until each piece looks and crunches like a hunk of bronzed bird."
Any favorites we've missed? Email us at editor@bklyner.com.