Dining Review: We're Shouting From The 'Stooptops' About Hey Hey Canteen
When owner Kay Ch'ien closed her Cantonese-style 2 Duck Goose last November, her goal was to "re-work the concept" of the restaurant. She spent early 2016 traveling in Thailand, Singapore, and Hong Kong (Ch'ien's home town) for inspiration.
Ch'ien opened her new venture Hey Hey Canteen (440 4th Avenue at 6th Street) in the same space last week (a soft opening), and she has certainly succeeded at finding inspiration.
The clean, bright space could very well become a 4th Avenue destination. And for those folk who think 4th Avenue sounds far away, keep in mind that Hey Hey Canteen is a stone's throw from the Old Stone House and J.J. Byrne Park. No schlepping necessary.
Carlos Barrera, who served as the former sous-chef of 2 Duck Goose, will now be the Executive Chef for Hey Hey Canteen. Consulting Chef Irene Khin Wong joins the team. She is the founder of catering company Saffron 59.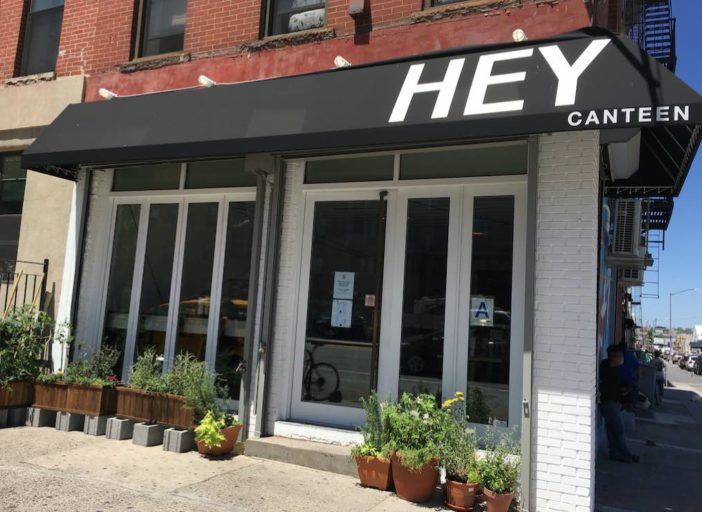 But it's the food you're really coming for, yes? Hey Hey's menu is diverse without being sprawling.
Like the recently reviewed Hanki, you place your order and pay at the counter before you sit down. The food is brought to your table.
Hey Hey sports some surprises. The drinks menu has wine, beer, cocktails, and non-alcholic options — including some delicious teas. One the beer side, the Hitachino Red Rice beer ($8) is light with slight hoppiness and a subtle aroma ("Hoppy" doesn't mean "bitter" — that's another story for another time).
The Tumeric-Ginger Cayenne Iced Tea ($2.99) is my new summer drink. It tastes as textured as it sounds — and is both spicy and refreshing. I'm not going to do a very job of describing it, because it's an odd taste. But odd here means a wild child deliciousness.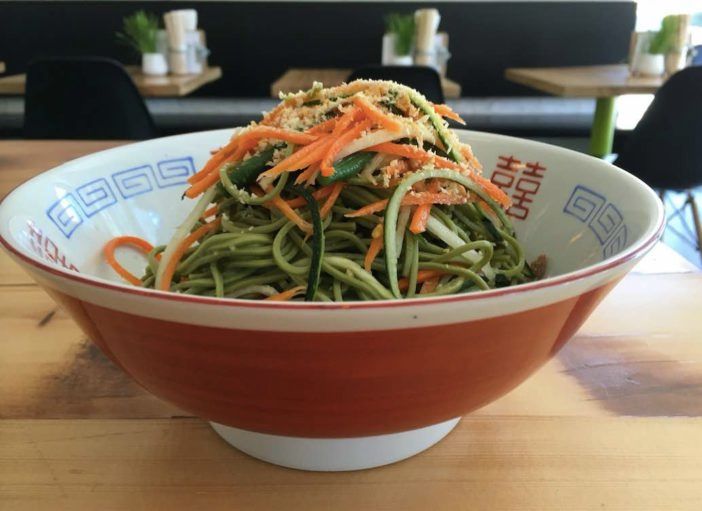 The Spicy Matcha Soba ($9.99) dish is perhaps more citrusy than it is spicy. The Hanger Steak ($7.99) was ordered as a side, topped with a savory chimichurri sauce. The best bet for ordering at Hey Hey is to mix it up a bit so the tastes complement each other.
While a caesar salad may not sound like the sexiest dish around, the Chrysanthemum Caesar Salad ($9.99) benefits from the combination of chrysanthemum leaves mixed with crispy tofu, almond parmesan, bao croutons, and crispy seaweed. You're not going to confuse this one with the standard — and you can't find many more interesting light summer meals. This, my friends, is one sexy salad.
Now, if you want to know my new sandwich crave for the summer, just stare at the above picture. The Hong Kong Fried Chicken Sandwich ($10.99) IS as good as it looks. The tamari-palm sugar-glazed chicken breast has a crispy ramen crust, green mango, radish pickles, umami aioli, and is served on a bao bun. I can't believe I managed to write all that without stopping over to get one. The steamed wheat-floured bun is puffy, and the chicken is fried ever-so-lightly.
Enough of my description, just go have one.
Hey Hey Canteen is a crowd pleaser as well. There's a kids' menu which includes lo mein or sesame noodles ($6.99 each), and each comes with two veggie dumplings. You can get a veggie dumpling ($6.99) order for yourself as well — which we recommend. Please don't steal your kid's food, you feel me?
We have a real winner on our hands. And with HENRI's Backyard opening soon in the former Pickle Shack spot, the 4th Avenue culinary new blood would be far more positive to focus on than the 4th Avenue real estate canyon of mediocrity.
There's nothing mediocre going on in Hey Hey Canteen — and with that said, I need to go get a Hong Kong Fried Chicken Sandwich.
The Dining Rundown: Hey Hey Canteen
Where: 400 4th Avenue (at 6th Street)
Hours: Tuesdays-Sundays, 12pm-10pm. Closed Mondays.
Phone: 347-987-3830
Kid Friendly?  Yes. The restaurant features a kids' menu and has high chairs.
Special Notes: Seating on a first-come, first-served basis. No reservations.