Weekend Art Events: May 17-19 (Fabulous Fifth Avenue Fair, Craft in Focus, Old First Celebration of Arts & More)
This is the perfect weekend to spend exploring Brooklyn! With great weather and even greater events, there's something going on this weekend that the entire family can enjoy. Catch a special screening of Paris to Pittsburgh presented by National Geographic as part of Endangered Species Day or stop by Craft In Focus at Industry City and participate in an array of hands-on workshops.
Bklyner Calendar has more events happening around town and you can list one of your own.
Thursday, May 16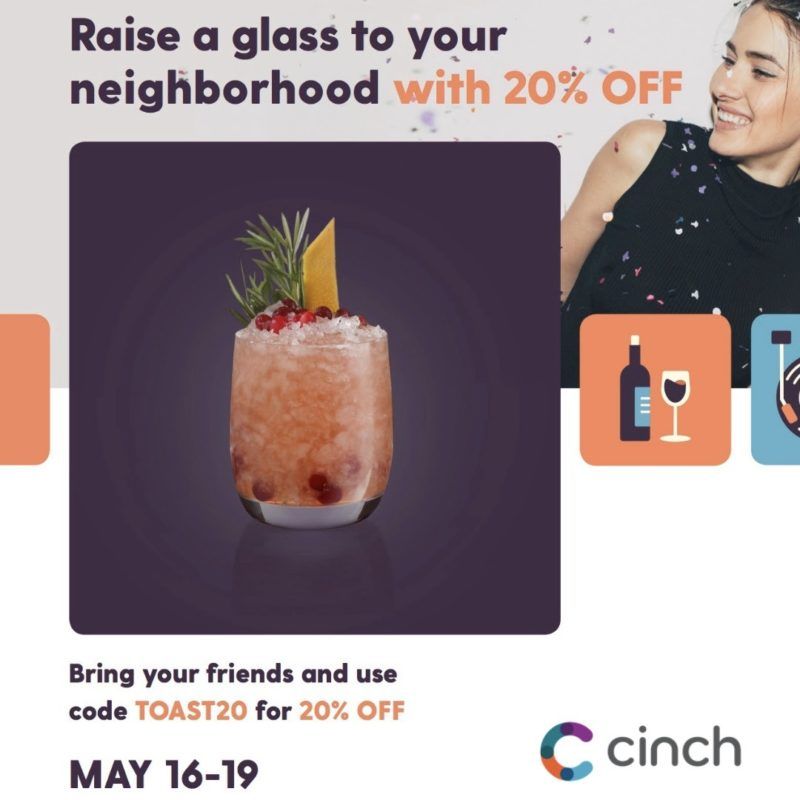 CINCH NEIGHBORHOOD DISCOUNTS in Park Slope and Williamsburg, (+ May 17-19) [Free]: For four days only (5/16-19), raise a glass to neighborhood bars, restaurants, and liquor stores with 20% off. It's happening from Thursday until Sunday at local businesses in Park Slope & Williamsburg, and all you need to participate is the Cinch app & code TOAST20 to enjoy!
Friday, May 17
PARIS TO PITTSBURGH FILM SCREENING at Kingsland Wildflowers Green Roof & Community Engagement Center, 7pm [Free]: Spend Endangered Species Day viewing a special screening of this documentary film—created by Sidney Beaumont and narrated by Emmy Award-winning actress Rachel Brosnahan—that explores the national and worldwide effects of climate change. This documentary is produced by Radical Media group and presented by National Geographic in partnership with Bloomberg Philanthropies.
Pod Tours America (Sponsored) at Kings Theatre, 8pm [Tickets begin at $59.50]: Pod Save America, co-hosted by Jon Favreau, Jon Lovett, Dan Pfeiffer and Tommy Vietor has been downloaded more than 370M times, and was dubbed "the voice in blue America's head" by New York Times Magazine. Favreau, Lovett, Pfeiffer and Vietor all served in key roles in the Obama White House. They have expertise in political campaigns (both winning and losing), political strategy, speechwriting and foreign policy. They are blunt about their disgust with the Trump administration but are equally hard on the Democratic Party when it screws up. You'll laugh. You might cry. And you'll leave motivated to fight for our democracy.
Saturday, May 18
CRAFT IN FOCUS at Industry City, 11am (+ May 19 & 20) [Free admission, class prices vary]: For three days part of Industry City will transform into an open workspace and present hands-on workshops for people of all ages, master classes, and demonstrations, focusing on master craftsmanship. Attendees have the opportunity to learn anything from calligraphy to violin making. Read more here.
MORE OR LESS I AM at the Brooklyn Public Library, 2:30pm [Free]: Drawn from Walt Whitman's 1855 "Song of Myself" this music-theater piece is directed by Karin Coonrod with original music by Colin Jacobsen, Kyle Sanna and Eric Jacobsen. The production will be performed by Compagnia de' Colombari, an international collective of performing artists founded and directed by Coonrod.
KATRA FILM SERIES SIDEBAR: ASIAN PACIFIC HERITAGE MONTH at Vine, 7pm [Tickets $10]: In honor of Asian Pacific Heritage Month the Katra Film Series will be putting on a special presentation highlighting the works of talented Asian Americans and Pacific Islanders in front of and behind the camera. The Katra Sidebar Edition showcases works by underrepresented and marginalized communities while focusing on issues, topics and stories by filmmakers of color, African-American, Asian-American, Latinx, LGBTQIA and Female Filmmakers from all walks of life.
Sunday, May 19
THE FABULOUS FIFTH AVENUE FAIR at Park Slope 5th Avenue (between Sterling & 12th Street), 10am [Free]: Spend the day strolling up and down Fifth Avenue during this annual street fair. Attendees can expect local food, shopping, art and music from artists such as Full Discloser, Delorean Sisters and more.
BALLET FOR ALL KIDS RECITAL at CenterStage Dance Studio, 12:30pm [Free]: Performing alongside the Berkeley Carroll School, Ballet for All Kids students will come together for their first onstage production during CenterStage Dance Studio's annual spring recital. Ballet For All Kids aims to make classical ballet and other dance styles accessible and inclusive, regardless of anyone's abilities or disabilities.
A CELEBRATION OF ARTS at Old First Reformed Church, 3pm [Free]: Musical groups, such as the String Orchestra of Brooklyn, Michael Daves and more will perform during the reopening of the Old First Reformed Church, which has been under construction after the ceiling collapsed in 2011. This public event will mark the completion of Phase One of what will be a 10-year, $9.6 million restoration of the 1891 church.
Looking ahead…
CAMPFIRE STORIES (Sponsored) at the Park Slope Jewish Center, May 23, 7:30pm [Tickets begin at $40]: Come out for a night of storytelling and music, featuring award-winning New York City writers, comedians, and master storytellers to celebrate Park Slope Jewish Center's big Spring Benefit. Performers include: Henry Alford – Thurber-prize-winning humorist, journalist for the New Yorker and the New York Times, and author of Then We Danced; Heather Abel – Essayist and author of The Optimistic Decade; Blake Eskin – Writer, editor, and podcast producer; Lynn Harris – Journalist, author, and founder of GOLD Comedy, a platform for girls who want to be funnier and MC Faye Penn – Executive Director of women.nyc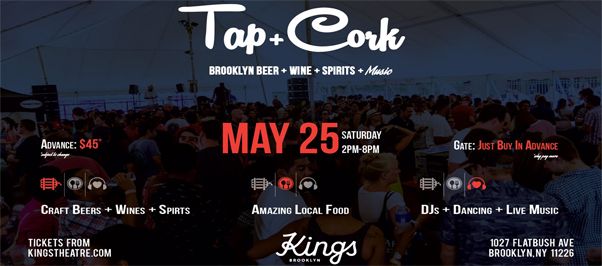 TAP & CORK (Sponsored) at Kings Theatre, May 25, 2pm [Tickets begin at $45]: A block party-styled beverage festival full of craft and small batch brands next to some known favorites. Amazing food and great music keeps your belly full and your feet moving. All happening in the greatest city's favorite borough.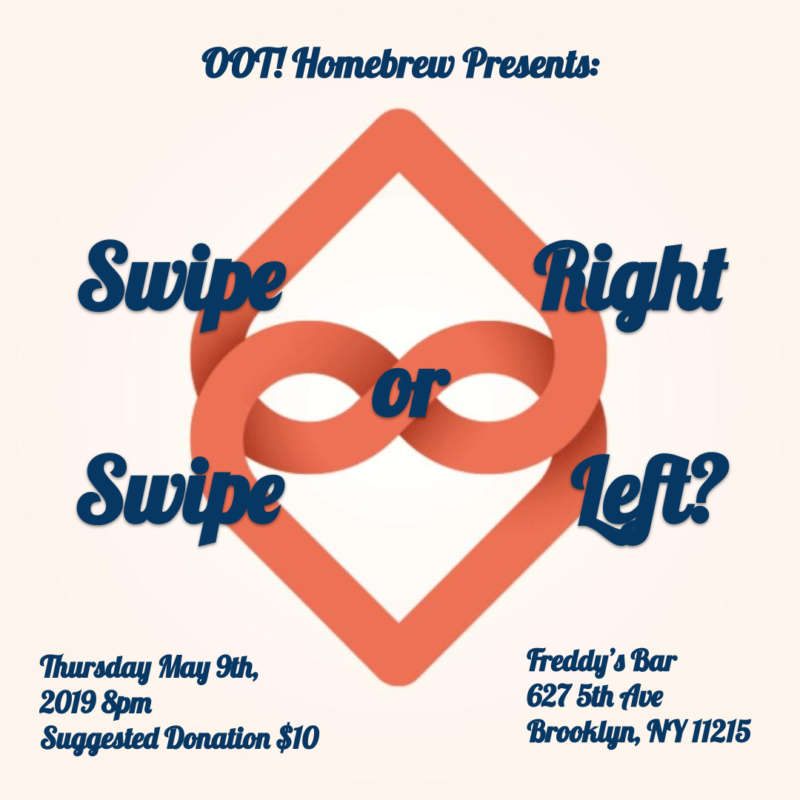 OOT Homebrew Presents: Swipe Right or Swipe Left? That is the Question (Sponsored) at Freddy's Bar, May 25, 8pm [Free]: The opening act, Forever House is scheduled from 8pm to 8:45pm. Forever House is a raucous avant-grunge outfit comprised of Meaghan Burke (vocals/cello), James Moore (guitar), James Ilgenfritz (bass) and Pete Wise (drums). Drawing from their experiences as performers in NY's indie and experimental scenes, Forever House performs an explosive blend of twisted anthems, subversive ballads, sloppy math waltzes and wasted love themes.
The second act, Opera on Tap HOMEBREWED, will be held from 9pm to 10:15pm. Straight from the tap, Freddy's Bar and the Divas of Opera on Tap bring you the Home Brewed Opera series: funny, engaging, immersive operatic concerts in a casual setting. Ever been on a dating app? It's not easy….Help us comb through our prospects with beer and delicious goodies, and we'll figure out which way to swipe together!
Ongoing…
LATINX at La Bodega Gallery, through May 25 [Free]: This project aims to deconstruct Latin American identity and explore different facets of it. LATINX addresses the issues of cultural loss, colorism, xenophobia, homophobia and misogyny within the culture as well as dismantling the concept of what makes up a "real latino".
NEW DAWN FADES at Court Tree Gallery, through June 11 [Free]: Created by Christian Nguyen, this exhibit includes a collection of paintings inspired by Claude Monet's "Rouen Cathedral". Nguyen's primary focus is architecture and how it embodies the mind, body, and soul.
RACE AND REVOLUTION: REIMAGINING MONUMENTS at The Old Stone House, through June 14 [Free]: This third iteration of a series that aims to bring the conversation of systemic race and racism from the past into the present displays excerpts from historical documents alongside contemporary works by 16 artists including paintings, drawings, quilts, interactive sculptures, and public art.
HEAVEN, HELL, AND PURGATORY: VISIONS OF THE AFTERLIFE IN THE CATHOLIC TRADITION at Green-Wood Cemetery (Fort Hamilton Gatehouse), Saturdays & Sundays through June 30 [Free]: Morbid Anatomy returns for a second year to Green-Wood Cemetery's historic Fort Hamilton Gatehouse. The museum's latest exhibit explores visions of heaven, hell, and purgatory in the Catholic tradition featuring paintings, photographs, sculptures, historical books, and prints dating from the 17th century to the present. Don't forget to visit the attic where selections from Morbid Anatomy's vast library will be available for perusal.
SEDIMENT at multiple locations (Artpoetica, South Slope Local Café, Gowanus Dredgers Boathouse, and Gowanus Souvenir Shop), through July 7 [Free]: Created by JoAnne McFarland and Sasha Chavchavadze, the SEDIMENT exhibitions are inspired by the century-old sediment at the bottom of the Gowanus Canal. Each exhibition space will offer a unique interpretation of SEDIMENT experimenting with both the literal and metaphorical theme.
ON THE (QUEER) WATERFRONT at the Brooklyn Historical Society, through August 4 [Free]: Co-curated by Hugh Ryan and Avram Finkelstein, this exhibition focuses on the lesbian, gay, bisexual, transgender, and queer history of Brooklyn in the 1800s and through World War II. Visitors can expect to see photographs, artifacts and more. Read more here.
THE PHOTOGRAPHS OF BUILDER LEVY: HUMANITY IN THE STREETS at Brooklyn Historical Society, through August 11 [Free]: A collaboration between the Brooklyn Historical Society and students from Pratt Institute, this new exhibit showcases a selection of images documenting everyday life in NYC from the 1960s to 1980s, through the lens of Brooklyn-bred photographer Builder Levy. Students from Pratt's Spring 2019 Museology Class took on roles as curators, designers, publicists and more for the exhibition.