Recounting The Forgotten Histories Of Brooklyn's LGBTQ Community
BROOKLYN HEIGHTS – There was a line of people twisting up the staircase of the Brooklyn Historical Society on Tuesday, March 5. Everyone was patiently waiting to see On the (Queer) Waterfront an exhibition showcasing the LGBTQ community along the Brooklyn waterfront from the 1800s through World War I.
"I'm excited to see images that I haven't seen before about how queer people live on the waterfront," Brandon Stinchfield said.
The exhibition, co-curated by Hugh Ryan and Avram Finkelstein drew attention from a variety of community members. Stinchfield, who is originally from Brooklyn, was one of the many who attended a reception prior to the opening of the exhibit.
"Queer history is having a real moment right now," Stinchfield said. "There's a lot of people doing work on the past and I was excited that this one was about Brooklyn because this is where I'm from."
Stinchfield also had a chance to meet Ryan, who gave opening remarks during the reception and discussed the exhibit as well as his new book When Brooklyn was Queer.
"He's part of this group of people right now who are really putting queer history out there for a lot of people to consume," Stinchfield said. "That's not something I, a gay person, grew up with."
Stinchfield, who studied the gay rights movement in college, was excited by the number of attendees during the reception. "I never would have imagined being in a room full of this many people who would be excited about queer history," Stinchfield said. "It's really cool that this many people would come out for something like this."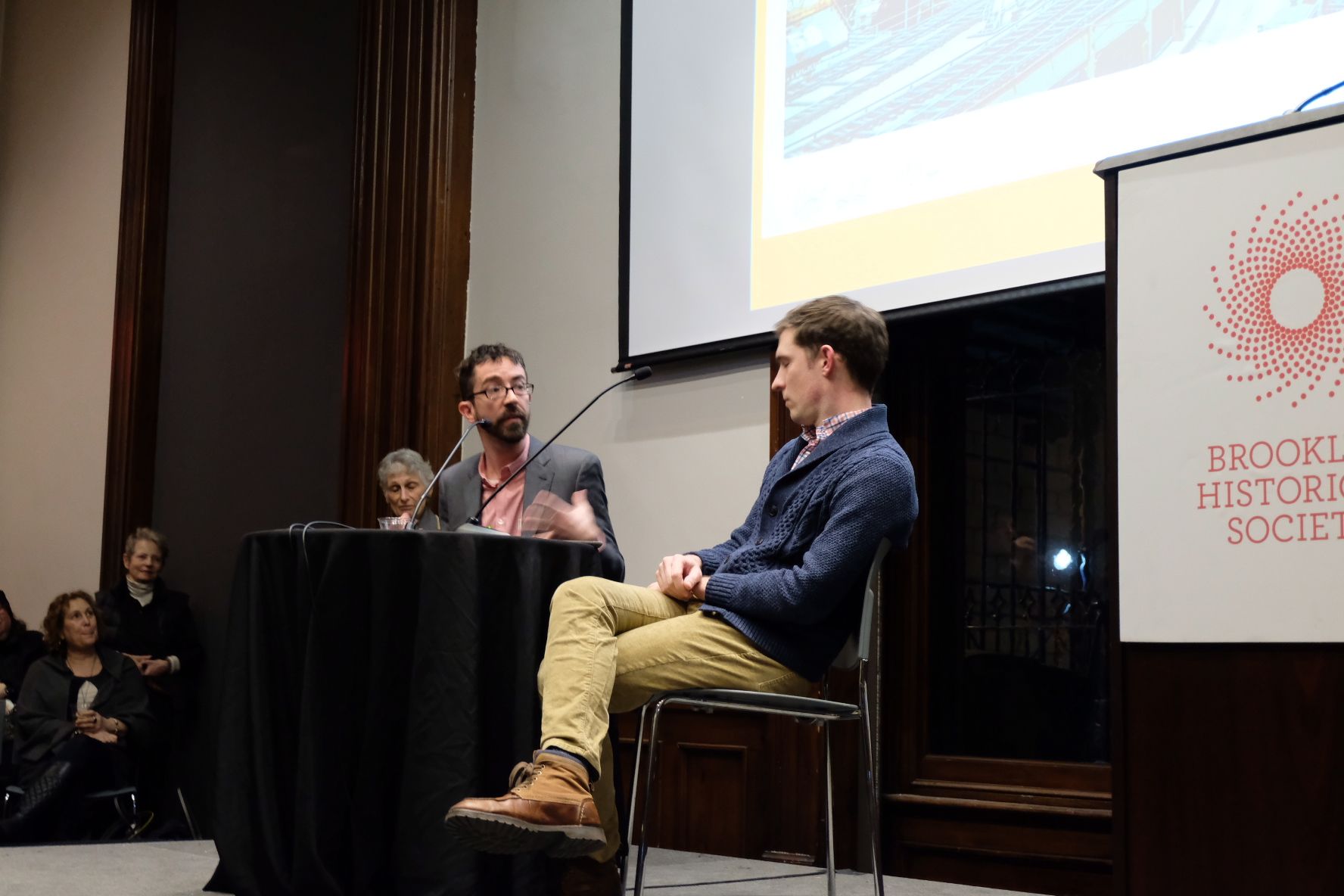 During his opening remarks, Ryan spoke of the figures, such as Florence Hines, he covered throughout the book and what appeared to be their lost histories. "These are the kind of stories I want to draw out for people," Ryan said. "These histories that have been completely forgotten because not only were they forgotten historically, but even in their day Florence wasn't given the due that she deserved."
The exhibition gave Ryan a chance to not only tell the story of the LGBTQ community but show it to visitors as well. "Upstairs in the exhibition you will get to see things which you'll see in a tiny scale in the book," Ryan said.
Pieces from the exhibit include photographs, ephemera, and artifacts, some of which no one has seen before. "There's a scrapbook by a woman who, during WWII, was the first woman hired to do war-related work by the Todd Shipyards all around the country," Ryan said. "Her name is Anne Moses."
Moses documented herself and other lesbian workers as far back as the 1920s. Her nephew, who preserved the scrapbook for decades, brought it to the Brooklyn Navy Yard. Ryan, who had been in talks with the organization in the past about his book, was then able to get his hands on it.
"It's the kind of document that after searching and searching for visual records of lesbians who worked in the factories in Brooklyn—there's nothing else like this out there that I've seen," Ryan said. "It's incredible."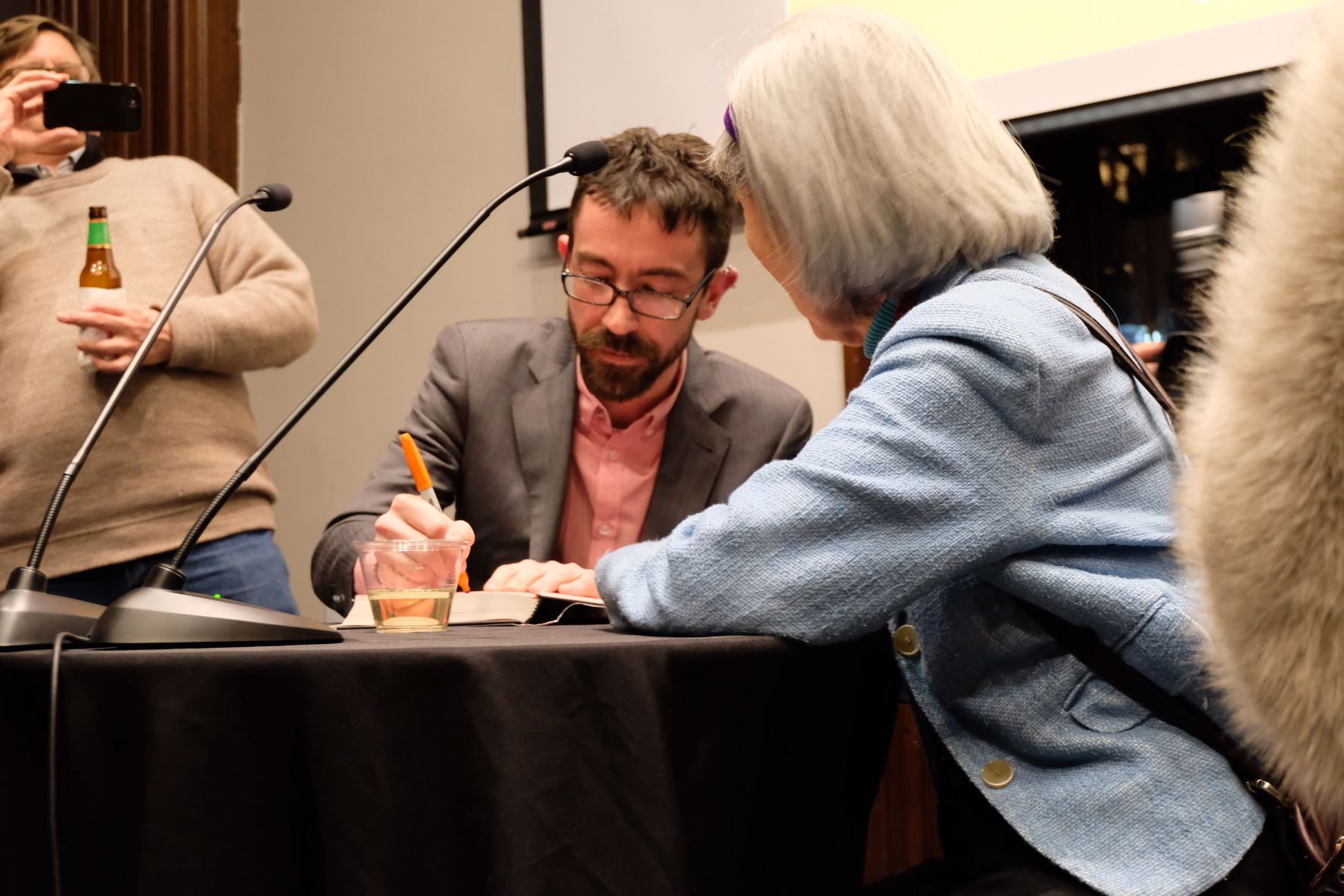 Other works come from people who today, Ryan still does not know much about. Edward Casey, a painter who came to Brooklyn after WWI, appeared to be a high school teacher. "In his private life he painted these gorgeous paintings of groups of black and white men naked along the Brooklyn waterfront," Ryan said.
While Ryan and Finkelstein were putting together the exhibition they discovered that the Brooklyn Historical Society had one of Casey's original paintings. "There are things there that you will never get to see elsewhere," Ryan said.
Attendees of the opening reception were also interested in the overall historical aspect of the exhibition. "I think it's really important that we continue to discuss issues of historical erasure around different communities in our city," T.D. Mitchell said.
Mitchell, a queer playwright, lives in Crown Heights and makes it a point to explore the history of her borough. She pointed out that the exhibition looked at the queer community through multiple lenses. "I liked the way it was structured based on that particular waterfront geography, the work types, economies, as well as the arts and social scene," Mitchell said.
Alongside the exhibition, visitors will have access to a reading space to view relevant books—including Ryan's. "With the book, the last eight years of my life are encapsulated in it, and I really want to share it with everyone," Ryan said.
On the (Queer) Waterfront will be on display at the Brooklyn Historical Society until August 4. The exhibit will also coincide with the celebration of the 50th anniversary of the Stonewall riots and New York City's World Pride Month in June.