TransAlt Hosting Assembly To Save Speed Cameras Tonight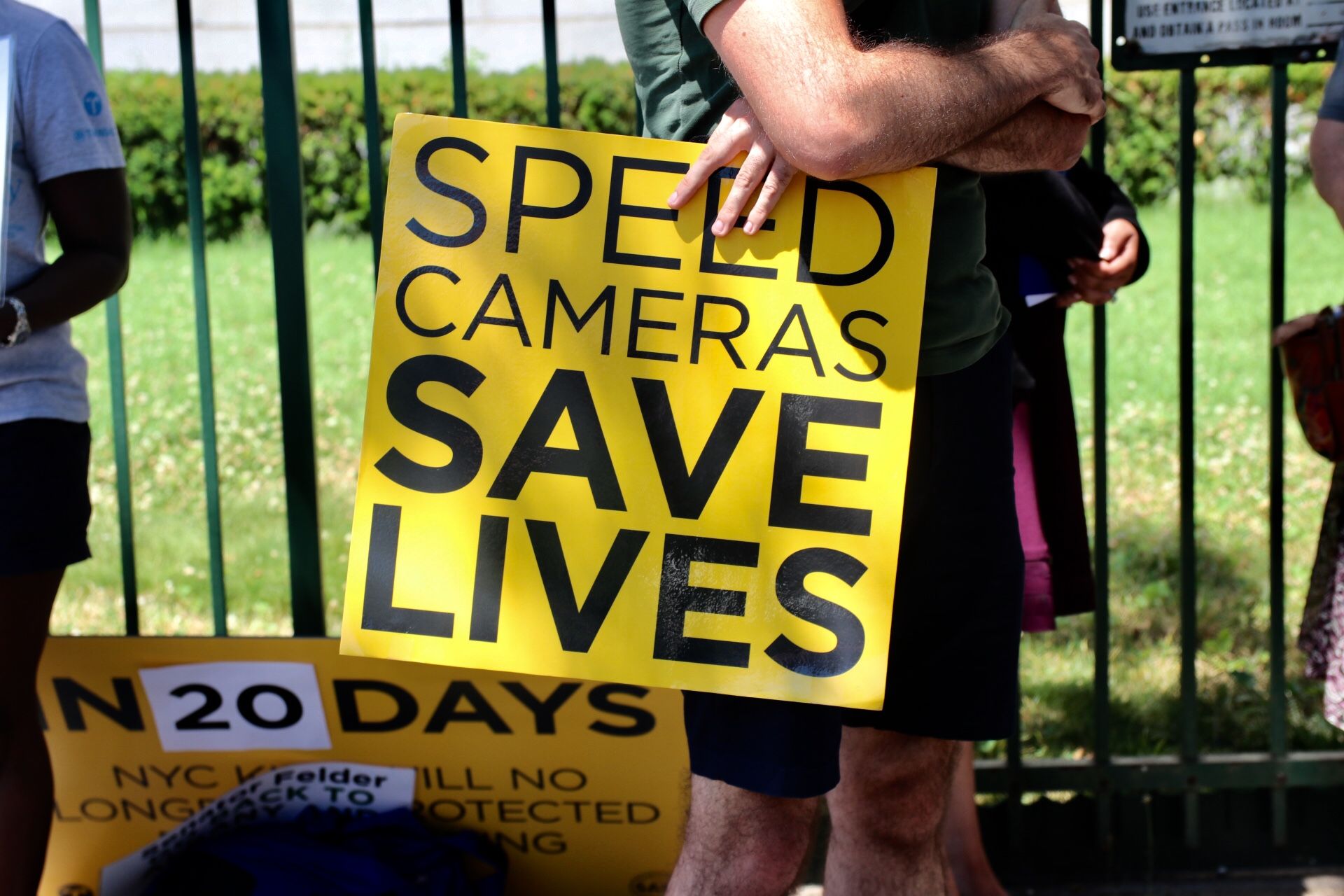 PARK SLOPE – Today at 5:30pm, all the speed cameras in the city will be turned off thanks to the NYS Senate's refusal to renew and expand the bill before the end of the legislative session on June 21.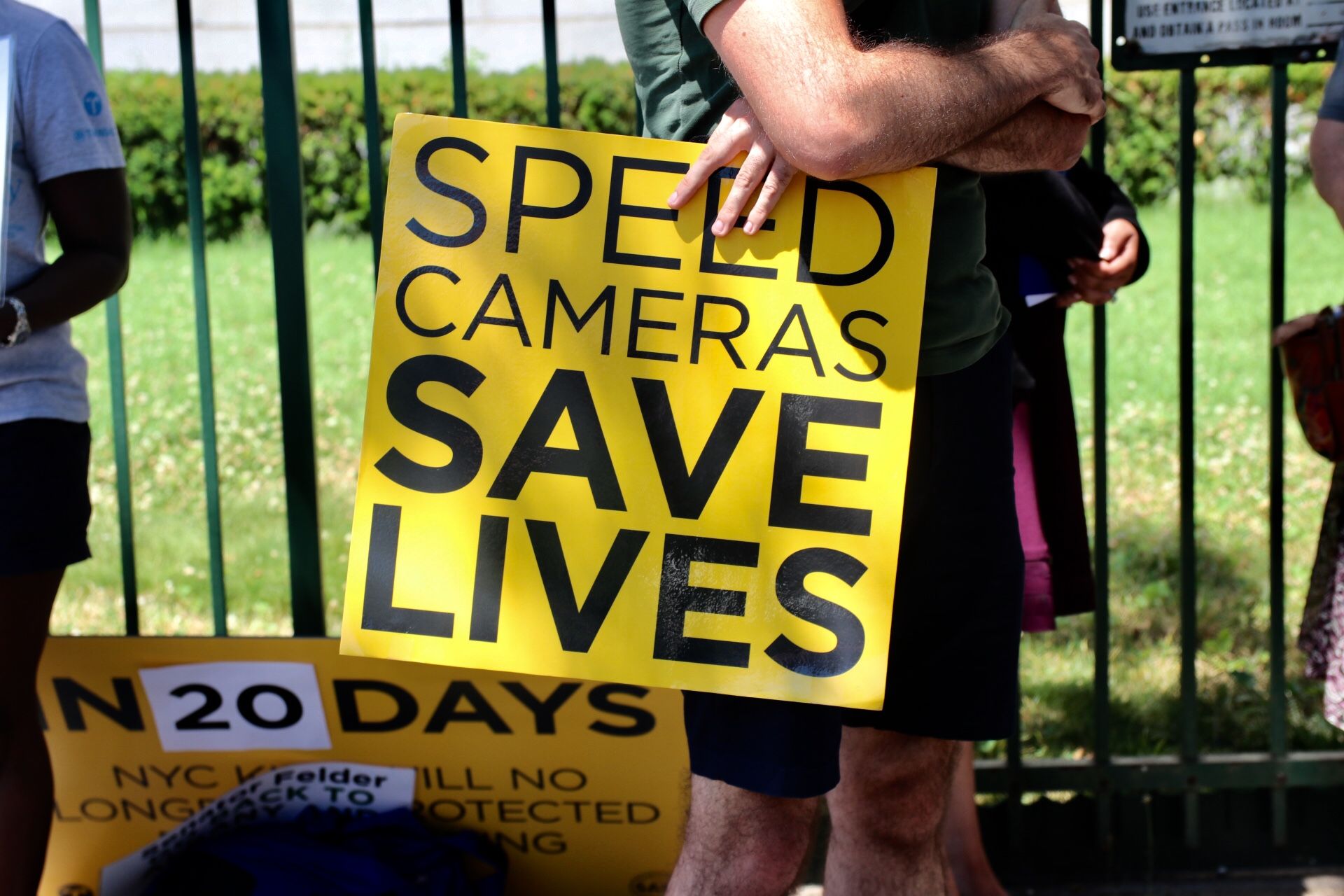 Transportation Alternatives and Families for Safe Streets are hosting an All-City Assembly to Save Speed Cameras tonight at MS 51 (350 5th Avenue) in Park Slope, a school that has lost three of its students to reckless, speeding drivers in recent years—twelve-year-old Sammy Cohen-Eckstein, fourteen-year-old Mohammad Naiem Uddin, and twelve-year-old Joie Sellers.
Lieutenant Governor Kathy Hochul, Assembly Member Jo Anne Simon, Council Member Brad Lander, and former NYC Transportation Commissioner Janette Sadik-Khan will address the assembly and advocates will discuss strategies on how to convince the Senate to reconvene and renew and expand NYC's speed safety camera program before students return to class in September.
"The Assembly has passed legislation that I cosponsor that would improve street safety by re-authorizing and expanding speed safety cameras near schools (A07798 Glick)," Assembly Member Simon said in a statement. "However, the Senate leadership refused to act and pass this commonsense life-saving bill before the end of session. Instead, the Senate has proposed odd and less effective alternatives, including only a temporary continuation of the cameras followed by funding for stop signs, and attempts to link the cameras to armed security guards at schools."
Both Mayor de Blasio and Governor Cuomo support the bill to reinstate and expand New York's speed camera program, adding 50 speed cameras per year over the next three years to bring the city's total to 290 cameras.
"The data clearly shows that speed cameras drastically reduce speeding and injuries in those locations and are a highly effective approach to street safety," Simon continued. "If this legislation to re-authorize the use of the cameras is not passed, the existing cameras will go dark [Wednesday]. Only 140 of the city's 2,000 school zones currently have speed cameras. What we need right now is an expansion of this highly successful program to protect more children, not the elimination of the current cameras."
Advocates at tonight's citywide assembly will instruct the community on how to organize resistance against the speed camera shutdown, explaining how to get involved (i.e., civil disobedience, petitioning) and what to do to get their voices heard (i.e., calling elected officials).
"For every elected official who was too lazy, greedy, or obstinate to protect us when they had the chance, know that you have unleashed a coming storm," TransAlt's Thomas DeVito said in a statement. "From our schools to the streets, we will protest, we will disobey, we will not back down."
All-City Assembly to Save Speed Cameras
Wednesday, July 25, 6:30pm to 8:30pm
MS 51, 350 5th Avenue (between 5th & 6th Streets), Park Slope