Catching Up on Speed Cameras—What's The Latest on Legislation?
With this week's tragic death of Shaena Sinclair in Canarsie, the safety of New York streets are once again under scrutiny as residents, community activists and political leaders hope to reduce the number fatal car crashes in the city.
Yesterday, the activist group Transportation Alternatives released a statement calling for more speed cameras, claiming that Ms. Sinclair's life could've been saved by the presence of a camera, which would have slowed the motorists involved in the fatal crash.
We must fight this vehicular violence with the most effective technology available: automated speed enforcement cameras," said Paul Steely White, TransAlt's executive director. "We're calling on our elected leaders in Albany to pass the bi-partisan legislation before them which would allow New York City to expand the use of life-saving speed safety cameras."
In Albany Governor Cuomo expressed his support for the Every School Speed Camera act earlier this month, StreetsBlog. The act would expand New York's speed camera program, adding 50 speed cameras per year over the next three years to bring the city's total to 290 cameras. With roughly 6,000 miles of streets in New York City, that's one camera or every twenty miles of road.
Along with the Governor, the support of State Senator Marty Golden, who has opposed speed camera initiatives in the past, is a relatively new development. He's put his support behind the bill, giving it a majority in the State Senate.
With elections this year, Democratic hopeful Andrew Gounardes, who intends to challenge Golden in the 22nd District, penned an op-ed earlier this year calling for more speed cameras. Gounardes called Senator Golden by name, outlining his history of opposition to the cameras and citing the Senator's own checkered driving history—his car has been cited 10 times for speeding in school zones and in 2005 his SUV struck a pedestrian, who later died.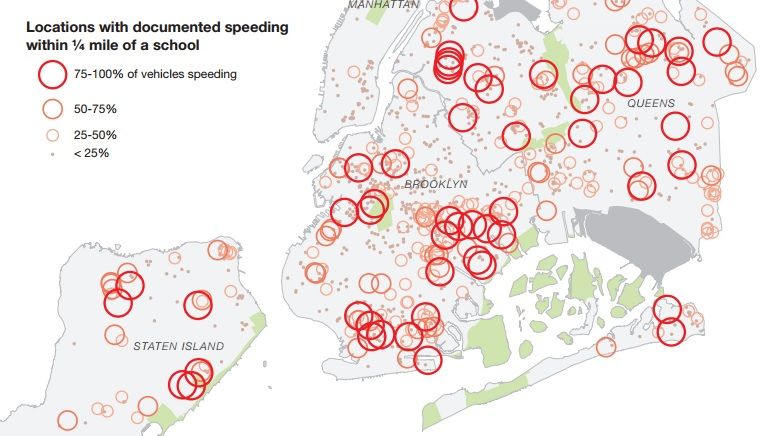 But even with Golden supporting the cameras, the bill remains held up in committee by rogue Democrat Simcha Felder (D-17). Felder also has a history of blocking and opposing speed camera bills, and while the Governor is in support of speed cameras, the Democrat Senator that caucuses with the Republicans certainly doesn't appear to concern himself with the opinions of his fellow politicians.
It remains to be seen if Cuomo's support is enough to convinceSenate Majority Leader John Flanagan to override Felder and bring the issue to a vote. Expansion or not, a decision needs to be made soon or the entire speed camera program will cease to exist—the program expires in July.
Currently, speed cameras in New York City dole out $50 tickets for each violation, no matter how far above the speed limit the driver was.
But if the program expands, City Councilmember Brad Lander's "Reckless Driver Accountability Act" could add some serious teeth to the camera program to take down repeat offenders, booting or impounding their cars.
Click here to read our full coverage of Lander's proposed legislation
Despite the political machinations, an inflection point is here for the speed camera program, and in a year marred by tragedy again and again, street safety cannot be ignored.