Sunset Park Open Studios, Oct 18-19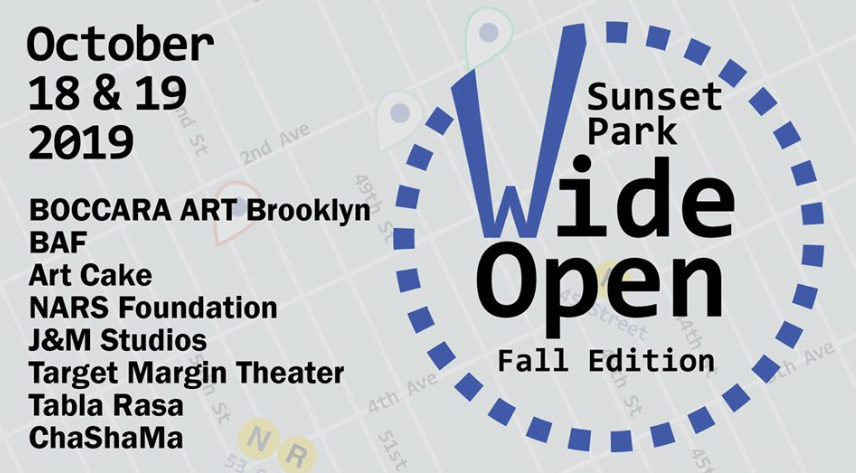 SUNSET PARK – Art lovers have been busy lately checking out open studio events in Bushwick and Red Hook. Along with the 23rd annual Gowanus Open Studios taking place this weekend, several arts venues in Sunset Park will also offer a variety of opportunities to meet artists and check out their work.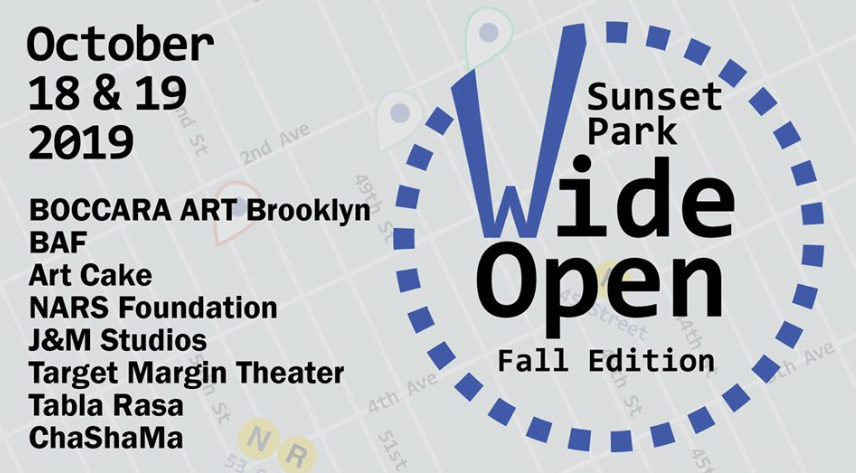 On Friday and Saturday (Oct. 18-19), the NARS Foundation will present the fall edition of its Sunset Park Wide Open event, welcoming visitors to check out exhibitions and meet artists and curators in their workspaces. See the list of participating organizations below.
Art Cake, 214 40th Street
Friday, 12pm-6pm and Saturday, 12pm-7pm
This new organization presents Suzanne Bocanegra's Wardrobe Test as the inaugural exhibition in its gallery space. Bocanegra's exhibit features three large-scale works: Valley (2018); Lemonade, Roses, Satchel (2017); and Dialogue of the Carmelites (2018). On view through November 17, 2019. Art Cake's artists in residence will also open their studios to visitors.
BAF Gallery, 210 24th Street
Friday, 2pm-7pm and Saturday, 2pm-7pm
Brooklyn Arts Fellowship (BAF Gallery) will feature work in the final phase of production for the upcoming exhibit The Birthright Series by BAF Gallery owner and artist Aaron P. Simms. The works consist of  audio and videotape, materials left by his father after his death. The exhibit is scheduled to open later this month.
BOCCARA ART Brooklyn, 198 24th Street
Friday, 1pm-6pm and Saturday, 1pm-6pm
BOCCARA ART Brooklyn presents Obscured Threads in its 3,000-square-foot space, a two-person show featuring work by Benjamin Shine and Darryll Schiff
ChaShaMa, Brooklyn Army Terminal, 140 58th Street (Building A, floor 3J & Building B, floor 4I)
Saturday, 1pm-5pm and Sunday, 1pm-5pm
Chashama's studio hub at Brooklyn Army Terminal will be open to the public, inviting visitors to check out new works by 96 artists in their studios. Note: ChaShaMa artists will participate in Sunset Park Wide Open on Saturday and Sunday (Oct. 19-20).
J&M STUDIOS, 201 46th Street
Friday, 6pm-9pm and Saturday, 12pm-5pm
J&M STUDIOS will present work by: Abigail Levine, Alison Owen, Caitlin Clifford, Claudia Cortinez, Daniel Eric Glass, Daniel Jay Genova, Elena Soterakis, Frank Born, Fred Fleisher, Fred Poisson, Hiromitsu Kuroo, Homer Shew, Ioana Manolache, Jade Chan, Jahyun Seo, Jelena Prljević, John Roach, Joshua Nierodzinski, Joyce McKee, Julia Elsas, Kathie Halfin, Kelvin Fichter, Keren Anavy, Laura Hildevert, Linda Loh, Mami Kosemura, Mark E Johnson, Naomi Nakazato, Niamul Bari, Noël St. John Harnden, Pesya Altman, Robert Melzmuf, Sandra Lapage, Sara Galkin, Sophia Chizuco, Tadasuke Jinno, Takayuki Matsuo, William Miller, Xavier Petromelis, Yasmeen Abdallah, and Yi Xin Tong.
NARS Foundation, 201 46th Street
Friday, 6pm-9 pm and Saturday, 12pm-5pm
NARS Foundation is a not-for-profit arts organization committed to supporting local and international artists and curators through residency, exhibition, and outreach programs.
As part of the Sunset Park Wide Open event, NARS will present The Grass is Always 00ff00, curated by NARS' Program Director, Vanessa Kowalski, and featuring work by Isak Berbic, Erica Molesworth, Carrie Elston Tunick, Joshua Citarella, Joshua Liebowitz, and Sorbus. On view from October 18 to November 8.
NARS Season IV Residency Artists will also open their studio spaces to visitors during the weekend event.
Opening Reception:
Friday, Oct. 18, 6pm to 9pm
Main Gallery and Project Space
Tabla Rasa Gallery, 224 48th Street
Friday, 6pm-8pm and Saturday 12pm-5:30pm
Tabla Rasa Gallery will host two solo exhibitions: Carl Dimitri's Urban Glyphs featuring narrative abstraction and Doug Newton's Hard Candy and Other Confections featuring hyper realist paintings.
Opening reception
Friday, Oct. 18, 6pm to 8pm
Target Margin Theater, 232 52nd Street
Saturday, 12pm-6pm
Target Margin invites visitors to sit in on an open rehearsal of new works exploring the 1001 Nights being developed by Target Margin Theater's Associate Artistic Director David Herskovits and Associate Artistic Director Moe Yousuf.