Red Hook Open Studios: Painting, Woodwork, Surfboards & More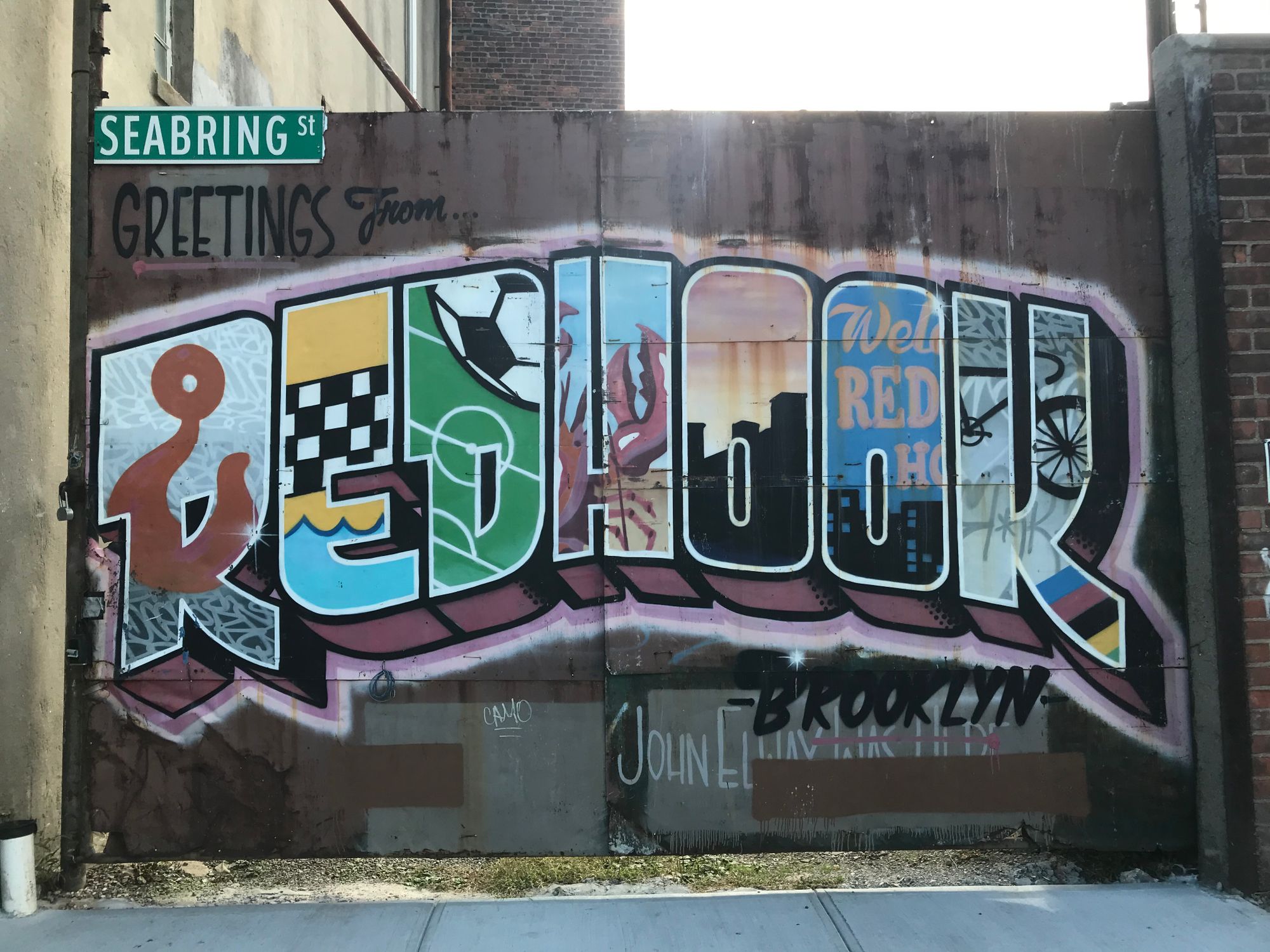 RED HOOK – Van Brunt and nearby streets were bustling over the weekend as more than 30 artists, makers, and galleries welcomed visitors into their workspaces during the Red Hook Open Studios.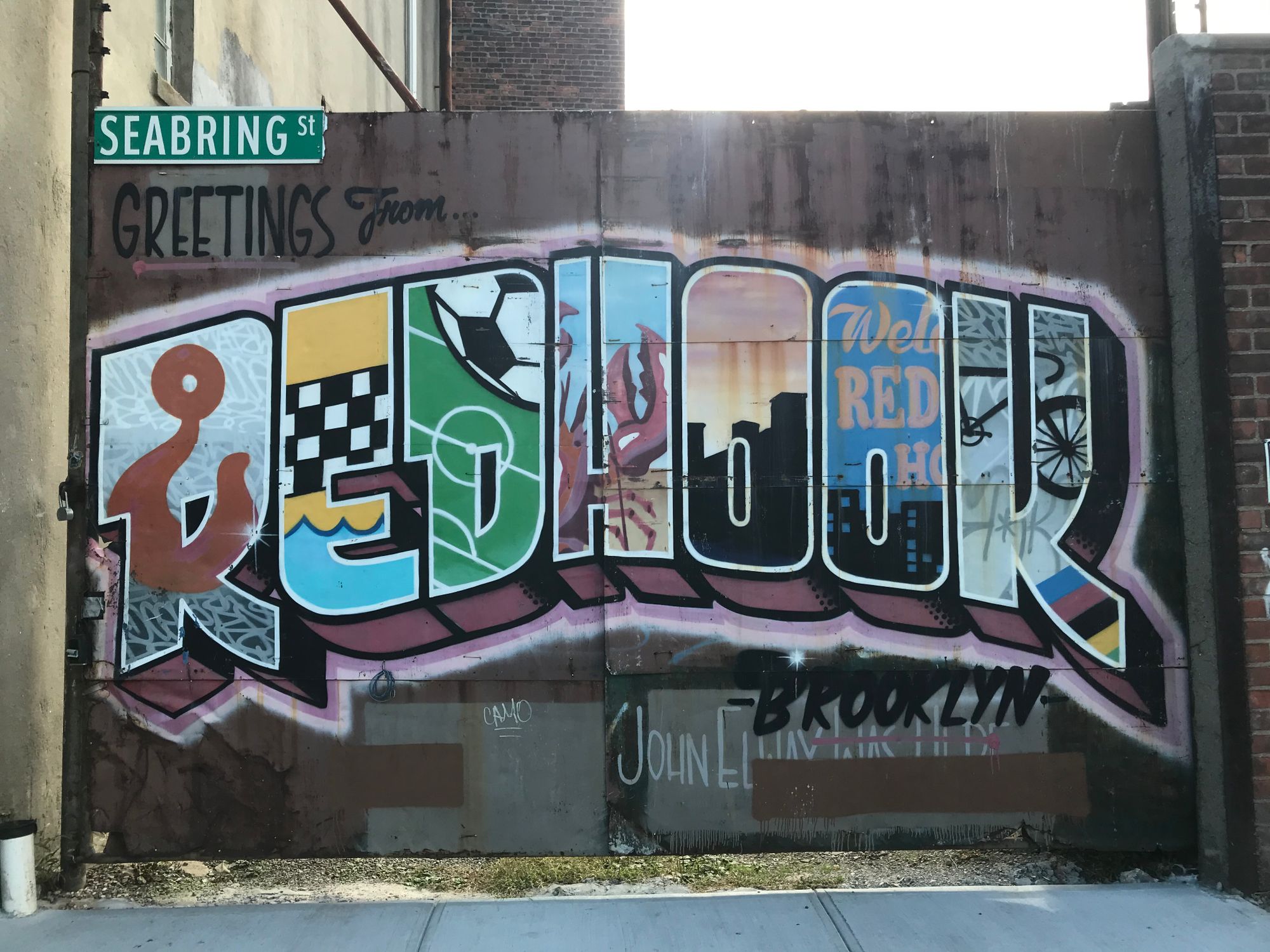 The weather was perfect for strolling around the waterfront neighborhood, peeking into participating venues, and meeting the area's creatives. Bklyner spoke with five local artist and makers working in Red Hook. Check out their work and thoughts on the neighborhood below.
Megan Suttles, Hot Wood Arts, 481 Van Brunt Street, #9B, Second Floor
Artist Megan Suttles opened Hot Wood Arts seven and a half years ago on the second floor of 481 Van Brunt Street. The 7,000-square-foot space offers 17 studio spaces for local artists, including herself, as well as a gallery to showcase their work. Hot Wood has participated in Red Hook Open Studios since it launched in 2015 and Suttles has served on the committee for the past four years, handling the social media for the event and hosting the pre-party.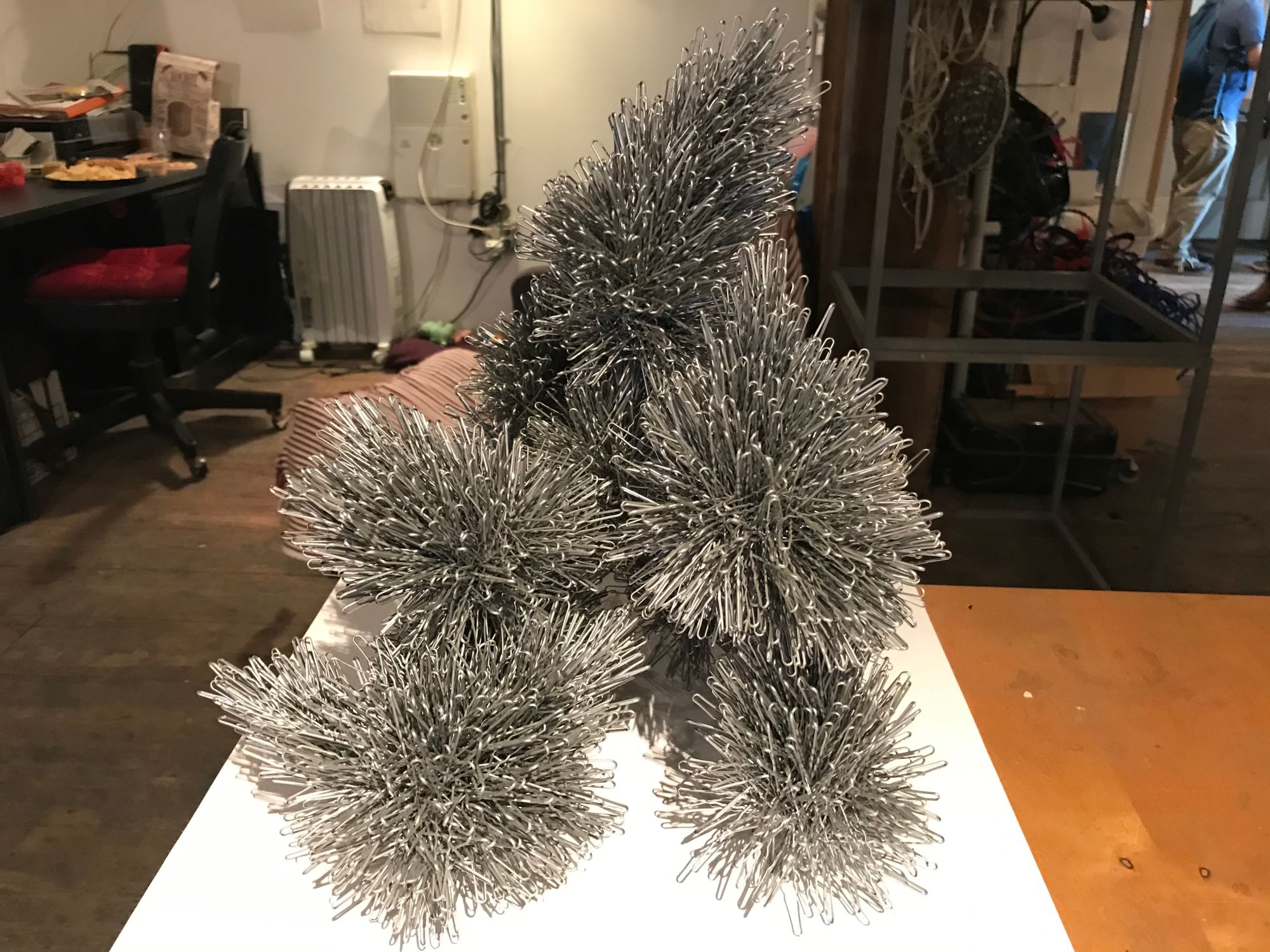 "I first started doing [Open Studios] because of Hot Wood, I wanted people to know about the space," she explained, "now it's become much more. It's a community thing."
"The one reason I'm actually involved is because I feel we're all hidden in Red Hook in these warehouses and we don't know each other," she added. "What's been fun about doing social media [for the event] is that people send me what they're doing and I see the images, then I know where these people are who I never would have known before."
A Pratt alum, Suttles studied painting as an undergrad and sculpture in graduate school at the institute. Her sculptural work is composed with mutiples, she explained, using hundreds, even thousands of pieces of the same material, such as vinyl record scraps, stainless steel hose claims, hair pins, shards of duct tape, and Brillo pads, transforming the everyday objects into works of art.
She enjoys taking part in and helping to coordinate the annual open studios event. "Seeing the art is great, but it's the one time of year that you get to explore these buildings," she said. "Also Red Hook is packed full of creative people. It's not just visual artists. There are musicians, there are performance spaces, so it's fun to just go through these hidden spaces."
She notes that the event grows each year. "More and more people are finding out about us. It's exciting because more people are coming to the neighborhood. It's nice too because we're still small," she said. Unlike other trendier neighborhoods, she appreciates the smaller size of the community. "It's not so much a scene here," she said. "People come here because you can relax and make art in a place that is actually pretty and it doesn't feel like the rest of the city."
While the waterfront location offers scenic views and a maritime vibe, it's impossible to forget the devastation Hurricane Sandy wreaked in the neighborhood on October 22, 2012. "I started construction here in May of 2012," Suttles recalled. "We had our grand opening that August and then the hurricane came at the end of October. Everyone downstairs got seven feet of water. It was devastating because we became friends with these people. Most of them rebuilt but some couldn't." Being on the second level, Hot Wood was spared the flooding and only suffered from a week without electricity and no heat for five weeks. "What was awesome was the amount of volunteers who showed up here [after the storm]," she said. "There were volunteers all over Red Hook."
Mike Miyahira and  Kunihiko Maehara, 461 Van Brunt Street, Door 14 Studios
A few doors down at 461 Van Brunt, artist Mike Miyahira shares his 700-square-foot studio space with Kunihiko Maehara and Junichi Nakane.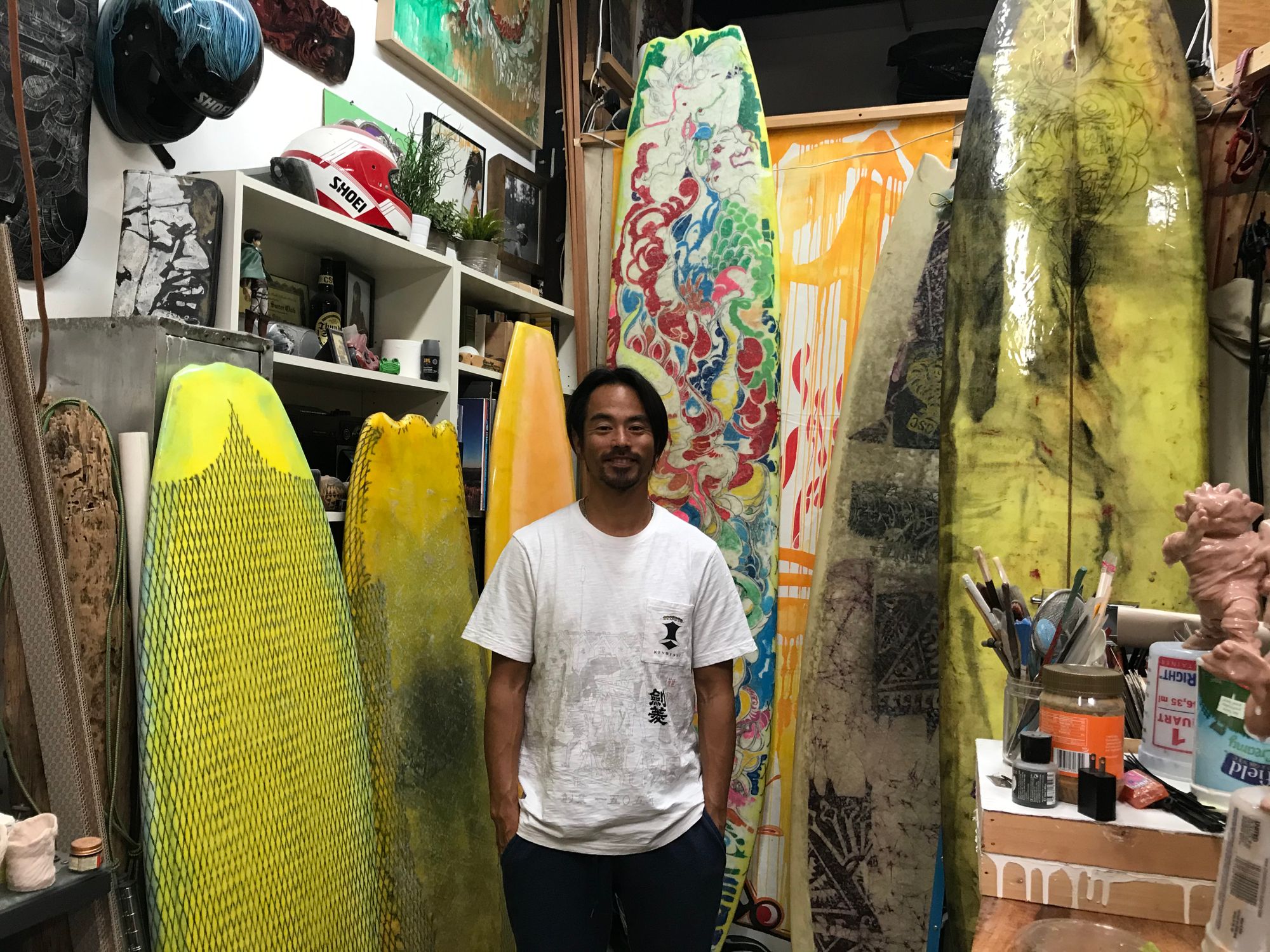 A native New Yorker, Miyahira has been working in the Red Hook building since 2008. He studied illustration at Rochester Institute of Technology and has painted, created murals and illustrations for graphics over the years. "Right now I'm just currently making surfboards. I'm infatuated with surfing," he said, noting that he grew up skateboarding and snowboarding and discovered surfing later in life. A friend he used to snowboard with took up surfing in Hawaii and introduced Miyahira to the sport when he returned to the east coast. "I got really hooked to surfing, so it was a natural transition to make my own boards," he said.
Though he currently lives out in Long Island, Miyahira keeps his studio in Red Hook. "Love it," he said of working in the neighborhood. "It keeps me in the city." Like Suttles, Miyahira's studio is situated on the second floor, so while he was working in the area during Sandy, he was not seriously affected. "The water actually went right up to the rafters," he said of the spaces below his. After two weeks, he was able to return to his studio.
Miyahira has participated in the Red Hook Open Studios since the start. "It's fun. I get to see new people, so it's cool," he said of the event.
Like a laid-back surfer, Miyahira is taking the changes in Red Hook—"Ample Hills and all the restaurants"—in stride. "You know, for as much change as New York is going through, Red Hook is a lot more subtle because it's harder to get out here," he said. "The traffic's a little wild some times, especially when there's a string of bicyclists, but what are you going to do? They gotta ride their bikes. You've got to get to Red Hook somehow."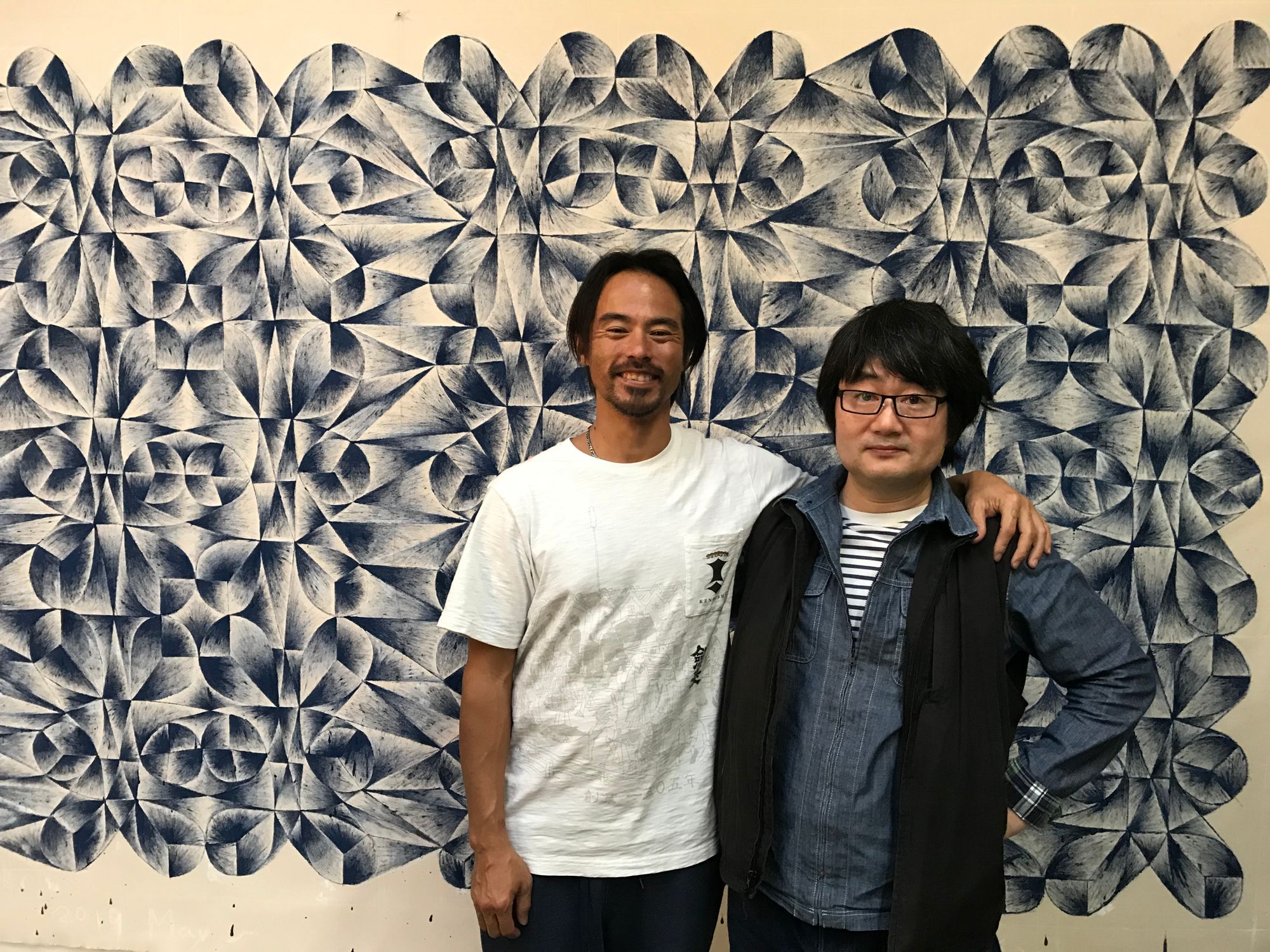 Abstract painter Kunihiko Maehara moved into Miyahira's studio about a year ago in part because he liked the high ceilings, he told Bklyner. The two met and became friends while working in a frame shop.
Originally from Japan, Maehara studied painting in Tokyo. He moved to America 30 years ago and currently lives in Maspeth, Queens. "I usually paint in my apartment, but it's very small," he explained. He needed a bigger workspace to create large-scale paintings, like his swirling Tears of the Sea. "This is my biggest artwork, 143 inches by 74," he pointed out.
"I heard a story about a snake living in the ocean. The snake cannot drink salty water, so the snake drinks the rain on the ocean…drinks the very tiny amount of pure water on the [surface of the] ocean," he explained of the inspiration behind his work. As he sat down to play a bass guitar, Maehara said he enjoyed participating in the open studios and hopes to do so again next year.
59 Coffey Street, Chad Peterson, Work House and Sander Hicks, Zen Space Makers
A few blocks northeast at 59 Coffey Street, Sander Hicks invited passersby into a spacious shared wood workshop. Hicks's Zen Space Makers has been at the space since June creating wood furniture pieces including tables, loft beds, and cubby staircases.
He showed off a sculptural coffee table made with small-scale harvested local American black walnut. "I love walnut because it has heartwood and it has sapwood. Sapwood is blond and heartwood is brown. It has amazing color variation," he noted. The legs of the table are made from driftwood that Hicks found as he "was meditating in the park by the Hudson River."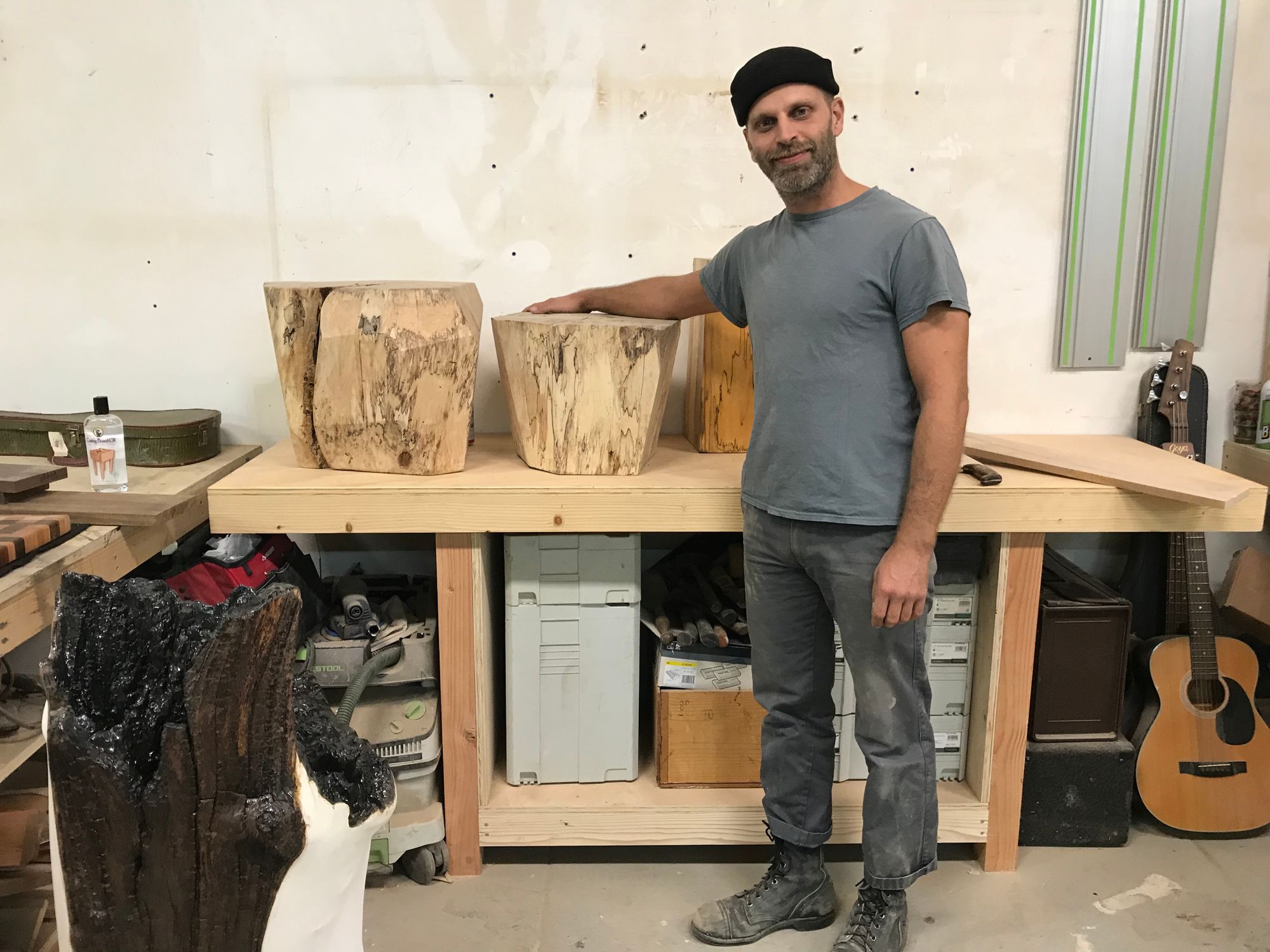 Fort Greene resident Chad Peterson opened the Coffey Street workshop three years ago as the headquarters for his business, Work House, which builds custom furniture. Since he had so much extra room in the 3,600-square-foot space, he decided to start subletting, "getting more creative people in here," he explained. 59 Coffey has housed a knife forge, sculptors, furniture makers, and luthiers, "anybody who needs a maker space," according to Peterson. There are currently three woodworkers in the space.
While Peterson has visited other studios and venues during previous Red Hook Open Studios, he had not participated before this year. He said he will "absolutely" do it again. "It's great. People seem really interested," he said. "When you look down streets like this and you see a bunch of roll-up gates, you don't really know what's going on inside…. Red Hook is a really big maker's area so it's nice for people to know that all this stuff is going on."