Bushwick Open Studios: Cats, Wax, Bubbles & More
BUSHWICK/BED-STUY – Arts in Bushwick hosted the 13th annual Bushwick Open Studios over the weekend, welcoming the public into the workspaces of more than 200 artists in and around the neighborhood.
Bklyner visited the studios of nine local artists. Check out their work below and read their thoughts on working in the area and participating in the 2019 Bushwick Open Studios.
Jaclyn Brown, 1717 Troutman Avenue
Brown has participated in the Bushwick Open Studios annually since moving to the area ten years ago. She shares a studio space at 1717 Troutman with nine artists, most of whom like her are New York Academy of Art alumni.
Originally from Canada, the cat lover's work is whimsical, humorous, and features lots of felines. "I tend to be a very happy person," she said, pointing to one of her canvases that reads "She only sees sunshine and butterflies," but then quickly noted that the butterflies are poisonous. "I like to have a lot of energy in my work," she added, as well as hints of irony and humor. "A lot of it kind of has to do with dating and different dreams," she continued. "I had a dream about Danny Devito and I was like, 'I have to paint him.'" The work features the comic actor nude, lying on a rainbow of flowers and surrounded by hearts.
Brown enjoys participating in the Bushwick Open Studios. "It's been great getting to meet other artists in the ten years," she said. "Everyone just kind of gets to know each other."
Having recently given birth to a baby girl, she moved to New Jersey and will relocate her studio there as well. This will be the last Open Studios Brown will take part in. "It's hard being my last year," she said. "It's like a little family here…. I'll be back," she promised.
Joanne Ungar, 566 Johnson Avenue
Joanne Ungar has also worked in Bushwick for ten years, first at the Brooklyn Fire Proof building at 119 Ingraham Street, and at 566 Johnson for the past five years.
Originally from Minnesota, Ungar moved to NYC in 1979 and studied at SVA. She likes working in Bushwick because of the "cheap space" she said of her 364-square-foot airy studio with a view of Manhattan—"although I can't get the window clean enough to see it."
Ungar creates abstract pieces made of poured wax. "For the past four or five years I've been working with unfolded boxes," she explained. "They are within layers of pigmented wax. It's on a piece of plywood and then I make a temporary mold and I layer in wax and the [painted] cardboard." Her artwork addresses consumerism and waste.
For a solo show she had earlier this year titled Pain Relief, Ungar incorporated boxes for pain relieving products (e.g., Excedrine Migraine, Aleve). "But those are all small boxes, and I wanted to make bigger work," she said. "I decided to expand my concept of pain relief," so she added imagery of packaging for Johnny Walker scotch and Botox, which is used to treat migraines.
Ungar has participated in the Bushwick Open Studios for as long as she's worked in the neighborhood. "I meet so many people," she said of the event. "I've sold things right off the wall. I've made dear, dear friends from people who have just wandered in. I love it, and I'm not an extrovert."
When asked why people should check out the Open Studios, she responded, "There's so much great art here. In this building alone, some of my favorite artists are here. The variety is amazing. And you can buy stuff cheaply," she insisted. "I think art makes everybody's life better, so I encourage everybody to see art. The fun thing about Open Studios is you get to talk to the artists, and if you're interested in what they're doing, they can explain. If you don't understand what they're doing, they can explain."
Joyce Yamada, 13 Grattan Street
Like Ungar, painter Joanne Yamada also previously worked in the Brooklyn Fire Proof building from 2006-2009. She moved to South Slope for a few years before returning to the area in 2017 to The AnX Building on Grattan Street. "I moved back because it's such a vibrant community and I like it here a lot."
A former radiologist, Yamada was showcasing her work in her studio with two other artists—Nila Onda and Jody Rasch—as part of Lamina Project, a platform that presents science-inspired artwork. Yamada incorporates "human avatars" into her paintings, such as a water human "made completely out of water," she explained, just as "we are almost completely made of water." The water human represents our fragility and the possibility that "we could evaporate." Another symbol she incorporates into her work Yorick_Root is a "living skeleton." She said the painting was inspired by a photograph of a large uprooted oak tree in Ireland. "They found a human skeleton in the roots….I thought it was a good symbol of being intertwined with nature," she said. Having worked as a physician, Yamada said, "I'm very familiar with skeletons and with the idea that all of us have one. It's a living skeleton, it's not a symbol of death."
Communicant, a large-scale painting featuring a redwood, shows the majestic tree's intricate roots. "They communicate with each through their root system using their symbiotic fungus," Yamada said of trees, "which to me is like copper wire, they're communicating, they're transmitting information."
Yamada participated in the Open Studios when she first lived in Bushwick and began to do so again when she returned two years ago. "I like the feedback and it's fun talking to people," she said.
Also showing at Yamada's studio was photographer Nila Onda, who recently moved to Harlem after working in Bushwick for seven years. "I felt like I needed a change and also Bushwick is becoming very expensive," Onda said of her move. "I come [back] often," she added, noting that she misses the neighborhood's vibe as well as the parties.
Onda uses a macro lens to shoot air bubbles created by common household fluids (soaps, shampoos) mixed with water inside a martini glass before using a dye-sublimation process to embed the images onto sheets of silver aluminum. The results are iridescent images that resemble stars or the solar system.
Oringinally from Italy, the artist said her Cosmos project was inspired by quantum physics as well as the book The Tao of Physics and illustrates that "there is no isolated particle, everything is part of a system that works together." She chose for her artist statement, "The Universe is a Dancer," because "everything dances together. Everything is transforming, constantly changing, evolving. It's like music."
Christina Pumo, 544 Park Avenue, Bed-Stuy
Two multi-artist studios at 544 Park Avenue in Bed-Stuy also opened their doors for the Bushwick Open Studios over the weekend, including a studio shared by printmakers Christina Pumo and Kirsten Flaherty.
Pumo signed up for a studio space in the arts/industrial building immediately after moving to Bed-Stuy three years ago, but it took a year and a half for a unit to become available. "It took me a while to find a space in here because they don't open up so often," she explained. Pumo and Flaherty share the 400-square-foot space with two other artists. "We're thinking about getting a bigger unit in the building, but we started here because it's affordable and small," Pumo noted.
Originally from Long Island, Pumo's practice includes photo etching, sculpture, and animation. Regarding her print work, she explained "Essentially I shoot a lot of photographic work and then I print my images onto a transparency film which I draw and paint through. Then I expose those images to light-sensitive plates and then the images are burned in or etched into the plate and they're printed."
She demonstrated how she creates her prints using the massive Charles Brand etching press in the studio, slowly cranking her image through the press which applies immense pressure and transfers her image from the photo-polymer plate onto paper. "When I was working with Kirsten setting up the space [for the event] I was more interested in people seeing the artists at work instead of just seeing the work," she explained.
Philosophy and metaphysics inspire much of Pumo's work. Her ongoing project, The Void, explores "the idea of nothing and everything at the same time." Her participation in a  portfolio called The Human Condition last year led her to "thinking about all things human condition," she said. "A lot of the stuff that I do doesn't really have a strong sense of place, sort of these feelings that exist in our consciousness, or just in the mind, so I started this [project] wanting to give more form to that."
This was the first time Pumo has participated in the Bushwick Open Studios and she enthusiastically said she would do it again next year. "Anybody else who has a studio in this building, I also hope they participate next year," she said. "It would be super cool to sort of piggyback off of the Bushwick excitement or maybe Bed-Stuy, or some organization, will start their own. That would be really exciting."
Pumo added that the first thing she did when she got to her studio on Saturday was to go upstairs to visit the Vega Collective who also participated in the Open Studios event. "I didn't know they were here and now I know."
Vega Collective, 544 Park Avenue, Bed-Stuy
Vega Collective was started in the spring by artists Rachel Chicaguala, Katie Hector, and Skye Asta Devine Schirmer and includes six artists working from a fourth floor studio at 544 Park Avenue. Along with inviting visitors into their workspace, they hosted a group exhibit over the weekend.
Jon Key joined the group in June. Originally from Alabama, Key studied at Rhode Island School of Design and lives in Bushwick but works at the Bed-Stuy space because it is more affordable than studios near his home. "I was looking for a studio and got very lucky that I found this space," he said. "The price is great and the space is amazing with these big windows."
Key's practice consists of working with a limited palette. "I paint in four colors that really reflect the intersection of my identity: black for blackness; red for family and lineage; green for southern-ness, I grew up in a bucolic, rural town; and then violet for queerness." He said his rich and textural self-portraits address "personal history, personal excavation of my own family past, and creating work based on memory."
"It's so fun," he cheerfully replied when asked how it was participating in his first Bushwick Open Studio. "I've gone to Bushwick Open Studios a few times in the past but I never really had a studio space. It's really great. I'm meeting new people, some collectors, some art people," he said. "It's always nice to have a reason to come together as a studio, put work up together, make a gallery show, create stuff."
Lindsay Iredale also joined Vega Collective in June. Originally from Oregon, the Maryland Institute College of Art grad identifies as an empath and said her work "deals with the overload of absorbing everything around me and other people's emotions and sounds."
She incorporates lots of patterns and bright colors into her work "to make it more aggressive toward your eye and dealing with feeling multiple things at once," she said. "That's why I use multiple sets of eyes. I might be feeling one thing but I'm absorbing something else. It's really confusing to be inside your own head and think about all these things and hold it all inside at the same time."
Her vivid Kawaii-inspired artwork features Japanese text. Iredale studied in Osaka while still in school and worked for artist Takashi Murakami after graduating. "I just love color. Ever since working for Murakami, I've been addicted to heinous color. If it hurts your eyes, I'm here for it," she said laughing.
Iredale finds being a part of a collective "inspiring," saying "it pushes me to do things" like the exhibit Vega organized for the Bushwick Open Studios event.
Rachel Chicaguala, Skye Asta Devine Schirmer, and Katie Hector have been working from 544 Park Avenue for two years. They started Vega Collective as a way to bring artists together. "We thought we've got a lot of really good people in this space. We really want to do more stuff like this, like come together and do a show," Chicaguala explained. "Being an artist is hard. You've got limited resources, but when we come together, we can do something like this," she added.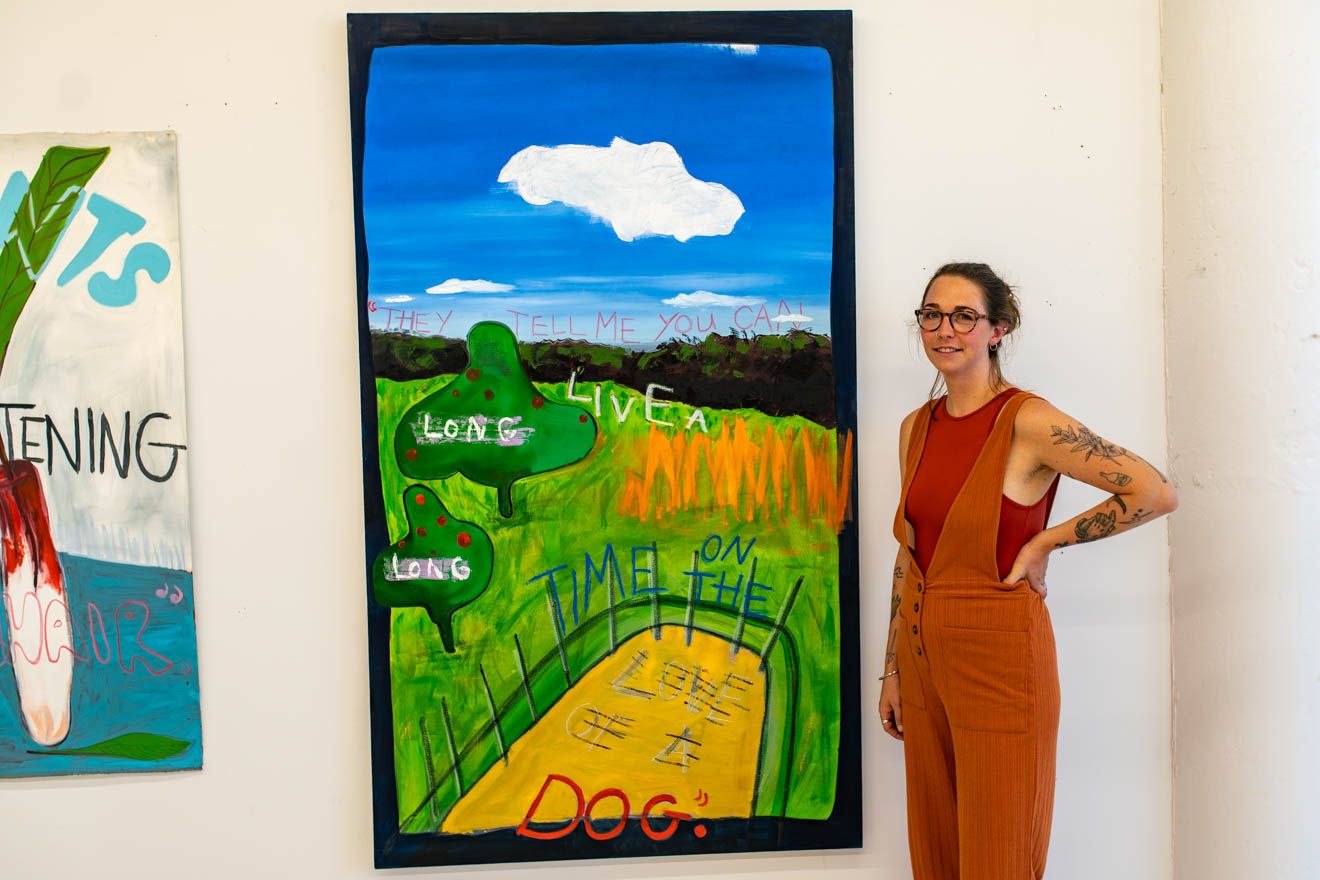 Schirmer's work comes "from a woman's perspective" and blends imagery and text. Her work "used to be a lot of personal experience for a mostly woman-identifying audience—about relationships and the political climate—but now it's leaning more towards the environment and the political world," she explained. Previously more abstract, her recent work features more landscapes that encourage viewers to take a moment for themselves and to ask "how do you find that moment of reprieve but also deal with the climate change and all that's happening?"
Chicaguala grew up in a "super religious household" and her work addresses "inherited values and how do you distill what's beneficial from that and what's not," she said. "A lot of my stuff has to do with religion and what does faith really mean and how are they different?"
Regarding the two new bed paintings she created for the exhibit, "It's a conversation I've wanted to have for a long time but was too afraid to actually touch because sex in our culture is so easy to get and from the religious standpoint I grew up in, it was just a no-go, you could not do that," she said. "I don't think that's right but I also don't think the ubiquitous and consumer-angle that we have—especially with apps—I don't think that's quite right either. How do you find your value system and how do you build that for yourself?"
She hopes to further examine the subject and present more artwork about it at future events such as the Bushwick Open Studios. She said Vega Collective decided to reach out to Arts in Bushwick and ask if they could join the Open Studios weekend even though they are located "kind of on the edge" because they "want more exposure. We want to participate in something that's bigger than just our little corner here."
"It's been great," she said of the experience. "There are people we don't know coming in and that's always so exciting. It's nice to say that you've been a part of something that is so special to New York and special to Brooklyn."