Openings and Closings: Lots of New Sweets and Hard Goodbyes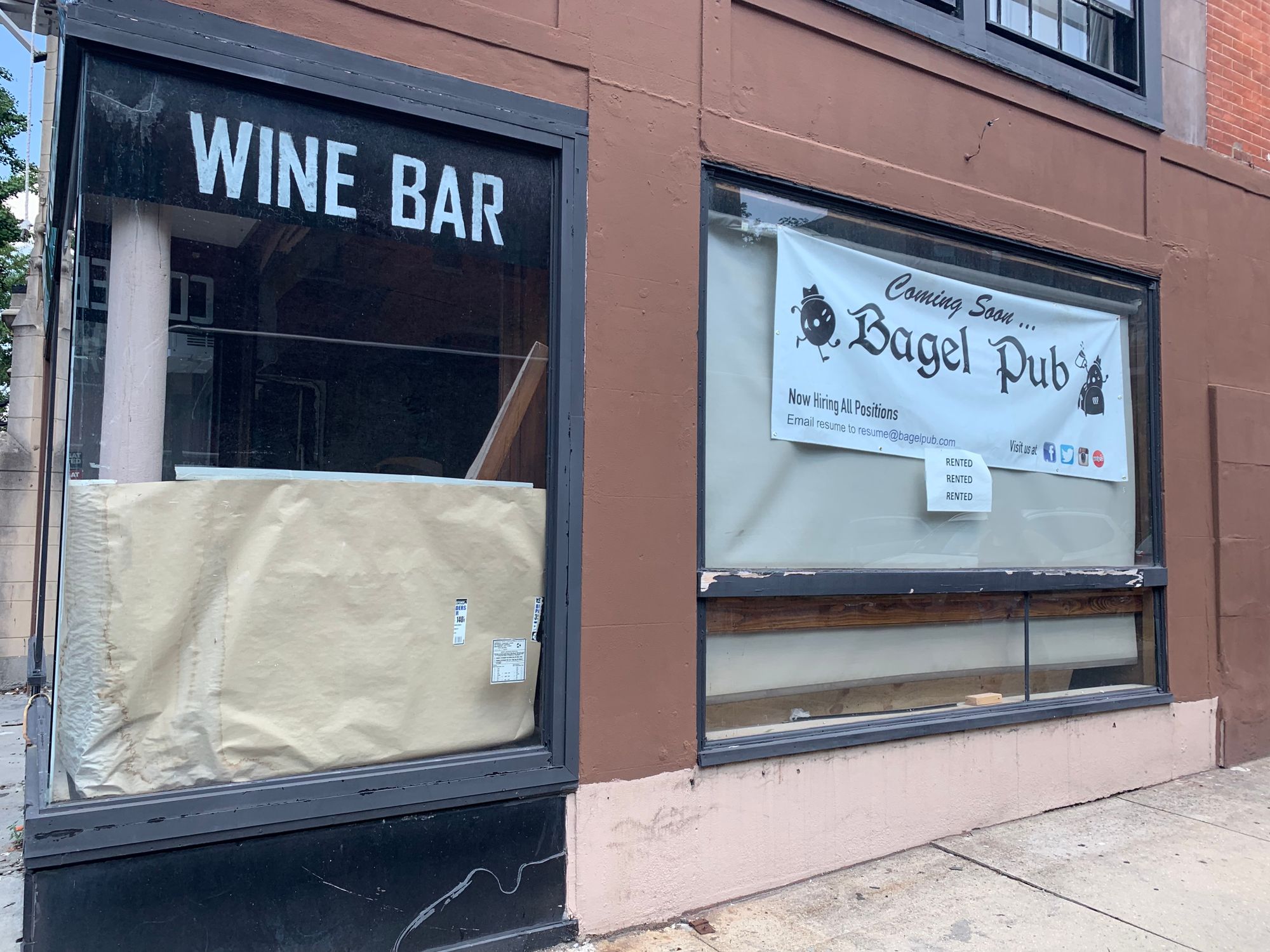 Welcome back to Openings and Closings. This week brings lots of sweet treats, including two new bakeries and a new baklava spot, which you'll definitely need to get through the closings of several neighborhood favorites.
Park Slope
Brooklyn Baklava
42 4th Avenue, between Dean and Pacific streets.
This new Park Slope spot softly opened in the last three weeks, serving Baklava and other sweet treats. According to their website, it is run by "the Najjar family," who "has been making Baklava & other sweet delights for over a century in their home city of Tripoli." Photos show trays of their namesake dish, as well as variations on the classic, like pistachio and vermicelli baklava.
Bagel Pub
57 7th Avenue, between Lincoln Street and St. Johns Place.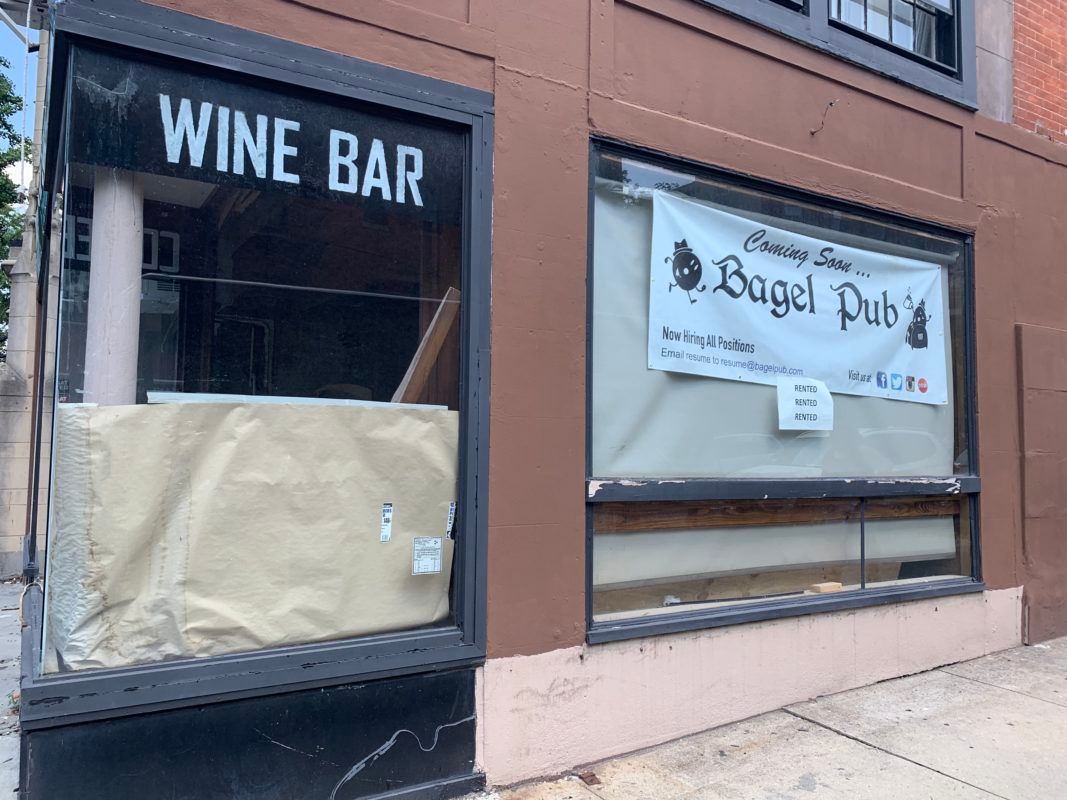 The Park Slope and Crown Heights bagelry will be getting a second location in Park Slope, in the former Cafe Dada location. The corner space is already being teased on the shop's Instagram stories, and signs were spotted on 7th Avenue. According to their profile, they are also adding a Sunset Park location, opening "Fall '19". The shop has long been a favorite with neighbors, as well as us.
Simple Loaf Bakehouse
310 5th Avenue, between 2nd and 3rd streets.
This Brooklyn bakehouse is opening a store in Park Slope, with a large space centrally on Fifth avenue. Awning signs were spotted being painted this week, and shown off on their Instagram. If hashtags are to be believed, there are only about #twoweekstogo before Simple Loaf opens to the public.
They will serve freshly made breads, pastries, and other crafted baked goods. Their menu on the website includes a special "Park Slope sourdough", quiches, and lunch sandwiches like the roasted mushroom panini.
Greenpoint
Hana Makgeolli
201 Dupont Street, between McGuinness Boulevard and Provost Street.
Hana Makgeolli brewery is opening in the neighborhood soon. Makgeolli, an alcoholic Korean rice beverage, will be served at the brewery with a slight twist. According to their website, this variation "checks you back into the raw reality of what makgeolli should and could be". Greenpointers reported that "the Greenpoint brewery will have a 500 square-foot taproom/community space and the remaining 2,000 square-feet will be dedicated to the brewery tanks and storage," and that it hopes to open by the end of this year.
Williamsburg
Win Son Bakery
164 Graham Avenue, between Montrose and Johnson avenues.
The team behind the much-lauded Taiwanese restaurant Win Son is opening a bakery in Williamsburg. According to Eater, the spot "will focus on counter-service breakfast, dinner, and packaged take-out meals," opening fully in February.  In the meantime, their Instagram teases with photos of chicken wings, black sesame mochi donuts, 'xiao guai guai', their specialty espresso drink, encouraging all to stop by on Sundays from 11:00 am-3:00 pm for a taste.
JJ's Hideaway
97 North 10th Street, between Wythe Avenue and Berry Street.
From the owner of Sea Wolf, the newly opened Gemelli, and The Ledge, JJ's Hideaway is billed as a dive bar, "paying homage to the grimy dance dives of the 70's, 80's, and early 90s", according to a release. The dance bar will be opening soon to the public, and will feature a light up dance floor and neon art throughout. Their Instagram teases some details, including their big pink neon sign out front.
Caroll Gardens
Once
315 Smith Street, between Union and President streets.
Las Vegas eatery Once is coming to Carroll Gardens in October. This will be the spot's second location, and the chef, Ricardo Zarate, will relocate to Brooklyn with the opening.
Once will serve Peruvian Nikkei cuisine, and "will include Zarate's take on traditional dishes like causa, arroz con pollo, and more," according to a release. The restaurant will also serve piscos, curated by Noah Small of Public and Empellon.
Cremini's
521 Court Street, between Garnet street and West 9th Street.
This new Carroll Gardens spot opened at the end of July. They are serving cuisine traditional to the Le Marche region, including signature dishes like Ascolana olives, fried tagliatelle, and a new take on lasagna, vincisgrassi, according to a release. They will also have cooking classes, led by co-owner and chef Elena Salati, as well as poetry readings and small concerts. Their Instagram shows photos of take-away salads and pastries, available to grab and go.
Flatbush
BurgerIM
1060 Flatbush Avenue, between Beverly and Cortelyou Roads.
Yet another Brooklyn location of the halal spot BurgerIM was spotted. They serve different burger variations, fries, and other eats. According to their website, this could be yet another in the six Brooklyn locations marked "Coming Soon!"
Mirna's Pupuseria
1350 Flatbush Avenue, on the corner of East 26th Street.
This new spot opened on August third. They serve a wide variety of dishes in addition to their namesake classic. When we visited, we loved the cheese pupusas, and they were already crowded for their lunch rush, just days after opening. The spot is small but still has plenty of seating along the wall counter or at tables near the windows. This is the owners' first restaurant, and also has a small deli section for essentials and other snacks.
Bay Ridge
Brooklyn Bay Seafood
7026 3rd Avenue, between 71st and Ovington streets.
Signs were spotted for a new seafood restaurant on 71st street in Bay Ridge. The corner spot has apparently had a lot of turnover, but no word yet from the new owners about details.
Bed Stuy
Spudz
1640 Fulton Street, between Troy Avenue and Marcus Garvey Boulevard.
The Bed-Stuy Business Improvement District welcomed Spudz, a specialty french fry shop, on July 25th to the neighborhood.
Their Instagram boasts photos of insane fry creations, piled high with meat, cheese, veggies, and other toppings, with waffle, regular, and sweet potato fries all pictured, as well as dessert fries with ice cream on top. You can also snap a pic in front of their "fry wall", in case you've ever wondered what you'd look like with wings made of golden, crispy french fries.
Coffee ZZZ
Newkirk Plaza
Owners of the Newkirk Plaza coffee spot are reportedly opening a new location, not related to Coffee ZZZ, on the plaza. No word yet what the new spot will serve, or where it will be, but with few open storefronts around, options are limited.
Closings
Park Cafe Diner
82 7th Avenue, between Berkeley Place and Union Street.
Park Slope's Park Cafe Diner closed abruptly on Tuesday, according to Brownstoner. The space was open for more than two decades and apparently closed without warning, putting a sign in the window that reads "Closed Permanently. Thank you loyal patrons." The spot served classic diner fare for breakfast, lunch, and dinner, and was a fixture of the 7th Avenue.
Freek's Mill
285 Nevins Street, between Sackett and Union Streets.
Gowanus favorite Freek's Mill also shuttered its doors at the end of July, Eater reports. The spot had a two-star review from The New York Times, but apparently dealt with staffing issues towards the end. Owner J.T Stewart told Eater that they lost their partner and wine director, chef, and partner and general manager, making it difficult for him to run the restaurant. The spot served innovative fare and cocktails and opened in 2016.
Nunu Chocolates
179 5th Avenue, between Berkeley and Lincoln Places.
The Park Slope chocolate shop announced their closing on Instagram, with their last day on July 31st. The store isn't closing for good, writing in the post, "we are sad to leave our Park Slope location but, we are moving to a bigger production space." In addition to chocolate, the spot served wine, beer, and sangrias in their small space. No word yet on where the bigger location may be.