Woman Struck By School Bus On Nostrand Avenue In Midwood [Warning: Graphic Video]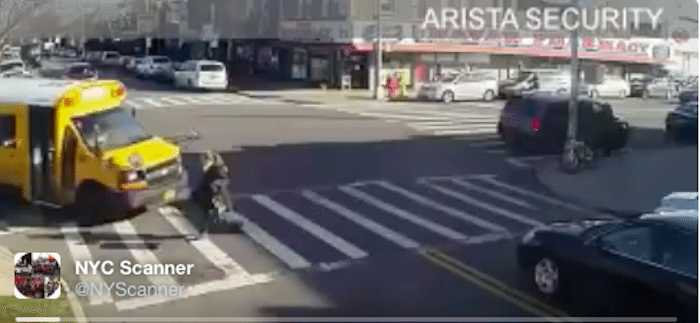 A woman was struck by a mini school bus on Friday afternoon in the crosswalk at Nostrand Avenue and Avenue M, said police.
The video above, posted by NYPD Scanner, caught the whole collision on camera, around 3pm on January 13. The video shows the unidentified woman briskly walking across the street when a school bus turns the corner and hits her, causing her to roll underneath the bus. The driver stops, exits the vehicle, and puts her hand over her mouth.
One eyewitness saw the woman partially wedged under the bus's front wheel, she told ABC News. "We literally heard like 'boom!' That's why we all ran out," said Diana
"We literally heard like 'boom!' That's why we all ran out," said Diana Riger to the news network, who also reported that the bus driver and another woman on board tried to help the victim after the crash.
The victim was rushed to Kings County Hospital but is expected to survive.
Despite the gruesome video, it appears that the victim was not severely injured, according to cops. The Collision Investigation Squad wasn't called out for this incident because there wasn't a life-threatening injury or a hit-and-run, said a police spokesperson.
The driver stayed on the scene, according to cops. The Y & M Bus Corporation label appears printed on the mini school bus. There have been no arrests and a police investigation is ongoing.
This horrible incident occurred just 10 days after Hermanda Booker, 29, was fatally struck by a school bus while crossing Nostrand Avenue and Kings Highway on January 3. In addition, several other roadway collisions in Brooklyn — many with fatalities — marked the first 10 days of 2017.