Wife Of Slain NYPD Officer Gives Birth To Adorable Baby Girl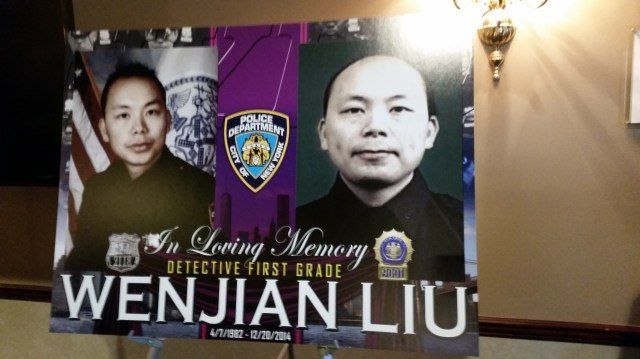 Two and a half years after the death of NYPD cop Wenjian Liu, his wife gave birth to a baby girl from Liu's preserved sperm, news outlets report.
Liu's widow Pei Xia Chen was overjoyed to announce her 6-pound, 13-ounce girl into the world at 4:30am on Tuesday, July 25.
"Her name is Angelina, like an angel, like my son is an angel," Liu's mom Xiu Yan Li told the Daily News. "I'm just so happy."
Liu and Officer Rafael Ramos were fatally shot in 2014 while in a patrol car in Bed-Stuy. At the time, Liu and Chen had been married for three months.
On the night her husband was shot, Chen requested her husband's semen be frozen so she could someday have his child. Liu was Chen's soulmate and best friend who she knows "is still with us, will keep an eye out and protect us. . . He is my hero," she said at the funeral.
This isn't the first instance of Liu's legacy in Brooklyn. In 2015, Mayor Bill de Blasio approved the co-naming of two city streets after the fallen Detectives WenJian Liu and Rafael Ramos, with Liu's set for West 6th Street between Avenue S and Avenue T in Gravesend.