A Respectful, Somber Affair: Thousands Mourn Officer Liu At Wake
Thousands braved the rain and lines on Saturday to say farewell to Officer Wenjian Liu at the Aievoli Funeral Home in Dyker Heights. In contrast to the silent protest that unfolded at the funeral of his partner Officer Rafael Ramos one week earlier – and then again at Officer's Liu's funeral the very next day – during Saturday's wake, members of the NYPD saluted the mayor as he and NYPD Commissioner William Bratton paid respects to the family.
The viewing, which was open to the public, was a somber, quiet affair. In attendance, was our reporter, Heather Chin, who shared some of her observations from the funeral home:
The mood was somber and respectful both inside and outside the funeral home in Dyker Heights where Officer – now Detective – Wenjian "Joe" Liu lay, surrounded by family and friends, one last time, for one last visit.
Outside, the line of people snaked for four blocks, up 13th Avenue and then west on 64th Street, and the rain fell steadily on the rows of umbrellas, raincoats and police hats of the hundreds of mourners from across the city and country who came to pay their respects to the fallen officer, whose life was cut short by a crazed gunman just two weeks earlier, on December 20, as he sat in a patrol car with his partner, Detective Rafael Ramos.
Mourners were of all backgrounds, but mostly comprised law enforcement officers and Chinese Americans – two groups not commonly affiliated with one another in the public consciousness, but who Liu counted among his extended family, and who mourn him as one of their own.
Inside, the 32-year-old's parents and widow sat in the front row of a giant semi-circle of chairs that faced Liu's open casket and was surrounded on all sides by walls of large, oval-shaped, ornate flower arrangements with large bows and two ribbons upon which Chinese calligraphy inscribed the names of individuals and groups who sent their condolences.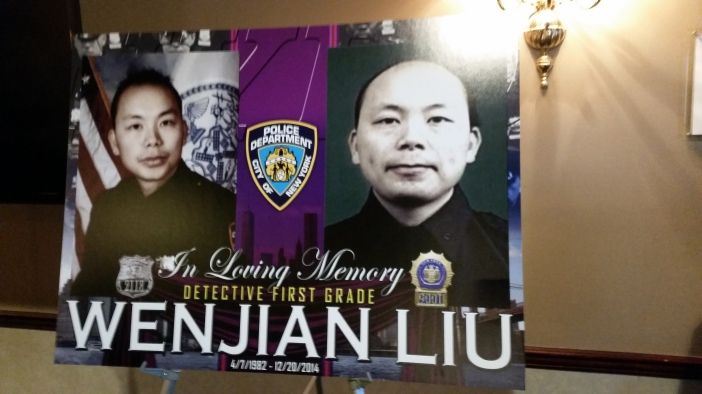 There were Asian Jade Societies and Peace Officer societies from San Diego, San Francisco, Georgia and beyond. There were Chinatown doctors and businesses, as well as friends from across the globe. There were enough flowers to fill not only the double-room in which Liu lay, but also two adjoining chapel spaces: one used by mourners to collect themselves and one where family could take a coffee break while folding silver and gold paper money to be burned in a furnace along with paper mansions and paper yachts to join Liu in the afterlife. Also in that room was an altar with plates of oranges and other food offerings, as well as the guestbook and a bowl of wrapped hard candy – which guests at Chinese wakes and funerals put in their mouths while remembering the deceased in happier times.
Liu himself was dressed in his NYPD dress blues, his hat by his hands, his hair combed neatly, his face looking younger than his already young years. Mourners filed past swiftly, pausing momentarily to salute or to bow three times as is the custom, before offering condolences to his parents, who thanked people for coming, and his widow, who was inconsolable.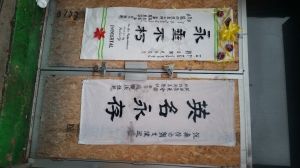 We wouldn't know much more about Wenjian "Joe" Liu's life until the eulogies given the next day, but we already knew that he was not only one of our city's finest officers, but also an exceptionally good human being. As Commissioner Bill Bratton lamented at the funeral, "Why do we always lose the good ones? . . . He was a good man, a humane man."
Similarly, Mayor Bill de Blasio noted that Liu "literally lifted you up, wrapped you in kindness" and was "filled with joy" at having found his wife, who he was only able to be married to for three months.
As his father, Wei Ting Liu said, he was "the best son, the best husband, our police officer, our best friend."
As his cousin said, he was the type of person who would literally give you his most treasured possessions – such as his first-ever purchase of a Statue of Liberty sticker – if it stopped you from crying and being sad.
And as his widow Pei Xia Chen said, Liu was her soulmate and best friend who she knows "is still with us, will keep an eye out and protect us. . . He is my hero."