De Blasio Approves Gravesend Street To Be Co-Named For Slain NYPD Detective Liu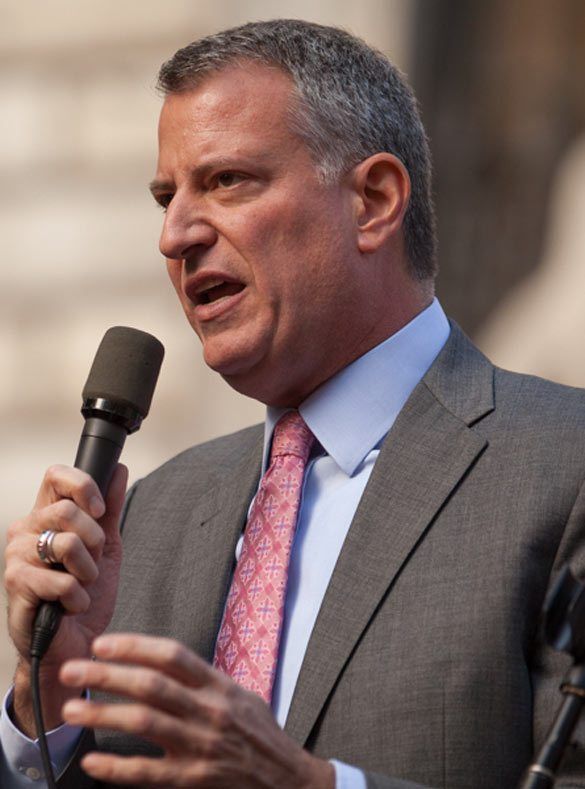 Mayor Bill de Blasio signed a bill today co-naming two city streets after fallen Detectives WenJian Liu and Rafael Ramos, who were assassinated in their squad car outside a Brooklyn housing project in December.
According to the legislation – which was approved by City Council – West 6th Street between Avenue S and Avenue T in Gravesend will be called "Detective WenJian Liu Way."
Detective Ramos' name will grace the sign on Ridgewood Avenue between Shepherd Avenue and Highland Place in Bushwick.
Both officers were posthumously named detectives, and the signs will reflect that rank.
"Detectives Rafael Ramos and WenJian Liu made the ultimate sacrifice while protecting the safety and security of our city's residents—and they will not be forgotten," said de Blasio. "The memories of these fallen heroes will remain in our hearts, and their families' hearts, forever. These co-namings are a reminder to all New Yorkers that our city's quiet heroes are all around us, working tirelessly to keep our communities safe from harm—and as we move forward from that fateful day, this legislation demonstrates our City's deep commitment to honor all our city's officers and remember those who have died in the line of duty."
In addition, 46 other streets and public places will be named after officers and firefighter who died in the line of duty, including Lieutenant Matt Ambelas, a 14-year FDNY veteran killed while putting out a fire in Williamsburg; Police Officer Kenneth Anthony Nugent, a 13-year NYPD veteran killed while trying to stop a robbery at a luncheonette in Queens; Traffic Enforcement Agent Kalyana Ranasinghe, a NYPD member hit by a truck in Manhattan while writing parking tickets; and Deputy Fire Chief Charles L. Kasper, a 28-year FDNY veteran killed while trying to save other others on September 11, 2001.
The law also makes technical changes to eight existing co-named streets.