Where To Eat Outdoors In Park Slope (Restaurants With Backyards)
Park Slope has so many great restaurant options it can sometimes be difficult to decide where to go to grab a bite. With the warmer weather upon us, you could maybe narrow your decision down to—outdoor seating.
Turns out there are loads of choices for outdoor dining too! We've rounded up 32 places in the neighborhood where you can sit outside—in a quiet back garden—while enjoying some great food.
If you prefer people-watching to peace and quiet, here's a list of 25 eateries with sidewalk seating where you can peek at all the peeps passing by while you dine.
If we've missed your favorite eatery with a private backyard, let us know down in the comments.
PRIVATE BACKYARDS / ENCLOSED YARDS
Alchemy, 56 5th Avenue, 718-636-4385
Nice option for those trying to gather close to Barclays. The backyard isn't huge, but if you can snag a table, it's worth it—especially during brunch.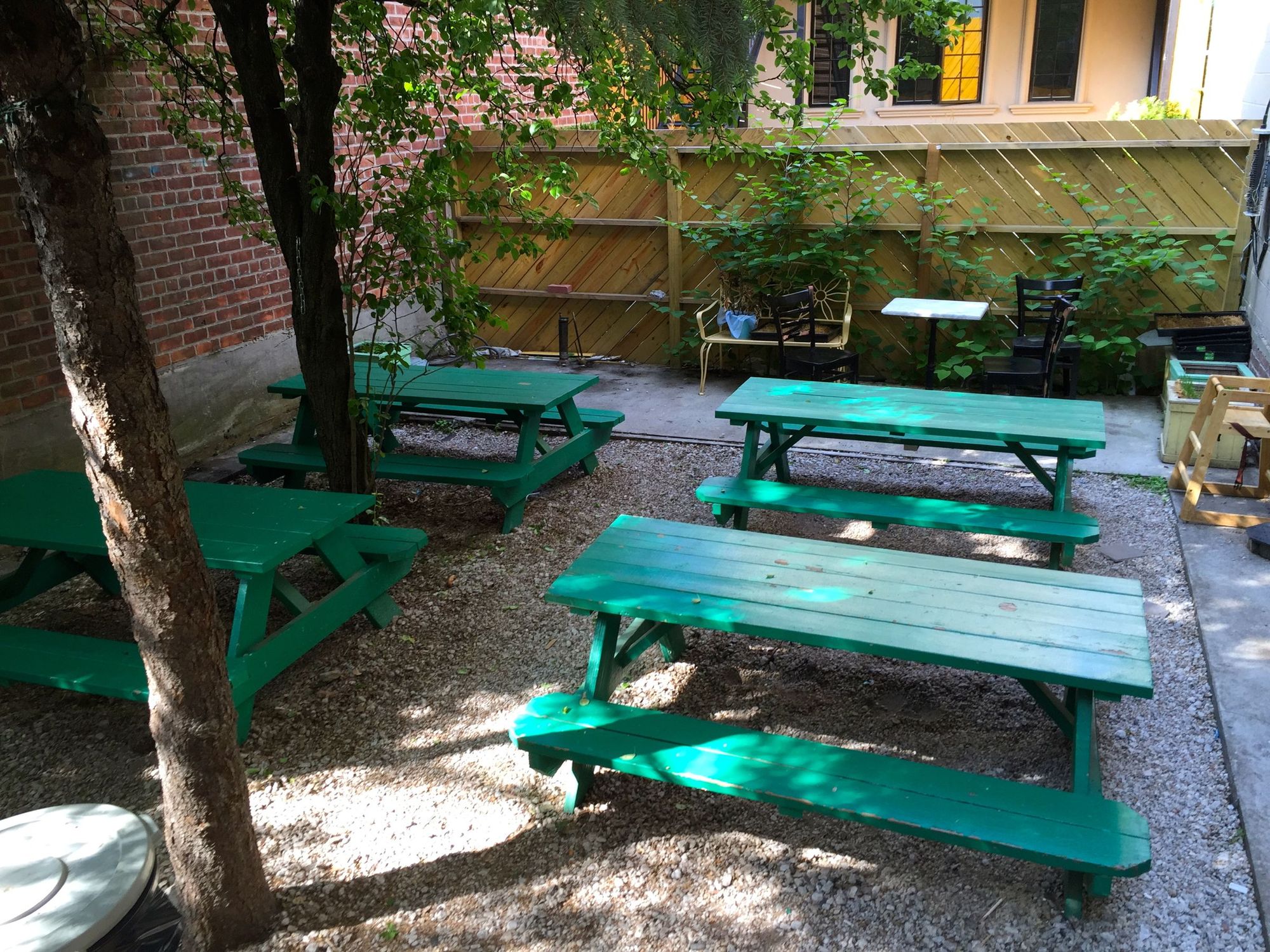 Bagel Pub, 287 9th Street, 718-499-4402
The backyard seating—which is reminiscent of a friend's backyard, with its green picnic benches—is an oasis that feels miles away from busy 9th Street.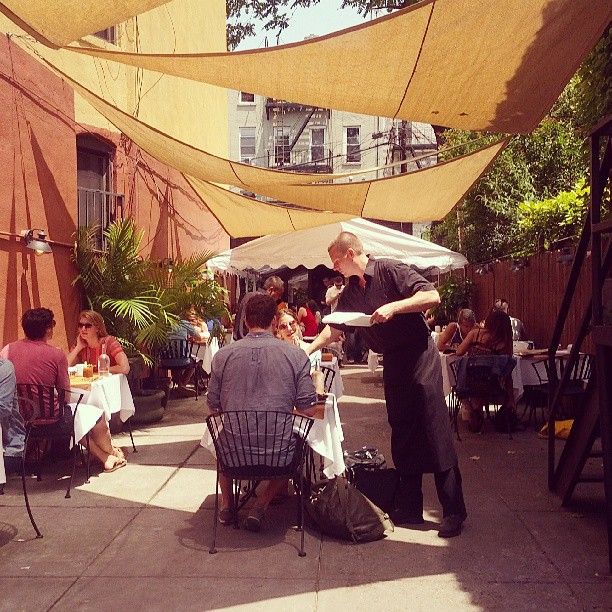 Benchmark, 339 2nd Street, 718-965-7040
Located just off the main drag of 5th Avenue, Benchmark feels like a hidden gem—particularly if you can score a spot at one of their outdoor tables, set back from the street and covered with shady canopies.
Bricolage, 162 5th Avenue, 718-230-1835
The modern Vietnamese restaurant's backyard is just as lovely as its interior—both spaces are great for chowing down on their delicious wings, "unshaken beef," and more.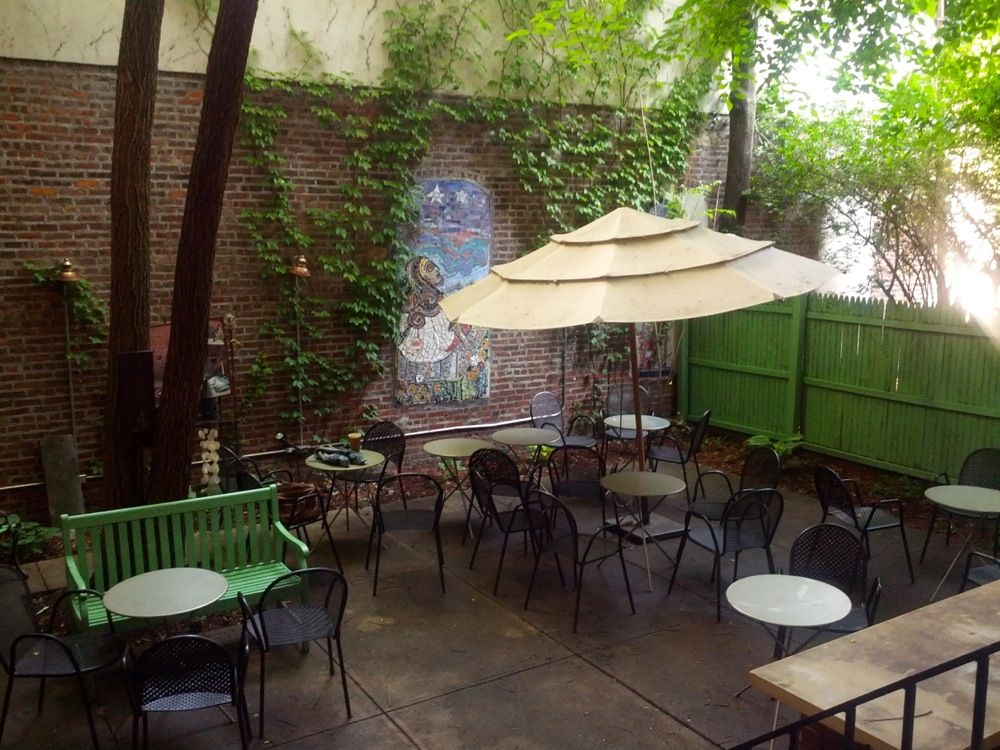 Cocoa Bar, 228 7th Avenue, 718-499-4080
The patio out back isn't fancy, but it does offer a handful of tables for about ten with umbrellas—nice for freelancers, though the internet can be a bit spotty.
Colombia, 376 5th Avenue, 718-369-2020
Many neighbors may have walked past Colombia a million times and not known there's a gorgeous backyard out behind the unassuming facade. Really lovely at night, this makes for a perfect date spot.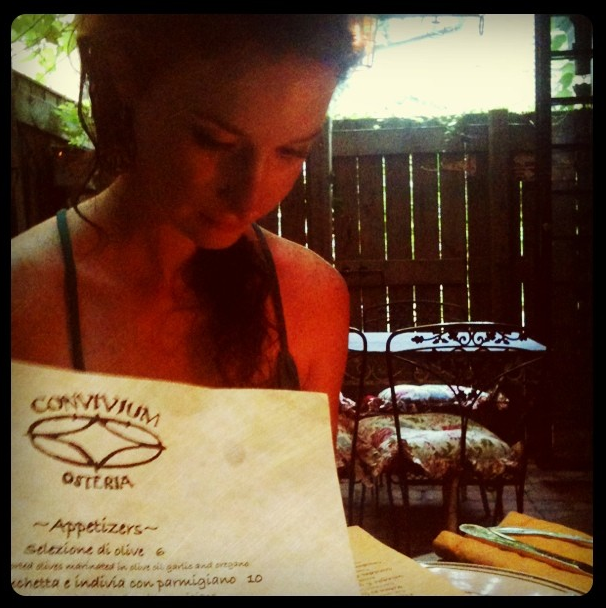 Convivium Osteria, 68 5th Avenue, 718-857-1833
One of the most romantic spots in the neighborhood—whether you are seated in the cozy downstairs area in the winter or in the leafy backyard in the summer.
Dram Shop, 339 9th Street, 718-788-1444
Nothing says warm weather like a burger, and Dram Shop has one of the best burgers in town, which tastes even better in their backyard.
Faros, 84 7th Avenue, 718-623-2767
The two-storied Greek restaurant offers outdoor seating on both floors, each area furnished with romantic lighting.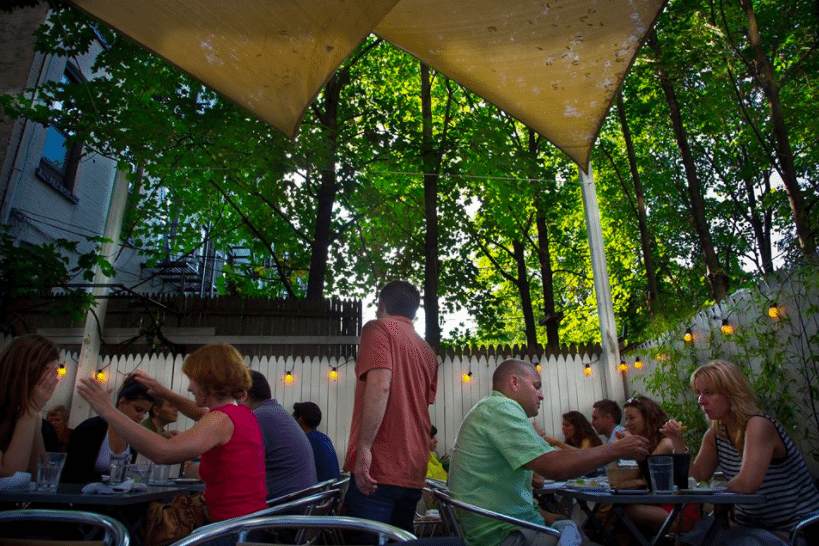 Fonda, 434 7TH Avenue, 718-369-3144
Relax in Fonda's cozy backyard and enjoy contemporary Mexican cuisine including hand-pressed tortillas, made-to-order guacamole, and refreshing margaritas.
Gristmill, 289 Fifth Avenue, 718-499-2424
Kick back in the comfy backyard of this seasonal American eatery and enjoy their wood-fired pizzas, burgers, or lasagna, but be sure to save room for an ice cream sundae or milkshake for dessert!
Hanki Everyday Korean, 226 7th Avenue, 718-768-3555
Hunker down with some authentic Korean food in Hanki's back garden and feast on a Hanki Set (a balanced meal with meat, veggies, and rice), quick eats (a kalbi hotdog or corndog), or Hangover Food (Korean chicken soup served with kimchi).
HENRI'S BACKYARD, 256 4th Avenue, 929-337-8443
With 18 draught beers, casual cocktails, and an eclectic menu, Henri's Backyard is the "ultimate open-air eatery in Brooklyn."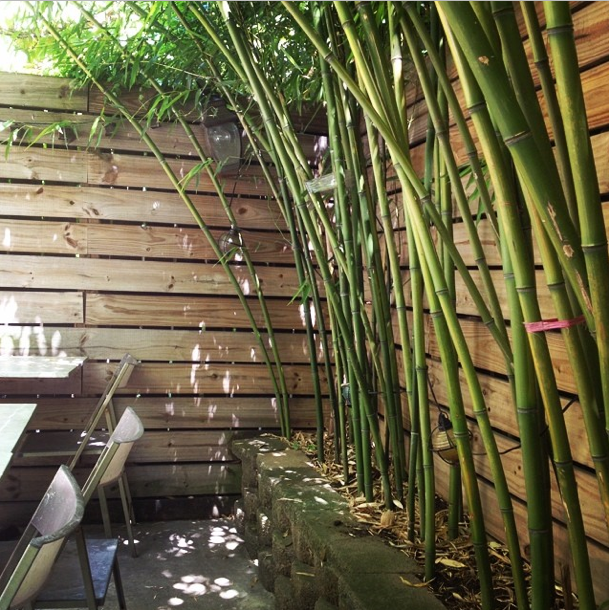 JPan, 287 5th Avenue, 718-788-2880
In a neighborhood full of sushi joints, Jpan is one of our mainstays—and the bamboo-covered backyard definitely gives it some bonus points.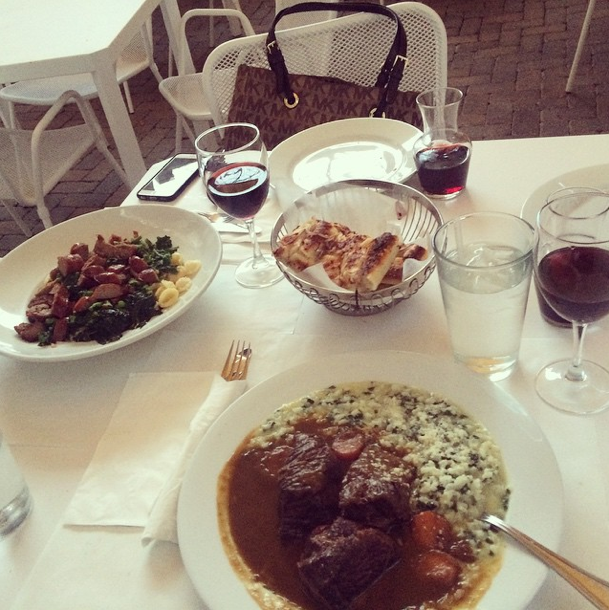 La Villa, 261 5th Avenue, 718-499-9888
Pizza, pasta, and wine al fresco? Yes please! It's all delicious at this neighborhood institution.
L'Albero dei Gelati, 341 5th Avenue, 718-788-2288
The gelato may be the main draw here, but what you might not realize is that they've got a menu that includes soups, salads, sandwiches, frittatas, and more—and a lovely garden to boot!
Luke's Lobster, 237 5th Avenue, 347-457-6855
The Park Slope outpost of this mini-chain has a nice, quiet backyard, which should be on your summer checklist for sure—especially during their daily happy hour, when you can grab a specially-priced beer to go with your jam-packed lobster roll.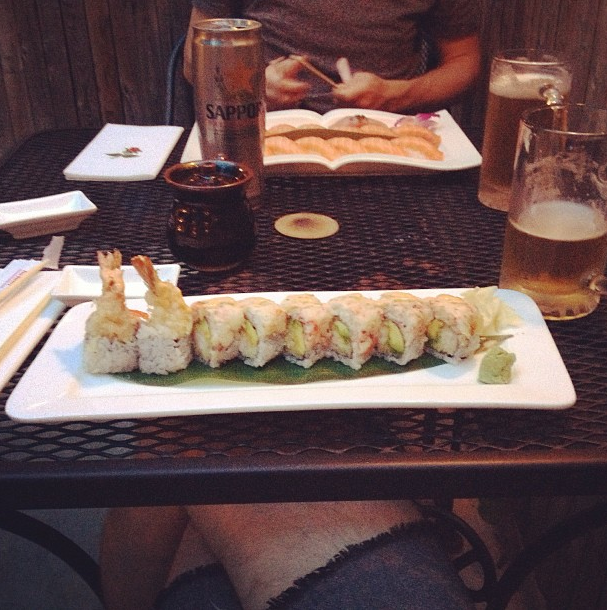 Mura, 369 5th Avenue, 718-965-1288
Another one of our 5th Avenue sushi spots, Mura is always reliable, the service is attentive, and the backyard makes it a great choice for a summer evening.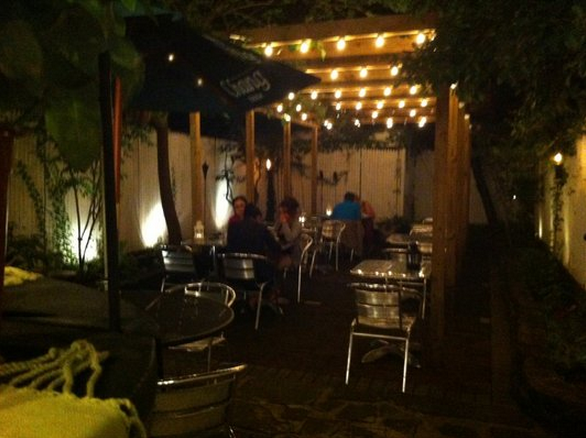 Olieng, 52 7th Avenue, 718-638-1652
One of two Thai restaurants on 7th Avenue with backyard seating, this spot has some nice lighting in its cozy, secluded garden.
Palo Santo, 652 Union Street, 718-636-6311
If you're lucky enough to score a table in the backyard (it only seats a few diners) you'll be transported far from Brooklyn, as the restaurant sits on a quieter stretch off a main avenue that gets a great sunset view.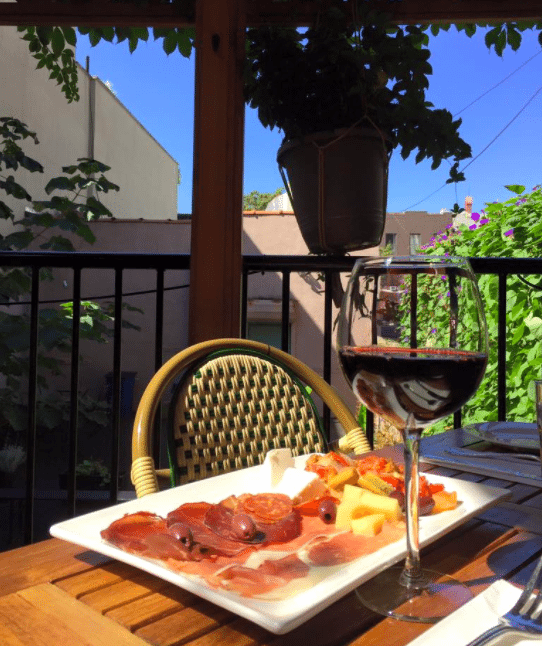 PATSY'S PIZZERIA, 450 Dean Street, 718-622-2268
Tuck into brick-oven pies, pasta, and calzone while enjoying the weather at Patsy's spacious and inviting backyard.
Pig Beach, 480 Union Street, 718-737-7181
This "exciting new foray into the Smoked Meat Universe" offers BBQ grilled with locally raised meats, sustainable seafood, and market fresh veggies. Guzzle it down with local brews, contemporary cocktails, and wine while taking in the views of the Gowanus Canal.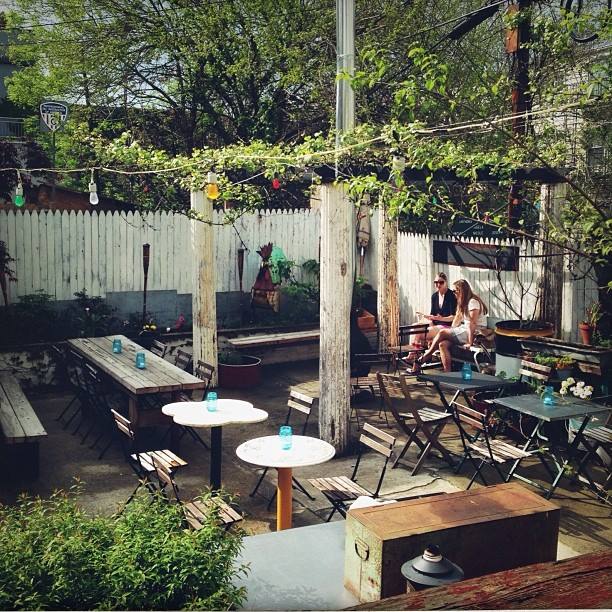 The Pines, 284 3rd Avenue, 718-596-6560
The backyard at this upscale American restaurant is a definite go-to destination in Gowanus.
SEED, 242 Fifth Avenue, 929-295-9031
This Turkish/Mediterranean eatery, known for its friendly, efficient service, offers salads, hummus, grape leaves, kebabs, casseroles, and not-to-be-missed zucchini pancakes. Enjoy it all in their quiet and cozy backyard.
Song, 295 5th Avenue, 718-965-1108
This casual Thai restaurant has a spacious backyard, so even on a busy night, the wait won't be too long to nab a seat back there.
Spice, 61A 7th Avenue, 718-622-6353
The Thai restaurant mini-chain has been dishing out drunken noodles from this location for several years, and its backyard remains a good spot to sip a Thai iced tea in the summertime.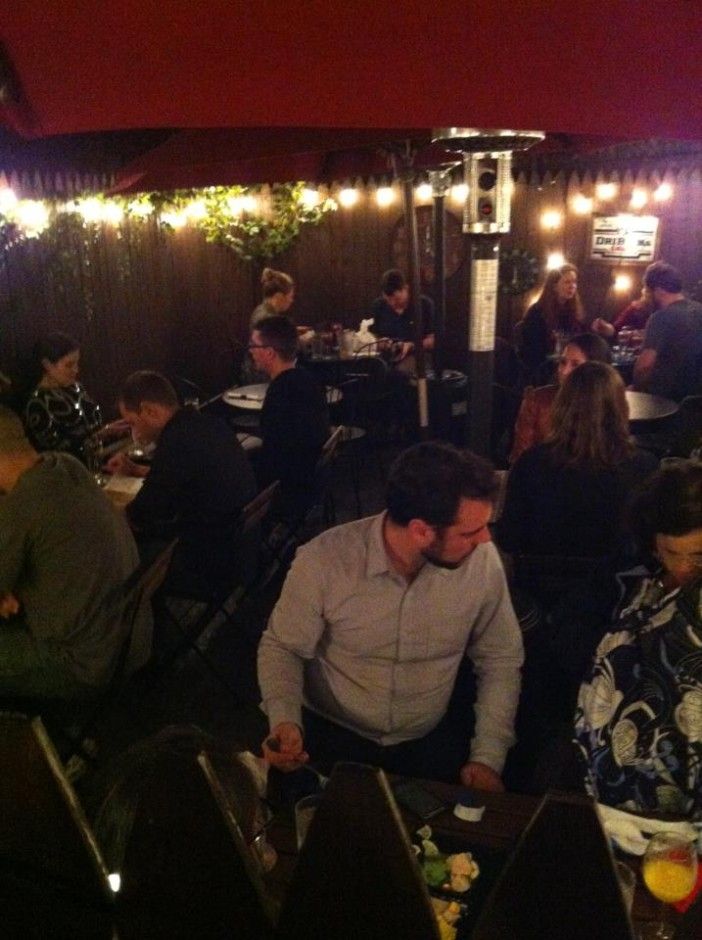 Surfish Bistro, 351 5th Avenue, 718-832-8200
Take a little trip to Peru without leaving the city in the backyard of this restaurant—don't miss the ceviche!
Sushi Katsuei, 210 7th Avenue, 718-788-5338
Probably our favorite spot for sushi in the neighborhood (have someone treat you to the omakase for a special occasion), the large, covered outdoor patio is a great place to savor each bite while watching crowds pass by on 7th Avenue and 3rd Street.
THREES BREWING, 333 Douglass Street, 718-522-2110
This Gowanus brewery/bar has partnered up with Williamsburg's The Meat Hook to bring vittles to local beer lovers, offering Pizza Mondays, Steak Tuesdays, and weekend brunch that diners can feast on in the backyard.
TIKKA GRILL, 54 7th Avenue, 347-955-0027
This casual and reliable Indian restaurant has a tiny dining room but a roomy backyard where diners can relax and enjoy lassis, samosas, naan, and various curry and tandoor dishes.
V-Spot, 156 5th Avenue, 718-928-8778
Vegetarians and vegans don't have to feel left out on this list, as this local veg-friendly restaurant also has a lovely backyard. Definitely get the empanadas!
Yamato, 168 7th Avenue, 718-840-0099
The garden in the back of this very good sushi spot is a cozy bamboo escape.