Where To Eat Outdoors In Park Slope (Sidewalk Seating)
Park Slope has so many great restaurant options it can sometimes be difficult to decide where to go to grab a bite. With the warmer weather upon us, you could maybe narrow your decision down to—outdoor seating.
Turns out there are loads of choices for outdoor dining too! We rounded up 32 places in the neighborhood where you can sit outside—in a quiet back garden—while enjoying some great food. Click here for that list.
Perhaps you prefer people-watching to peace and quiet. If so, check out our list below of 25 eateries with sidewalk seating where you can peek at all the peeps passing by while you dine.
If we've missed your favorite spot with sidewalk seating, let us know down in the comments.
SIDEWALK SEATING
Athena Mediterranean Cuisine, 535 6th Avenue, 718-965-4578
This family-owned Greek restaurant serves up Greek recipes with a twist. Feast on moussaka, spanakopita, pastichio, and souvlaki while overlooking 6th Avenue.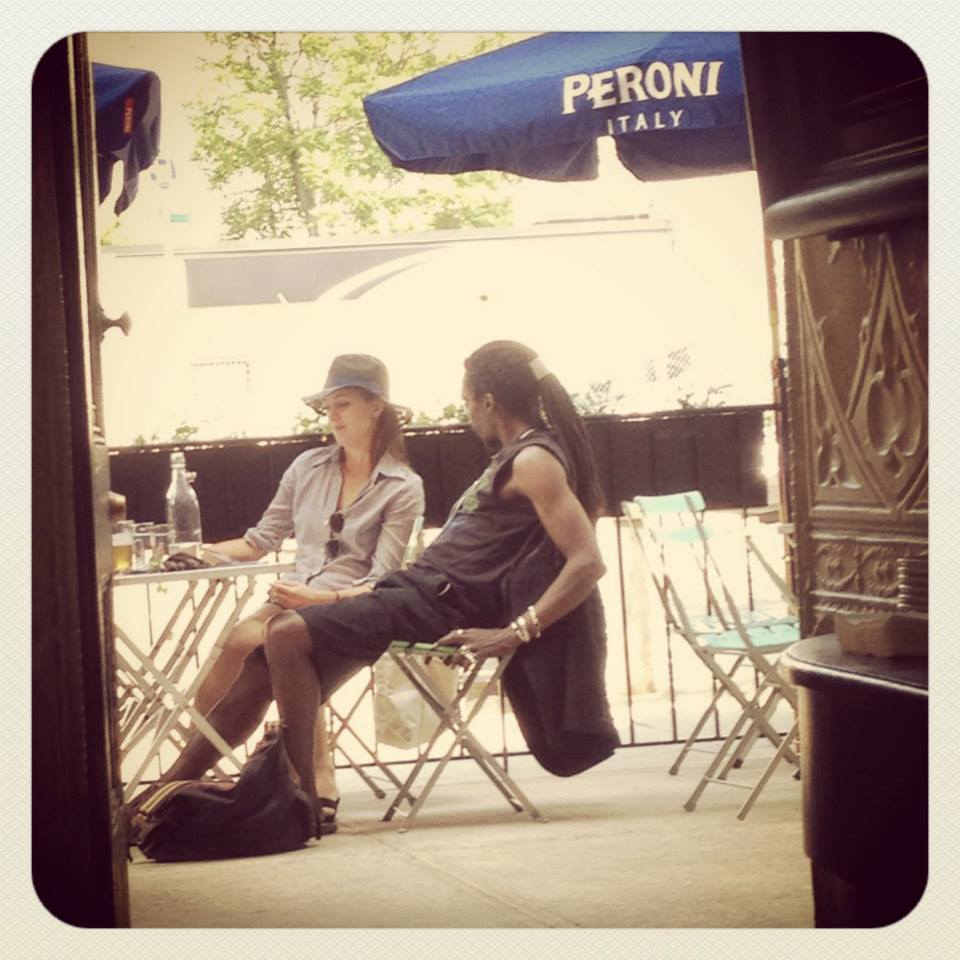 Bar Tano, 457 3rd Avenue, 718-499-3400
The laid-back bar and restaurant is a convenient spot for gathering a group of friends (the 4th Avenue/9th Street subway stop is up the block) to relax in their sidewalk seating area with a glass of wine or two (check out happy hour on weekdays from 3-7pm).
Bar Toto, 411 11th Street, 718-768-4698
This casual neighborhood spot, with a roomy sidewalk section, is the perfect place to while away the time as you enjoy their pasta, panini, and pizza options.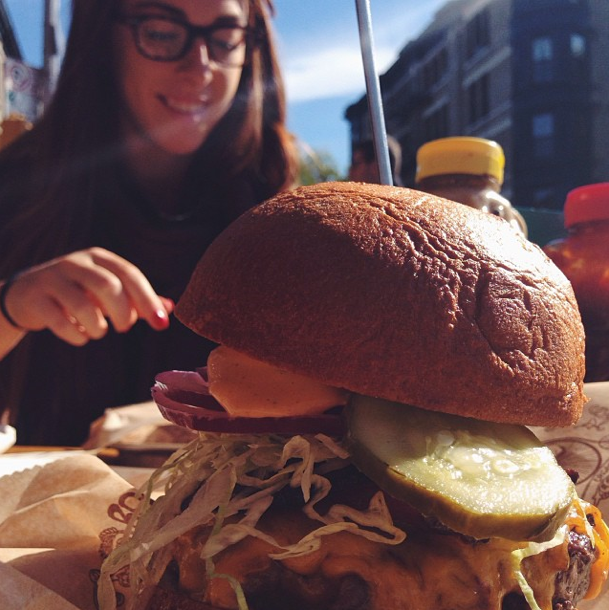 Bareburger, 170 7th Avenue, 718-768-2273
Though we've got plenty of places for burgers in the neighborhood, this one remains a popular spot for families and friends looking for a reliably delicious (and incredibly decadent) meal—which can mean a long wait for one of the coveted spots in their sidewalk seating area, but it's worth it.
Broccolino, 446 Dean Street, 718-678-4200
Casual Italian comfort food located right near Barclays and there's sidewalk seating? A pretty solid choice for a bite before an event at the arena if you're looking for a place that's got a view of all the action.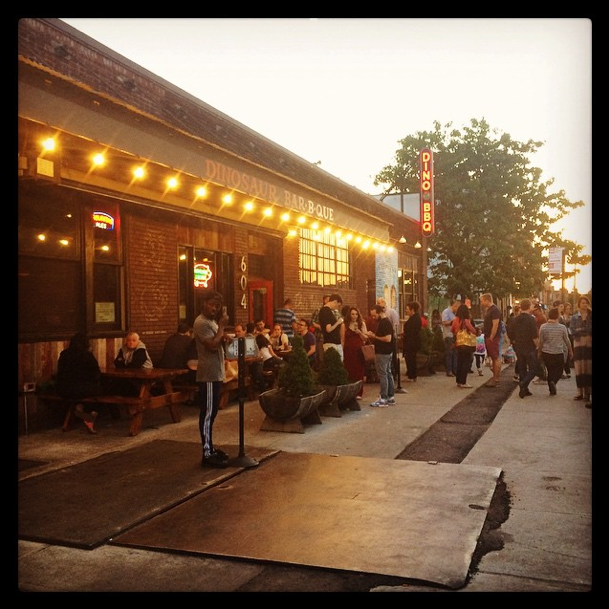 Dinosaur Bar-B-Que, 604 Union Street, 347-429-7030
This location of the BBQ mini-chain is very popular. It's enormous inside with lots of seating—though it's a bit more difficult to grab a table in the sidewalk space, where, once seated, you may have to deal with the jostling of folks hanging around waiting for a table.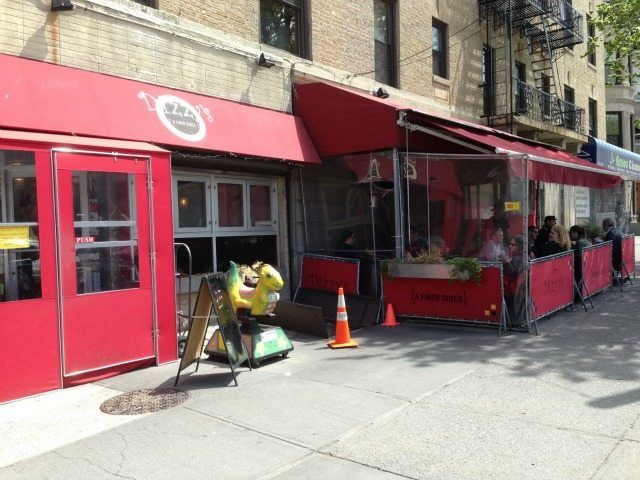 Dizzy's, 511 9th Street, 718-499-1966 and 230 5th Avenue, 718-230-5551
Either of Dizzy's locations makes for a great family stop (and who doesn't love a basket of mini-muffins at brunch?), and their sidewalk seating is good for people-watching.
El Habanero, 315 Fifth Avenue, 718-965-9200
This Tex-Mex spot with a spacious and comfy sidewalk section offers tacos, burritos, fajitas, and a full burger section—including one called the Sriracha Ace Burger with monterey jack, avocado, bacon, crispy wontons, and sriracha hot sauce.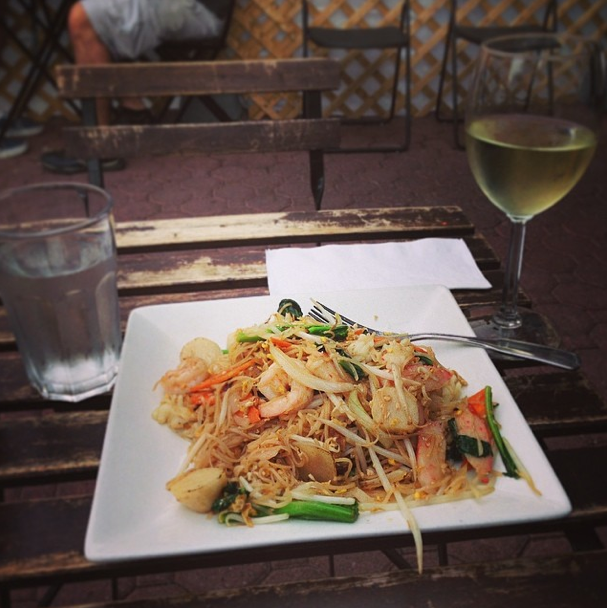 Ha Noi Kitchen, 448 9th Street, 718-788-7755
There's no shortage of places in the area where you can grab a banh mi sandwich (and a range of other Vietnamese dishes), but this is the only one where you can enjoy it outside—they've got tables set up on the patio, which looks out onto 9th Street for good people watching. Plus, they serve beer and wine!
Haab, 396 6th Avenue, 718-369-0849
If you only think of places to eat along 5th and 7th Avenues, then you're missing out on some great stuff along 6th, including this terrific Mexican joint that's got a nice corner of sidewalk seating—and yep, a lot of margaritas.
Hunan Delight, 752 Union Street, 718-789-1400
They've been serving up reliably standard Chinese take-out for some time, including some great vegetarian options. If you'd rather not sit at home surrounded by cardboard take-out containers, enjoy your meal out on their sidewalk with a view of Union Street.
Kiwiana, 847 Union Street, 718-230-3682
Get some good people-watching in on the sidewalk of Union Street at this consistently solid New Zealand restaurant.
Le Pain Quotidien, 239 5th Avenue, 347-986-1311
Giant bowls of coffee, tasty pastries, and a menu that includes brunch, beer, and wine? You got it. Sidewalk seating that allows you to mingle with Park Slope's furriest residents? Save a spot for me!
MARIELLA, 492 Sixth Avenue, 718-499-2132
A friendly neighborhood spot serving seasonal Italian cuisine best enjoyed while sitting outside at their spacious, gated-in sidewalk section.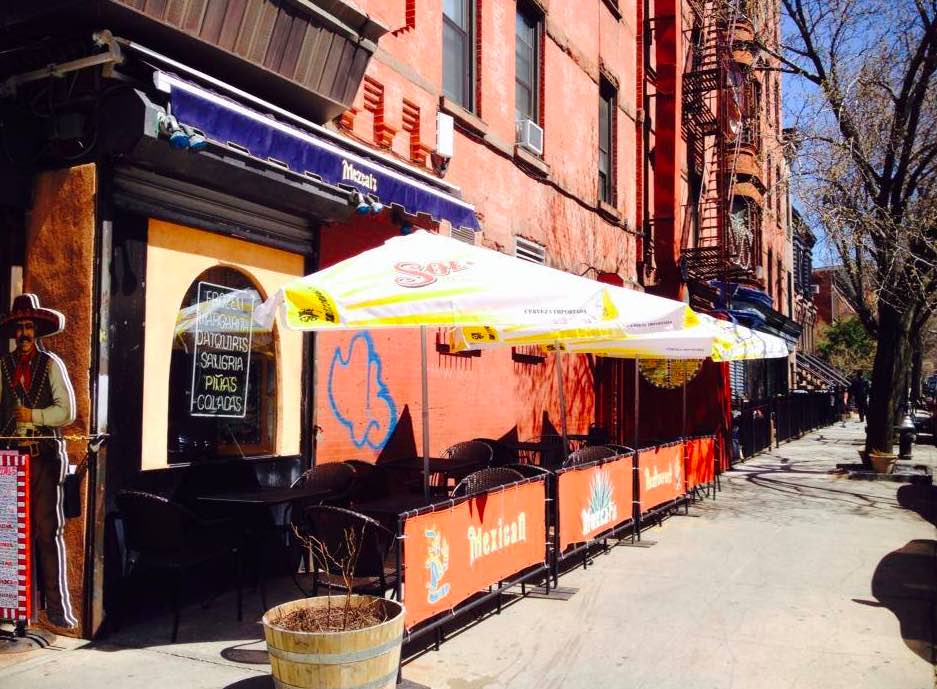 Mezcal's, 223 5th Avenue, 718-783-3276
This casual and colorful Mexican eatery allows you to enjoy a margarita out on the sidewalk along 5th Avenue as you sit and watch the neighbors pass by.
Miti Miti, 138 5th Avenue, 718-230-3760
Miti Miti just received approval to set up sidewalk seating in front of its fun and popular location on 5th Avenue. Owned by the same pair behind Bogota Latin Bistro across 5th, Miti Miti offers friendly service, great guacamole and tacos, and ALL DAY Happy Hour Monday through Thursday. Keep a look out for their sidewalk seating in the coming weeks.
Park Slope Ale House, 356 6th Avenue, 718-788-1756
There's seating on the sidewalk, and a menu of pretty standard pub food—though we'd recommend heading over during happy hour when they have a Jumbo Wings Special.
Peperoncino, 72 5th Avenue, 718-638-4760
Tasty pizza and sidewalk seating is hard to beat—and this one's a good choice pre-Barclays, as it's just a couple of blocks away.
Postmark Cafe, 326 6th Street, 718-768-2613
A wee fenced in area in the front, but it's a nice spot to sit and read with an iced coffee just off the main drag of 5th Avenue. Plus, you gotta love that their tips are donated to a different organization each month.
Purbird, 82 6th Avenue, 718-857-2473
Purbird offers limited outdoor seating, with a few long wooden picnic tables lining the sidewalk just far enough from the bustle of Flatbush.
Rose Water, 787 Union Street, 718-783-3800
The outdoor space at this popular brunch and date-night dinner spot is partially enclosed, which provides a nice (read: very flowery!) barrier from the busy adjacent sidewalk.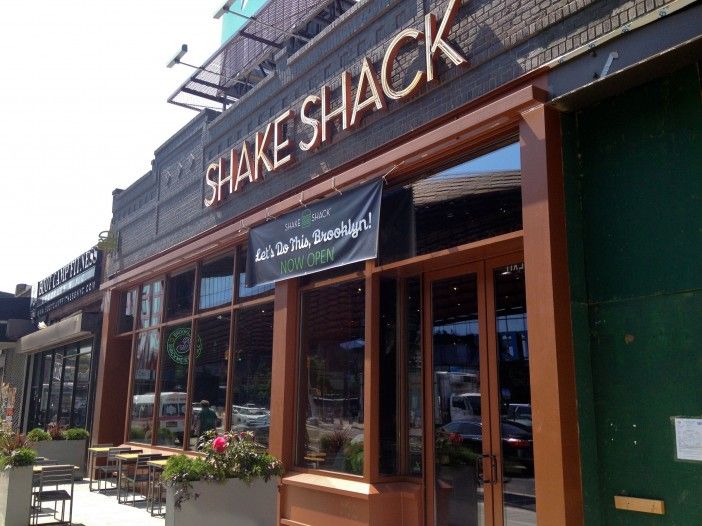 Shake Shack, 170 Flatbush Avenue, 347-442-7721
Okay so the view isn't great—the seating area is a fenced in space right on Flatbush Avenue—but a burger, fries, and a frozen custard in the sunshine may take your mind off of it for a bit.
Sotto Voce, 225 7th Avenue, 718-369-9322
Lots of people watching from the sidewalk seating at this spot, which is a very popular choice for brunch. Wonder if it has anything to do with the bottomless mimosas, champagne, or bloody marys?
Stone Park Cafe, 324 5th Avenue, 718-369-0082
The sidewalk seating area at this spot—a top choice for a meal with someone you want to impress—offers cozy tables under the canopy. It's also perfect for people watching, with the hopping park and farmers market across the street.
Wangs, 671 Union Street, 718-636-6390
It's true the only seating they have here is the outdoor variety, as the wee shack of a kitchen churns out only to-go and delivery orders. On a nice day, grab a spot on the sidewalk out front and dig into some of the tastiest wings in the neighborhood.