Weekend Art Events: June 7-9 (New Voices, Studio Tours, NY Transit Museum Bus Fest & More)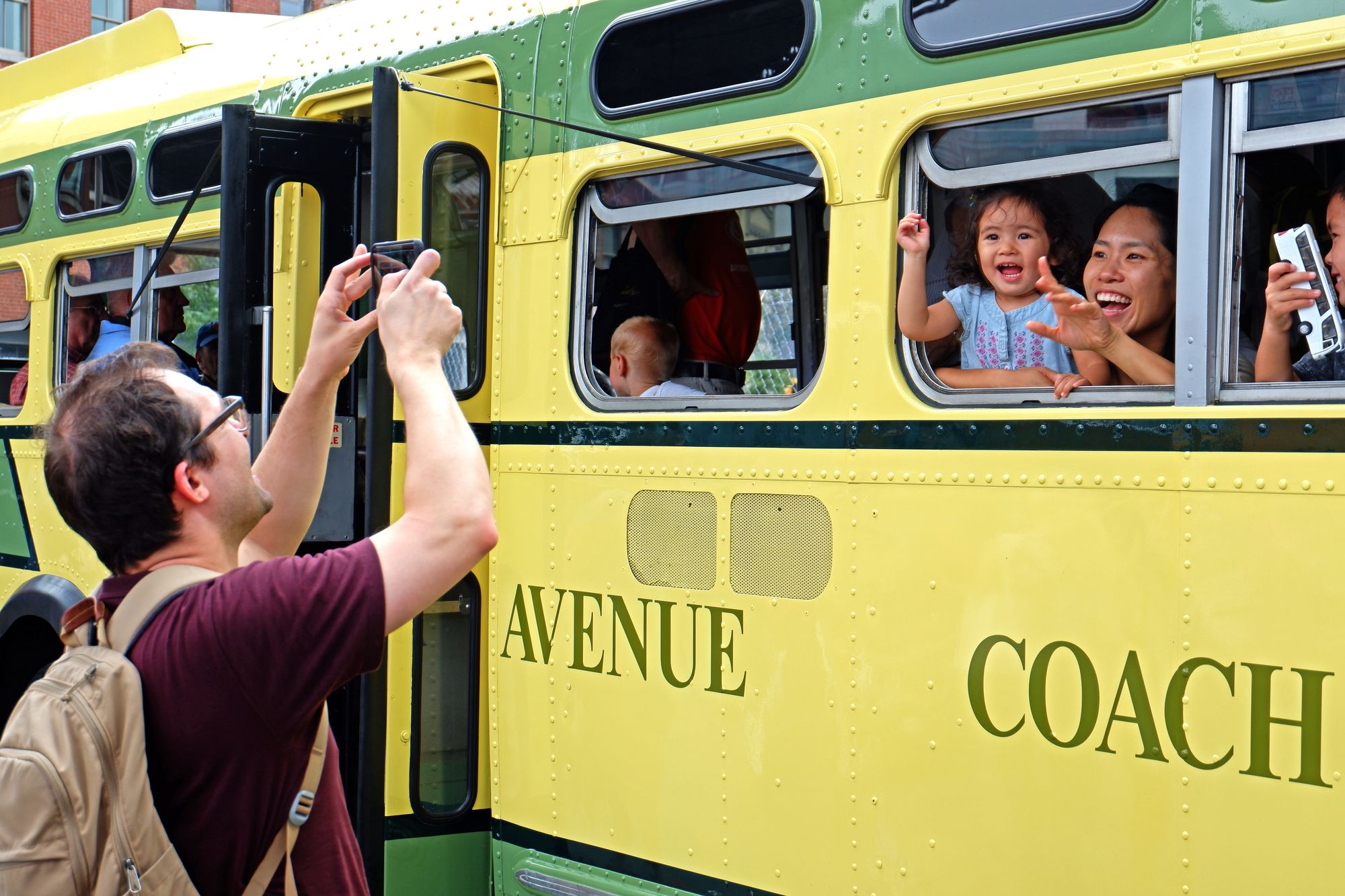 No matter what you're in the mood for, there are events for everyone this weekend throughout Brooklyn! Learn a new skill at Blick Art Materials with their Golden Silhouette workshop or go back in time with New York Transit Museum's annual Bus Festival. Plus, this is the last weekend to check out the New Dawn Fades  exhibit at Court Tree Gallery.
Bklyner Calendar has more events happening around town and you can list one of your own.
Friday, June 7
FIND YOUR SUMMER FLAVOR WITH CINCH (Sponsored) through June 14: For one week only (June 7-14), find your summer flavor with an extra 10% off at all Cinch businesses – restaurants, bars, shops, hair salons, and more. Just download the Cinch app and use code SUMMER when you pay!
SHAKESPEARE IN CARROLL PARK FUNDRAISER at East One Coffee Roasters, 6pm [Free]: Help raise money for the Smith Street Stage theatre company as they kick-off Shakespeare in Carroll Park with Romeo and Juliet. Support the company while meeting the cast of the production at 6pm and taking part in Shakespeare/Game of Thrones trivia at 8pm.
NEW VOICES at Brooklyn Historical Society, 7pm [Tickets start at $15]: Experience New Voices, BASS' innovative new music series focused on song after 2010. The program features the newest works by Michael Djupstrom, Herschel Garfein, David Ludwig and more. James Matheson gives a pre-concert talk about his new work at 7pm.
OPERA ON TAP (Sponsored) at Barbès, 8pm [Free]: World sure has gotten complicated! Fake news! Measles is back! Social media! A president under investigation! Russian subversion! War in the Middle East! Doesn't it make you just want to suck down some member berries and travel back to a simpler time, when you were too young to fear the bomb, when everyone knew their place, and polio was rampant in the public pools?
Well, let New Brew be your member berries, and we'll take you down the path of nostalgia, with contemporary songs as anachronistic as your remembered versions of events. We'll offer you an hour and a half of escapist respite, among composers masquerading in the threadbare costumes of their antecedents, before Barbès kicks us out for the next band and you have to return to the present. Like measles.
Saturday, June 8
GOLDEN SILHOUETTE WORKSHOP at Blick Art Materials, 1pm [Tickets $10]: Create silhouette paintings with artist Katie Schuessler. Attendees will use golden acrylics to create two paintings while learning how to utilize monochromatic values in their work. Once completed, you will add a silhouette of your choice to create your final works!
ARTIST STUDIOS TOUR in Sunset Park, 3pm [Tickets $25]: Visit 7 artist studios in Sunset Park, meet the artists who work there and get the chance to preview their finished artwork and works-in-progress. Plus, attendees will have the chance to buy pieces directly from the artists.
Sunday, June 9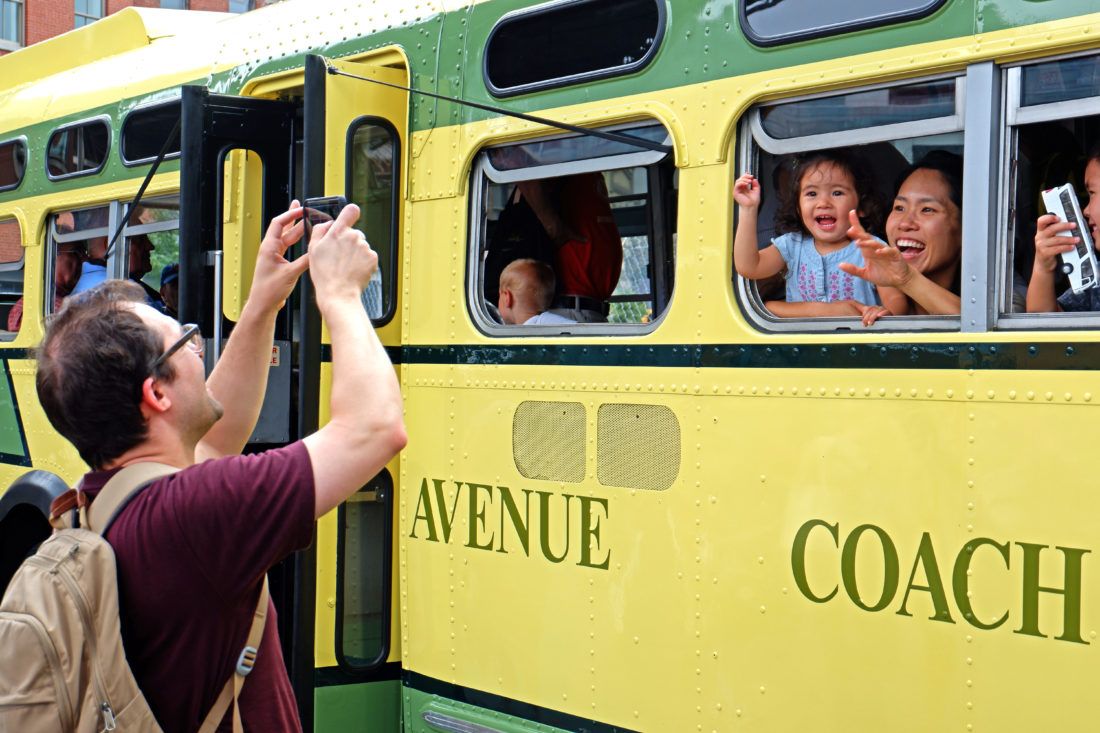 NEW YORK TRANSIT MUSEUM ANNUAL BUS FESTIVAL at Brooklyn Bridge Park, 10am [Free]: See and step aboard buses from the NY Transit Museum's vintage fleet, representing more than 80 years of New York City surface transit history. Enjoy special activities, photo ops, and even meet some of the bus drivers who help keep this city moving.
CONEY ISLAND HISTORY DAY at the Coney Island Boardwalk, 2pm [Free]: Presented by the Coney Island History Project in partnership with Deno's Wonder Wheel Park this event will pay tribute to Coney Island's immigrant heritage. The day will be filled with live music, entertainment, and history, including performances by musicians and dancers representing the traditional culture of countries from which people have emigrated to Coney Island.
5TH ANNUAL PUERTO RICAN PARADE AND FESTIVAL in Sunset Park, 5pm [Free]: This year's Puerto Rican parade is dedicated to education and unity and will feature traditional Boricua carnival processions, local artists, businesses, and collaborative organizations that will proudly march down 5th Avenue. These events will be followed by a full stage concert filled with salsa, bomba y plena, hip hop, and spoken word at the main entrance.
Ongoing…
NEW DAWN FADES at Court Tree Gallery, through June 11 [Free]: Created by Christian Nguyen, this exhibit includes a collection of paintings inspired by Claude Monet's "Rouen Cathedral." Nguyen's primary focus is architecture and how it embodies the mind, body, and soul.
RACE AND REVOLUTION: REIMAGINING MONUMENTS at The Old Stone House, through June 14 [Free]: This third iteration of a series that aims to bring the conversation of systemic race and racism from the past into the present displays excerpts from historical documents alongside contemporary works by 16 artists including paintings, drawings, quilts, interactive sculptures, and public art.
HEAVEN, HELL, AND PURGATORY: VISIONS OF THE AFTERLIFE IN THE CATHOLIC TRADITION at Green-Wood Cemetery (Fort Hamilton Gatehouse), Saturdays & Sundays through June 30 [Free]: Morbid Anatomy returns for a second year to Green-Wood Cemetery's historic Fort Hamilton Gatehouse. The museum's latest exhibit explores visions of heaven, hell, and purgatory in the Catholic tradition featuring paintings, photographs, sculptures, historical books, and prints dating from the 17th century to the present. Don't forget to visit the attic where selections from Morbid Anatomy's vast library will be available for perusal.
SEDIMENT at multiple locations (Artpoetica, South Slope Local Café, Gowanus Dredgers Boathouse, and Gowanus Souvenir Shop), through July 7 [Free]: Created by JoAnne McFarland and Sasha Chavchavadze, the SEDIMENT exhibitions are inspired by the century-old sediment at the bottom of the Gowanus Canal. Each exhibition space will offer a unique interpretation of SEDIMENT experimenting with both the literal and metaphorical theme.
ON THE (QUEER) WATERFRONT at the Brooklyn Historical Society, through August 4 [Free]: Co-curated by Hugh Ryan and Avram Finkelstein, this exhibition focuses on the lesbian, gay, bisexual, transgender, and queer history of Brooklyn in the 1800s and through World War II. Visitors can expect to see photographs, artifacts and more. Read more here.
THE PHOTOGRAPHS OF BUILDER LEVY: HUMANITY IN THE STREETS at Brooklyn Historical Society, through August 11 [Free]: A collaboration between the Brooklyn Historical Society and students from Pratt Institute, this new exhibit showcases a selection of images documenting everyday life in NYC from the 1960s to 1980s, through the lens of Brooklyn-bred photographer Builder Levy. Students from Pratt's Spring 2019 Museology Class took on roles as curators, designers, publicists and more for the exhibition.
OSCAR @ THE CROWN at 3 Dollar Bill, through August 25 [Tickets begin at $25]: Directed by Shira Milikowsky, this performance combines sequins, reality television, and the complete works of Oscar Wilde. OSCAR @ The Crown is an immersive nightclub musical detailing the rise and fall of one of history's most flamboyant characters.
CONEY ISLAND HISTORY PROJECT: SALVATION BY THE SEA at Coney Island, through Sept. 2 [Free]: View historic artifacts, photographs, maps, ephemera and films of Coney Island's past and this year's special exhibition Salvation by the Sea: Coney Island's 19th Century Fresh Air Cure and Immigrant Aid Societies. This exhibit explores an era of Coney Island's history by examining the role that the beachfront played in saving lives and providing a livelihood for the waves of immigrants who came to America between the 1870s and 1920s.