Contemporary Artists In Victorian Flatbush: Tour Ditmas Park Artists' Studios This Weekend
DITMAS PARK – Since its inception eight years ago, the Flatbush Artists Open Studios Tour has become an important weekend in the calendar of creative events in New York City. On October 27-28, forty painters, photographers, sculptors and other artists will welcome visitors on a free self-guided tour. The growth of the annual event is demonstrated this year by the addition of nine new members to the group showing for the first time, including painter Julia Haw and illustrator Gideon Kendall.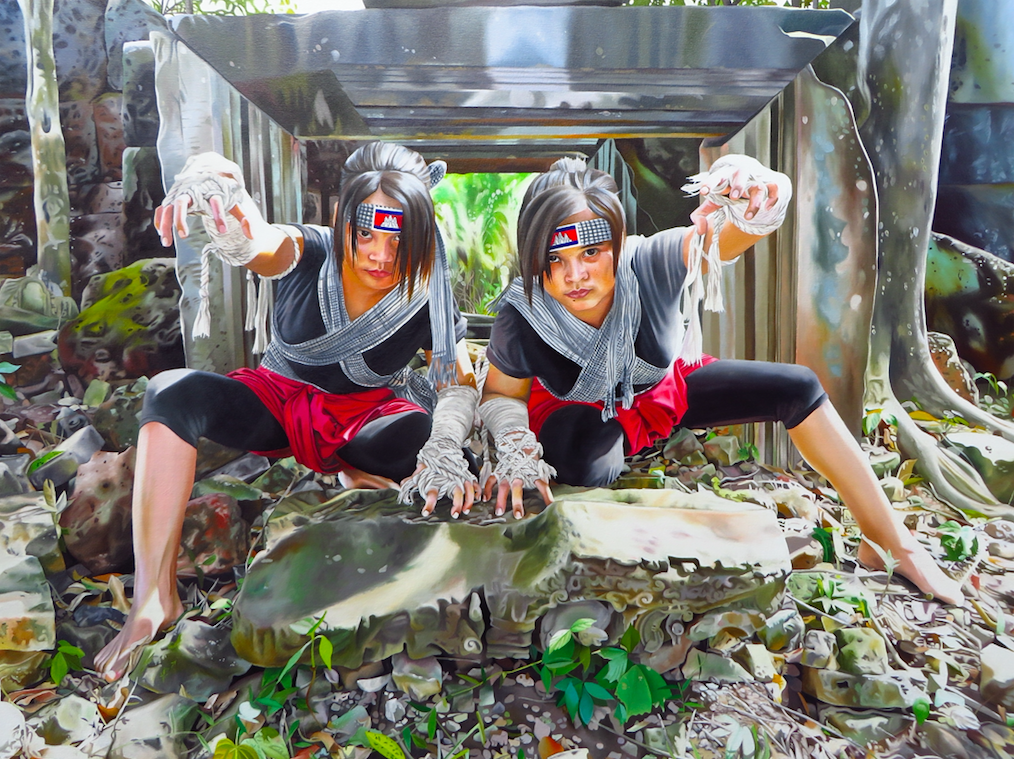 Open studios, which give visitors the chance to meet artists, view their work, and purchase pieces, have become popular all over Brooklyn. This year, Bushwick, Greenpoint, Gowanus, DUMBO, and South Brooklyn all host events. The Flatbush tour, centered in Ditmas Park, is unique because the architecture of the neighborhood offers an aesthetic experience on par with the work shown inside the studios.
"I live in a large Victorian mansion with nine others," said Haw, whose paintings are on display as part of the Open Studios. "My studio occupies a corner by the tall windows in the living room where there is a working fireplace, baby grand piano and gorgeous wood-beamed ceilings. Our house on East 17th Street used to be a very well-known music school, the Bromley Music School. It is filled with spirits and I've actually been haunted at my easel. The spirits appear to be very kind however. Faye and Buster Bromley were painters in addition to being musicians and teachers."
Ghosts or no ghosts, Haw prefers working in a home studio. "I work from home 100%," she said. "I understand a studio setting works for some, having a surrounding community and bouncing ideas off one another, however I like the solitude. I also prefer working in slippers and pajamas with the coffee pot close!"
From the solitude of her process, Haw creates paintings that are fully engaged with the world outside her studio. "I'm currently working on a series titled 'American Displacement,' a series that builds on my previous works contending with themes such as immigration, isolation, feminism, and the deep need for a sense of control due to fear, all from my personal vantage as an outlier," she said. "The series is not just a survey of those people, objects and facets of our culture that are marginalized or displaced. It is a way of honoring, highlighting, and giving due and a proper stage."
Gideon Kendall, another artist new to the tour, also works from home, creating illustrations, animation, and graphic novels. But his experience diverges from the solitary process Haw describes—he shares his home with Julie Peppito who also joins Flatbush Open Studios for the first time this year.
Peppito is just one of Kendall's many collaborators. Though he works in a variety of media, "I guess comics would be my favorite," he said, and that's a form where division of labor is traditional. A single book could have a writer to create the story, a penciler to do the initial sketch, an inker to add depth and shading, a letterer, and a colorist. For one of Kendall's recent successes, Marley's Ghost, he provided artwork while two writers adapted a familiar story.
"My friend and collaborator Josh O'Niell got involved with the project via Denis Kitchen, the legendary Underground Comics Publisher," said Kendall. "He recommended me for it, and the two of us spearheaded the project along with Shannon Wheeler, the cartoonist famous for Too Much Coffee Man."
The group took on a concept that Harvey Kurtzman, a legendary comics creator and an early editor of Mad magazine, worked on for many years before his death but never finished. Telling the story of Charles Dickens' A Christmas Carol as a graphic novel, the book won the Eisner Award as the best digital comic of 2018.
Kendall began work on Marley's Ghost with confidence inspired by his past experience with the others involved, but sometimes launching a collective creative endeavor requires a leap of faith. "I don't know how to tell if someone will be a good collaborator until [I] actually try it," he said. "Liking each other's work is a good first litmus test, I guess."
Haw and Kendall may have different opinions regarding whether art is best created as a solitary endeavor or a group effort, but they both find living in Brooklyn contributes to their creative energy.
"Brooklyn is a dream for fostering and nurturing creativity," said Haw, who grew up in Davidson, Michigan, a small town north of Detroit. "Ideas are abundant and ripe for the gathering due to such a diverse and rich concentration of cultures."
It took Kendall a couple of stabs at living in Brooklyn before he found a home here. "I moved to Williamsburg in 1988," he recalled. "I lived almost directly underneath the bridge. I moved to Hell's Kitchen in '92 and was ready to leave NYC entirely when a friend offered me a room in an apartment in Park Slope."
His initial attraction to the neighborhood was whimsical, but the connection he established proved solid. "I had recently discovered the pickup Ultimate Frisbee game in Prospect Park," Kendall explained, "and jumped at the chance to live close to that. I've been in the vicinity of Prospect Park ever since."
It wasn't long before Brooklyn started popping up in Kendall's work. "I 'discovered' Ditmas about 15 years ago when I was working on a children's book, Dino Pets," he said. "I wanted it set in a Victorian neighborhood. I thought I was gonna have to go to Philadelphia or something, but someone suggested I just ride my bike over to the other side of the park. I was astounded by what I saw. I couldn't believe such a quiet, spacious and beautiful neighborhood existed in this city. I put several of those houses into the book."
There's a good chance you'll visit an artist's studio in one of those houses, or at least walk past one, as you follow the map charting the 23 stops on this year's Flatbush Artists Open Studios Tour. (Printed copies of the map are available at shops and restaurants along Newkirk Plaza, Cortelyou Road, and Church Avenue). Besides the nine artists debuting this weekend, the tour offers the chance to see the latest work from neighborhood artists who have participated in previous years, including Kathy Levine, Paul Catalanotto and Eric Pesso.
Flatbush Artists Open Studios Tour
Saturday, October 27 and Sunday, October 28, 11am to 5pm
Free