TONIGHT: #Resistance Invigorates Church Avenue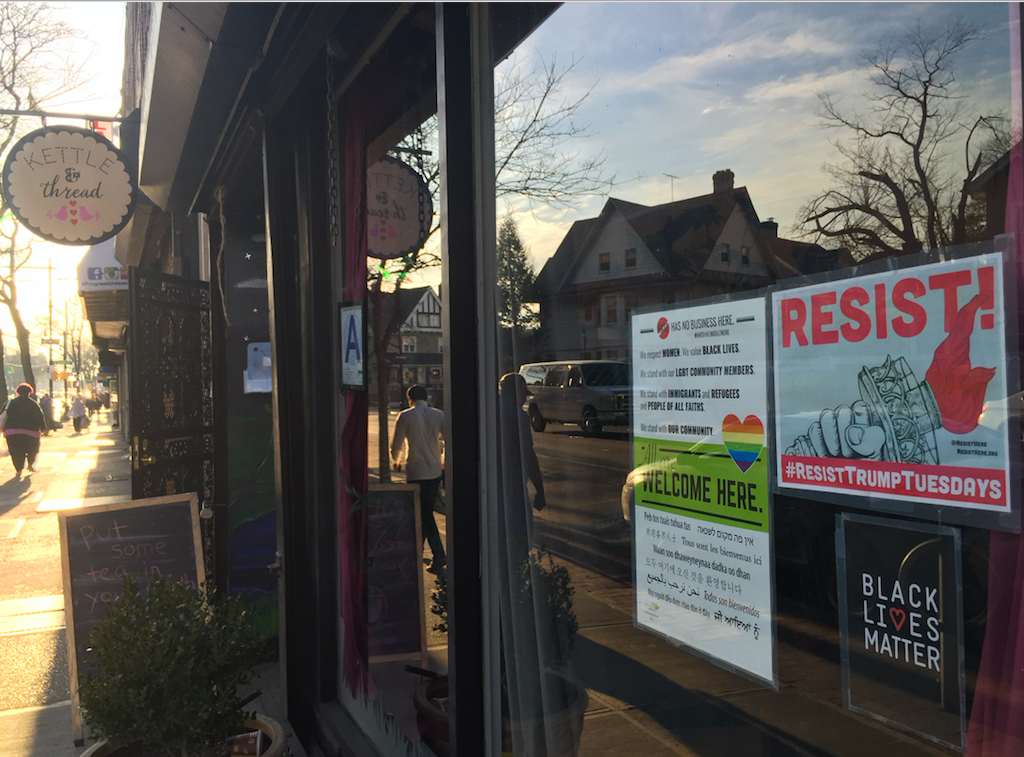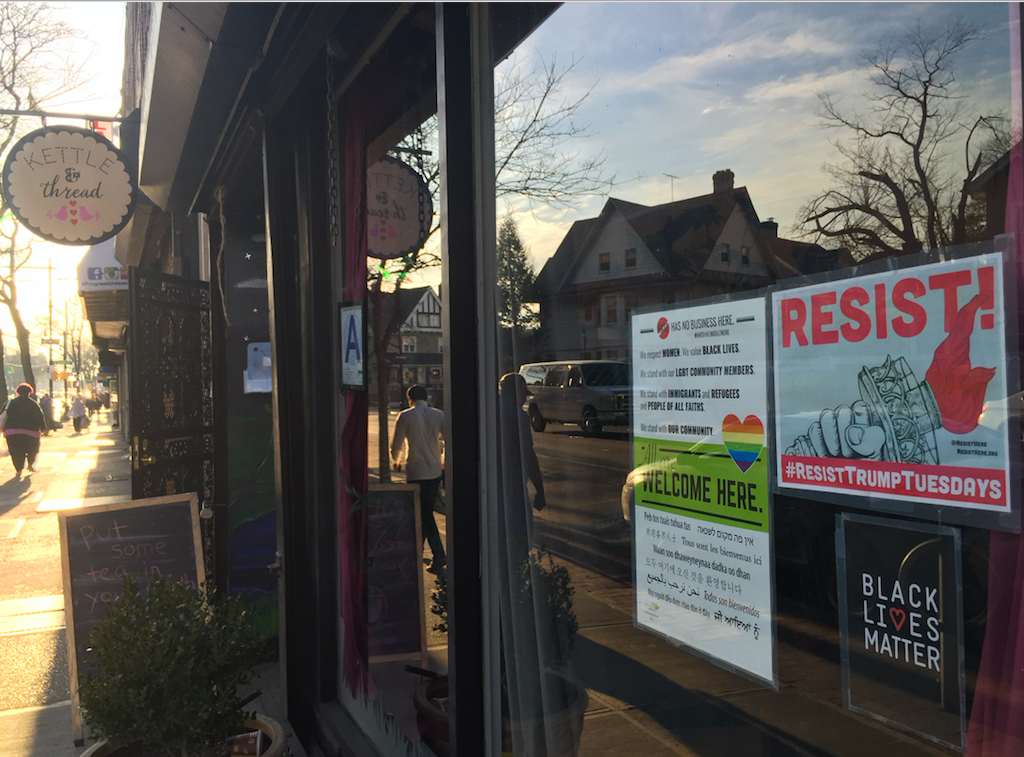 More events inspired by the call to political activism are popping up along Church Avenue.
Kettle & Thread is hosting #resist nights every Tuesday from 6pm to 9pm, and owner Beth Barraclough is keeping the doors open for concerned neighbors to organize.
"We are creating a supportive space for everyone to come together around a shared and common table, to 'check in' so to speak, by discussing, learning and processing everything surrounding this current political environment and even what came before," said Barraclough.
"We listen to each other's perspective as everyone comes to the table with different points of view and experiences, and this meeting is proof of our true commonality. This meeting is the resistance," she said.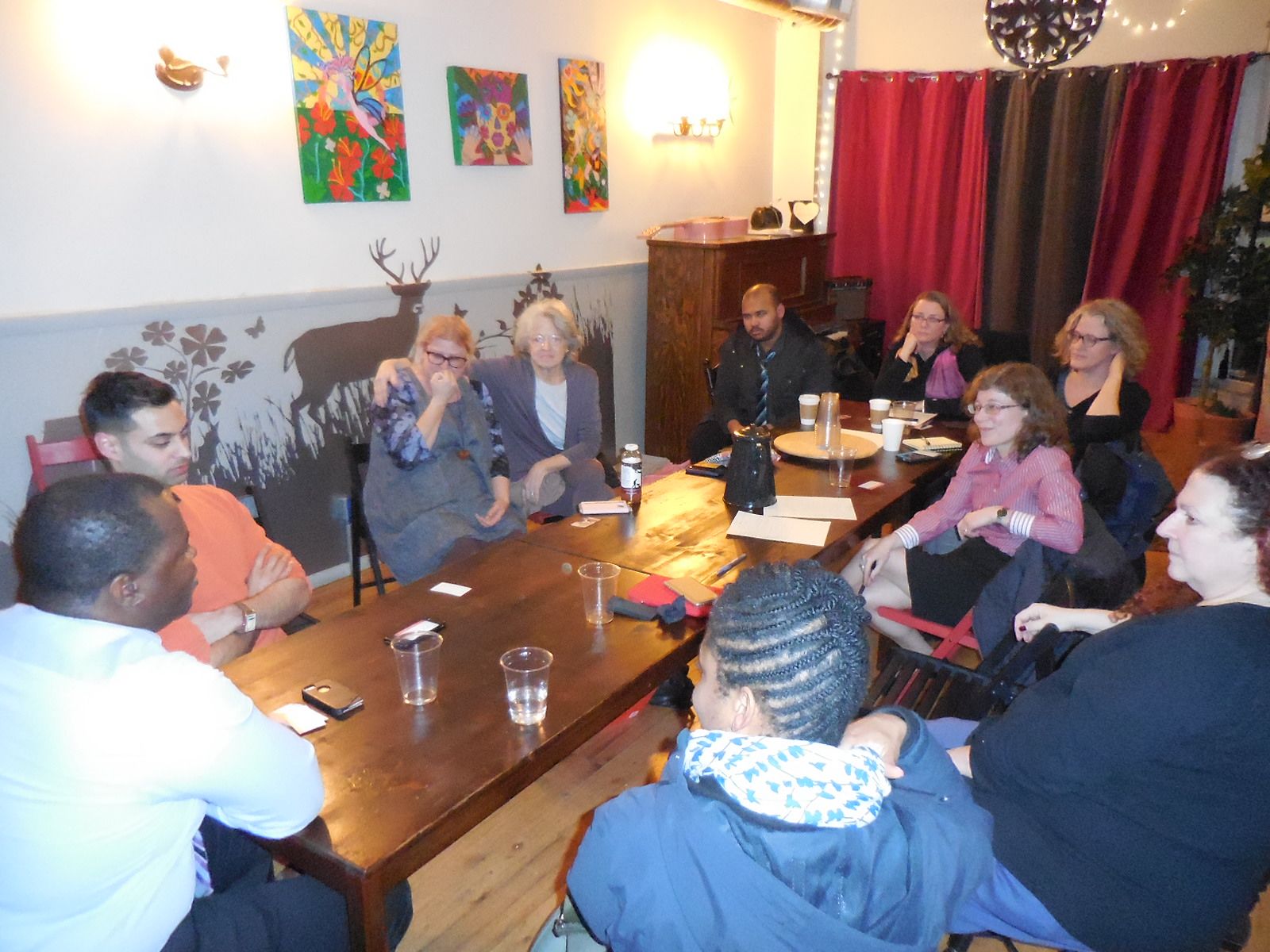 "We have begun discussing strategies for both protesting and self-care and how self-care is a form of protest during times of unrest, especially where the patriarchy wants us to fall apart," said Barraclough.
The vibe was thoughtful and the conversation lasted the entire 3 hours.
Last Tuesday, the group hosted Josue Pierre, the Democratic Male District Leader for Assembly District 42. Pierre has been making the rounds to civic group sprouting up throughout the neighborhood. But this visit was different than some of his other recent trips.
"As the meeting went on it became clear to me that the neighbors at Kettle & Thread wanted to express their feelings about what's going on politically," said Pierre. "This past election was something of a traumatic episode for many people, if we want to get to clear-headed solutions, people should be allowed to go through their stages of grief."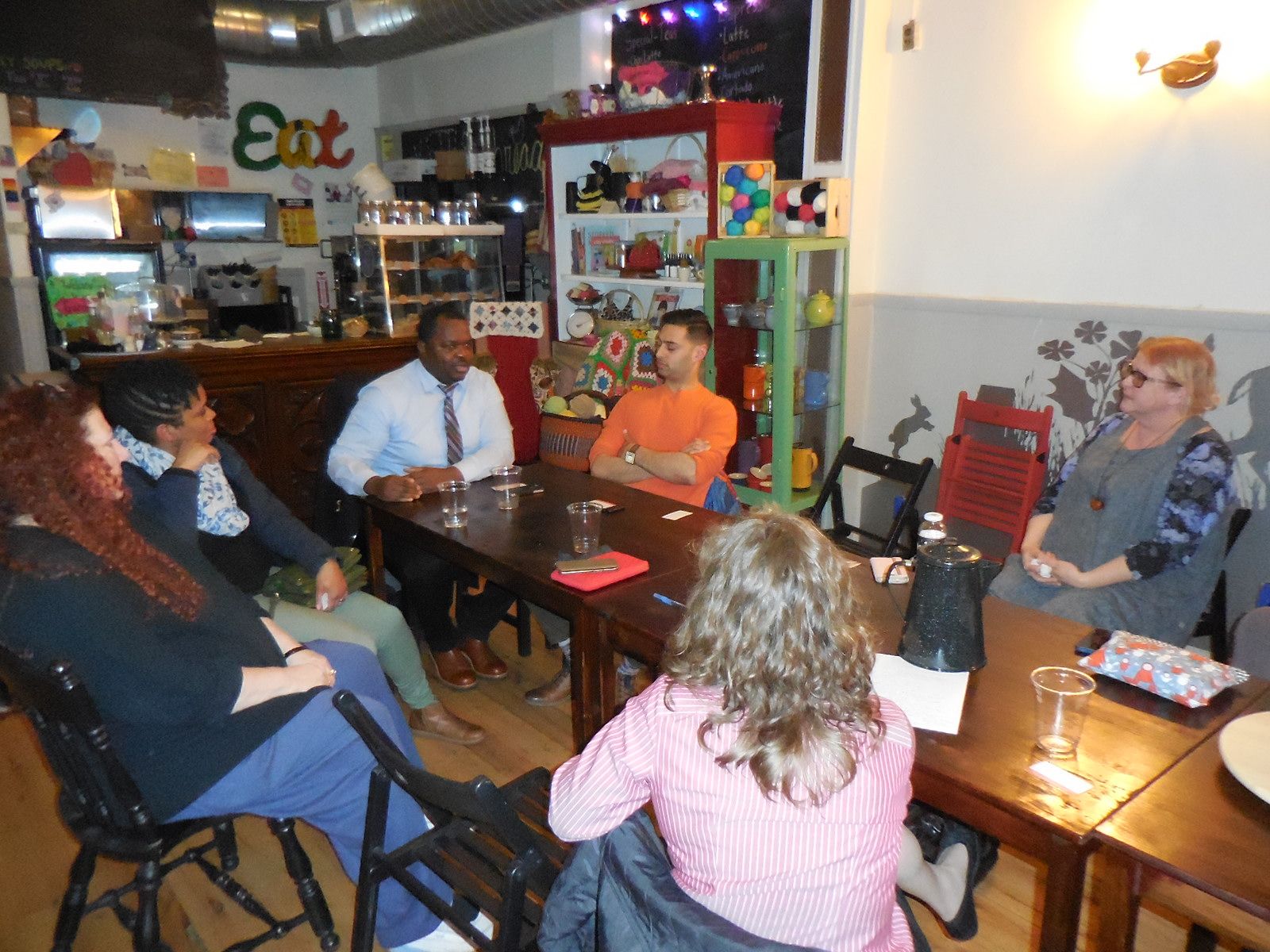 And Barraclough is no stranger to volunteering and organizing. "When I was a kid, my mother brought me to marches and rallies for everything from AIDS awareness in D.C. to helping our local churches as a sanctuary for refugees. I worked in a soup kitchen during high school and my family sheltered young women and women with infants in our home," she said.
Beth Barraclough also turned her cafe into an official Pussy Hat drop point, where neighbors gathered to make and distribute pink Pussy Hats for the Women's March in January.
"As a mom of three young sons, it is my duty to show my children that if you can help, then do it," said Beth. "I feel like I am uniquely placed to provide an accessible, public sanctuary for our diverse community at a time when so many of us need support in real life, beyond what's available on social media."
After only a year and a half, Barraclough is flattered to have her shop compared to Vox Pop, a favorite place of hers in the past. Drop by Kettle & Thread on Tuesday tonight to check it out, and check out their Music for Justice ACLU benefit this Sunday, March 4.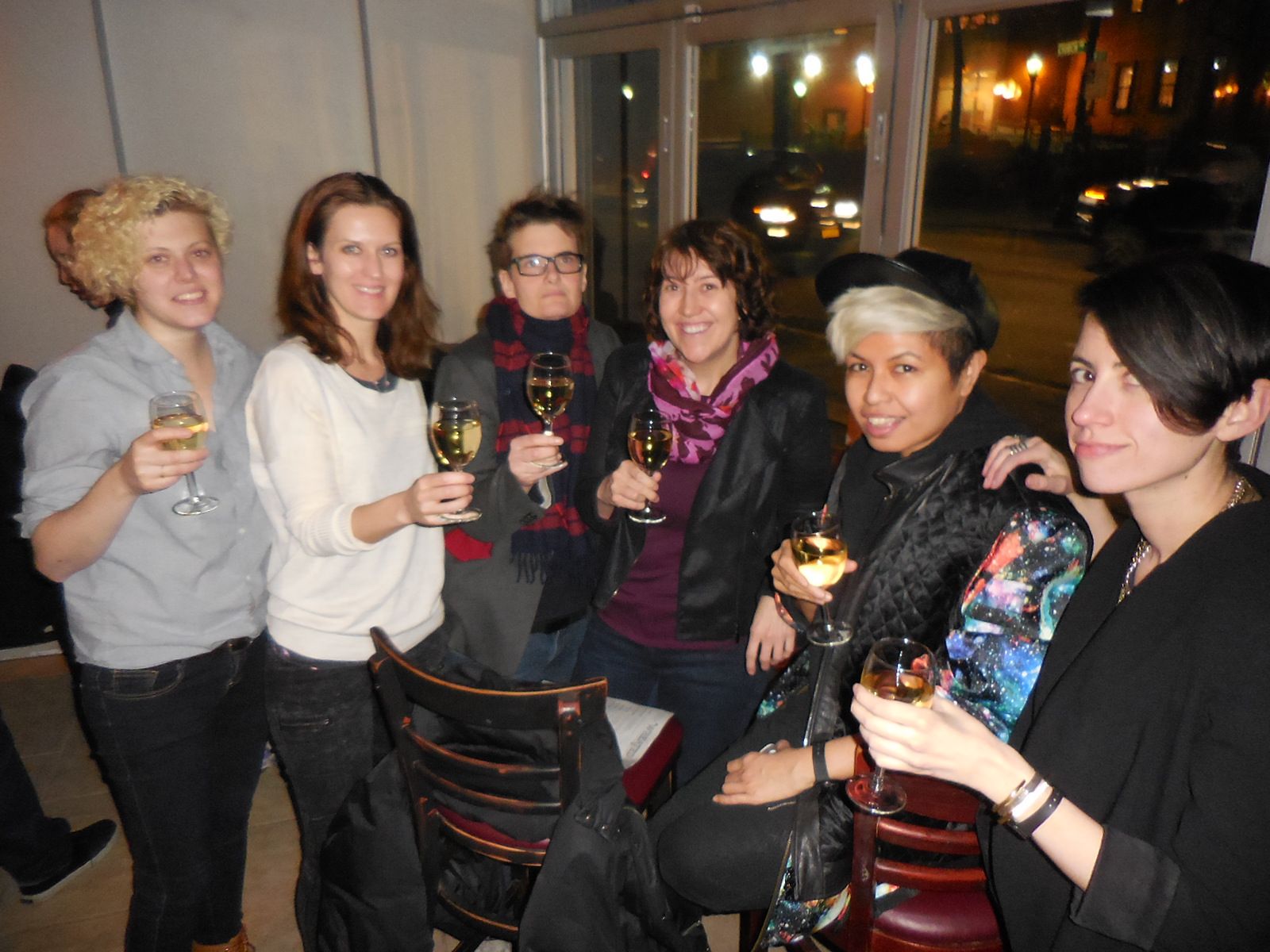 In early February, a couple blocks down Church Avenue another resistance group organized at Wheated. And although this one had a different energy, the objective was the same.
The LGBT group Brooklyn Pride rotates their monthly get together "Dine with Pride" at venues throughout Brooklyn. But they have made Wheated a repeat visit.
"David Sheridan is so supportive and really makes this work," said Mickey Heller, Co-Founder of Brooklyn Pride. "I have been volunteering for 9 years but the numbers are really growing since November."
In the dining area of the restaurant, tables were pushed together to accommodate the group, while up front others were feeling less business and more social, having a ball.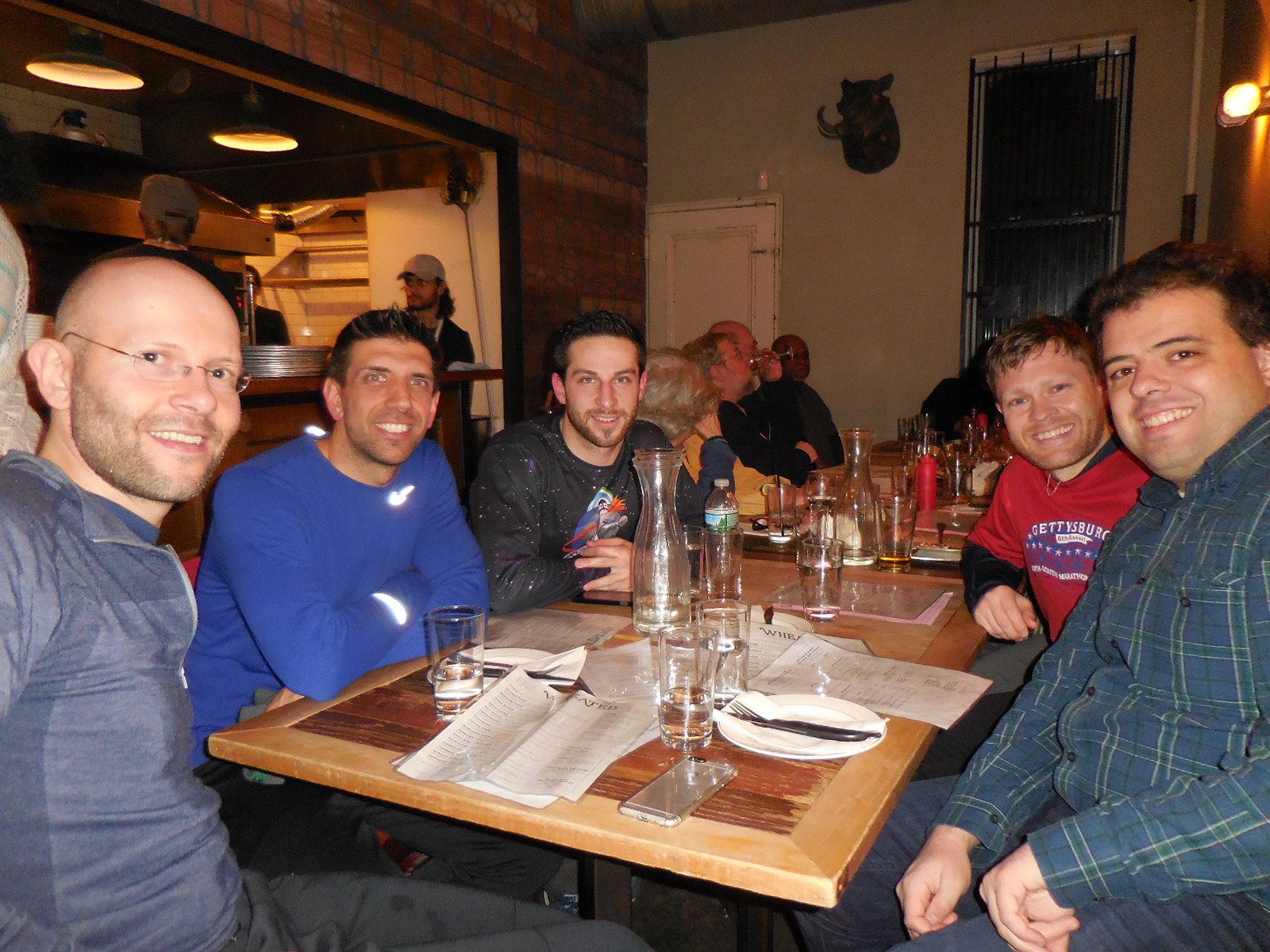 "The numbers are really growing right now," said Heller. "It is my sense that people want a safe place to go. And I don't mean safe in the traditional physical sense. I mean a place to get away from the craziness of everyday life since November."
But the vibe was not gloom and doom at all. "I am old enough to remember the turmoil of the 1960s and again with the aids crisis in the 1980s. The things happening now are a clarion call and I am seeing the kind of response I saw in those times," he said.
Join the next Dine with Pride at Mo's in Fort Greene in March.