How To Get Your PussyHat in Brooklyn
This Saturday, there will be women marching in Washington and women marching in New York City, and many of them will be wearing pink PussyHats.
"Wearing pink together is a powerful statement that we are unapologetically feminine and we unapologetically stand for women's rights" states the PussyHat Project manifesto.
Now, some may disagree as to how effective such an effort may be, but we hear Alicia Keys will be wearing one this weekend, ordered from a store in Brooklyn.
Knitting can be a very social activity, and there has been a knitting frenzy in Brooklyn (and in Manhattan). You can knit at home, at a coffee shop, or a bar — it's a perfect excuse for neighbors to meet up, and talk not just stitches but politics too.
Kettle and Thread coffee shop on Church Avenue in Ditmas Park and Slip Stitch Needlecraft on Nostrand Avenue in Bedford Stuyvesant are the only two official drop points for the PussyHat project in Brooklyn. Slip Stitch still has pink yarn should you want to make your own, you can drop a hat off if you can't go to the march yourself, pick one up if you are heading to Washington D.C. and need one, or buy one if there are no more donated ones left. Brooklyn General Store does not have PussyHats for sale, but do have pink yarn and will print out the pattern for you. All details at the bottom of the post.
So how did a Coffee shop turn into a PussyHat hotspot?
It was not intentional. Beth Barraclough's cafe, Kettle & Thread on Church Avenue, hosted a PussyHat project meet-up in December. But she didn't think much more about it until people started asking for PussyHats directly.
"You have PussyHats, right? You are listed on their site."
"I said, 'What?' I have never even said that word out loud until now!" Barraclough laughed.
Next thing she knew, there was a donation of pink PussyHats in the mail.
Over the last two weeks, an average day brings more than 10 calls asking for hats. And Barraclough can hardly keep up with the demand.
"At this point, all of my local friends have been knitting hats. I took the cook out of the kitchen, her mom joined, they are sitting and knitting in the back right now," she said.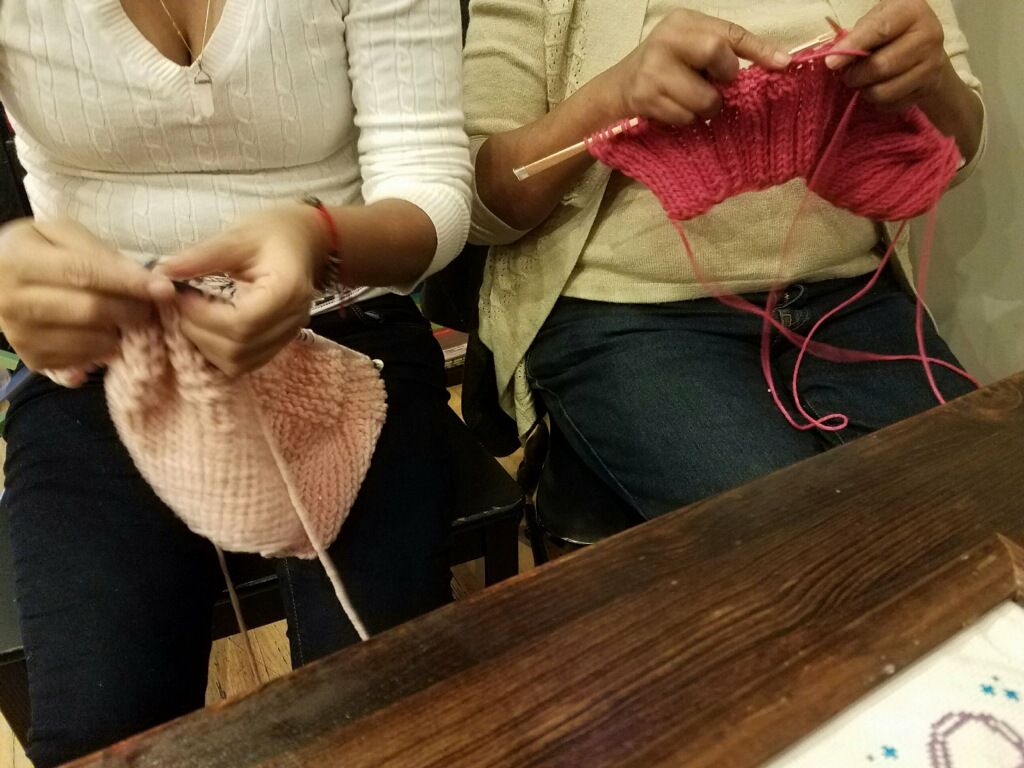 While being part of the project was not a conscious intention, someone had added Kettle and Thread as a drop-spot for the PussyHat project without telling them, Beth does not mind.
The interactions with neighbors dropping off donated hats, like Magdalena who donated four hats, and others picking them up, have been some of the most meaningful ones this year.
The demand far outstrips supply, and while there are hats for sale, they are flying out the door.
Donated hats are free to those heading to Washington D.C. (call now to get your name on the list).
The hats for sale range between $25-$55 depending on how extravagant, with most about $35. There is a waiting list of folks in need of hats, they need 25 hats by Thursday and everyone is invited to help.
To facilitate the effort, and since she's more adept at sewing, Beth came up with the idea of up-cycling old pink sweaters. Should you be in a position to drop off sweaters, or hats, or yarn, please do so at Kettle & Thread, they will be turned into PussyHats.
Here are some patterns to make your own, if you have the opportunity.
To save yourself time, do call ahead to make sure they have a hat for you:
Kettle & Thread
1219 Church Ave
Brooklyn, NY
(347) 789-3108
www.kettleandthread.com
Knit parties and Knit-Alongs (cafe, not a yarn store).
Slip Stitch Needlecraft
450 Nostrand Ave
Brooklyn, NY 11216 USA
(347) 789-5371
http://Www.slipstitchneedlecraft.com
Beginners Welcome! / Knit parties and Knit Alongs /Drop Point / Pickup Point
If you are headed into Manhattan there are two drop-off/pick-up points:
Knitty City
208 West 79th St
New York, NY 10024
212-787-5896
http://www.knittycity.com/
Beginners Welcome! / Knit parties and Knit Alongs (Tuesdays 1:30-3:00) / Promotion (10% off PINK yarn) / Drop Point / Pickup Point
Downtown Yarns
45 Avenue A
New York, NY 10009
(212) 995-5991
http://www.downtownyarns.com
Promotion (10% off Pink Yarn for PussyHat Knitters/Crocheters) / Drop Point / Pickup Point
There were only three listings on Etsy in Brooklyn for the hats, and none will get to you in time for the march.
If you know of another spot, leave a comment or email us at editor@bklyner.com and we'll update.