Surf's Up: 5 Beaches In Brooklyn To Help You Beat The Heat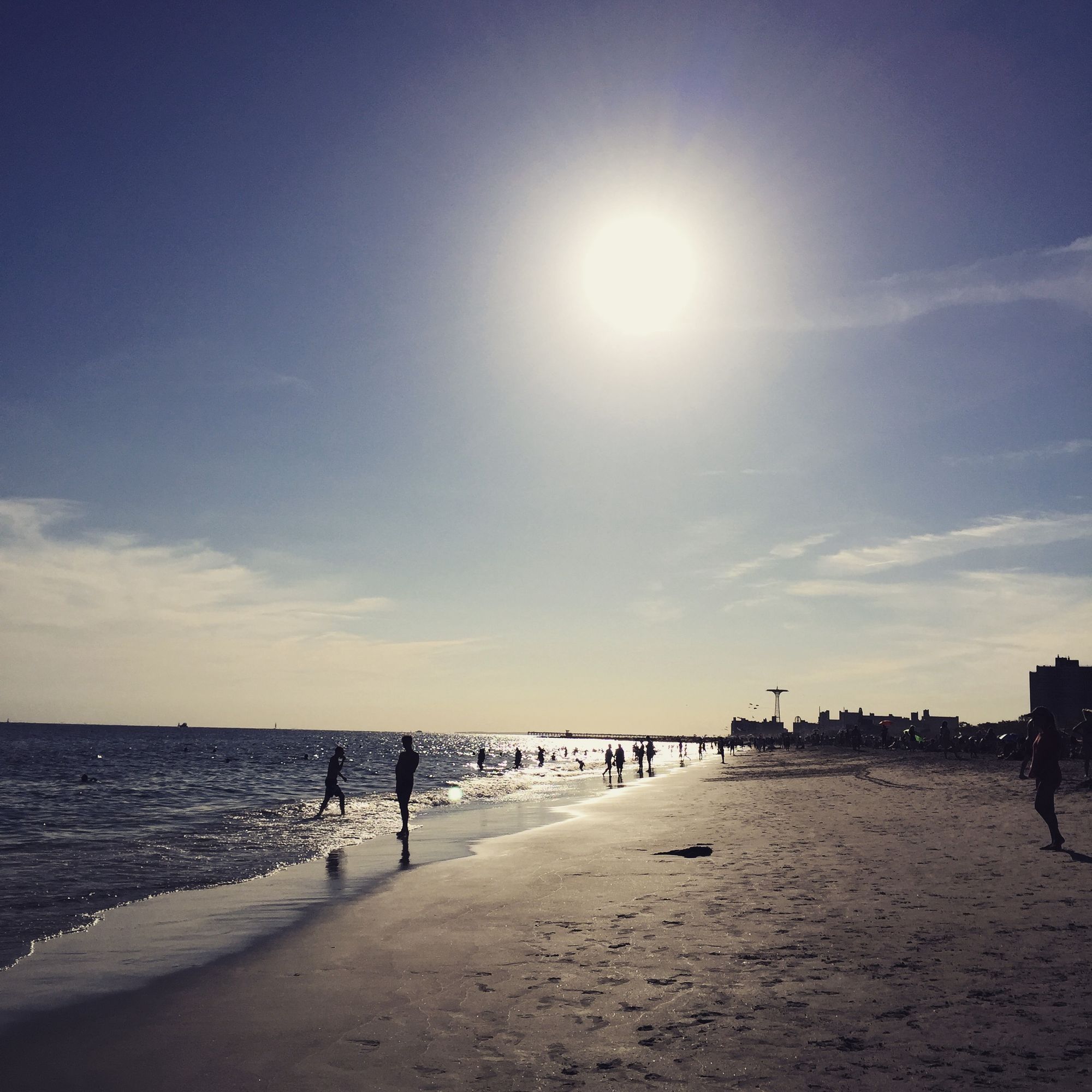 With temperatures skyrocketing and July 4th coming up, it's time to hit the beach! All NYC beaches officially opened to the public on Memorial Day weekend and will remain open until September 9 (the Sunday after Labor Day).
Lifeguards will be on duty throughout beach season from 10am to 6pm daily. Swimming is not allowed when there are no lifeguards on duty and is prohibited in closed sections marked with signs and/or red flags.
Check @NotifyNYC or visit the NYC Department of Health and Mental Hygiene's NYC Beaches page for water quality advisories or closures before heading out to the beach, or text BEACH to 877-877 to receive real-time opening/closing/water quality info. Also check the NYC Parks website for more information on area beaches.
Below is a list of 5 beaches in Brooklyn where you can go to beat the heat. For those willing to venture out of the borough for some fun in the sun, check out our guide 8 Beaches + No Car Required for nearby destinations in Queens, Staten Island, New Jersey, and Long Island.
Brighton Beach (from Ocean Parkway to Corbin Place)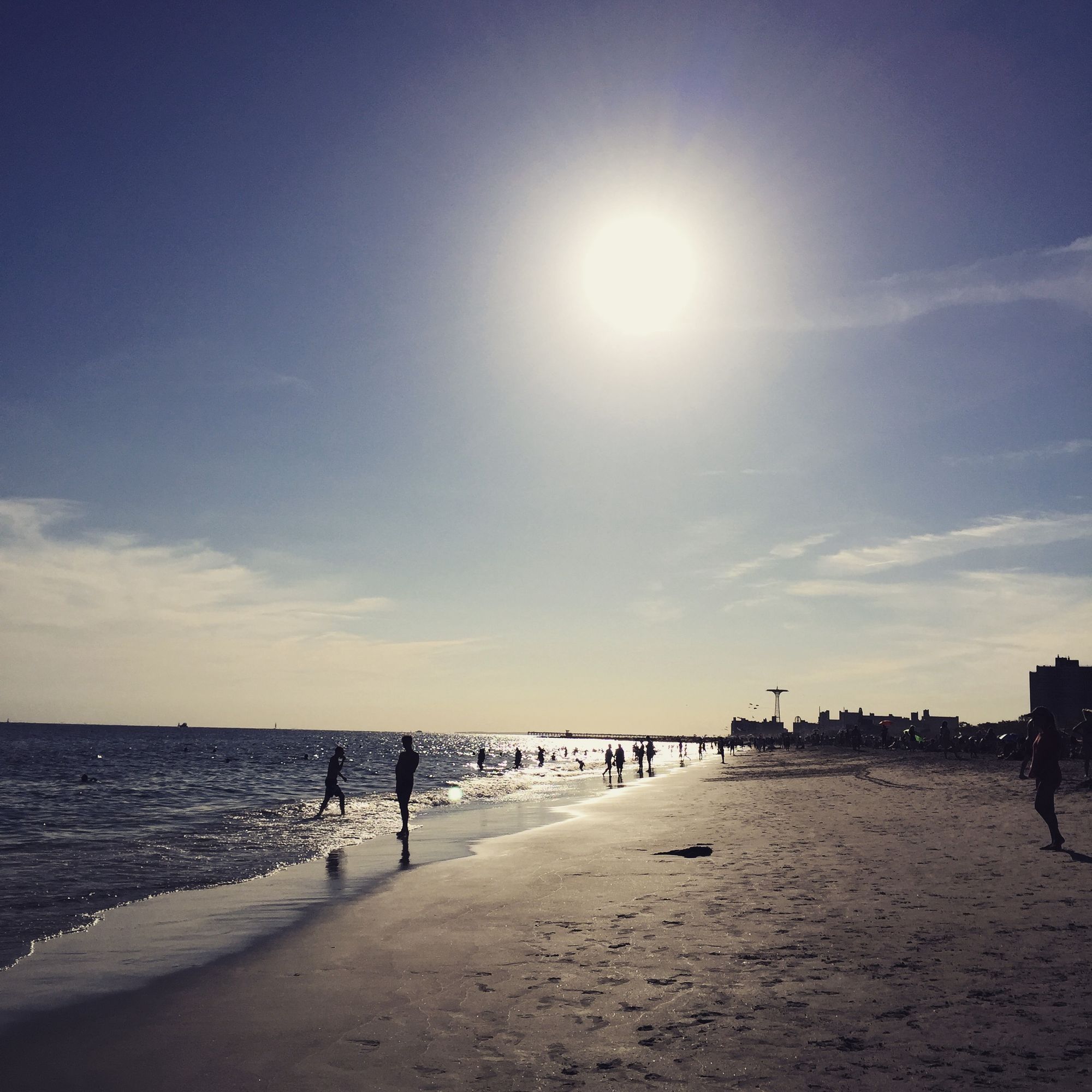 Getting There: Q only during weekends, Q and B during the week to Brighton Beach station. It's also an easy bike ride down Ocean Parkway.
Just east of Coney Island, Brighton Beach is a much quieter spot. Its main advantage is its proximity to all kinds of food—and it's an easy walk to Coney along the boardwalk. This beach is also accessible for people with disabilities, with beach mats located at Brighton 2nd Street and Brighton 6th Street as well as a beach wheelchair at Coney Island Avenue and the boardwalk.
It's quicker on the subway to get to Brighton Beach than to Coney, and there are fewer tourists, meaning more space to stretch out on the beach. After you've had your fill of sun, find a spot outside at one of the restaurants and enjoy some food, drinks, and people-watching. There are also lots of concession stands and mobile charging stations for your gadgets.
Coney Island (from W 37th Street to Ocean Parkway)
Getting There: N, Q, D, F to Stillwell Avenue. Parking is difficult, so take the train or bicycle.
There are plenty of places to grab a bite to eat, including the famous Nathan's. There are also lots of restrooms, so you don't have to pay 25 cents to use the ones by the Wonder Wheel. Coney Island Beach is also accessible with beach mats available at West 33 Street, Stillwell Avenue, and West 5th Street and beach wheelchairs at West 22nd Street and the Boardwalk (adjacent to the comfort station).
Coney Island has so much going on aside from the sand and surf, including Nathan's Annual Hot Dog Eating Contest (July 4), Cyclones baseball, the Sand Sculpting Contest (August 18), the New York Aquarium (and the new Sharks! exhibit), the Coney Island Circus Sideshow, and of course rides like the iconic Cyclone and Wonder Wheel. And don't forget SummerStage concerts, Flicks on the Beach, and Friday Night Fireworks!
All those events and activities add up to lots of people, and the crowds can feel a bit chaotic at times, but it does make for an exciting beach experience!
Manhattan Beach (Oriental Boulevard from Ocean Avenue to Mackenzie Street)

Getting There: Take the Q to the B1 or B41 or bike.
Because this beach is a part of Manhattan Beach Park, there are lots areas for activities including barbecuing, basketball courts, tennis courts, volleyball courts, playgrounds, dog-friendly areas, wi-fi hot spots, and concession stands.
Since it's a bit out of the way, it can be a little less crowded than other beaches. If you get there early enough, you can set up your barbecue gear and hang out in the picnic area all day. Manhattan Beach is accessible with a beach mat located on the east side near the picnic tables at Bay 1.
Plumb Beach (eastbound Belt Parkway, east of Exit 9-Knapp Street, Sheepshead Bay/Gerritsen Beach)
Getting There: Take the Q to B4 to Shore Pky/Brigham St or the 2/3 to the B44 to Shore Pkwy/Knapp St or bike.
Calm waters and strong winds make this small isolated beach ideal for windsurfers and kite boarders. It is also a prime breeding area for horseshoe crabs in May and June. According to Yelp reviews, it can be a bit dirty (watch where you walk in the sand) and you may encounter nude sunbathers on the eastern side of the beach.
Dead Horse Bay (across from Floyd Bennett Field, Marine Park)
Getting There: Atlas Obscura recommends taking the 2 to Flatbush Avenue/Brooklyn College, transferring to the Q35 and taking it to "the last stop before the bridge.
While not exactly the type of beach where you can swim or sunbathe, this parkland, also known as Glass Bottle Beach, makes for a fun getaway to birdwatch, hike, and hunt for treasure. The bay got its gruesome name around the 1850s when the area was home to several horse-rendering plants that produced glue and fertilizer from dead horse carcasses, according to Atlas Obscura.
In the early 20th-century, Dead Horse Bay was used as a landfill, capped in the 1930s after it was filled up with trash. The cap broke off in the 1950s, spreading trash onto the beach, littering the shoreline with thousands of bottles, many over a century old, and other remnants that visitors today search for and collect.