8 Beaches + No Car Required + Free Sunscreen = Summer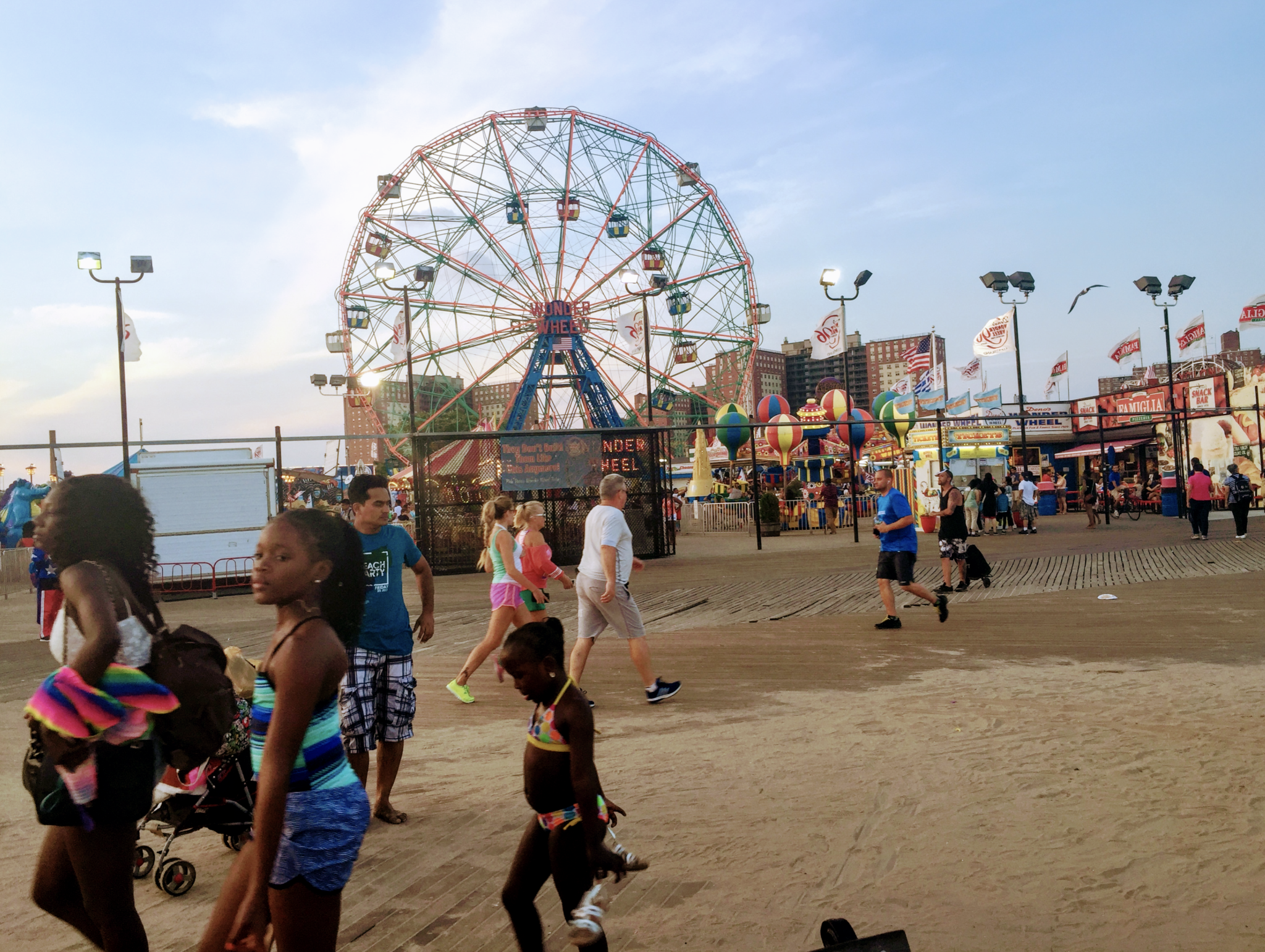 It's almost summertime and you know what that means… beaches! All NYC beaches re-open this Saturday, May 27.
Starting this summer, the Parks Department will be installing 100 SPF 30 sunscreen dispensers in City beaches, including Manhattan Beach, Brighton Beach, and Coney Island (
W. 2nd St., W. 8th St., 16th St., W. 27th St., W. 32nd St. and Stillwell Ave.)

For those wondering if this will come out of your tax money, it will not! The 1,000 liters of sunscreen were donated by the City's partners,
IMPACT Melanoma (a national non-profit organization which works to reduce the incidence of melanoma) and Bright Guard (which provides sunscreen dispensers in places such as sports stadiums and beaches).
Brighton Beach
Getting There: Q only during weekends, Q&B during the week to Brighton Beach station. It's also an easy bike ride down Ocean Parkway.
Facilities: Just east of Coney Island, Brighton Beach is a much quieter spot. It's main advantage is proximity to all kinds of food, and that it's an easy walk to Coney along the boardwalk.
What We Love: It's quicker to get here on the subway than to Coney, and there are fewer tourists, meaning more space to stretch out on the beach. And it's hard to beat sitting outside at one of the restaurants, watching people walk by after you've gotten your fill of sun. For our fellow bike riders, bring your bike over! There are also plenty of concession stands as well as mobile charging stations. And did we mention sand?
What's Lacking: It's relatively close to Coney Island, which can get pretty confusing especially because Coney Island has all of the main attractions. It can also be difficult or pricey to find a quick drink or snack close to the beach (though there are often people walking and selling things out of coolers), so stock up on Brighton Beach Ave (try Brighton Bazaar for pre-made picnic supplies) before you walk over.
Coney Island
https://instagram.com/p/BUgiB5cAZhT/
Getting There: N, Q, D, F to Stillwell Avenue. Parking is difficult, so take the train or bike over.
Facilities: Plenty of places to grab a bite to eat, including the famous Nathan's. There are plenty of bathrooms (don't pay the 25 cents to use the one by the Wonder Wheel!) Beach mats are also available for your convenience at West 33 Street, Stillwell Avenue, West 5th Street, Brighton 2nd Street, and Brighton 6th Street.
What We Love: It's one of the beaches you can get to the fastest, and for the least amount of dough. And it's got the most going on aside from sand and surf — from the annual hot dog eating contest, the sand sculpting contest, Cyclones baseball (their opening day is Tuesday, June 20 at 7 pm) the Aquarium, rides like the Cyclone and the Wonder Wheel, and so much more. Oh, and the Coney Island Circus Sideshow is back! It's "the last permanently housed not for profit venue in the USA where you can experience the thrill of a traditional ten-in-one circus sideshow." And check out the boardwalk's newest addition, the mega-eatery with a view, Kitchen 21. And don't forget the summer movie nights at the boardwalk! Honestly, it's quite impossible to get bored!
What's Lacking: All those things add up to lots and lots of people, and the crowds can feel a bit chaotic at times. Escaping the crowds to the water is an option, but the beach and the tide can sometimes be as chaotic (with trash, anyway). But hey, if you're into crowded, exciting beaches, then go for it! (Or keep walking to Brighton Beach)
https://instagram.com/p/BUcUGbxjw3Q/
https://twitter.com/clintcbrantley/status/860802127710519296
Manhattan Beach
https://instagram.com/p/BUeuClbAYc2/
Getting There: Take the Q to the B1 or B41 or bike.
Facilities: Because this beach is a part of Manhattan Beach Park, it has tons of fun stuff to keep you entertained: barbecuing areas, basketball courts, tennis courts, dog-friendly areas, wi-fi hot spots and concession stands.
What We Love: Because it's a little out of the way, it can be a little less crowded than other beaches. If you get there early enough (and you lugged your BBQ stuff), you can set up and hang out in the picnic area all day — if not, you can take a break from the sun and get some shade in that area. And if you're there because your family forced you to go (and you don't know how to swim), hit the concession stands or play a game of volleyball!
What's Lacking: Food and drinks. Aside from the concession stand, there is nothing nearby, so when you make the switch from the subway to the bus, maybe check out some of those shops on Brighton Beach Ave.
The People's Beach at Jacob Riis Park (Queens)
Getting There: Take the B103 or B41 to the B35 to the Q22. You can also take a shuttle bus from the NYC Ferry, or the NYC Beach Bus.
Facilities: Riis is the next best bet for beach lovers who want something close, but still feels like a bit of an escape from the city. The art deco bathhouse is also quite a sight.
What We Love: Though it's becoming super popular in the last few years, you can still find an ample piece of sand to stretch out and enjoy with your family and friends. Plus, it has its very own bazaar if you're looking to do some small shopping. At the bazaar you can find indoor vendors such as: Samesa, middle-eastern food; Fletcher's BBQ, because who doesn't love bbq?; Ed & Bev's, a Detroit styled diner; and East Coast Roast, for all coffee lovers out there. And if you're looking to let it all hang out, note that the east end of the beach is topless.
What's Lacking: Apart from eating food, shopping and swimming in water, there's not really much to do. But if you're the kind of person who wants to relax (maybe topless) you can do so at Riis!
Rockaway Beach (Queens)
Getting There: It's a bit more convoluted by public transit than getting to Riis, but only because it adds one more bus — you can take the B103 or B41 to the B35 to the Q22. There's also the Q to the A. There is always the bike, NYC Ferry shuttle bus, or the NYC Beach Bus.
Facilities: All $140 million of repairs should be finished by this summer, according to NYC Parks. This means fixed boardwalk, new public restrooms and lifeguard stations, and other shoreline protection and anti-erosion measures.
What We Love: The beach attracts a diverse, fun-loving crowd, so it can be fun for families, surfers, teens, and adults looking for a place to sunbathe and take a dip in the water, which is pretty clean, considering the crowds it draws. For food, Rockaway Taco is worth a taste. Or you can try Rippers, known for its juicy burgers down at the boardwalk! If you're the bar type, there are many bars for you to check out including Caracas Arepa Bar (Venezuelan food) and Sayra's Wine Bar.
And don't forget the festivals! The fifth Annual Rockaway Beach/Breezy Point
Irish Festival
is on Saturday, June 3rd, and Sunday, June 4th, 2017.
What's Lacking:
Though there are plenty of food options at the boardwalk now, the lines are still long. Also,
the beach can get pretty crowded at peak, weekend hours.
Midland Beach (Staten Island)
Getting There: It takes about an hour and 15 minutes via two express buses from most of Brooklyn, the BM3 and the X1 (including an approximate 15-minute walk from the bus).
Facilities: There is a barbecue area (which everyone loves), a boardwalk, and the popular sea turtle fountain.
What We Love: Staten Island is known for its festivals, and this beach is no different. From July 18 to Sept 6, there will be a carnival and antique car show. And On June 15 and June 22, learn how to dance salsa! You've also got a wide stretch for sunbathing and taking a run into the ocean, all with a great view of the Verrazano Bridge.
What's Lacking: There aren't many food options. If you don't bring your own eats, after heading back to catch the bus, grab a slice at Nunzio's on Hylan Boulevard, a pizzeria that's been on Staten Island since 1942.
Sandy Hook (New Jersey)
Getting There: Take the Q to the 3 to Pier 11 at Wall Street, then catch the Seastreak ferry. It's $46 round-trip for adults, $18 for kids ages 5-12, kids under 5 are free (go on a weekday, and all kids 12 and under are free). The total travel time is about an hour and 15 minutes.
Facilities: There are seafood restaurants nearby, and its famous Twin Lighthouses. If you're a fisher, you're in luck because the option to fish is available! And if you want to bike nearby, check out the Multi-Use Pathway (a trail for bikers).
What We Love: After a relatively short trip, you can feel like you've gone a long way from the city. The clean beach and water, and what feels like more space than NYC beaches, all come together to provide a nice escape. There are also free beach concerts all summer long beginning June 14!
What's Lacking: There's not a lot of food options so be sure to bring a lot of water and enough food for everyone you're with. And keep in mind, parking lots fill up early on the weekends in the summer, causing the gates to close. So go early if you're driving!
https://twitter.com/revjo06/status/867118116014358531
The Hamptons
Getting There: Okay, this is going to be a bit of a stretch, but hear us out: Take the Q to Herald Square, then walk over to Penn Station, where you can catch the Cannonball to the Hamptons. The train goes express, with its first stop in Westhampton arriving just 90 minutes later. So you could be at the beach in just over two hours!
Facilities: It's a relatively quick trip, but it's one that requires more planning (and money) than the other beaches on our list. But we're including it because the new Cannonball route makes it easier to get away for a weekend at the beach. Grab some friends, check out some options for house rentals, catch a cab or rent bikes, and then just hang out on a towel until you return on the Cannonball.
What We Love: The beaches in the Hamptons have some variety, but you'll most likely be looking at some beautiful sand, refreshing waves, and a horizon that goes on forever. Main Beach in East Hampton was named the top beach on a list of best beaches in the U.S. in 2013, Southampton's Cooper Beach was named number five in the "Top 10 Best Beaches in the US" this year.
What's Lacking: The fact that it's a bit over two hours long can be a huge turn-off, but at the end, it may totally be worth it!
Help Support Our Local Beaches
So which beach will you go to first? Whichever it may be, if you want to help the beach community, consider donating here!