Parents, Politicians Rally After Speed Cameras Go Dark
PARK SLOPE – Last night, elected officials, concerned residents and mothers of children killed by reckless drivers met at Park Slope's M.S. 51 to talk strategy after the program authorizing speed cameras outside 140 New York City schools expired yesterday. Lawmakers in Albany could have renewed the program, but failed to do so.
"Pass the bill! Pass the bill! Pass the bill," people shouted in the art classroom that was turned into an urgent strategy-making assembly space. Yesterday's 5:30 deadline to renew the speed camera program came and went without Senate Majority Leader John Flanagan convening a session, so parents and transit activists met at the school to plan their next move.
"How do you sleep at night?" City Council Speaker Corey Johnson said in a fiery speech, calling out Flannagan, Senator Simcha Felder, Senator Marty Golden, and Senator Andrew Lanza. "Do the right thing for children and NYC. We have had enough!"
Johnson referred to the shutdown of cameras as a "cowardly move" by state senators. He also recited the names of the five children who were killed in the last few years by reckless drivers, honoring their memory.
"I am sick to my stomach that Republicans in the state senate are letting life-saving speed cameras shut down because of political games," he said.
Though students attending summer school will no be protected by speed cameras (80 schools that are open during the summer, serving 200,000 students, have speed-cameras nearby), Transportation Alternatives wants to make sure that this is not the case for students in the fall. Though the State legislative session ended nearly three weeks ago, the majority leader still could have convened a special session—especially after Golden called on the Senate to reconvene.
"We're here for a call for action," Thomas DeVito, the director of advocacy at TransAlt said. "In a few weeks, the 200,000 number will skyrocket to over 1.1 million [students]. It is inexcusable that they failed to renew [the program] for summer school. It deserves the highest condemnation."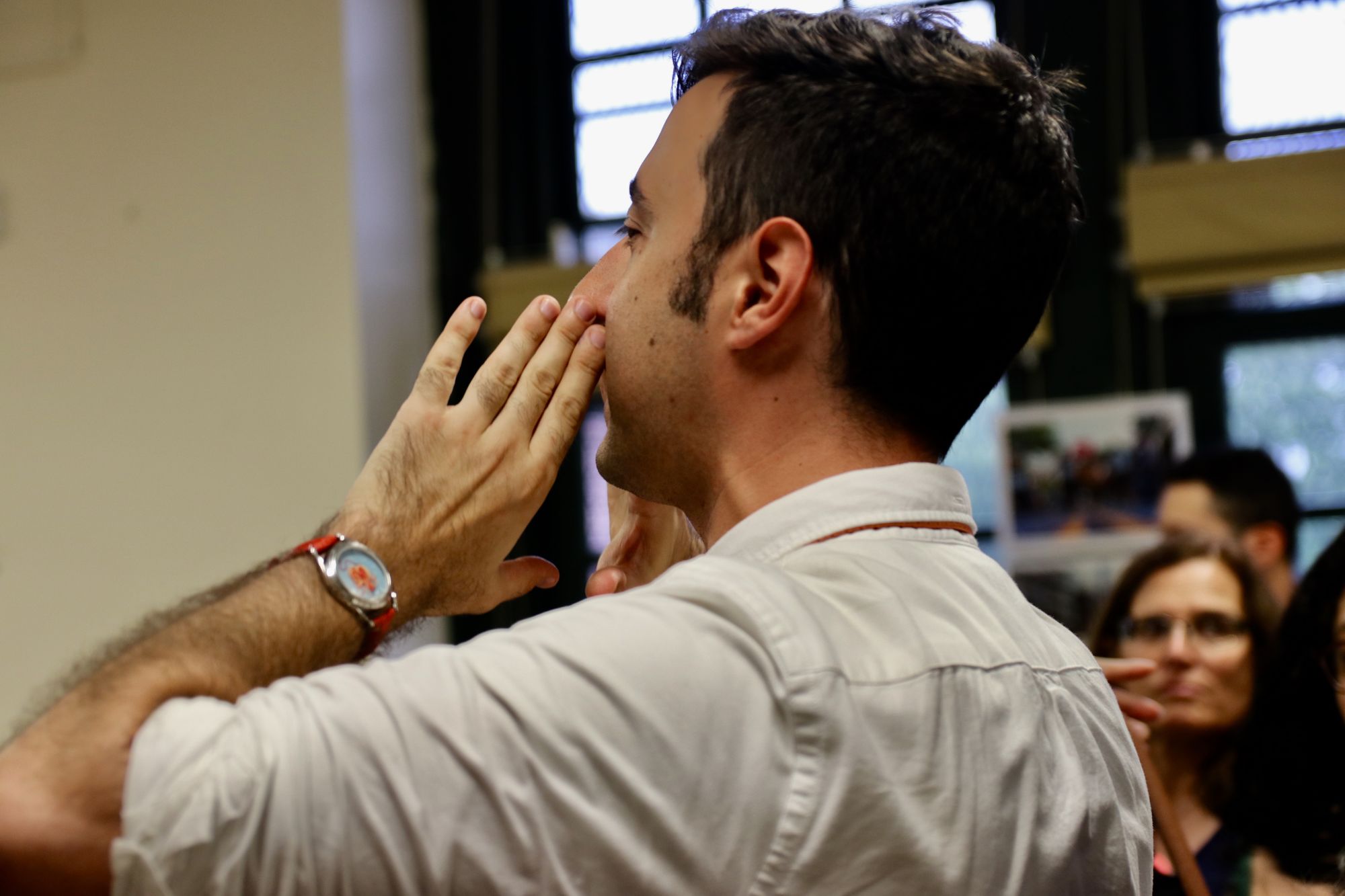 Among the many people to speak at the assembly meeting was Amy Cohen. Her son Sammy was hit and killed by a car outside their Park Slope home in 2013. Just last month, she stood outside Golden's office in a 24-hour vigil calling on the senator to reconvene the Senate. She held back tears as she told everyone about her son.
"He loved this school… he had so much to look forward to," she said. "A parent should not have to bury their child, come back to their child's school without him. The Senate must reconvene and protect New Yorkers."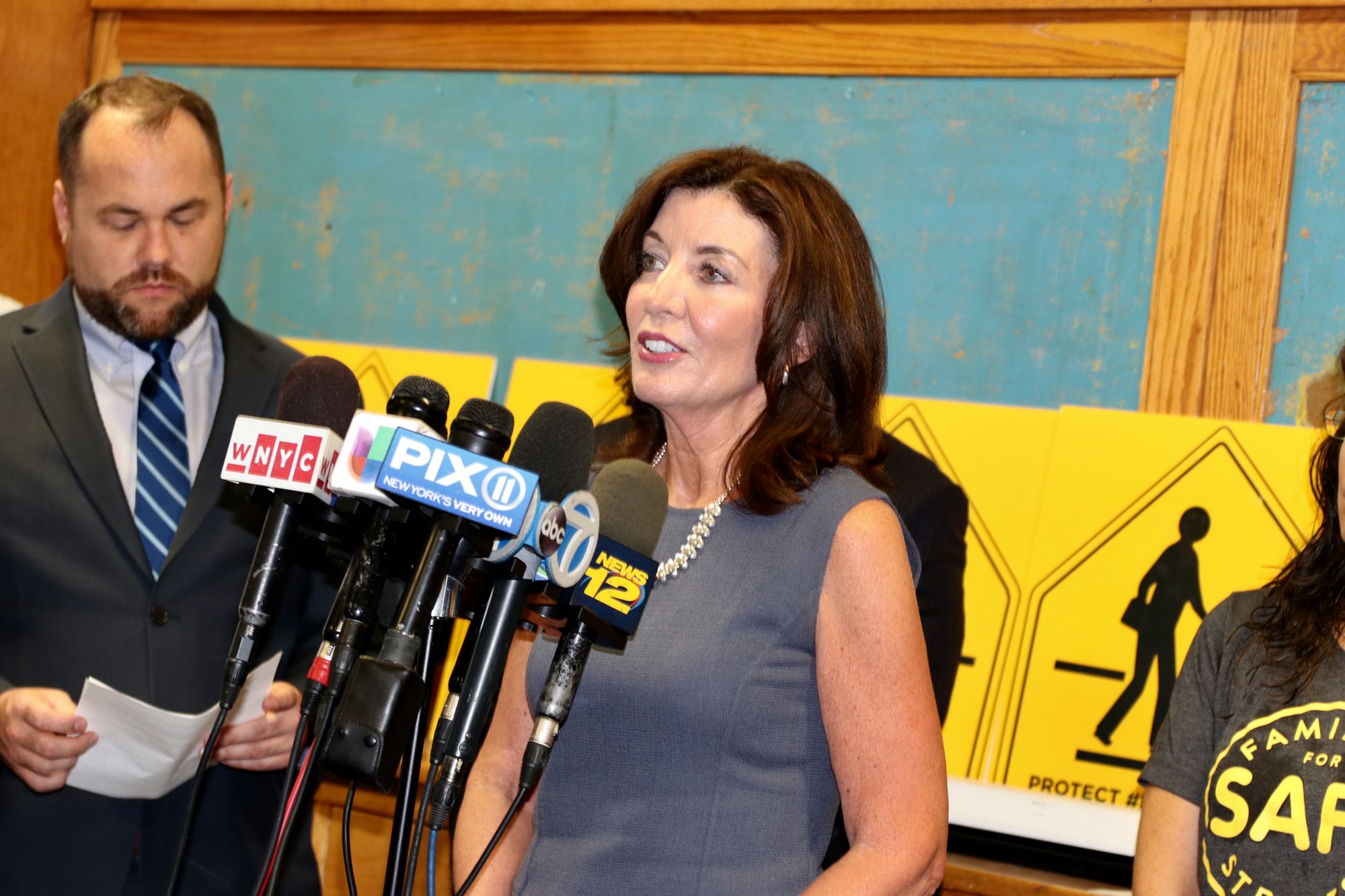 Lieutenant Governor Kathy Hochul was also in attendance and spoke directly to the Republican senators, calling them "heartless."
"Shame on you for not coming back and doing what is right for the people you are elected to represent. And if you can turn your back on the pain of this mother and a grandmother, then you are more heartless that I could've imagined."
"Prepare to do what was right and simply re-authorize the program we know is saving lives. But, no. You couldn't wait to start your summer vacation," she said. "If anything should happen to one of the students in the summer school program… if they get a single hair on their heads injured, that will be on you and your conscience for the rest of your life."
Maggie Bradley, a concerned citizen and a physical therapist, told Bklyner she didn't realize how many people she knew had died to reckless drivers. Her housekeeper was one of them.
"The driver went through the light and hit the gas instead of the brakes," she said. "It's awful that so much energy has to be expounded on this. I'm glad TransAlt has made it the scandal that it is."
Council Member Brad Lander said his grandmother would have called this situation a "shonda."
"We're going to turn off the speed cameras that are proved to keep them safe? My grandmother would say 'it's a shonda.'"
"A shonda is like a shameful shame, a disgrace, an abomination, something that is against life. And that's what we're talking about. The NY State Senate GOP is choosing to not save the lives of children. My grandmother was right: that is a shonda."
Lander told the story of 14-year-old Mohammad Naiem Uddin who was killed in 2014 in a hit-and-run. Uddin was a freshman at Brooklyn Technical High School and a "bright shining star," Lander said.
"The hopes of that family were sitting on his shoulders with the backpack that he was wearing when he was killed on Caton Avenue and East 7th Street."
Assembly Member Robert "Bobby" Carroll called on Governor Cuomo to call the Senate back to session and "shame them in front of every single New Yorker."
"It is utterly ridiculous that we have to all stand here this evening begging the NY State Republicans to go and do their jobs," he said.
Assembly Member Jo Anne Simon called it "disgraceful" and said that "we in Park Slope do not want to lose our children."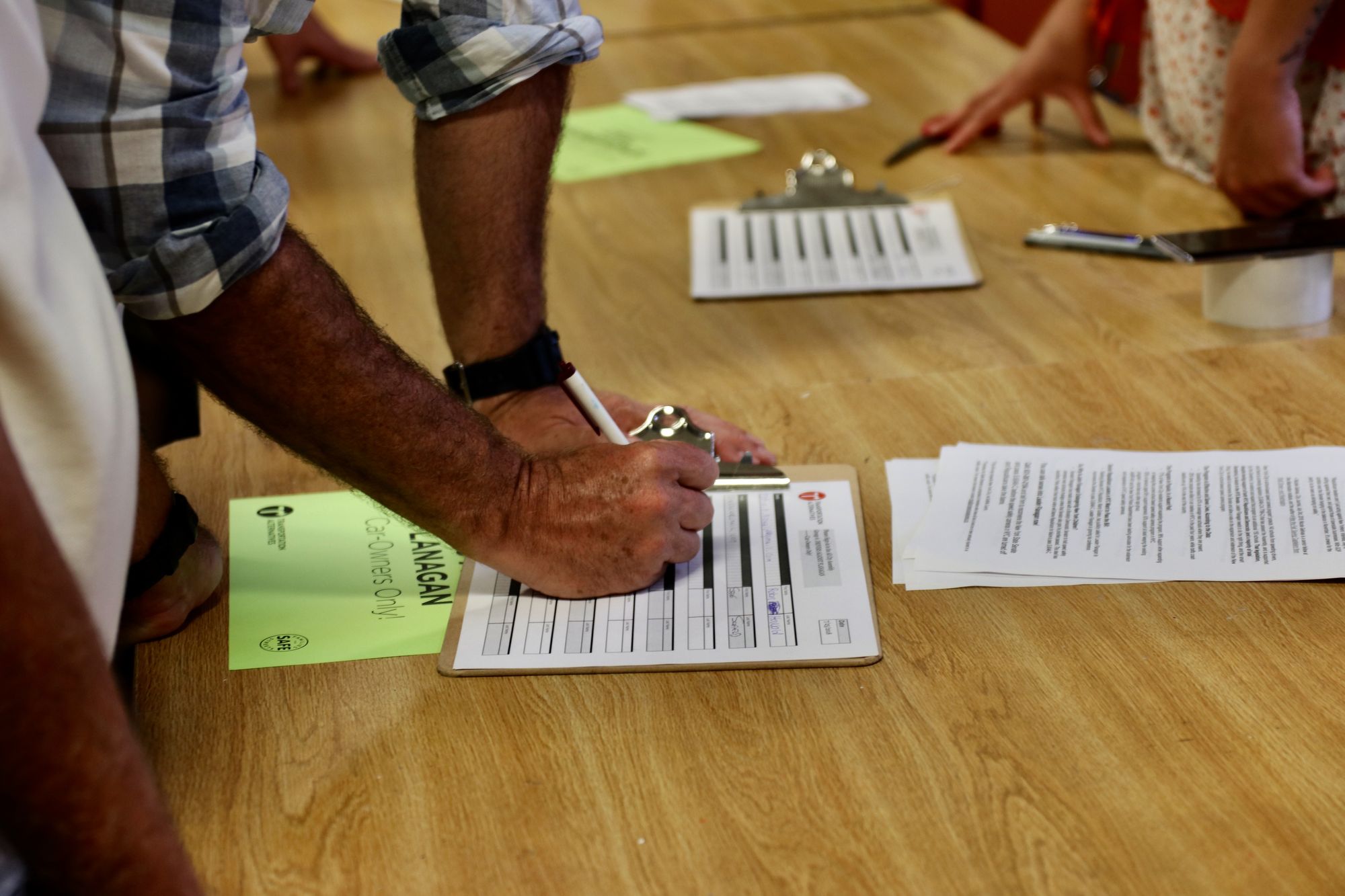 "The actions or the inactions of the State Senate are nothing short of reckless," she said. "Pass the bill! They can do it tomorrow, they can do it the next day, but they have to do it… it just isn't fair, it isn't right, it's wrong. I don't want to lose any more children from our district."
In the room, sign-up tables were arranged and labeled with different ways for attendees to get involved. Options ranged from canvassing to civil disobedience.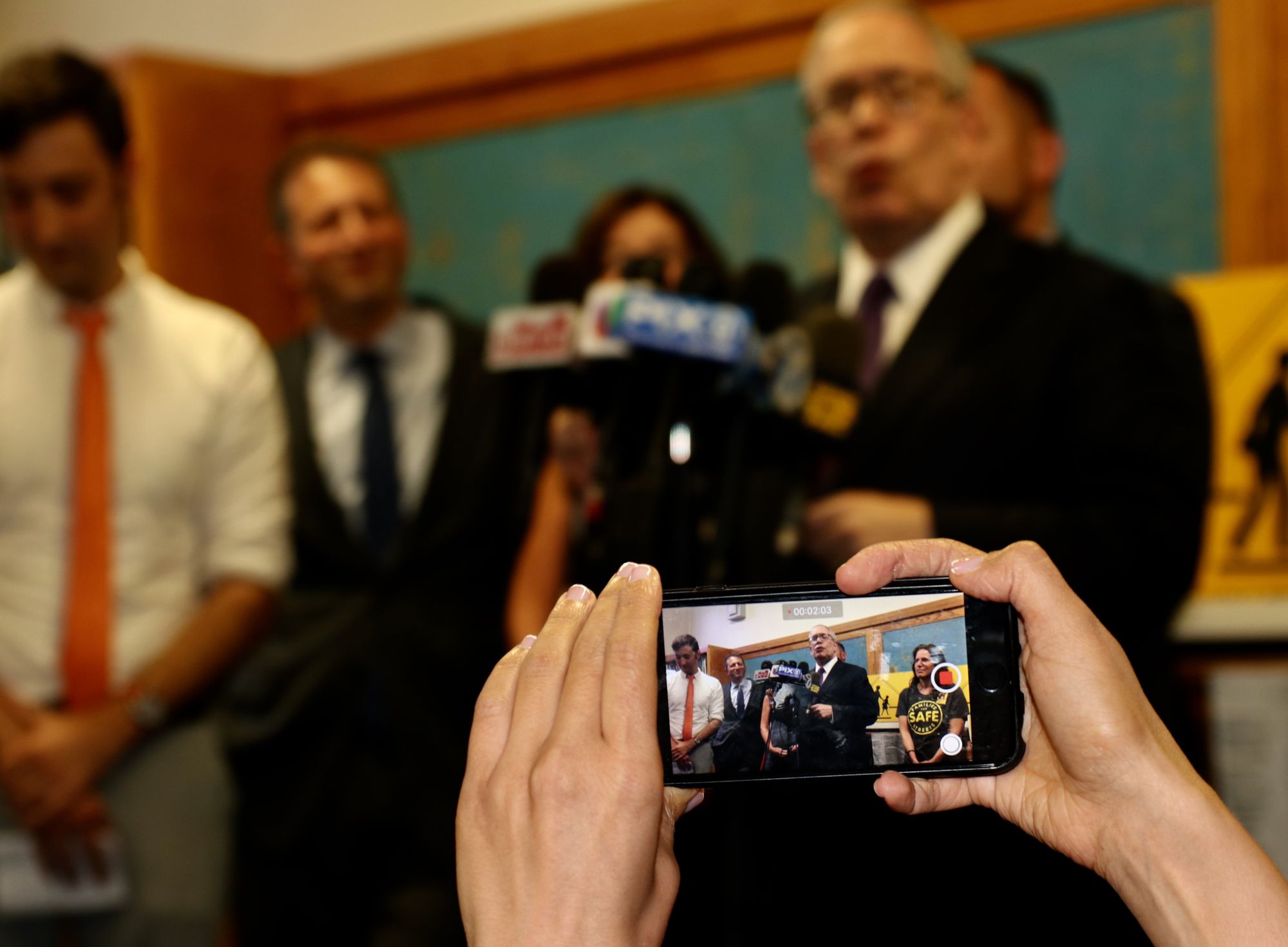 "The Republican state senators lost their morality at 5:30 this evening when this law expired putting… children in danger," NYC Comptroller Scott Stringer said. "I woke up this morning and looked at my six-year-old and five-year-old and I knew in my heart that today their lives became a little less safe."
"The people who think it's OK to run red lights and speed down street corners where the kids play, they sort of become validated today because of the politicians in the State Senate."