At Last Night's Vigil For Mohammad Naiem Uddin, Remembering A Son, Brother And Friend
Mohammad Naiem Uddin was 14 years old.
He loved his family and his friends. He was a budding photographer, and when you'd hang out with him, he'd always be snapping photos.
He was incredibly bright and, like his older sister, Rabia, was the valedictorian of his class at PS 130. He graduated from MS 51 and was a freshman at Brooklyn Technical High School.
He was a son, a grandson, a brother, a friend.
And, as was said time and again Monday evening, none of these descriptors should be in the past tense. On a rainy late autumn evening like last night, Naiem should have been working on homework and spending with his family in their home on Friel Place.
Instead, his family, friends and hundreds of other neighbors gathered for a vigil for Naiem, who died November 20 after being struck by a hit-and-run driver at Caton Avenue and E. 7th Street.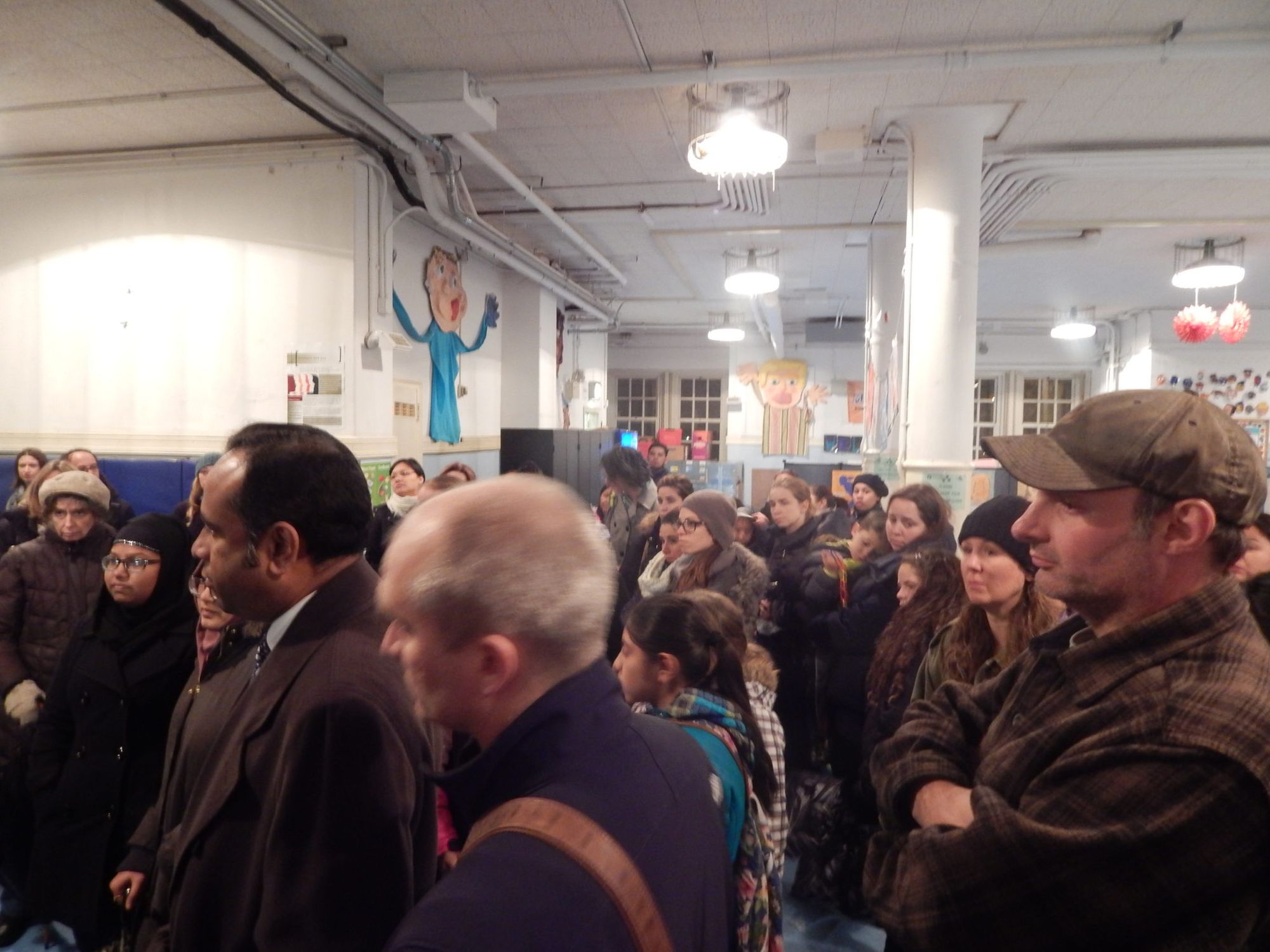 "Naiem loved photography – a lot of people don't know that about him," Naiem's sister, Rabia, 18, said at the vigil, which included a procession that began at PS 130, continued to the site where the teenager was hit at Caton Avenue and E. 7th Street, and ended at his family's home on Friel Place – just a couple blocks from where he was fatally struck. Police from the 72nd and 66th Precincts also attended and helped with the procession.
"We'd go out, and it was like he'd take the best pictures," continued Rabia, who noted that her family is hoping the street where her brother was hit will be re-named for Naiem. She also stressed that while her family is incredibly grateful that the PS 130 PTA is collecting donations for the family, they'd also be happy if neighbors donated to a charity of their choosing in Naiem's name.
"All we really need are prayers. If you want to give something, we'd be happy if you gave a donation to any charity you like," Rabia said.
Rabia, along with other relatives, friends and neighbors, repeatedly stressed the need for change at the intersection where Naiem was hit, with many emphasizing how dangerous the site is – and how scary that is in the face of an incoming school, PS/IS 437, being built at that location.
"To have all of you here to remember Naiem, and to hold onto these memories – it's not enough to overcome the grief, but it's so important," Councilman Brad Lander said at the memorial filled with photos and flowers for Naiem at Caton and E. 7th Street.
Even prior to Naiem's death, Lander has been urging city officials to address a litany of concerns at the site, and he sent a letter on November 6 to the city Department of Transportation and the city School Construction Authority about numerous issues at the area surrounding the incoming school. Lander said that the DOT will hold a meeting at PS 130 on January 8, and he said DOT Commissioner Polly Trottenberg had confirmed she plans to be there.
"There shouldn't be cars turning here; it's going to be so dangerous with the school opening," said Swhana Talukder, 13, who was a close friend of Naiem's and attended PS 130 with him. "Many more children could die this way."
Swhana and Sadia Alam, 13, another of Naiem's friends, described him as a smart and funny boy who was always making people laugh.
"He always had this sassy attitude," Sadia said, smiling. "He was always playing games."
To read more about Naiem, Councilman Lander posted a statement that was read at his funeral, which you can read here.