Restaurant Openings & Closings In And Around Park Slope
Here's a round-up of local restaurants that have recently opened, are on the way, have closed, or will be saying goodbye soon. Let us know if we've missed any.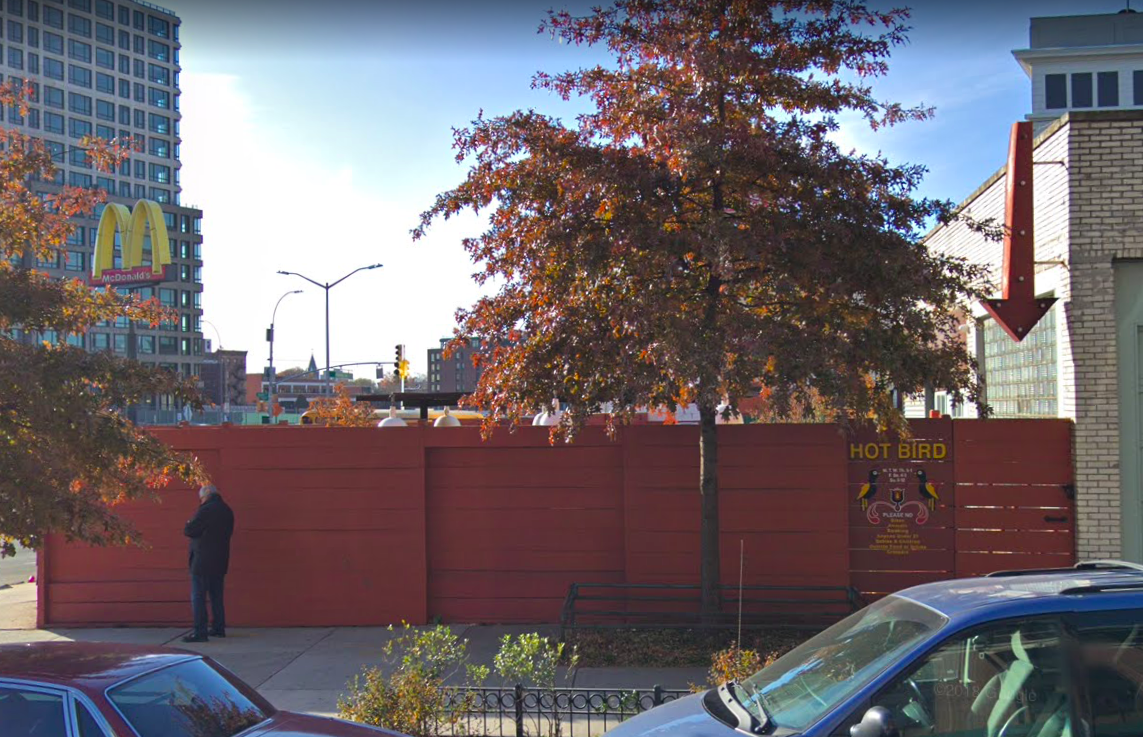 Hot Bird, 546 Clinton Avenue (at Atlantic Ave), Clinton Hill (closing December 8)
After news earlier this year that a 29-story residential tower would rise at 550 Atlantic Avenue, many fans of the bar Hot Bird worried about the fate of the watering hole located on the site.
Opened in 2010, replacing a former auto shop, Hot Bird features a large, fenced-in outdoor space and a fire pit. The closing date wasn't expected for another year or two, but according to Eater, the venue's official final night is Saturday, December 8. Mark your calendars – Hot Bird will be throwing a goodbye bash!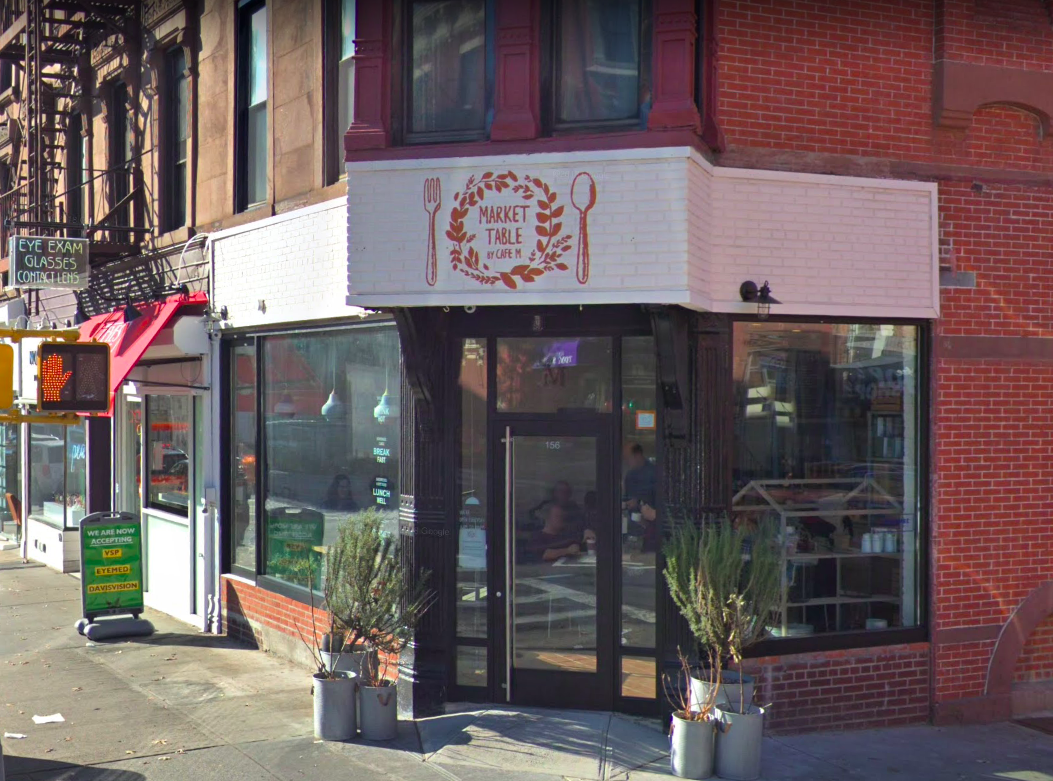 Market Table by Cafe M, 156 7th Avenue (at Garfield Pl), Park Slope (closed)
This year-old coffee shop closed abruptly this past weekend due to a dispute with their landlord, Patch reported. "Due to a dispute with the landlord Market Table by Café M will be closing this location," a note on the shop's door read Sunday afternoon.
The message adds that the business-owners hope to open up at another nearby spot soon.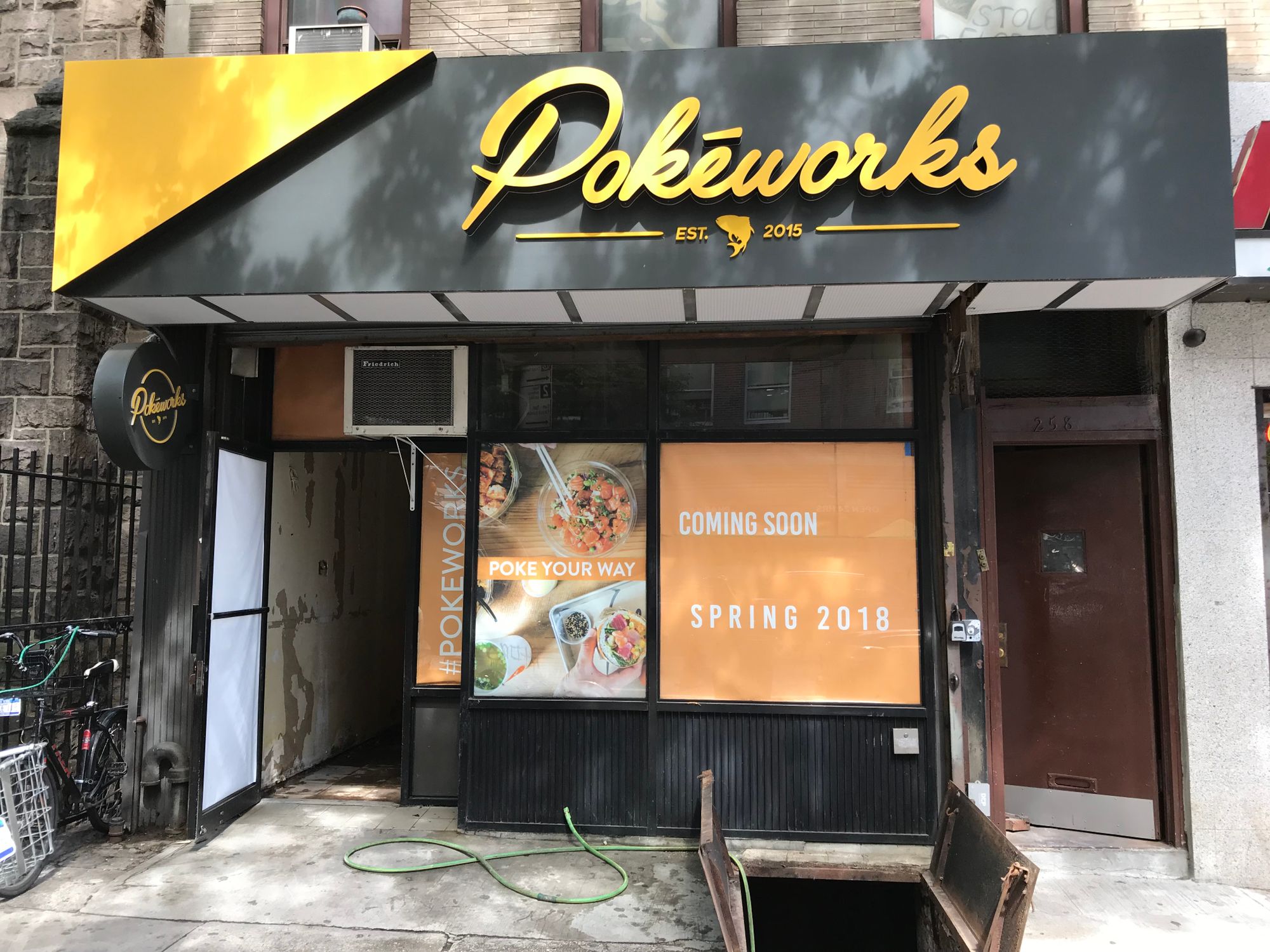 Pokéworks, 258 7th Avenue (between 5th & 6th), Park Slope (opening in October)
Founded in 2015 in NYC, Pokéworks is one of the country's fastest-growing poke chains, with an outpost slated to open in Park Slope next month, serving Hawaiian-inspired poke bowls, poke burritos, and salads, as well as a build-your-own menu with an array of options for proteins, sauces, mix-ins, and toppings.
Pokéworks currently has more than 20 locations in North America, and another 100 under development, including one in Williamsburg.
Prime Meats, 465 Court Street (at Luquer St), Carroll Gardens (closing in November)
This popular German eatery is closing its doors in November after nearly ten years in Carroll Gardens, The New York Times reported last week. The owners, Frank Castronovo and Frank Falcinelli, say they are shuttering the business in order to expand the dining room of their other nearby restaurant, Frankies 457 Spuntino, which according to the Times, is connected by a long kitchen.
The two Franks will transform the bar area at Prime Meats into Franks Wine Bar and open Franks Umberto, a new pizza restaurant, in the space that previously housed their coffee shop Cafe Pedlar (210 Court Street) which closed in early 2017. Head over for a schnitzel before it's too late!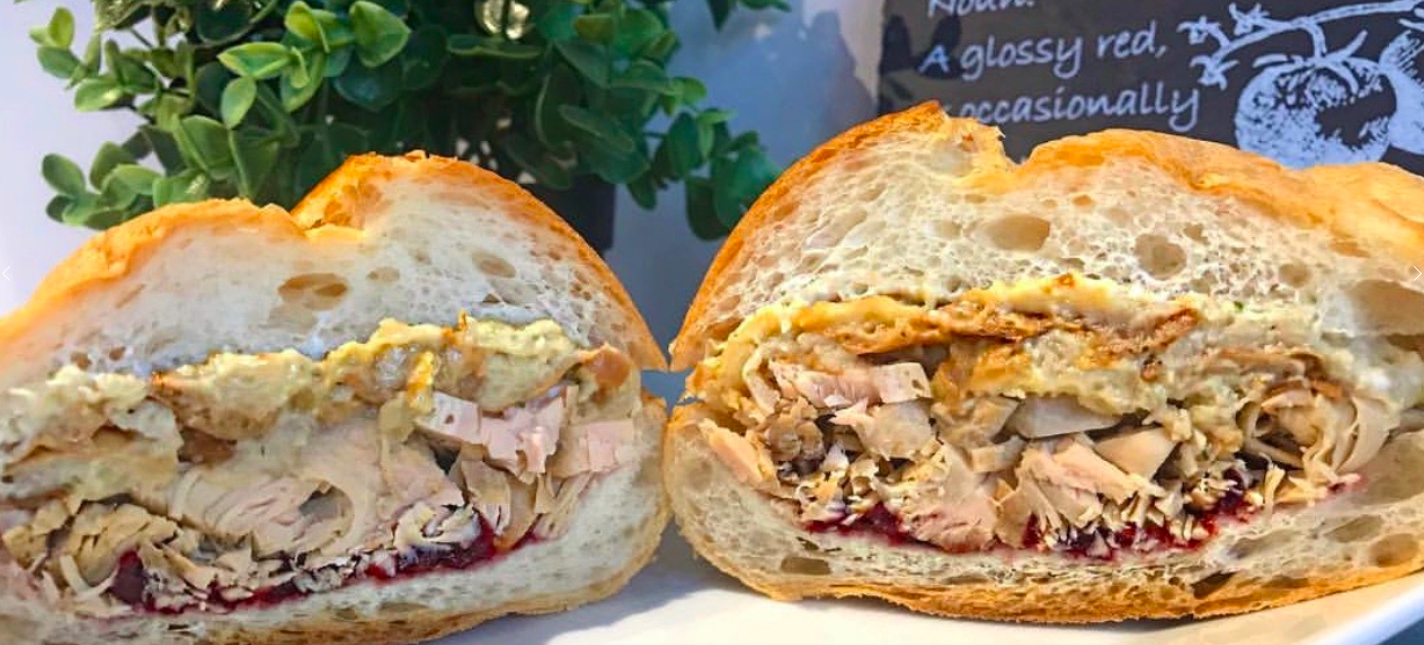 Prospect Provisions, 597A 4th Avenue (between Prospect Ave & 17th St), Park Slope
Opened in July in the former Pauline & Sharon's space, the folding glass doors at Prospect Provisions invite customers in for bagels, pastries, and breakfast sandwiches in the morning and salads and sandwiches later in the day.
The sandwiches, made with meats roasted daily, are named after streets in the neighborhood.
Saint Julivert, 264 Clinton Street (at Verandah Pl), Cobble Hill
Eder Montero and Alex Raij, the husband and wife chefs behind La Vara (268 Clinton), opened a new seafood restaurant last week in the space that previously housed their coffee bar, Texoá. The pair also own a tapas bar and a Spanish eatery in Manhattan, and infuse "global touches" into their new offerings including shiso tacos, shellfish pozole, a tuna casserole with curry leaf, and more, The New York Times reports.
Sans, 329 Smith Street (between President & Carroll St), Carroll Gardens
Vegans have a new dining option in Carroll Gardens. Former Eleven Madison Park sous chef, Champ Jones, opened a vegan eatery in the former Nightingale Nine space earlier this month. Jones teamed up with chef and owner of the shuttered Nightingale Nine, Robert Newton, in the new one-year venture, according to Eater.
The partners are testing a plant-based menu that will also appeal to meat-eaters and includes a five-course tasting menu, lasagna, and the "TV Dinner," an animal-friendly take on meatloaf, potatoes, peas and carrots.
The cocktail menu repurposes ingredients from the kitchen and features "A Couple Moments" with Old Tom gin, muddled sugar, snap peas, lemon, and hyssop as well as "One More" with pineapple skin rum, peach, and mint.
Taqueria, 25 Bond (at Livingston), Downtown Brooklyn
Harris Salat, the owner of the now defunct Ganso at 515 Atlantic Avenue (at 3rd Avenue) in Boerum Hill and Ganso Ramen at 25 Bond Street in Downtown Brooklyn announced over the summer that he would return soon with two new restaurants.
The restauranteur has kept his promise and debuted Taqueria at the Ganso Ramen space on September 10. Inspired by taco stands during visits to Mexico, Taqueria's menu focuses on tacos, featuring al pastor, pollo asado, and two veggie options (charred poblano peppers and cremini mushrooms), Eater reports.
Salat also has plans to open Bigeye Sushi at 2 Metrotech Center (between Lawrence and Bridge St.) which will serve rolls, bowls, and salads.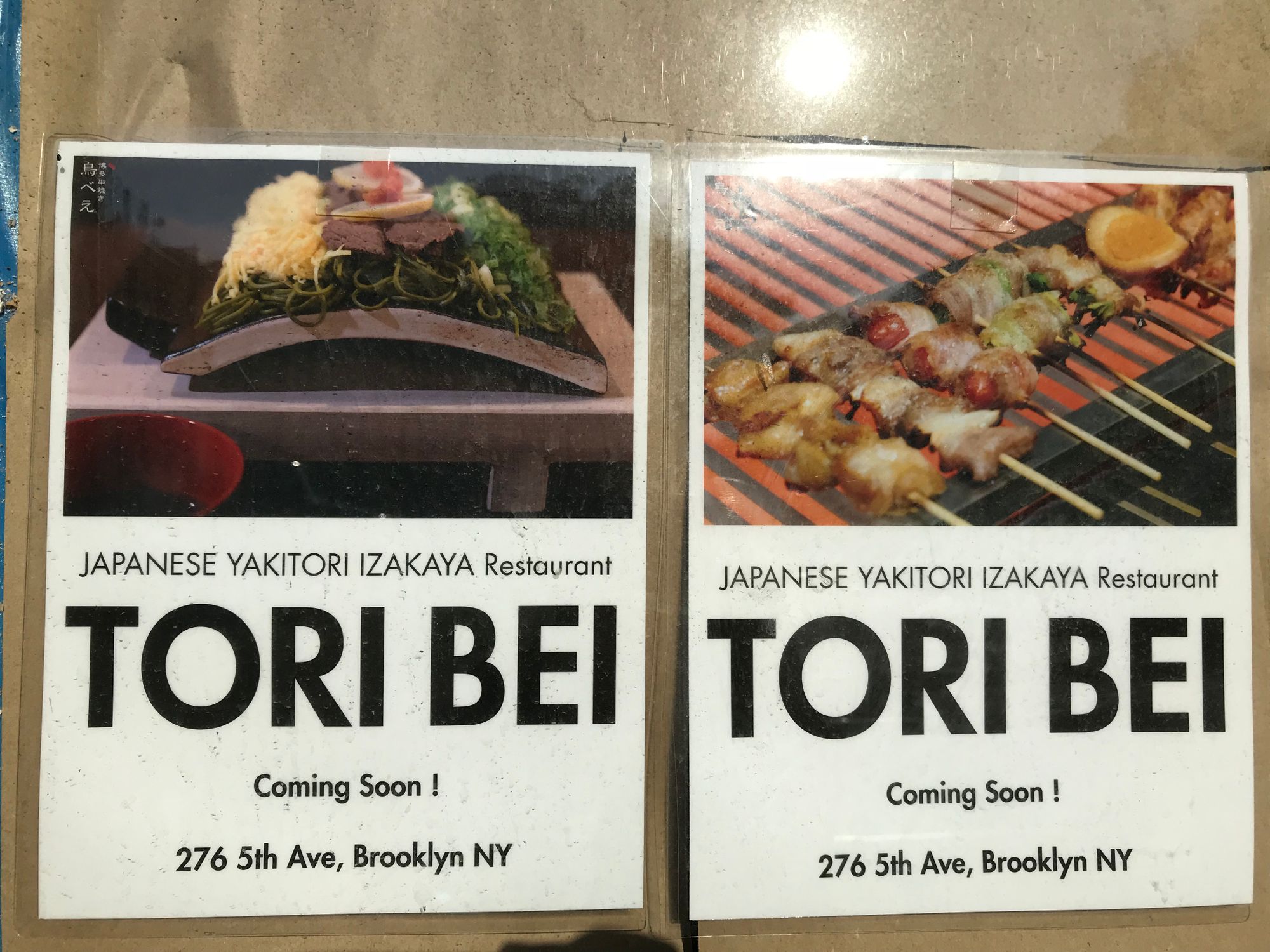 Tori Bei, 276 5th Avenue (between Garfield Pl & 1st St), Park Slope (coming soon)
A sign on the storefront at 276 5th Avenue, next to Naruto Ramen, announces that a new yakitori izakaya will be opening soon. It is not known if the new Japanese eatery is affiliated with Naruto Ramen. [UPDATED: Wednesday, September 26 at 10:20am] A reader informed us that the parent company of Tori Bei is the same as Naruto Ramen's.
And in case you missed these, check out Eater's list of 19 Standout Restaurants and Bars in Red Hook and Grub Street's round-up of The Absolute Best Restaurants in Park Slope.