Our Favorite Five Oyster Happy Hours For an Endless Summer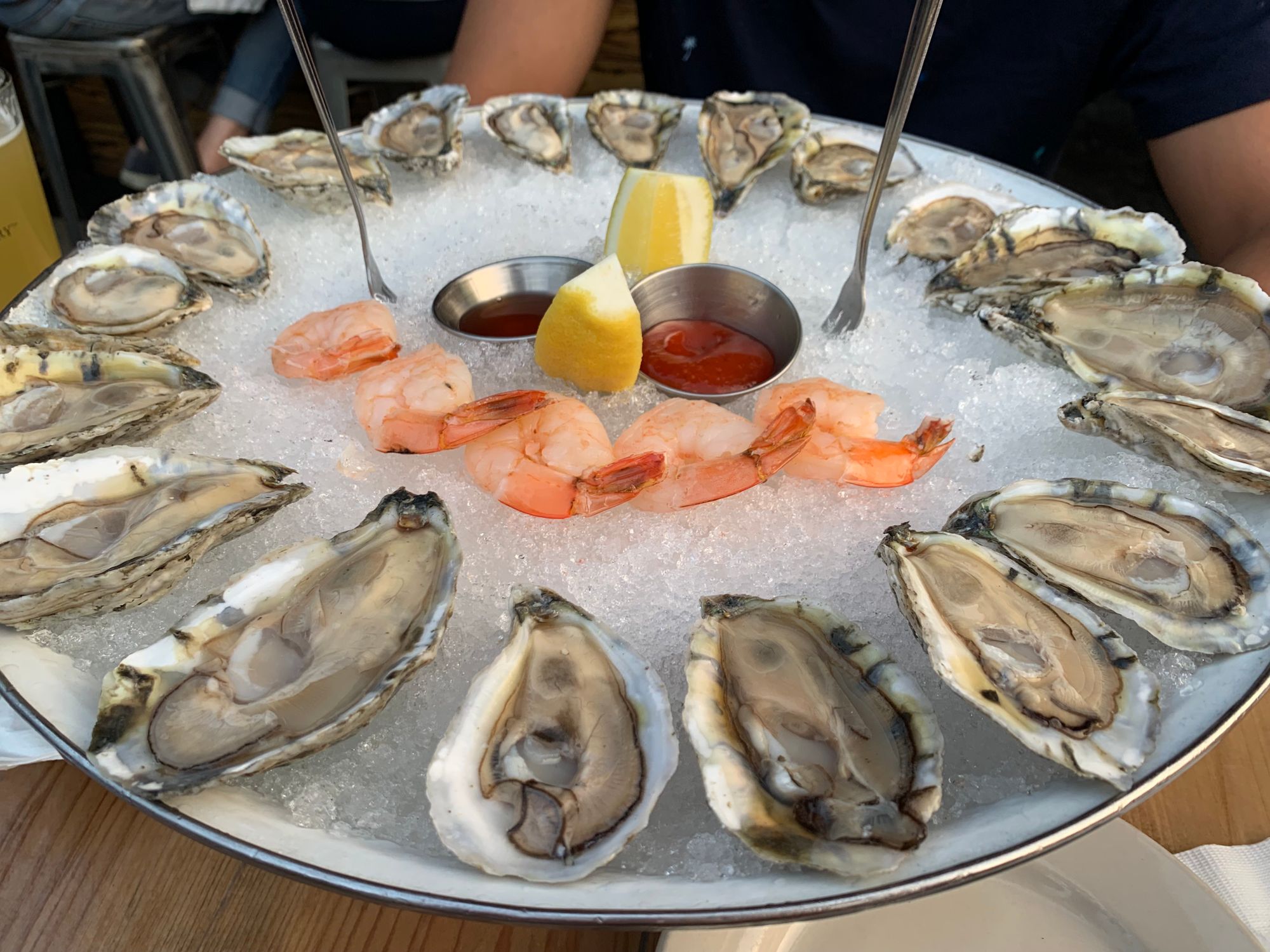 There's something uniquely summery about an oyster. Maybe it's the way they glisten when the light hits them, or maybe it's the way they come on that beautiful, slow-melting pile of ice. Maybe, it's because they taste like the ocean. No matter the reason, there's just something about summer that makes us crave them. And now, with summer dwindling to an end, the sun setting earlier, and school bells beginning to chime in the distance, we think it's time to share our favorite places for dollar oyster happy hours in Brooklyn.
A dollar oyster happy hour needs a few things to be perfect, we think. Firstly, there's got to be a place to enjoy them where you can get some breeze in your hair and some sun that makes your eyes scrunch up. Secondly, the drink specials (or at least the drinks) have got to be equally on point. And thirdly, while they might not be the most gorgeous East Beach Blondes or Kumamotos, the oysters have got to have the right amount of meatiness (not too much) and the right accouterments. We've also never kicked a nice plating out of bed.
Sea Wolf
19 Wyckoff Avenue, between Troutman and Jefferson Streets.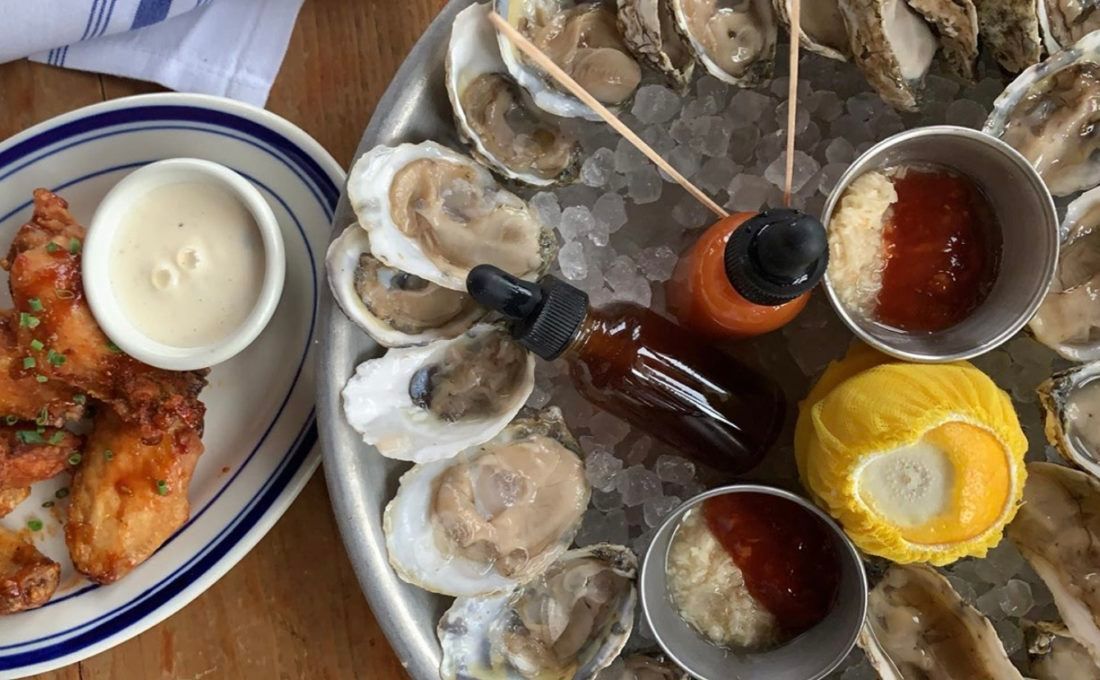 Oh, have we mentioned Sea Wolf before? We hadn't noticed. Maybe it's because this is the place you can find us, roughly once a week. Our go-to order (with a friend, we're not animals) is 20 oysters on the half-shell and their $18 bottle of champagne on happy hour. Before you know it you've had a perfectly wonderful afternoon, and you're only out about 18$ once you pay for your half.
Sea Wolf checks all the things on our list- they have great outdoor space, good drink specials (see also: Pain Killers), and oysters that are just right. Bonus: they've got amazing dollar wings and cauliflower wings as well. The service ranges from "cheery" to "would have bullied us in high school" but after that champagne kicks in we could really care less.
Happy Hour Details: Daily from 4:00 pm-7:00 pm.
Bearded Lady
686A Washington Avenue, between St. Marks Avenue and Prospect Place.
If you're looking for a space with more character and friendlier staff, this is your pick. Their happy hour is a little more limited, but if you're more of a cocktail drinker, you can get a dollar off everything on the menu during happy hour ($2 off draft beers, too). We are pretty partial to Kiwi Cup, but it's hard to go wrong here. The corner spot is perfect for people-watching, and you can definitely get your remaining vitamin D in before it's all puffy coats and runny noses again.
Happy Hour Details: Monday-Friday from 4:00 pm-7:00 pm.
Kittery
305 Smith Street, between Union and President Streets.
When at Kittery, we find no need to step away from the raw-bar happy hour. Once you get inside the tall gates and (fingers crossed) are seated at one of their wooden outdoor tables, it's hard to remember that you're in Brooklyn, not some nice coastal town.
We love Kittery for the variety- on Mondays the dollar oysters last all day long, and every day you can also get dollar shrimp during happy hour that make other shrimp cocktails cower and hide. We love a beer and oyster pairing, and with $4 drafts you really can't go wrong. It does hurt our soul a little bit that there aren't any sparkling wines on happy hour, but then the breeze hits us and we can't remember a time we've ever been bitter.
Happy Hour Details: All day Monday, Tuesday-Sunday from 5:00pm-7:00pm.
Chez Moi
135 Atlantic Avenue, between Clinton and Henry Streets.
Okay, we know. This place doesn't technically have outdoor space, but hear us out. Chez Moi has big french windows that open, so really, it's like you're outside. You can still get the breeze, and that's good enough for us. Here's your course of action, for two people. Order 14 of the dollar oysters, and the cheese plate, paired with a glass of the Lambrusco, or a French 75, dealers choice. Take your time, lounge around, and pretend you're somewhere in Europe. Don't worry, the valet has the keys to your Vespa.
Happy Hour Details: Monday-Thursday from 4:00 pm-7:00 pm.
141 Broadway, between Bedford and Driggs Avenues.
Night owls, this one's for you. At OTB you can get dollar oysters late at night, and we really can't complain. This is another not-totally-outside place, but at this hour we think that's more than fair. They make a mean negroni here, if that's your thing (and if you drink oysters, we really think it should be). It's right in the middle of Williamsburg as well, which makes OTB the perfect place to either start or end your night, depending on your preference.
Happy Hour Details: Sunday-Thursday 11:00pm-1:00am, Friday and Saturday 12:00am-2:00am.
Honorable Mention:
Maison Premiere
298 Bedford Avenue, between Grand Street and South 1st Street.
We love it here, but the oysters are $1.25. Once you drop that extra quarter, we'll get back to you, but if we're being honest this spot will always be top of our list. It's classy and classic, in an especially Brooklyn way that we just love.
Happy Hour Details: Monday-Friday from 4:00pm-7:00pm, Saturday and Sunday 11:00am-1:00pm.