NYC Ferry Stop Opens At Brooklyn Navy Yard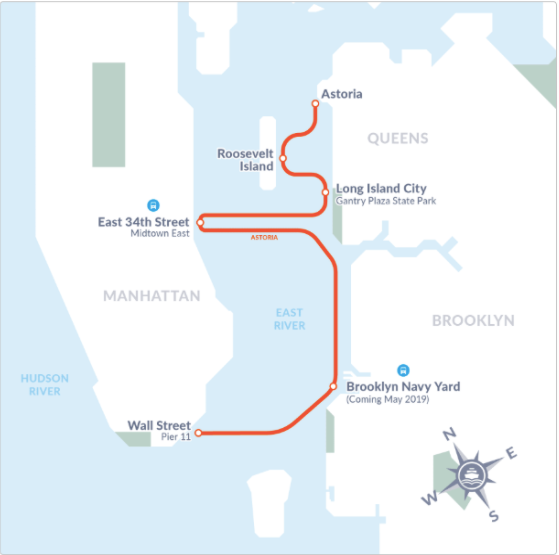 BROOKLYN NAVY YARD – A ribbon-cutting ceremony took place Monday morning to celebrate the launch of NYC Ferry service at the Brooklyn Navy Yard's Dock 72.
The new Brooklyn Navy Yard ferry stop has been added to the Astoria Route which travels from Astoria, Roosevelt Island, Long Island City, East 34th Street, Brooklyn Navy Yard, and Wall Street/Pier 11. The route will shorten commute times for thousands of New Yorkers, according to the NYC Economic Development Corporations's (EDC) release announcing today's launch. EDC oversees NYC Ferry which is operated by Hornblower Cruises.
The Brooklyn Navy Yard stop is located adjacent to the 675,000-square-foot, 16-story Dock 72 building that will open later this year and house a new WeWork space. Commuters can access the ferry stop by walking through BLDG 77 located near the intersection of Flushing and Vanderbilt Avenues.
The cost of a NYC ferry ride is $2.75 and riders will be able to make free transfers to all other ferry routes at the East 34th Street or Wall Street/Pier 11 ferry terminals.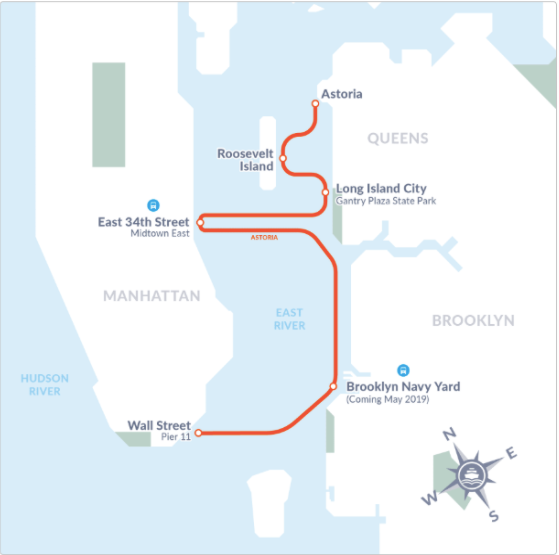 "NYC Ferry service at the Navy Yard provides a critical new transportation option for our tenants and will connect thousands of workers to our growing business district," David Ehrenberg, President & CEO of the Brooklyn Navy Yard, said in the announcement. "The addition of NYC Ferry to the Yard comes at an ideal moment as we near completion of our largest expansion since WWII and reach 20,000 jobs in the next few years."
"I commend the expansion of NYC Ferry service to the Brooklyn Navy Yard and the adjacent communities of Vinegar Hill and Wallabout," added Brooklyn Borough President Eric Adams. "It has been a goal of my administration to increase mass transit options around our borough and better activate our waterfront, and commuters will find this service achieves both of those goals, especially the growing number of New Yorkers who work at or visit the Yard."
The new Brooklyn Navy Yard stop is part of Mayor de Blasio's plan to expand NYC Ferry service which will include expanded service to Coney Island by 2021.
The Brooklyn Navy Yard also serves as NYC Ferry's homeport where the boats are stored and maintained.